Artur Martirosyan won a WSOP Online bracelet in a heads-up tournament with a $10,000 buy-in.
A curious situation occurred in the first round of this tournament in the match between Joao Vieira and expensive cash regular Peter Knopp (it was him who Artur eventually beat in the final). The match lasted much longer than the others, and in the end, Vieira went into a sitout, which his opponent quickly took advantage of and simply stole the rest of his stack with raises.
Returning online, Joao wrote an angry tweet, but quickly deleted it and left a new message:
The guy that blinded me out asked me to reach out to him. Said that he was never in such situation and didn't knew how to handle it, and went for it. He says he wants to compensate me for the situation. Hopefully that's the end of this.
"Sounds convincing," Jans Arends couldn't resist sarcasm. – Apparently, I found $10k on the street and decided to dive into the Heads Up tournament. Of course, you can't blame him. He didn't know what to do and accidentally made a choice in favor of an outright scam.
– According to him, he had never played tournaments before and suggested that if I were in his place I would have done the same. Most likely, he really is not aware of the ethics of high stakes MTT. He sincerely apologized and offered to return the full buy-in. I believe him, and now he has done everything right.
– What is the etiquette in such a situation? – commentators clarified.
– Play for time and fold.
After a few days, Joao probably completely forgot about the unpleasant incident. On Wednesday, he won the most expensive tournament of the WSOP Online series with a buy-in of $25,000. In this tournament, Artur Martirosyan made the money with a small stack and could not rise above 10th; Mikita Badzikouski finished 7th.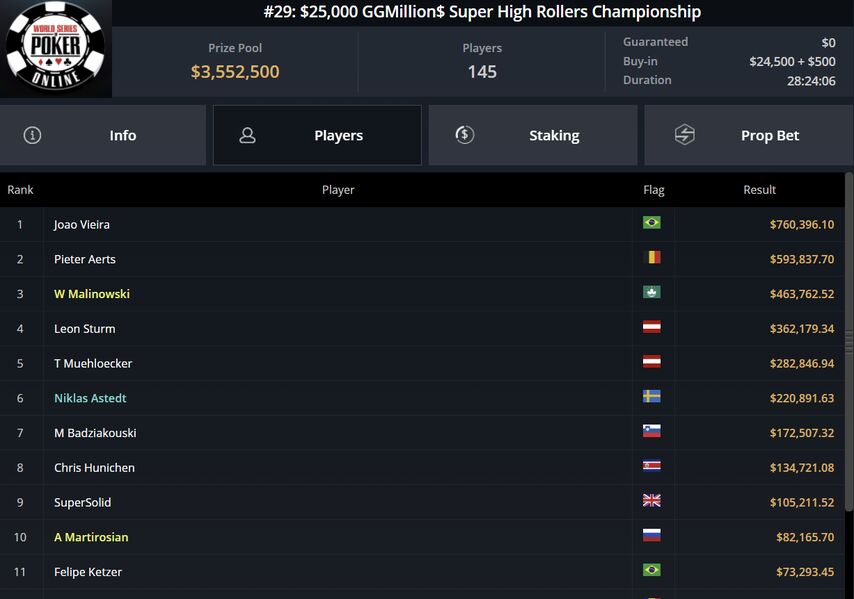 Another remarkable event occurred in the Heads Up tournament. In one of his matches, 4th place finisher Leon Sturm made "the craziest call in online poker history" according to Patrick Leonard: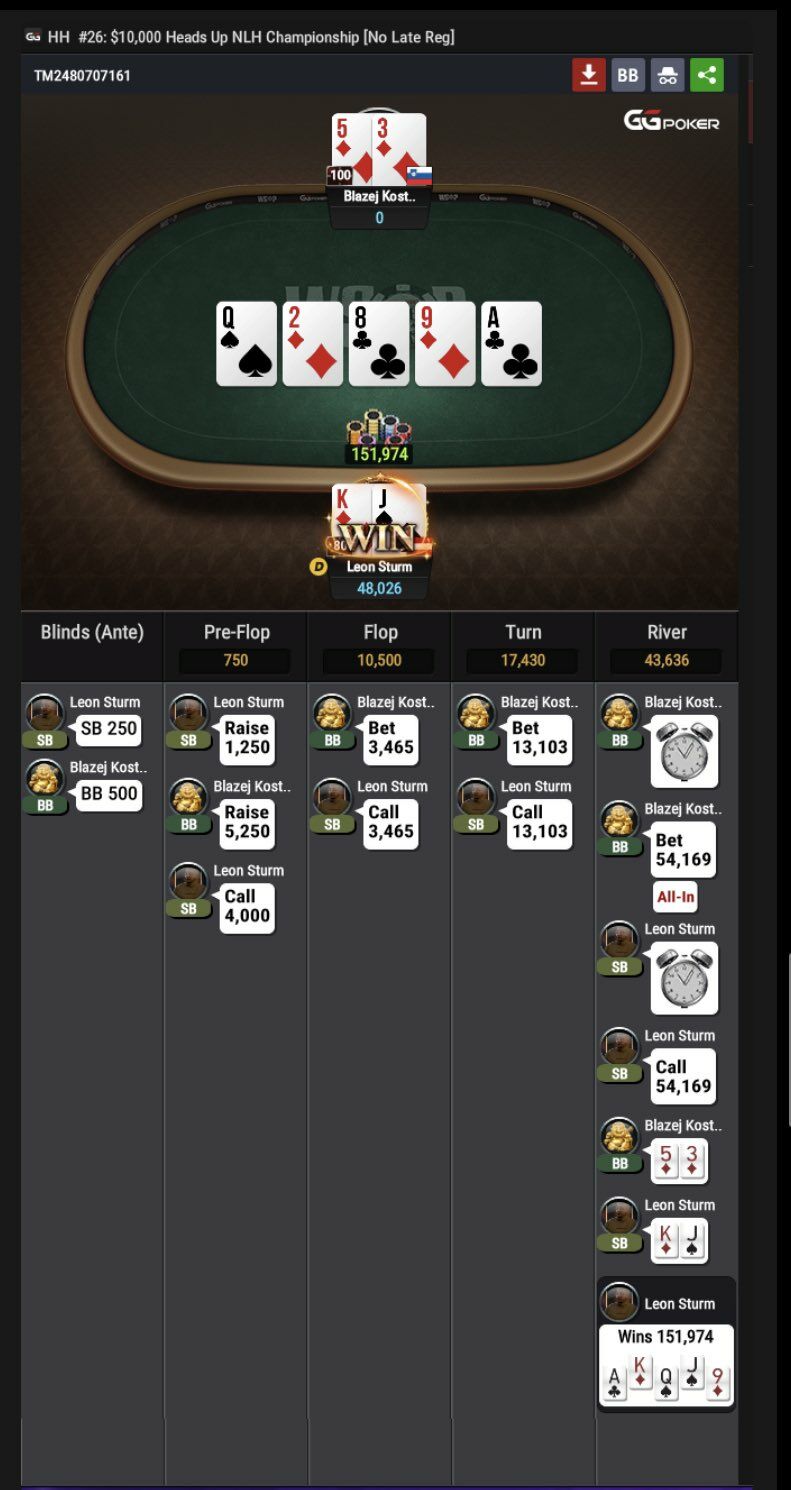 Beriusy faced insurmountable difficulties in the WSOP Online Main Event:
– I have seen the absolute fishiest plays ever & then there are super "GTO" hands like this... I hope my 8th bullet is the lucky one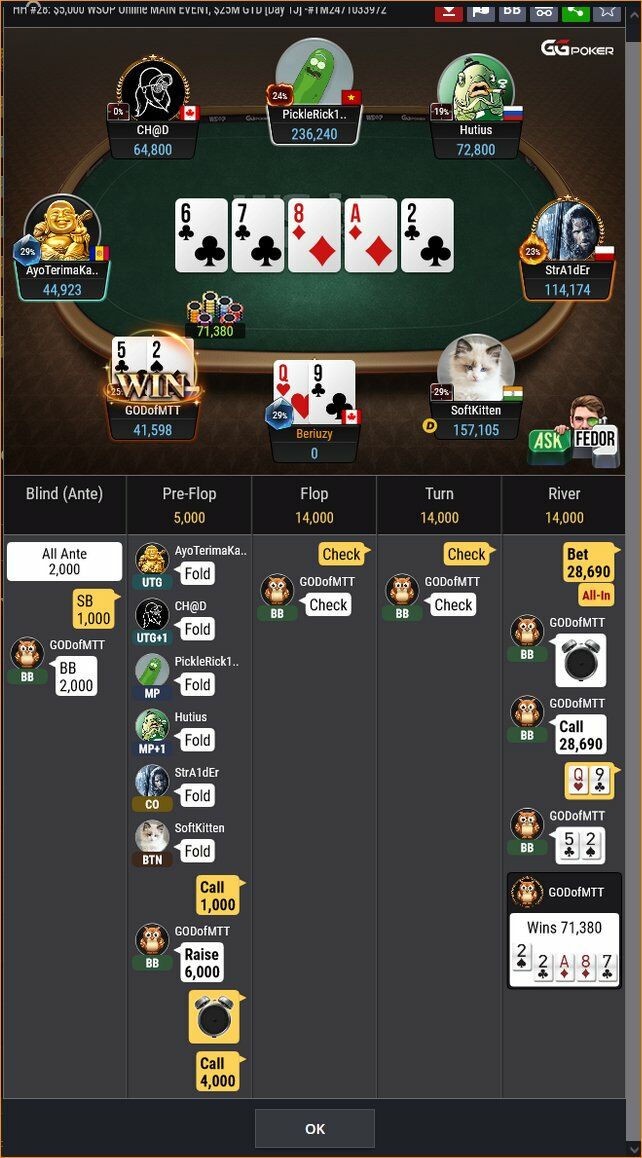 With here you should always push as a bluff.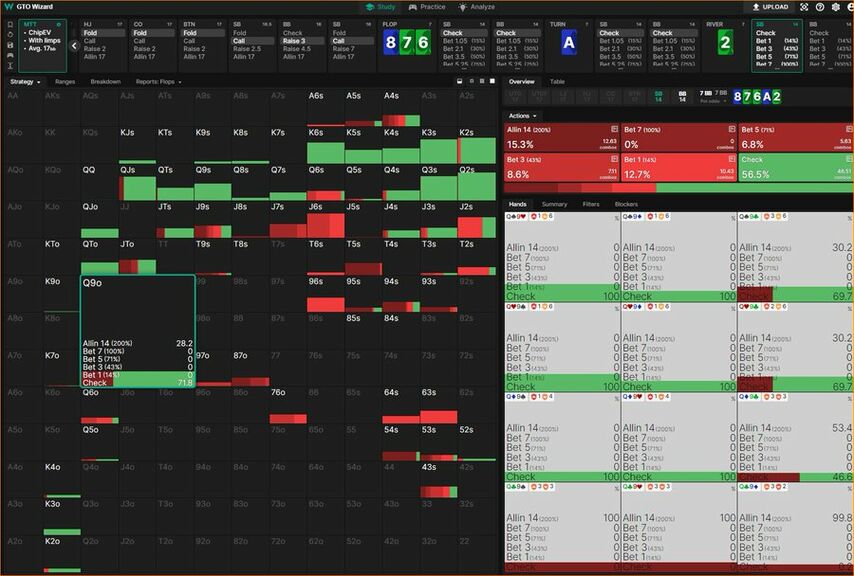 And the opponent with must always call all-in.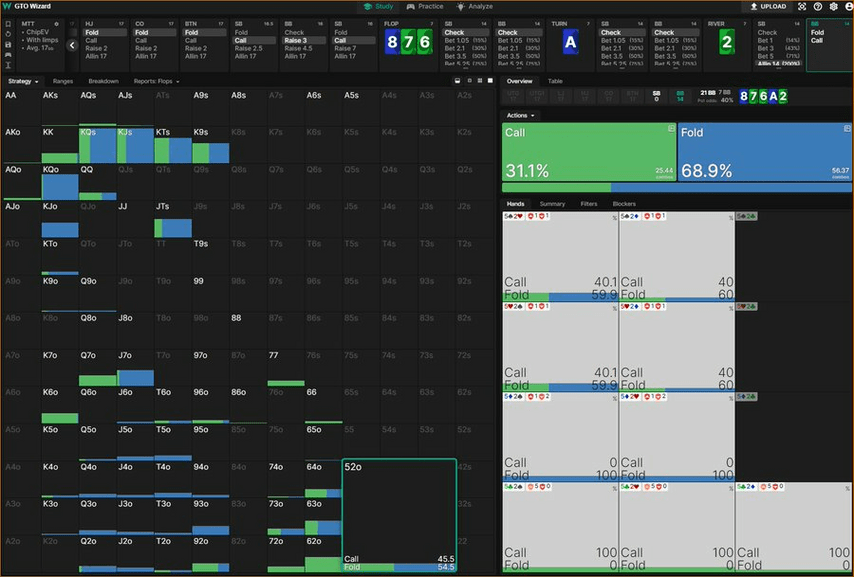 Interestingly, it took him a full two ​​minutes to come to the correct conclusion. I give him credit. Poker is easy haha... Just call with bottom pair in a $5k tournament against a super polar strategy. But the opponent played perfectly.
In the last review we showed a photo of Bert Stevens's desktop.
This time Girafganger gave a video tour:
Landon Tice continues to conquer online cash:
-- 50k hand sample on 200 blitz.

1) Had the 40 buyin heater from being stuck so natural to lose some back

2) Graph of the month looks pretty good though (graphs exclude rakeback)

3) Variance calc for 3bb/100 wr over 50k hands

100k hands we go (you'll see most hands on stream)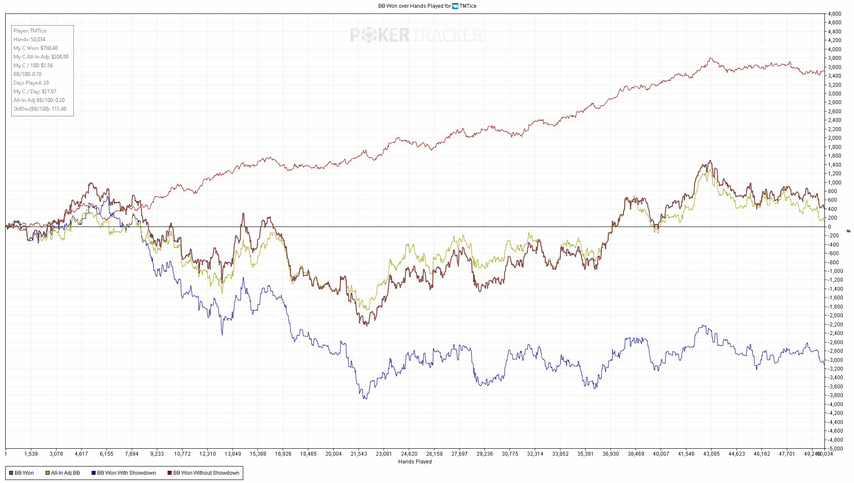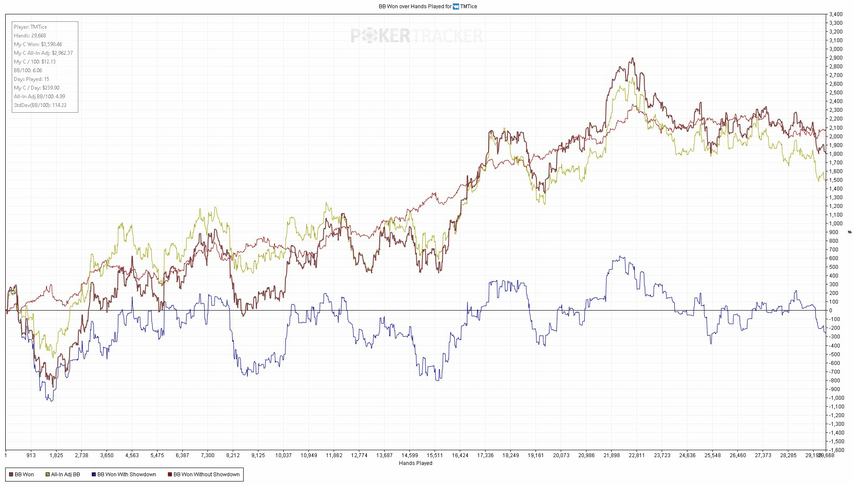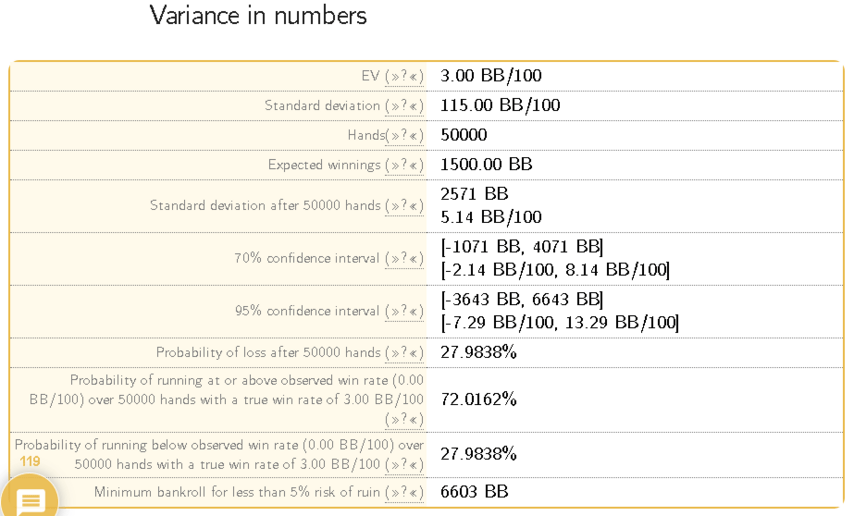 Jonathan Van Fleet busted one of the most popular poker myths:
– Common Myth #1: 100 buy ins is enough to not go broke as a winning player in MTTs Truth is 100 buy in downswings are common for winning players, even 20% ROI players. You need more like 400-500 to never go broke. 100 buy ins only works if you move down appropriately, but in that case 20 buy ins works too. ACRPoker
At the current WCOOP series, Benny "RunGodlike" Glaser has already won six tournaments – Badugi for $109, 2-7 triple draw for $1k, NL2-7 for $1k, 6-max PLO8 for $2k, NL 5 cards for $1k and 6-max NLHE for $320.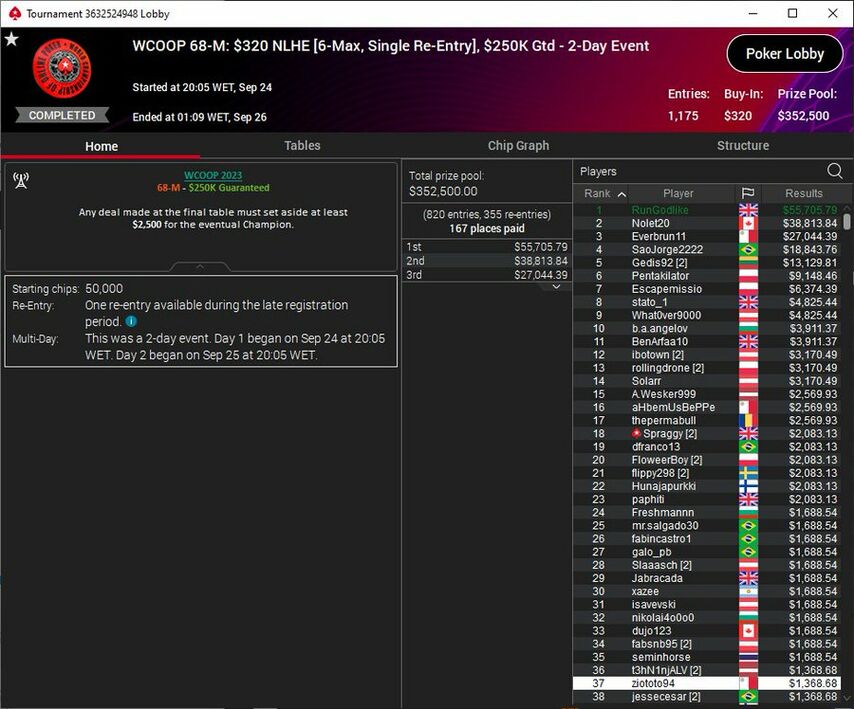 "Everything that's happening is completely absurd," Benny himself doesn't believe in what happened. – Set a new series record and won his 24th title in all *COOP series. Incredibly happy and grateful to everyone for their support.
Chance Kornuth recalled the difficult life of any professional player:
All successful poker players have dealt with the following at one point:

-Running worse than you thought was possible

-Massive downswings

-Having to move down in stakes

-Crushing self doubt

-Worries about money

Everyone has experienced it.

Keep going.
"I didn't have anything like that," Chris Moneymaker denied the theory.
After every journey, Cole South finds itself at a crossroads :
– When I get home from a trip, I have only two speeds for unpacking: Under 2 hours Over 2 months.
Decision time.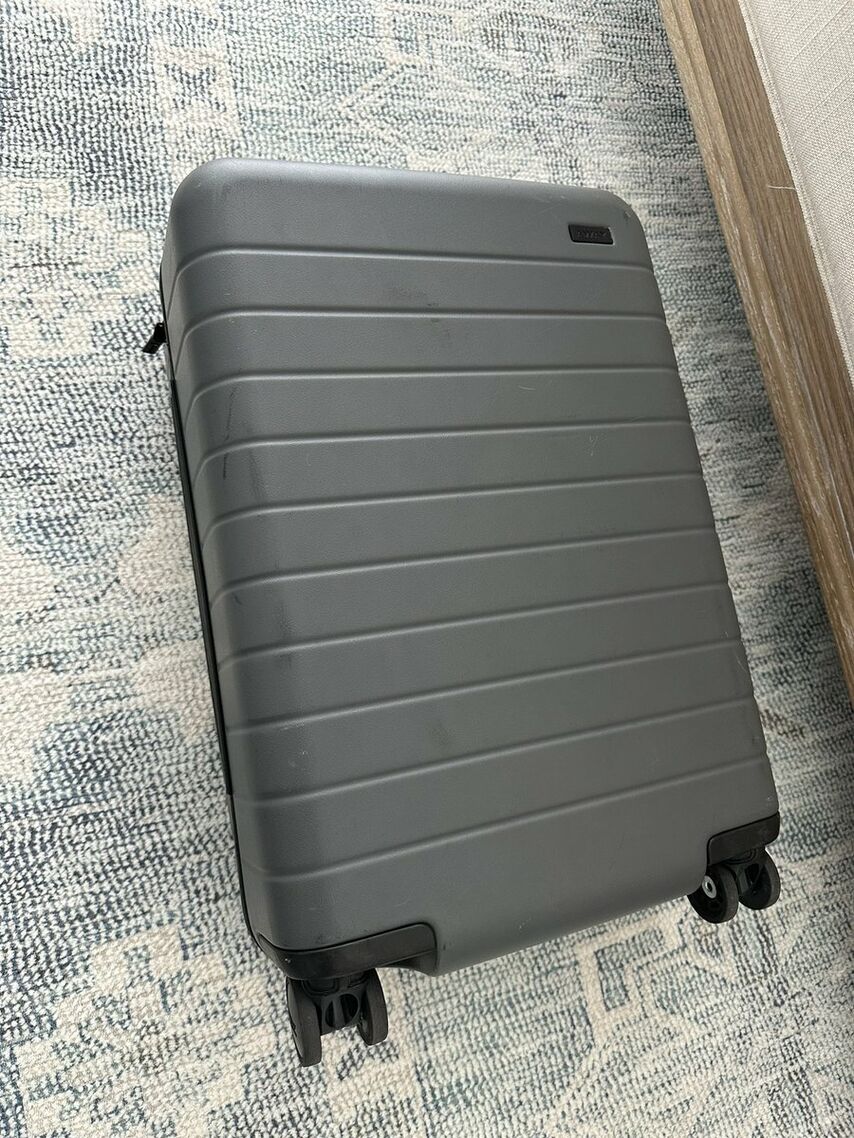 Steve O'Dwyer collects HendonMob flags, and focuses exclusively on winning, although they even give a flag for winning prizes.
Steve has won tournaments in 19 different countries, and he has no equal in this.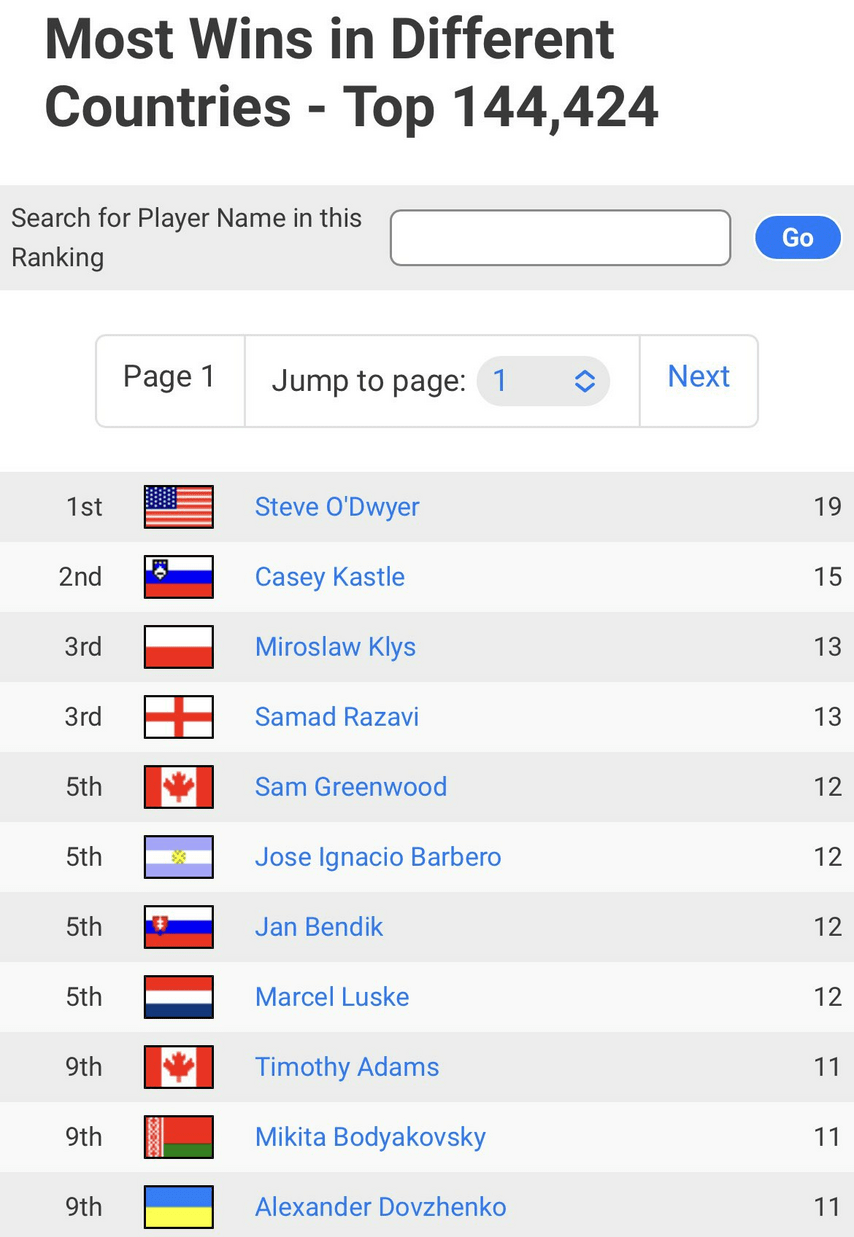 "I think the rarest flag is the Angolan flag," Steve plunged into research . "Only Antonio Matias has it." In its entire history, only one tournament was held in Angola that was included in the database, and he won it. By the way, Matthias is the hero of one of my favorite poker jokes. In 2009, he won EPT Villamoura in 2009 and he declined to give a winners interview because he had to go home "because I have a duck in my oven"
I also found tournaments in Kenya, Mozambique, Belize, and one even in Vanuatu! But the winners are not listed. And I would like to know the history of those series, and who went there. For example, who won the $1,000+50 Pot Limit Seven Card Stud tournament in Vanuatu on April 12, 1991 !?
Vanessa Selbst played a cameo role in one of the last episodes of Billions.
True, the audience ignored Vanessa's acting. All the comments under the video are about how the show has become absolutely terrible.
Daniel Cates stays away from scandals and continues to delight readers with philosophical reflections:
It is almost poetic how poker has a habit of humbling the arrogant. Often artistically too…
Phil Hellmuth recalled that in the 2000s, famous players were not inferior in popularity to sports and show business stars:
Let's talk Trading Cards (rabbit hole!)! @Leaf_Cards releasing "Poker Trading Cards" set, including 300 cards signed by me. I am paid $25 per signature.

In 2007, I was paid $150 (or $200?) per signature for at least 100 "Sport Kings" trading Cards: what are they worth now? Sport Kings article w the others on that set (I am in great company!):
In that set, Phil was the only poker player, and he really had decent neighbors – basketball players Larry Bird and Magic Johnson, hockey players Mario Lemieux and Patrick Roy and many other famous American athletes.
There is a lull on the Hustler streams; the most striking event recently was the unsuccessful attempt of one regular to leave the gaming area.