When you hear the term "cooler" in poker, you might not know what it means. Is the room colder than usual? Is one of the players wearing some cool clothes?
But really, what is a cooler in poker?
A cooler is a situation where two or more players think they will surely win the hand. Another name for a cooler is a "setup hand". That's because ‌players are almost guaranteed to invest all of their chips in the hand, thinking they are almost guaranteed to win.


Long-running room with lively cash games and eight-figure MTTs
GT Bonuses


Bitcoin and US-friendly room that allows HUDs
GT Bonuses


Global crypto-only room with bad beat jackpots and weekly leaderboards
GT Bonuses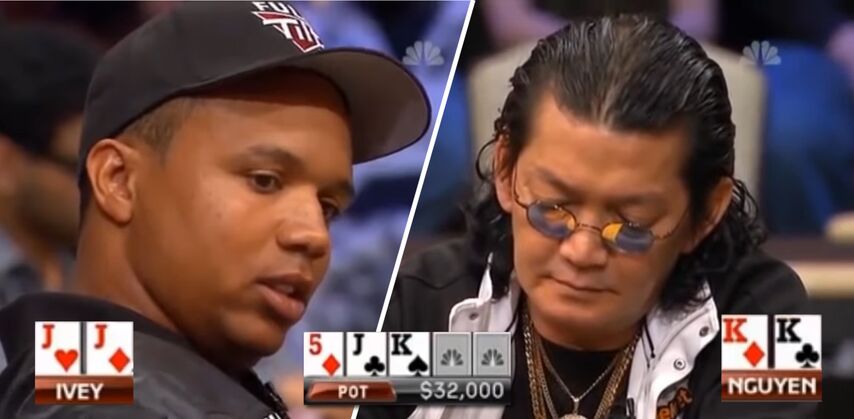 One simple example we can use is when one player gets dealt pocket Aces and another gets pocket Kings. Both players are going to assume they have the strongest hand, but only one is right about that.
Coolers can happen at any time during a poker hand, preflop or postflop.
Sometimes you are on the right side of the cooler and win a massive pot, but other times, you won't be as lucky.
It's time for us to discuss coolers and ask the classic question; is it possible to escape a cooler in poker?
Coolers in Poker with Real Examples
In a true cooler, you usually see two of the best possible hands competing. For example, you might have the nuts, but your opponent has the 2nd nuts. When only one or two hands can beat your hand, it's easy to get overconfident.
There are cooler flops, cooler turns, and cooler rivers.
In most coolers, each player does their best to get all of their chips into the middle. Neither one wants to avoid this because both players think they cannot lose.
Our first cooler incident is imprinted in the minds of most poker players.
Cooler #1: The Cooler Every Poker Player Knows
This hand comes from the opening scene of the movie Rounders, featuring Matt Damon and John Malkovich. If you haven't seen this poker movie, you need to put it on your list.
Mike McDermot (played by Matt Damon) has the 2nd nuts. His full house is only beaten by one hand, which his nemesis, Teddy KGB, is happy to have.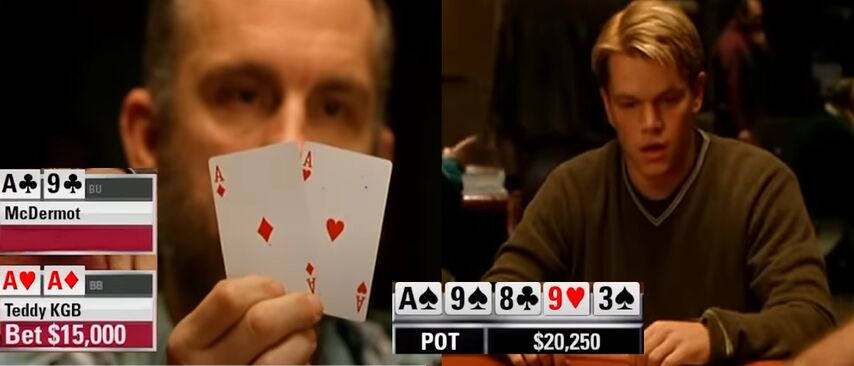 Cooler #2: Quads Against Quads
This cooler is a perfect example of a cooler. Andrew Robl was completely handcuffed, with no choice but to put all of his chips in. Andrew flopped a full house, which is the 3rd-strongest hand, only beaten by Q-9 and Q-Q.
Unfortunately for Andrew, his fate was sealed when the fourth 9 card came on the river. With four-of-a-kind nines, he only had to worry about four-of-a-kind Queens. The likelihood of Lewis having Q-Q is so slim that Andrew would have barely considered it, like most players.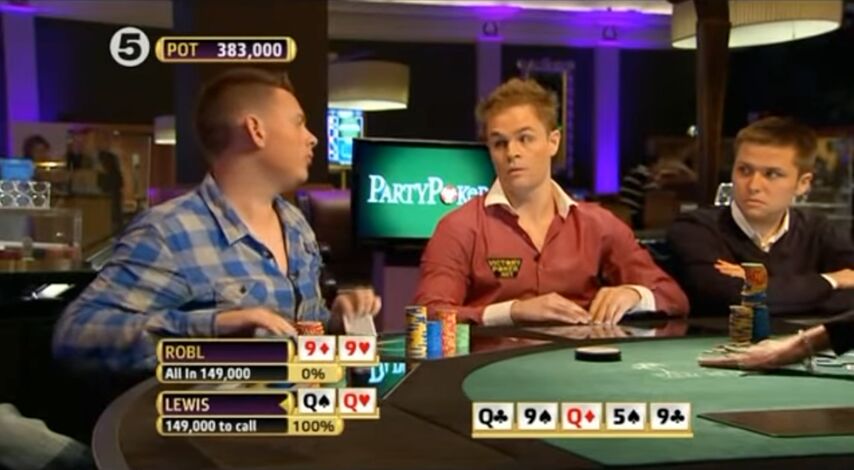 Coller #3: Aces vs Kings vs Queens
Aces against Kings is not the most uncommon situation, but adding Queens makes this quite a cooler. What makes this even more of a cooler is that they are playing with 6 players at the table. For three players to be dealt these premium pocket pairs in the same hand is very improbable. Players are more likely to put it all in because of this.
Even though he was behind, Mateos ended up surviving this cooler by hitting a Queen on the turn (a set).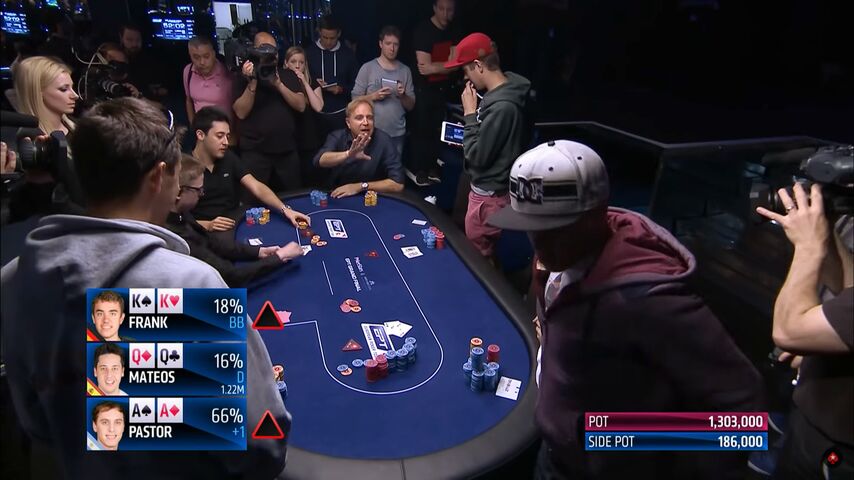 Cooler #4: Flopping the Nut Flush and Having 0% Chance
This cooler is difficult to watch. Andy, a high-stakes cash game player, flops the Ace-high flush at Hustler Casino. Usually, this is considered the nuts, but not today. Mariano had K♦ 10♦, giving him an unbeatable straight flush on the flop.
There's almost no way that Andy could give Mariano credit for 10♦ 8♦ or K♦ 10♦, but he would later say, "It was a stupid call, he'd never bluff me [in that situation]".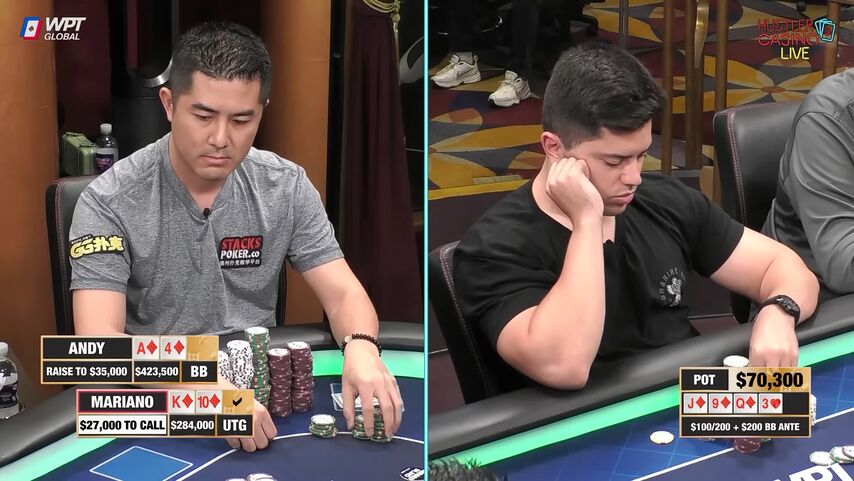 Cooler #5: Straight vs Straight with a Twist
This cooler is one of the ones on our list that it is possible to escape from. It's safe to say that 99% of players would probably have lost their chips here and called.
Phil Hellmuth flops the nut straight from 8 to Queen, and Doug is in there with a lower straight. With only one hand beating him, it's hard for most players (including the commentators) to imagine him folding 10♦ 7♣ here.
Because of Phil's aggressive and tight table image, his prey escaped and folded the lower straight.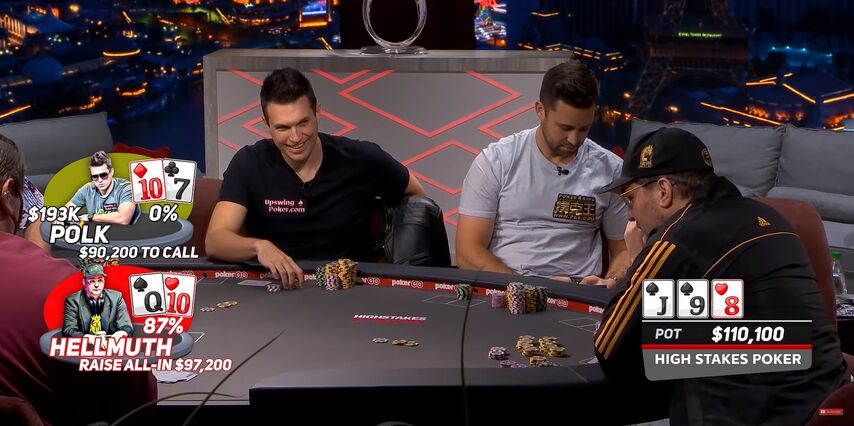 Some Coolers Can Win You Massive Online Jackpots
One of our favorite poker sites actually rewards you for being involved in coolers, whether you win or lose them.
1. Bad Beat Jackpots
At GGPoker, if you have a legendary cooler, like losing with four-of-a-kind Aces, you'll trigger the jackpot.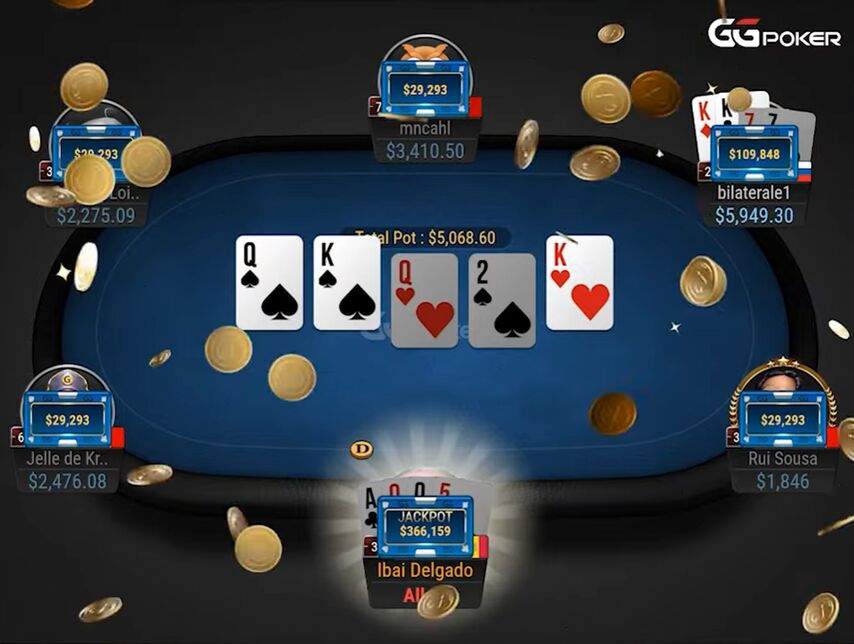 Some players have won exorbitant amounts of money with these jackpots, like this table which got to share over $500,000. In Texas Holdem, you need to lose with A-A-A-10-10 or better. In PLO, you'll need to lose with four-of-a-kind deuces or better.
Even if you don't qualify for the Bad Beat Jackpot, you can still get other rewards for being in coolers.
2. GGCare & GGCheers
If you've just been on the losing side of a really bad cooler, there's a chance that GGPoker will enter you into a $100,000 Flipout tournament. In these events, every player goes all in until winners are crowned, so you don't need to be online to play. GGCheer might enter you in the same event when you get a rare hand or a big win.
Have You Seen the Jackpots at Poker Clubs?
Mobile poker clubs split players up into clubs, meaning you can decide which group of players to play against. At PokerBros, unions connect some of these clubs together and host massive shared jackpots. As long as you are playing on a BBJ (Bad Beat Jackpot) table and meet a couple of requirements, you've got a chance of hitting the prize. If you're playing thousands of hands a week, this could sweeten the pot.
Just like other jackpots on poker sites, the player who loses the hand takes home the biggest prize. The table also shares a percentage of the jackpot, so everyone wins chips instantly.
Do you want to see which clubs and unions run jackpots for Texas Holdem, Omaha, and 5-card Omaha? Contact our GT+ Support Team to get the latest updates about which ones to join.
GipsyTeam support
We will help you solve
any
poker question
We work
around the clock
without weekends and holidays
We respond within 10 minutes
Increased rakeback and personal bonuses
Help with deposits and cashouts
Access to mobile applications
Solving problems with accounts
Technical support
Questions about the site and forum
Can You Avoid Losing Your Chips in a Cooler?
If someone ever tells you that they escaped from a cooler, it probably wasn't a true cooler.
That's the meaning, and the feeling, of a cooler; you don't get away from them. Of course, players make incredible folds, but that just depends on how severe of a cooler it is. For most of the hands on our list, you'd never expect the loser to avoid ‌disaster.
Remember this: Setup hands and coolers happen to every player and they are inevitable. You'll be on both sides of these coolers, but what you cannot start to do is assume coolers happen all the time. Consider the range of your opponent and play solid fundamental poker.