What is a overplay in poker?
Overplaying in poker means investing more chips than you should in a hand. Some players do this because they think their cards are stronger than they really are.
The overplay usually happens because a player misjudges their hand, either preflop or postflop. If this lapse of judgment happens at the wrong time, they can lose a lot of chips.


Long-running room with lively cash games and eight-figure MTTs
GT Bonuses


Bitcoin and US-friendly room that allows HUDs
GT Bonuses


Global crypto-only room with bad beat jackpots and weekly leaderboards
GT Bonuses
We're going to talk about the main reasons that players overplay their hands in poker, plus ways you can avoid this costly mistake.
But first, let's see a few overplays in real poker scenarios.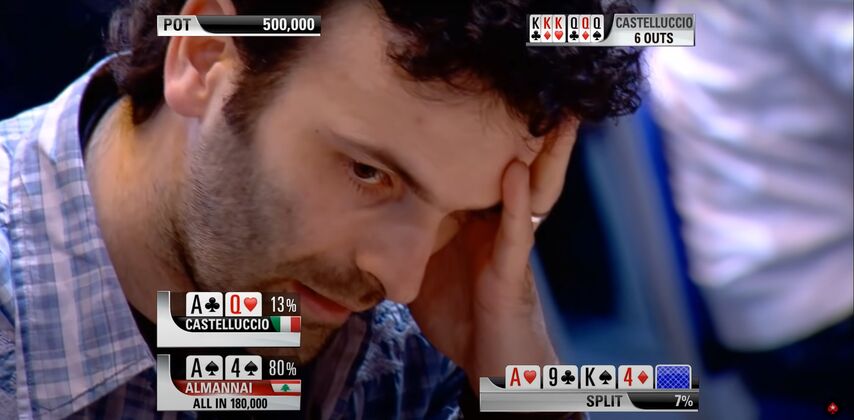 Examples of Overplays in Poker
We're going to look at two poker hands where players overplayed their cards and wound up losing massive pots.
1. Postflop Overplay – Top Pair vs A♥ A♦
Our first hand comes from Hustlers Casino, where Wesley is facing off against Francisco. The hand started aggressively, with Wesley 3-betting his pocket Aces.
Here's where Francisco began to overplay his hand, possibly because of Wesley's loose and aggressive reputation. He calls big flop and river bets, with no draw and a medium-strength kicker. Despite big bets from Wesley, he continues to call until the river.
Then, Francisco leads the river with an all-in bet, which Wesley calls within one or two seconds.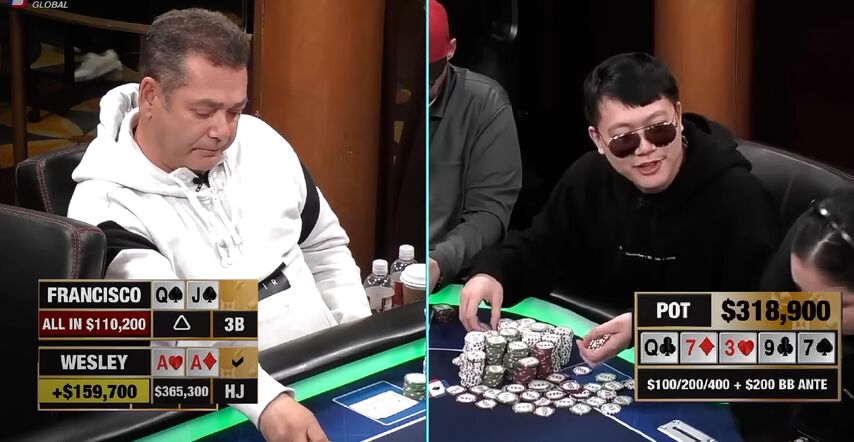 Why is this an overplay from Francisco?
If Wesley is betting for value, Q♠ J♠ is almost certainly not in the lead. Wesley is representing quite a strong hand with the betting line he has taken, meaning that w can expect hands like A-A, K-K, Q-Q, A-Q, and even K-Q.
When Francisco shoves all-in for $110,000 on the river, only better hands than Q♠ J♠ will call. Instead of betting, Francisco could have checked, then considered calling a bet from Wesley.
The table thought this was an overplay from Francisco, and unfortunately, they may be right.
2. Overplay – J♦ J♥ vs A♥ A♠
Sometimes, you expose yourself to more risk than you need to. This next hand from a huge Triton cash game is a great example of that.
As you can see below, the action starts with a raise from Aaron Zang holding A♥ A♠.
A♥ A♠ raises to $4,000.
J♦ J♥ 3-bets to $15,000.
A♥ A♠ 4-bets to $55,000.
J♦ J♥ 5-bet shoves (moves all-in) to $200,000.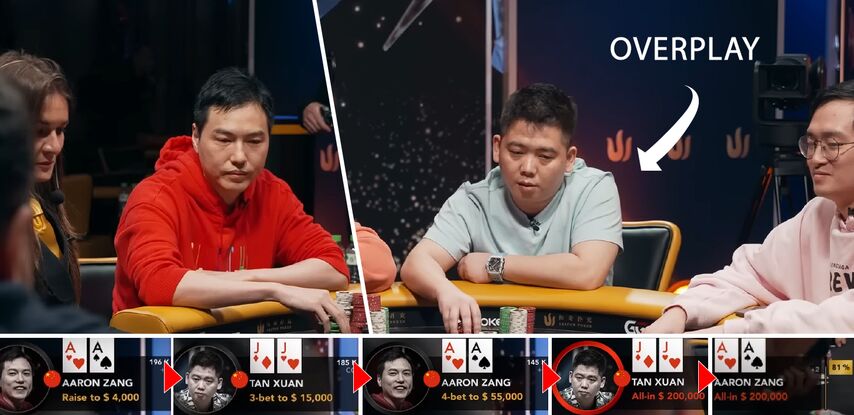 Why is this an overplay from Tan Xuan with pocket Jacks?
It's very unlikely that worse hands will call his $200,000 all-in. Pocket pairs below J♦ J♥, like 10-10 and 9-9, don't usually 4-bet (but Zang did). The hands we expect to 4-bet, like pocket Queens, Kings, and Aces, all have an 80%+ chance of winning against J♦ J♥.
If Tan Xuan is lucky, he may be called by hands like A-K or A-Q suited, but this still doesn't mean he is far ahead. A-K suited has 45% equity against J♦ J♥.
In both of these example hands, players exposed themselves to more risk than they needed to while holding mid-strength hands.
Want to play some risk-free poker and practice these situations? Check out our freeroll section to enter tournaments with no entry fee and cash prizes (or tournament tickets).
Register using this link to get access to GipsyTeam bonuses:
Increased first deposit bonus
Increased rakeback and reloads
Help with deposits and cashouts
Access to closed freerolls
Round-the-clock support
Win real money in tournaments without buy-in!
114 more freerolls
The Major Problem with Overplaying Hands
When you overplay your hand, you do two things:
You force the worse hands to fold. (losing value from weaker hands)
You only get called when you are beaten. (giving value to stronger hands)
Of course, this is a generalization, but it's usually true. Sometimes, you'll get away with an overplay and things will work out in your favor. Most of the time, you'll make worse hands fold and better hands call; meaning you cause a bad situation either way.
If you want to do some experimenting of your own, we recommend heading to a soft poker site and choosing micro or low-stakes tables.
We've fully reviewed online poker rooms and made simple guides for collecting their bonuses.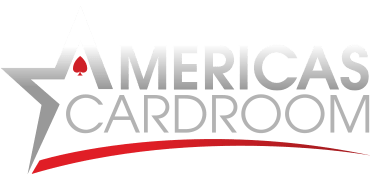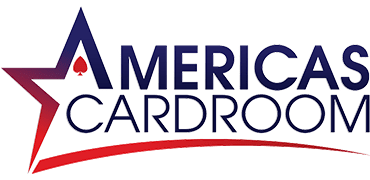 Deposit bonus
100% up to $2,000
Other
Playing with amateurs from USA
Regular rake races
Bonuses from the GipsyTeam
Help with withdrawals and deposits
Bonuses for active players


Deposit bonus
100% up to $600
Other
High rakeback
Daily Leaderboards
Satellites to worldwide tournament series
Bonuses from the GipsyTeam
Access to exclusive promotions
Bonuses for active players


Deposit bonus
100% up to $600
Other
Huge tournament prizes
Lots of unusual games and promotions
Easy deposits and cash outs
Bonuses from the GipsyTeam
100% Deposit Bonus up to $600
Bonuses for active players
How Can You Avoid ‌Overplay in Poker?
Don't fall in love with your cards. Inexperienced players often overplay large pocket pairs, finding it hard to accept that they could be behind their opponent.
With mid-strength hands, don't look to invest all of your chips. Most of the time, you should aim to control the size of the pot and get to showdown with your mid-strength hands. Of course, there are times when mid-strength hands can be played aggressively, but not always.
Be aware of how flop, turn, and river cards affect your hand. Remember that everything changes with new cards. Which draws did that card complete? Does that card help my opponent or is it a safe card? Overplays happen when players blindly assume they have the best hand, which can change with a single card.
Start thinking in terms of ranges. Lot's of overplays can be avoided by thinking about your opponent's range. A range is the full spread of hands our opponents could have at one specific moment. Their bets and their position can tell you a lot about their range. When your own hand is weak, you want to avoid going up against strong ranges.