Do you know what the term "pushing" means in poker? What is a push in poker?
The term comes from pushing your chips into the pot, but not just a few of them – all of them. You might also hear terms like "pushing all in" or "shoving", but the meaning is the same.
When you push in poker, your opponents have to decide to call your all-in or fold their cards. This can be very useful in the late stages of tournaments. Sometimes, you'll have to push all of your chips in, instead of making raises.


Long-running room with lively cash games and eight-figure MTTs
GT Bonuses


Bitcoin and US-friendly room that allows HUDs
GT Bonuses


Global crypto-only room with bad beat jackpots and weekly leaderboards
GT Bonuses
Push strategy is vital for tournament players to learn, but cash game players use it too.
This 5-minute article will teach you more about push rules and strategy.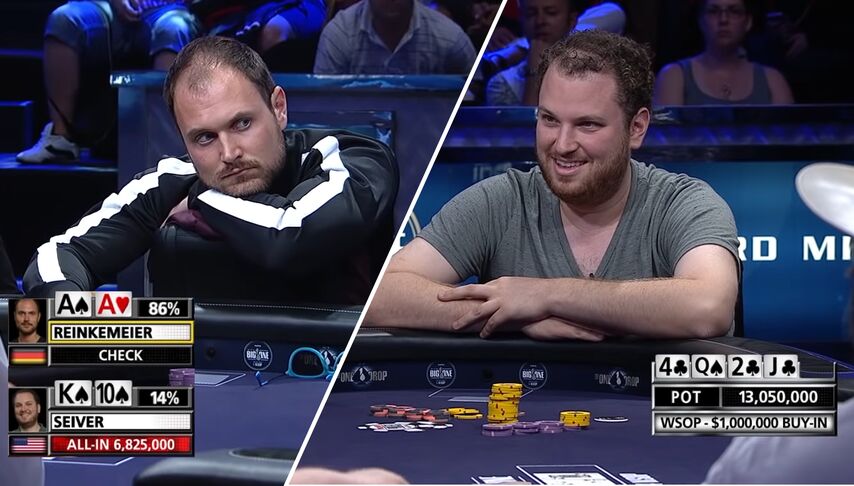 What is a Push in Poker?
A push in poker is the act of putting all your chips into the pot. In live poker games, you can announce this action to the dealer by saying "all-in". Some casinos also accept other gestures, as long as your intention is clear and you effectively communicate with the dealer.
When you push and move all your chips into the pot, you have no more actions to make. At this point, all you will need to do is wait patiently for your opponents to act. Live poker players need to keep their poker face steady after they push in a tournament.
If you are playing no-limit poker, you can push at any time. With other games, like pot-limit Omaha, you will have to wait until the pot size is large enough. That's because your bets are limited to the size of the pot, which is where the name "pot limit" comes from.
Players push in cash games and multi-table tournaments (MTTs), but it's a more common occurrence in tournament poker.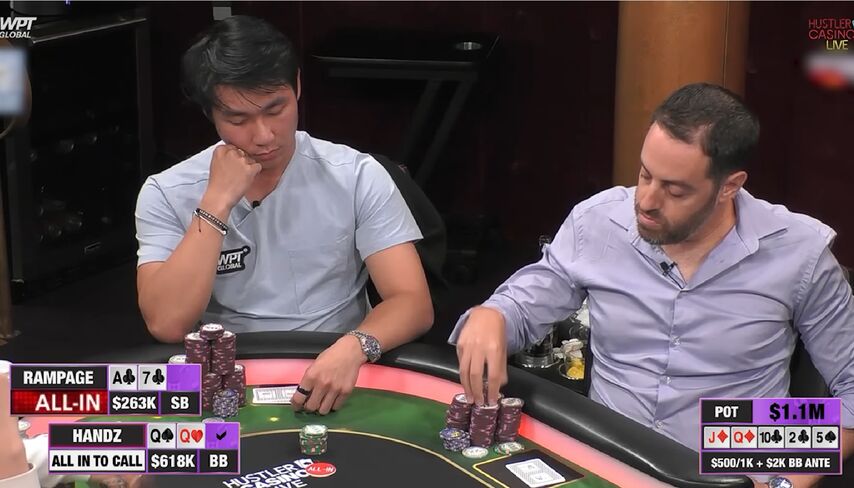 Why Do Poker Players Push?
There are a few reasons that poker players choose to push.
A push is a valid poker strategy that you'll need for cash games, but it's most useful in MTTs.
Here are a few main reasons for poker players to push:
1. You want to double your chip stack when your hand is strong.
By moving all in, you could be called by an opponent with a weaker hand. This will put you in a great position to double your chip stack (or more).
2. You want your opponent to fold when you think you have a weaker hand.
Pushing all-in can put lots of middle-strength hands to the test, and even make strong hands think carefully about calling. Sometimes players push with a compete bluff, but other times, they may have a draw (semi-bluff).
3. Your chip stack is getting smaller in the late stages of a tournament.
When you have a short stack, you've got to choose a time to get in your chips in and double up (or bust from the tournament).
The best tournament poker sites have high traffic, meaning that they can hold bigger events (with bigger prize pools).
If you want to get into MTTs, there are lots of different formats these days. The most common ones are progressive knockout, rebuy (which lets you buy a new stack if you lose your chips), and bounty tournaments that pay you for knocking players out of the event.
How Do Players Know When to Push?
Players decide to push based on several different indicators or factors. Push and fold charts or programs with a GTO calculator can also train you to solve push situations quicker.
Hand strength is the obvious place to start. The stronger your hand is, the more happy you will be to push your chips into the pot.
Position affects pushing too. Players can push with a wider range of hands when they are in a later position (closer to the button). When you push from an early position, you will have more opponents acting after you. It's best to push more from late positions at the poker table, meaning you've watched other players act already.
Play styles of your opponents can influence your push range too. With loose opponents, you can shove a wider range of hands. Against tight opponents, you may want to adjust your push range.
The ranges of your opponents should always be on your mind. Take note of their actions and adjust their ranges accordingly.
Stack sizes can tell you whether you should push with a wide range or play more conservatively. When your own stack is small, you are incentivized to push with a wider range. Similarly, you can push with a wider range if your opponent is sitting on a small stack of chips.
Tournament stages can dramatically affect the hands you push. In the later stages, the other players will be more conservative with their chips. The closer you get to the final table, the more important pushing correctly will be. You can use a program like ICMIZER to hone this aspect of poker strategy and learn about push & fold charts.
How Can You Improve Your Push Strategy?
A tool like ICMIZER uses a powerful calculator and a helpful hand replayer to help you improve your push strategy. This tool is made specifically for players who want to get better in the late stages of tournaments. It's common to find yourself with two options (push or fold) and you need to know how to react properly.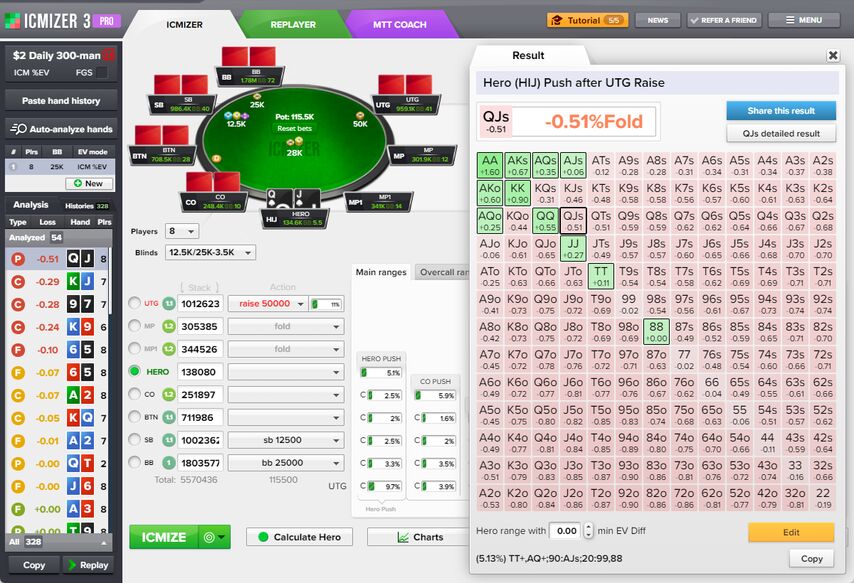 The tool lets you experiment with push/fold spots and adjust the player number or blind levels. As you run through different scenarios, you'll get to view the push and fold charts. By using a GTO (game theory optimal) approach to these situations, you'll probably improve your performance noticeably.
ICMIZER is not the only range analysis program in the GipsyTeam Shop, but it's a tool that is focused on push/fold scenarios.