What is a snap call in poker?
Snap refers to a quick decision, meaning an action that a poker player doesn't think much about – they just do it.
A snap call in poker means a call that players make almost automatically – either by announcing "call" right away or putting the chips into the pot. Along with the term snap call, you might have heard of snap fold, snap check, and snap bet.
This is also known as "beating someone one into the pot" meaning that your chips are almost in the pot as fast as the bet was made. Some decisions in poker are easier than others, but some are "insta-calls", which is another term for snap calls.


Long-running room with lively cash games and eight-figure MTTs
GT Bonuses


Bitcoin and US-friendly room that allows HUDs
GT Bonuses


Global crypto-only room with bad beat jackpots and weekly leaderboards
GT Bonuses
We will discuss the definition of snap calls a little more, and then explain which calls are snap calls.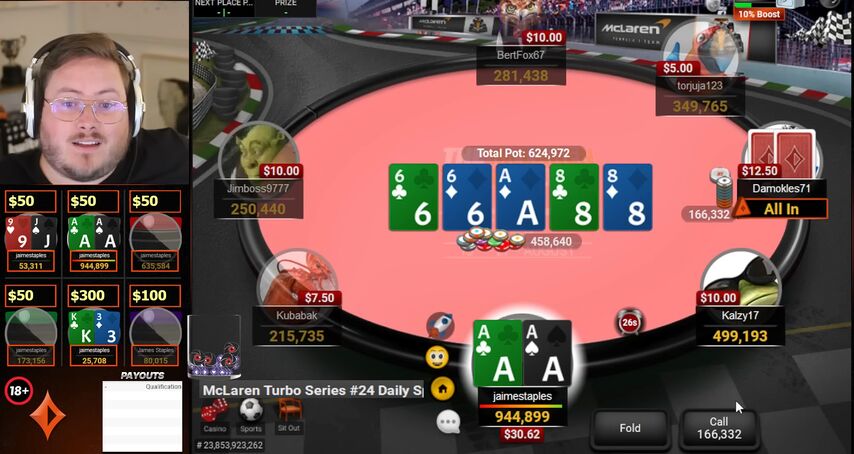 What's the Definition of a Snap Call?
A snap call happens as quickly as you snap your fingers, but waiting a few seconds is also considered a snap call.
The opposite of a snap call is a "tank call", meaning a player thinks for a long time and can't decide quickly.
Snap calls in live poker games are rare to see. Most players will think for at least a few seconds and then make a slow, deliberate movement with their chips. Also, they've got to count out the right amount.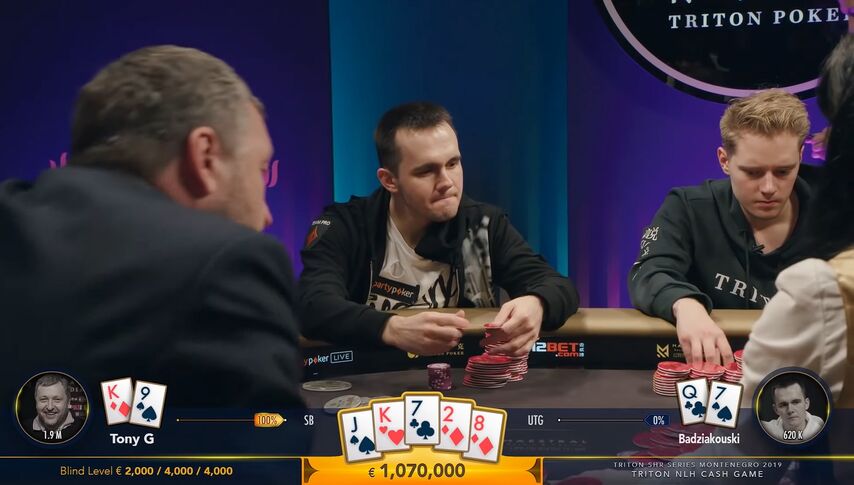 If the decision is big, even taking 10 or 15 seconds could be called a snap call. This shot from the Triton Poker Series was from a hand where Tony G called a bluff raise after about 15 seconds, which the commentators said was kind of a snap call.
In online poker games, like the ones we review and test, snap calls are more common. It's faster to click a button, and especially at the micro stakes, recreational players don't always ponder for too long.




BetOnline
Bitcoin and US-friendly room that allows HUDs


CoinPoker
Global crypto-only room with bad beat jackpots and weekly leaderboards
Register using this link to get access to GipsyTeam bonuses:
Increased first deposit bonus
Increased rakeback and reloads
Help with deposits and cashouts
Access to closed freerolls
Round-the-clock support
Why Do Players Snap Call?
Here are some possible reasons that players snap call:
1. A player has a very simple decision.
Sometimes, a hand is a snap-call kind of hand, and folding or raising doesn't make any sense. This is going to be different for every player and different in some situations.
Some players will automatically call a preflop raise when they are on the button, with a wide variety of hands.
There are many postflop situations where snap calls make sense too, like facing a bet when you have the nut flush draw, calling a small river bet when you have top pair, or flopping a monster hand like an ace-high straight.
2. A player wants to intimidate the player who is betting.
A snap call is sometimes used by casual players to try and show their opponent that they are fearless. The hope is that by snap calling, there might not be a continuation bet on the next street.
Even though that plan makes sense, it's not a tactic that many professionals use. It's better to stay balanced, meaning that you call in around the same amount of time, every time.
Snapcalling to show strength doesn't make any sense when you think about it. If you have a strong hand, why would you want to influence your opponent to slow down with their bets?
Still, you'll find lots of micro-stake players snap-calling with weak and mid-strength hands. In general, when the pots are small and there's less money in play, you'll see more snap calls.
If you want to play online poker cash games at smaller stakes (like $0.10/$0.25 and below), check out partypoker. They're always one of the busiest poker sites and are known for great software and game integrity. For tournament poker players, MTTs and Round the Clock freerolls give players options.
Should You Snap Call or Take Your Time?
If you feel like snap-calling, hang on for a moment. If you are on the preflop, flop, or turn betting round, there's not much point in making insta-calls. Give your opponents as little information as you possibly can by using the same amount of time to call.
If you play online poker, taking 5 seconds or more to make a call is ideal. Check your time bank and try to be consistent.
If there is no more action, then your opponent can't get information from a snap call. When your call will be the final action before showdown, that's a good time for an auto-call. For example, if you have an easy call to make on the river or if a player goes all in and you have A♥ A♣.
When Should You Snap Call?
There isn't enough time to write down every single snap call situation, but here are a few spots you'll definitely see.
1. Calling all-ins with A♦ A♠ preflop.
There's nothing to think about when you have the best possible starting hand in poker. Unless you are slow-rolling a friend in an online home game, just make a snap call.
2. Small river bets in situations where you can't raise or fold.
Let's say the board is quite safe and you have a hand like top pair with a strong kicker. Your opponent checked the whole way through the hand and made a bet on the river. If you don't want to fold and raising seems a little risky, you can just snap-call the bet.
3. Calling flop, turn, or river all-ins when you hold the nuts.
Just like holding Aces preflop, you should always snap call when you have the nuts postflop and an opponent goes all-in.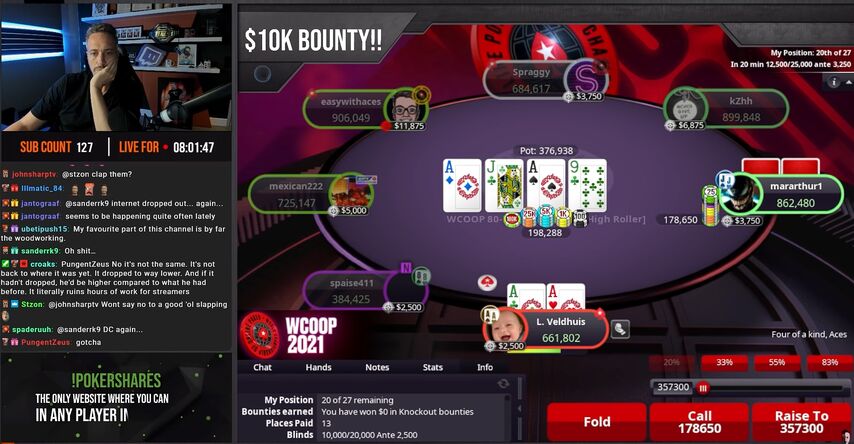 4. Calling short stack shoves in MTTs when you are near the top of your range.
If your opponent goes all-in during an MTT with 3 or 4 big blinds in their stack, there's not much to think about. As long as you have a reasonable stack size, you should be snap-calling with a large percentage of your range.
Practice your MTT snap calls in some of our freerolls. Check our schedule to see which free events are running today and which poker sites they are on.