What is the KKPoker App?
Founded in 2019, KKPoker is an independent poker application that has a distinct advantage over many of its competitors. The KKPoker app can offer regulated, real money poker, as a result of the licence granted by the Isle Of Man GSC. Therefore, players can deposit and withdraw funds safely using a cashier, rather than having to deal with an agent and the resulting hassle that can often bring.
KKPoker is supported in several languages including; English, Russian, Spanish, Portuguese, Japanese, and Chinese, and is available to players in various countries across Asia, America, and Eastern Europe.
This KKPoker app review will highlight:
The array of cash games and tournaments available
The deposit bonuses and promotions on offer including rakeback
How much rake is charged across the different games and stakes
Noteworthy features of the KKPoker app
How to access the KKPoker download and register
The range of deposit and withdrawal methods available
What cash games and tournaments are on offer on the KKPoker app?
Unlike many of its competitors, KKPoker has a lobby of cash games and tournaments that can be accessed by all players, rather than having a predominant focus on exclusive club games. These cash games include several variants of poker such as No Limit Hold'em, Pot Limit Omaha, Short Deck (6+), as well as, Open Face Chinese, with and without jokers.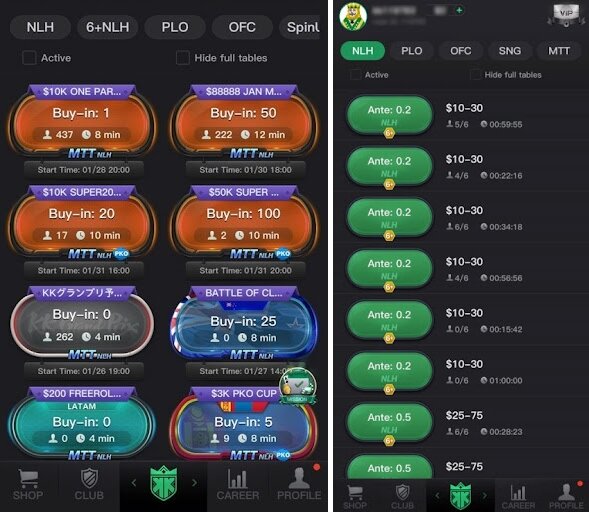 The more traditional No Limit Hold'em and Pot Limit Omaha games can be found in several formats such as 9-max, 7-max, and short-handed, with the highest stakes being NL400 and PLO200. For those that favour No Limit Hold'em, there are also Flash tables that allow players to be moved to a new table instantly after they have folded. Despite the emphasis on all-inclusive, global lobby games, there are also private club games that provide higher stakes, with their own unique rakeback deals.
With regards to MTTs, the KKPoker app offers series with generous guarantees, along with daily tournaments with buy-ins ranging from micro to mid-stakes. What's more, to accompany these tournaments, there will often be leaderboards to award those that perform the best over a given period. But, if you prefer the format of a tournament, but don't have the time for an MTT, there are also sit-and-go's and spins available with a range of buy-ins to suit your bankroll.
How much rake is charged on the KKPoker app?
As is commonplace, the rake on KKPoker differs based on the stakes of the game, the variant of poker being played (No Limit Hold'em, Pot Limit Omaha, etc.), and the number of players currently sitting at the table. But with that in mind, the standard rake across several variants and stakes is 5%, which is capped at three big blinds. This is illustrated by the table above.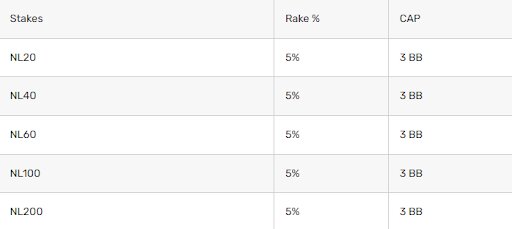 However, once the stakes reach NL400 and above the cap begins to decrease. For instance, at NL400 and NL600, the rake is capped at two big blinds, whereas, at NL1k and above, the rake is capped at one big blind.
Pot Limit Omaha varies slightly to No Limit Hold'em as the rake at PLO4 and PLO5 is 5%, capped at three big blinds regardless of the stakes. Although, if the action is heads-up, the rake is 3%, capped at three big blinds, which is the same as the NLHE heads-up tables. Nevertheless, if you are playing either of these variants of poker, and there is no flop, there will be no rake.
For players that like to delve into the world of Open Face Chinese, the rake will vary based on the number of players, in addition to whether jokers are included in the deck. The table below indicates this: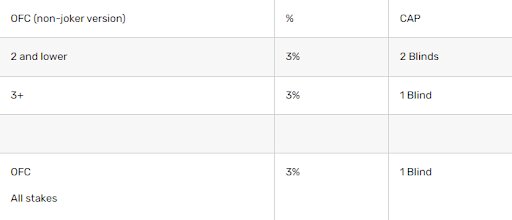 Does the KKPoker app offer any promotions or rakeback?
At KKPoker, a real money deposit isn't required to experience the thrill and excitement of poker. For instance, regular freerolls give players the opportunity to win real money and build their bankroll. Additionally, some of these freerolls act as satellites, allowing players to qualify for bigger tournaments with significantly bigger cash prizes.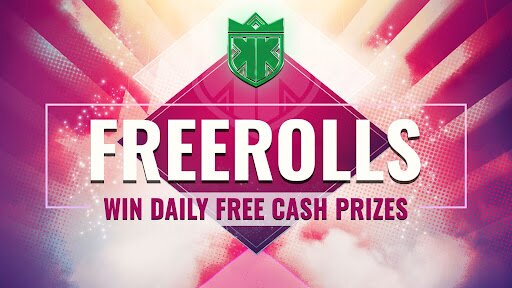 Furthermore, KKPoker has been known to periodically offer deposit bonuses to new players. For example, the KKPoker app has previously offered new players a $2,000 first deposit bonus. As a result, players were given $1 for every $10 they contributed towards the rake. This equates to a rakeback of ten percent.
What's more, if you join a private club, they may have exclusive VIP rakeback deals and promotions for their members. A popular promotion used by some clubs is known as a rake race. This is where the top x number of players that win the most raked pots in a given period qualify to compete in an MTT for the allocated prize pool.
Are there any noteworthy features of the KK Poker app?
The most stand-out feature of the KK Poker app, as mentioned previously, is that it is licenced and regulated. As a result, players are able to make deposits and withdrawals directly using a cashier, instead of placing their faith in an agent. If that wasn't enough, the integrity of the random number generator used by the KKPoker download has been certified. A random number generator is used to determine the cards that players receive, as well as the community cards. With that in mind, KKPoker would appear to be a trustworthy and reliable platform.
What's more, the KKPoker software is very user-friendly and multi-tabling can be achieved simply by swiping left or right on your device to navigate each table seamlessly. In addition to this, while the KKPoker app doesn't support heads-up displays (HUDs), there are several ways to work around this. For instance, by selecting a player's profile while in-game, you are able to access some basic statistics. However, if you would like more detailed statistics on your opponents, players have the option to obtain VIP cards, which vary in cost depending on the membership you desire.
How do you download and access the KKPoker app?
Before attempting to download, you must first make certain that you are permitted to use the KKPoker app in your region. KKPoker prohibits the use of virtual private networks (VPNs), and if you attempt to access the website from a geographical location that is restricted, you will be met with the image below: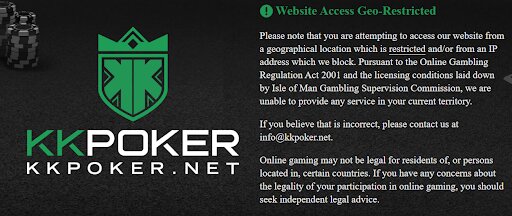 If you are able to access the KKPoker website, the initial stage is to complete the registration form with the required information. Afterward, the KKPoker apk will be available to download on both IOS and KKPoker android. Windows users shouldn't feel left out either because by using an emulator they will be able to access KKPoker PC. 
Once the KKPoker app is installed, users should submit their proof of ID for KYC purposes, which will then allow them to select a screen name and image to accompany it.
What deposit and withdrawal methods are available on the KKPoker app?
Credit Cards
Cryptocurrencies ranging from Bitcoin, Ethereum, Bitcoin, and XRP
Ecopayz
Neteller
Skrill
As the KKPoker app is licensed and regulated, players can be assured that any deposits they make are safe and secure. In fact, to comply with the regulations enforced by the licensor, KKPoker separates customer funds into a separate account. Consequently, players have the ability to withdraw their funds directly from a cashier when it suits them, rather than requesting their funds from an agent.
The payment methods that KKPoker offers to their customers may vary based on region. However, the payment methods below are the most frequently used: