This PokerKing review will provide significant detail regarding:
The range of formats available across cash games and tournaments
The generous rakeback on offer and the requirements for achieving it
The promotions available to new players and experienced grinders
The noteworthy features of the client
The procedures in place to ensure gaming integrity
The means of making a deposit and the deposit limits
How to download and access the poker room
What cash-game formats are available on PokerKing?
PokerKing undoubtedly offers its users an array of choices with regard to NLHE and PLO cash games. Players have access to:
Heads up, 4-max, 6-max, 8-max, and 9-max tables
Blinds ranging from 1NL to 20kNL
Short games (50bb max buy-in)
Cap games (30bb max per hand)
PLO enthusiasts also have the opportunity to play Hi/Lo, however, 7 Card Stud games are available if mixed games are your preference.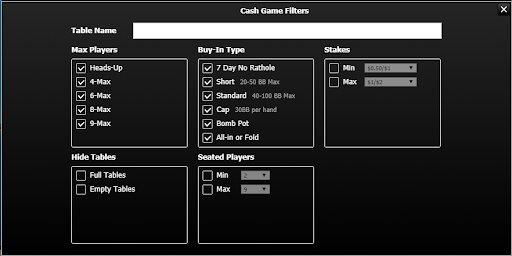 Additionally, if you prefer deep-stacked games, there are seven-day rathole tables. Ratholing is frowned upon in poker and refers to players who leave a table after winning, intending to later join the same stakes without those profits. For example, if a player sat at a table with $100, and left the table with $300, normally they would be able to rejoin the same stakes later on with only their initial $100. However, with seven-day rathole tables, users are prevented from doing so until seven days have elapsed. As a result, this creates very deep-stacked games.
What's more, for users that like to play as many hands as possible, without having to wait for the current hand to be completed, PokerKing has introduced Blitz Poker. This allows users to participate in a new hand at another table immediately after they have folded the previous one. This variation is accessible to both NLHE and PLO players with buy-ins that range from $10 to $1000.
Another feature added by PokerKing, made famous in American cash games, is bomb pots. For those unfamiliar, in this variation, the action begins on the flop after each player has contributed four big blinds at six-handed tables, or two big blinds at nine-handed tables. Bomb pots occur every fifteen minutes on specific tables which can be found using the filter.
Does PokerKing offer a wide range of tournaments and sit-and-gos?
The current lobby of PokerKing has tournaments to suit all bankrolls. With the exception of the freerolls, there are MTTs at the micro-levels that cost as little as 10¢ to participate, while on the opposite end of the spectrum, users can enter high-stakes tournaments that cost several thousand dollars. These tournaments are available for both NLHE and PLO players, with a variety of blind structures, formats, and stack depths.
Along with the daily online schedule, which has been adjusted to be considerate of European players, PokerKing has several tournament series running throughout the year. This includes the Encore series which boasts fifty-seven events, with entry costs ranging from $10 - $1,000. Additionally, one of PokerKing's flagship tournaments is known as The Venom, a progressive knock-out with a $5 million unconditional prize pool. Entry to the Venom will set players back $2,650, although there are satellites costing as little as $32 which aim to allow all users to play.
For the users that don't have the time for a fully-fledged MTT, PokerKing has sit-and-gos and Jackpots available. Sit-and-go buy-ins range from as little as 50¢ to $200, with entries restricted to between six and twenty-seven players. On the other hand, Jackpots serve as three-handed hyper-turbos where players have the chance to win up to $1 million depending on the luck of the spin. In this variation, buy-ins range from $2 to $50.
How can players achieve high rakeback percentages?
PokerKing has introduced The Royal Club which allows the most committed poker grinders to be rewarded with a maximum of sixty-five percent rakeback. To achieve this, users must advance their way through the six levels of the club by making contributions to the rake. For each $1 in rake contributions, users are given 5.5 Status Points (SP), with each level in The Royal Club requiring a set amount of SP to advance to. This is demonstrated by the table below:
| | | | |
| --- | --- | --- | --- |
| Club Level | Status Points Required | Rake Contribution Required | Rakeback |
| Bronze | 0 | $0 | 0% |
| Silver | 750 | $136.36 | 14.5% max |
| Gold | 3,000 | $545.45 | 20% max |
| Platinum | 7,500 | $1,363.64 | 22% max |
| Royal | 100,000 | $18,181.82 | 46% max |
| King | 1,000,000 | $181,818.18 | 65% max |
Additionally, as a players club level increases, the faster they can gain Royalty Points (RP). For instance, a user at the platinum level will acquire two and a half times more RP than a bronze-level user. RP can be traded for cash prizes, with the value of the prize correlating with the club level.
As well as cash prizes available for acquiring RP, users may qualify for prizes for achieving SP milestones throughout the year, which are otherwise known as shields of achievement. For example, after acquiring 750 SP, users qualify for a $10 prize, whereas if a user can acquire one million SP, they qualify for a $20,000 prize, along with the prizes for previous milestones. This accumulation of milestones equates to $44,400 in prizes.
Does PokerKing offer any deposit bonuses and promotions?
On top of the rakeback for club-level members, PokerKing offers to match all initial deposits of new customers up to deposits of two thousand dollars. This bonus is awarded $1 at a time when a user is able to accumulate 27.5 award points by taking part in the real money poker on offer. According to the provisions and guidelines of this promotion, users have sixty days to complete this promotion, while a minimum of $25 is necessary to deposit to be eligible.
If that wasn't enough, PokerKing hosts a weekly promotion known as The Beast for cash game regulars. During this promotion, users are awarded a point for each 2¢ that they contribute towards the rake during a hand. Once the week comes to an end, prizes are allocated to the top 1,600 players that managed to acquire the most points. Crucially, cash game regulars do not face an increase in rake to fund this promotion.
On the other hand, there is a promotion in place for users that prefer sit-and-gos known as Sit & Crush. Similarly to The Beast, users receive points based on their contributions to the rake. The number of players that receive prizes depends on the amount of rake collected during a given week. At the time of writing this review, PokerKing estimates that 342 players will receive at least a $50 prize, with the top 12 receiving $500, along with entry to a Sunday tournament.
Does PokerKing have any impressive features?
A stand-out feature on PokerKing is known as The Railbird. This feature provides users with a URL to their table which can be shared with friends across several platforms, without the need for the receiver to download the PokerKing client. This allows friends to experience the thrill and excitement of a deep tournament run alongside you.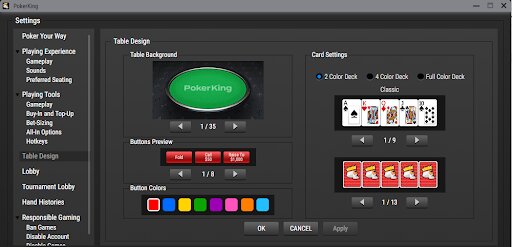 What's more, PokerKing offers a range of options to customise your online poker experience:
With regards to table design, there are thirty-five background to select, along with, eight betting button designs, and colours
Users have the choice of a two-colour, four-colour, or full-colour deck with nine front designs, and thirteen rear designs
Players can decide whether emojis used by other players, animations, avatars, and final table graphics are displayed
Users can choose the sounds that are heard for several actions, such as when chips are gathered, as well as upload their own sounds if they wish to do so
In terms of gameplay, PokerKing allows users to display their chip count in big blinds, configure their bet-sizing buttons, along with implement hotkeys that can noticeably improve the volume of hands that can be played. Moreover, players have the option to observe the basic statistics of their opponents. But if you require a more in-depth analysis of your opponent, PokerKing supports the use of heads-up displays (HUDs) such as Hold'em Manager and Poker Tracker. However, if you are on the fence about purchasing a HUD, PokerKing stores your hand histories for up to thirty days which can be analysed using the hand replayer tool. 
What procedures are in place to ensure gaming integrity and trustworthiness?
PokerKing can provide regulated online poker as a result of its Curaçao gambling licence. Being a licensed operator means that PokerKing must insist that new users verify their accounts by producing two forms of identification; one to provide proof of identity such as a passport, and the second to confirm the user's address, for example, a bank statement.
To further ensure gaming integrity, the random number generator (RNG) being used by PokerKing has been tested and approved by a reputable third party. In addition to this, the security team at PokerKing is actively banning accounts that violate their terms of service, including bots and reimbursing users that have fallen victim to these accounts.
Which payment methods can be used to make deposits onto PokerKing?
PokerKing offers users a range of payment methods to deposit and withdraw real money to and from the online client. This is demonstrated by the table below. However, it is important to note that deposit and withdrawal methods may vary depending on the region of the user. What's more, some withdrawal methods may incur a commission.
| | |
| --- | --- |
| Payment Method | Deposit Limit |
| Bank Transfer via VISA or MasterCard | $25 - $2,200 |
| Bitcoin | $5 - $25,000 |
| BCH, ETH, LTC, USDT, ZCASH | $10 - $25,000 |
| Bitcoin Gold, DASH, Tron, XRP, and other cryptocurrencies | $50 - $4,500 |
| Luxon Pay | $10 - $10,000 |
| NETELLER, ecoPayz | $5 - $777 |
| Skrill | $5 - $1,000 |
In addition to this, player-to-player transfers (P2P) are available between PokerKing users. However, it is important to note that both users must verify their accounts beforehand and wait twenty-four hours after registering their accounts. Furthermore, money transferred from another user cannot be withdrawn until the receiver has contributed rake which equates to ten percent of the money transferred. For example, if user A transfers $100 to user B, user B must generate $10 in rake before they can withdraw those funds.
How can potential users download and gain access to PokerKing?
Gaining access to PokerKing is a very simple process. The desktop client is available to download for both Windows and Mac users directly from the PokerKing website. Once the client has been installed and loaded, users may register a new account by providing a few details. This includes the desired username, and password, along with an email address to which a verification code will be sent. After correctly inputting the verification code, the registration process will be complete and users will then have access to the PokerKing lobby.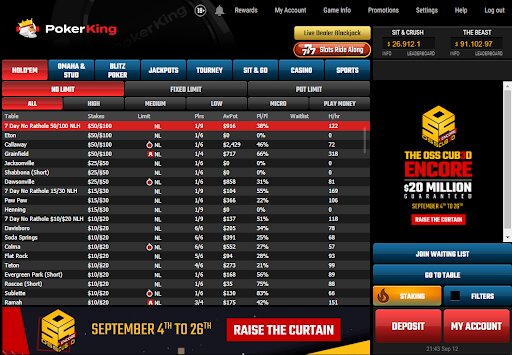 From that point, users can make their initial deposit using the payment methods discussed previously. Alternatively, if you are new to poker or prefer to test the software of the platform first, there are many freerolls to select, where winners may receive either cash prizes or satellite seats to PokerKing's flagship tournaments.
Summary: Advantages and Disadvantages of PokerKing
| | |
| --- | --- |
| Advantages | Disadvantages |
| There is an extremely wide range of cash game formats and stakes available. | The Beast and Sit & Crush promotions favour higher stakes regs as they can generate the most rake. |
| Grinders may be able to achieve up to sixty-five percent rakeback. | Some withdrawal methods such as Visa incur a commission. This may deter users that aren't familiar with cryptocurrencies and e-wallets. |
| There are unique features such as The Railbird. | There isn't as much traffic in contrast to other poker desktop clients. |
| There is a range of customisability with regards to gameplay and design. |   |
| Heads-up displays (HUDs) are supported. |   |
| The operator is licenced therefore offering regulated online poker. |   |
| The random number generator (RNG) is tested and approved. |   |