What is Red Dragon Poker?
The Red Dragon Poker app was founded in 2019, as a result of the direct involvement and guidance of PokerStars. Since 'Stars is one of the most reputable and recognizable poker companies in the world, Red Dragon Poker soon became one of the most well-known and used poker applications worldwide.  
Despite only being supported by the Chinese and English languages, one notable difference in comparison to many poker applications is that the Red Dragon Poker App is accessible to all players throughout the world. For instance, there are no restrictions in place for those who wish to play from the United Kingdom or the United States of America.
This Red Dragon Poker review will elaborate on:
The range of tournaments, cash games, and other formats available
The unique way in which the games are raked
Whether the Red Dragon Poker app has any stand-out features
If the application should be considered reliable
How to complete the registration process and download Red Dragon Poker
Which payment methods are accepted
Which cash games and tournaments are available on the Red Dragon Poker app?
With regards to the action on the Red Dragon Poker app, you don't have to be concerned about being invited to a private club to participate in the most lucrative games. This is because all of the cash games are available to everyone that signs up to the application, and therefore creating one large player pool, composed of several hundred players that are online at one time. As would be expected, Red Dragon Poker offers several types of cash games including; No Limit Hold'em, Pot Limit Omaha, along with more recently introduced formats such as Short Deck, and All-in or Fold.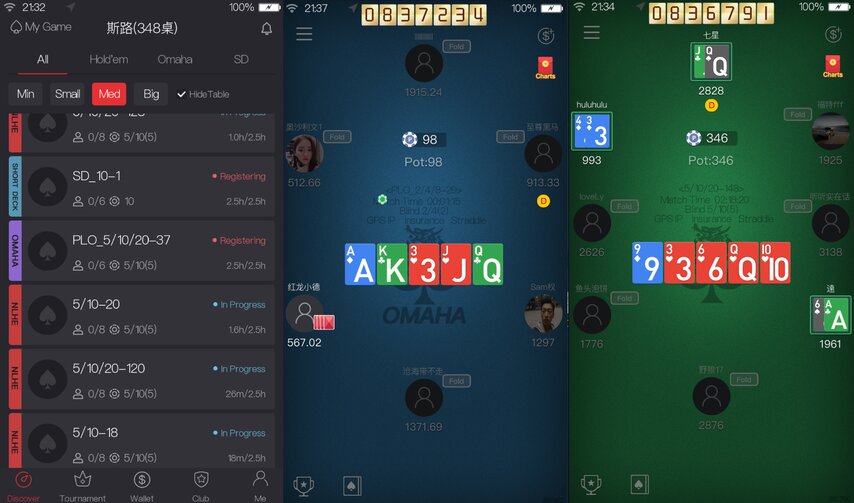 As the name suggests, on the All-in or Fold tables players only have two options: to be all-in or fold. However, some of these tables may have a capped buy-in. This means, for example, you may be restricted to 25 big blinds at one time. Short Deck plays more similarly to No Limit Hold'em, with some differences. For instance, in Short Deck there are only 36 cards in the deck as all of the twos through to fives have been removed. Additionally, as a short deck makes a flush more difficult to achieve, it is higher in the hand rankings compared to a full house.
In terms of the stakes that are on offer, there are limits to suit all bankrolls. Buy-ins may range from $4 at the micro stakes tables, to $4,000 at higher stakes. Additionally, there are specific tables that allow antes and straddles. However, if you prefer tournaments, there are a range of MTTs available, as well as sit-and-gos if you only have the time for a single-table tournament.
What is the rake charged on the Red Dragon Poker app and is there any rakeback?
For some poker players from Europe and the Americas, this might be a unique concept. However, on the Red Dragon Poker APK, each cash game will close after a predetermined amount of time. This usually occurs after sixty to one hundred and fifty minutes. Rake is then determined once a cash game has come to a close as a result of the time limit, rather than after each hand. However, once that particular cash game has come to an end, only the players that have made a profit are subject to rake, which is usually 5%. For instance, if a player profited $200 during a game, they would be subject to $10 in rake. On the other hand, if a player lost $20, they would pay $0 in rake. 
With regards to VIP rakeback deals or promotions, there are no bonuses for players making their initial deposit. However, the Red Dragon Poker download does provide jackpots for players that are able to make quads, a straight flush, or a royal flush, along with freerolls and guaranteed prize pools.
Does the Red Dragon Poker app have any stand-out features?
One of the most noteworthy features of the Red Dragon Poker download, as discussed previously, is that each cash game table closes after a prearranged amount of time. Therefore, if you feel irritated by being out of position to a particularly aggressive player, you may get a completely different table draw once a new session begins. Furthermore, Red Dragon Poker affords players various ways to customize their experience of the application. For example, players can decide on whether they would like to use a standard or four-color deck, the shade of the back of the cards and the table theme are also able to be changed.
In addition to this, more advanced players can benefit from customizable bet-sizing, allowing them to more easily implement their pre-flop and post-flop strategies. The Red Dragon Poker app also grants players the ability to apply filters, allowing them to find tables where the most action is taking place. With regards to heads-up displays (HUDs), there are no restrictions, and Red Dragon Poker gives players the opportunity to collect data on their opponents by selecting their profile while in the game. This may include percentage figures on how often each play voluntarily contributes to the pot, and aggression factor.  
Is the Red Dragon Poker app reliable?
As poker is forbidden in China, the Red Dragon Poker app can't receive a gaming license and provide regulated real-money poker. However, with PokerStars heavily involved in the development of the application, it is in their best interests to provide an online platform that is reliable and trustworthy. As a result, they have assisted Red Dragon Poker to integrate methods of ensuring that all players are abiding by the rules that have been set out, as well as recognizing incidents of collusion.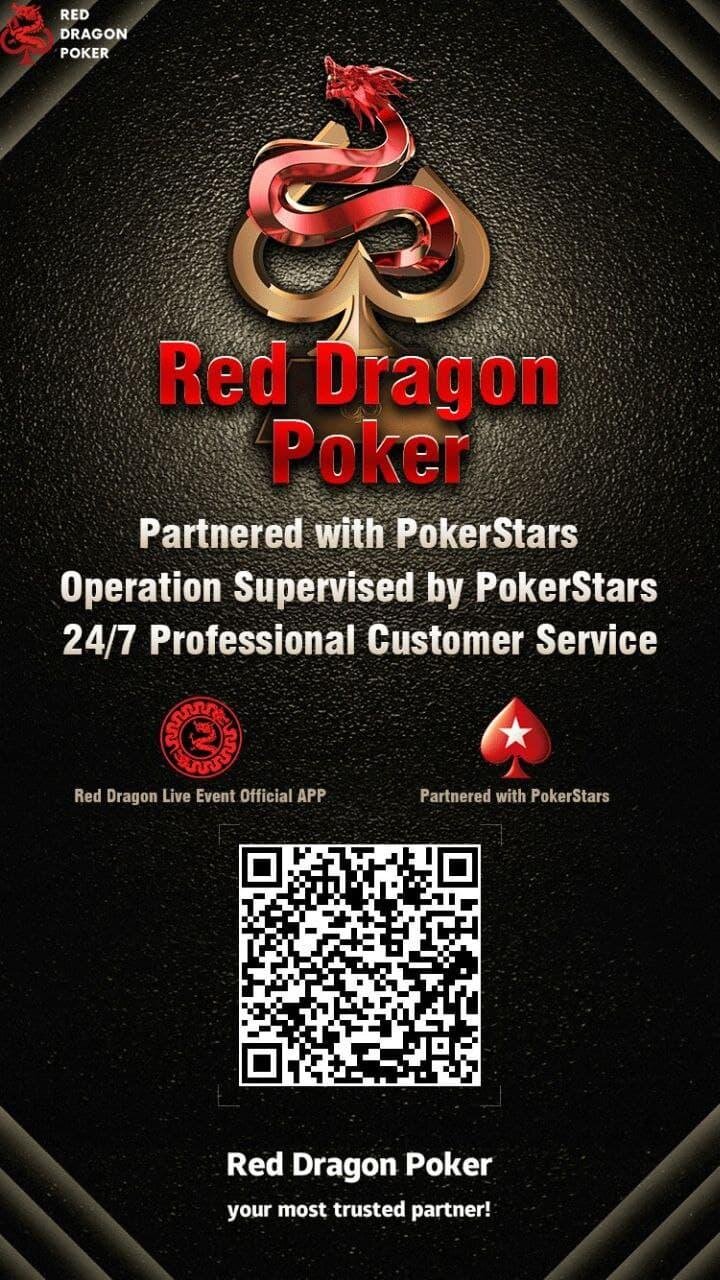 In addition to this, to provide a poker environment that can be trusted, it has been necessary to ensure that the random number generator, which determines the cards that players receive, can be corroborated by an independent party. All players are also required to provide proof of their identification with documentation from a utility supplier or their banking provider.
How do players download and access the Red Dragon Poker app?
Red Dragon Poker is available to all iOS and Android users, along with PC and Mac through the use of an emulator. In order to gain access, it is necessary to first register an account on the Red Dragon website. The registration requires all players to provide a working mobile number as a sequence of digits will be sent to you by text message to validate your account.
Following that, you will be asked to choose a password that will need to be provided each time you wish to use the Red Dragon Poker app. It is recommended to use a password that is at least eight characters long, with a mixture of upper and lower case letters, numbers, and symbols. After completing the registration process, you will be redirected to a site that will allow you to install the application on your chosen device. Upon your initial login, as an added level of security, all players will be sent another sequence of numbers via text message which they will need to provide in order to proceed. Once that final step has been completed, you will be ready to make your first deposit. 
Which payment methods are accepted on the Red Dragon Poker app?
An added benefit of the Red Dragon Poker App is that players are able to deposit and withdraw funds directly using a cashier, rather than depending on an agent. This application allows players to deposit using the cryptocurrency Tether. However, if you are unfamiliar or uncomfortable with cryptocurrencies, there are agents available that will allow players to deposit using the following methods:
Neteller
Skrill
Transfers from other reputable poker websites
The minimum deposit to play on this application is approximately $40, while the maximum is approximately $9,300. 
Summary: Advantages and Disadvantages of the Red Dragon Poker app
| Advantages | Disadvantages |
| --- | --- |
| Accessible to all players worldwide | Not supported in many languages |
| Games are available to all as there are no private clubs | No deposit bonuses or incentives for new players |
| A range of poker variants are available | No license |
| HUDs are permitted |   |
| No agents are required as there is a cashier |   |