This RedStar Poker review will delve into:
The variety of cash games and tournaments available
How players can claim up to thirty-five percent rakeback and other promotions on offer
The features of the poker room that deserve attention
Which devices can be used to download and access the client
Which payment methods can be used to deposit and withdraw funds
Does RedStar Poker offer their players a variety of cash games?
| | | | |
| --- | --- | --- | --- |
| Game | Minimum Big Blind | Maximum Big Blind | Traffic |
| No Limit Hold'em 6-max | €0.02 | €10 | One of the most popular formats |
| No Limit Hold'em Heads-Up | €0.02 | €10 | Experiences some traffic mostly toward mid-stakes |
| No Limit Hold'em Full Ring | €0.02 | €0.20 | No traffic |
| No Limit Hold'em Cap (20-50bbs) | €0.50 | €10 | No traffic |
| Speed Poker | €0.05 | €0.10 | Very little traffic |
| Short Deck (6+ Hold'em) | €0.04 | €2 | Experiences some traffic toward micro-stakes |
| Pot Limit Omaha 6-max | €0.04 | €10 | A reasonably popular format at micro and low-stakes |
| Pot Limit Omaha Heads-Up | €0.04 | €10 | Experiences some traffic toward mid-stakes |
| Pot Limit Omaha Hi/Lo | €0.04 | €10 | No traffic |
| Fixed Limit Omaha | €0.04 | €40 | No traffic |
| Fixed Limit Omaha Hi-Lo | €0.04 | €10 | No traffic |
The table above suggests that RedStar Poker has the capacity to host a wide range of real money cash games. Unfortunately, the platform doesn't appear to receive enough traffic to make many of these games sustainable. It could be argued that games such as nine-handed No Limit Hold'em and Fixed Limit Omaha are outdated which would explain the lack of traffic for these formats.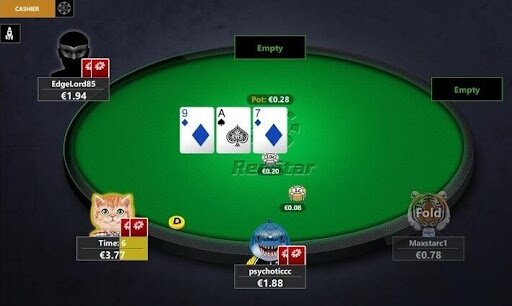 However, speed poker, whereby players are dealt into a new hand immediately after folding, is a very conventional and popular concept amongst competing online poker providers. Yet, at the time of writing this review, there were only twenty-eight active users playing this format out of the five thousand users that were currently online. This may be because RedStar Poker only offers speed poker at micro stakes. If they were to make speed poker available at low, mid, and high stakes this may become a more popular format.
With that said, the majority of the cash game traffic appears to reside between the No Limit Hold'em 6-max tables, as well as, the Pot Limit Omaha 6-max tables. Additionally, there appears to be a reasonable amount of interest in their heads-up counterparts.
Does RedStar Poker provide tournaments to suit all bankrolls?
The real money tournaments offered by RedStar Poker are heavily oriented towards No Limit Hold'em with buy-ins mostly suited to players that prefer low to mid stakes. The majority of these tournaments have guaranteed prize pools with especially significant ones reserved for the weekend. The tournaments we believe deserve particular attention include:
€150 Sunday Slam Knock-Out with a €50,000 guaranteed prize pool
€40 WKND Main Knock-Out with a €40,000 guaranteed prize pool
€30 Main Eliminator with a €15,000 guaranteed prize pool
€10 WKND Mini KO with a €10,000 guaranteed prize pool
€7.50 Sunday Masterclass Mini €3,000 guaranteed prize pool
Also worthy of note are the daily tournaments such as:
€30 Bounty Hunter with a €5,000 guaranteed prize pool
€20 Mini Warm-Up with a €5,000 guaranteed prize pool
€7.50 Mini Eliminator with a €2,500 guaranteed prize pool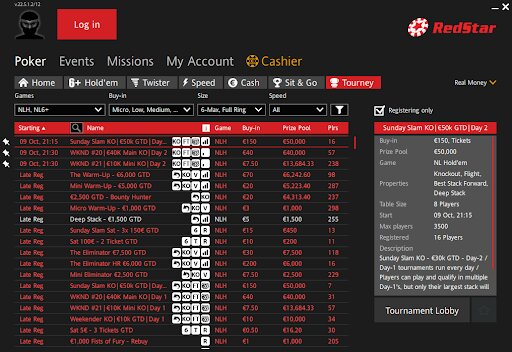 In addition to this, if €150 on a single tournament entry is above your bankroll, there are satellites that offer a guaranteed number of seats to these more expensive tournaments. What's more, there are daily free-to-enter tournaments with real money guarantees ranging from €20 to €25.
Unfortunately, if Pot Limit Omaha is your preferred variant of poker, RedStar Poker only has a very limited offering with regard to tournaments. For example, at the time of writing this review, there were only four daily PLO tournaments with €5 and €10 buy-ins, with guarantees ranging from €750 to €1000. Additionally, from Friday to Sunday there is one PLO tournament each day requiring a €20 buy-in that features a €2,000 guaranteed prize pool.
What are the best rakeback deals and promotions available on RedStar Poker?
For the most part, RedStar Poker offers a reasonable rake to cash game players charging five percent from NL20 to NL1K. However, there are also several methods of claiming the money you were raked in the form of rakeback. The amount of rakeback a player can claim is determined by the number of RedStar Points they can accumulate in a given month based on their rake contribution. In this instance, players can accumulate 10 RedStar points for every €1 that they contribute towards the rake. Players that can accumulate fifty RedStar Points, i.e. contribute €5 in rake, can trade those points for €1 in rakeback. This equates to twenty percent rakeback.
However, players that can accumulate five thousand RedStar Points over one month, i.e. contribute €100 in rake, are promoted to the Star Level of RedStar Poker's rewards program. This allows players to trade twenty-nine RedStar Points for €1 in rakeback which means that for every €2.90 that they contribute towards the rake, they will be able to claim €1 in rakeback. This equates to approximately thirty-five percent rakeback.
Furthermore, RedStar Poker offers new players a two hundred percent bonus on their initial deposit. Poker players have sixty days to complete the promotion which pays €2 for every two hundred RedStar Points that players are able to accumulate. As a player is required to contribute €20 in rake to generate two hundred points, this is equivalent to ten percent in rake back.
If that wasn't enough, users that like to dabble in slots, as well as poker, can take advantage of RedStar Poker's Freespin Fireworks 2022 promotion. By entering the promo codes here when you make a deposit, users can gain access to free spins on a number of slot games. How many free spins you are awarded will correspond to the size of your deposit. For example, users that deposit $10 with the promo code RELAX will receive fifty free spins on the game Money Train 2. Whereas, users that deposit $200 with the promo code PLAYNGO will receive five hundred free spins on the game Reactoonz.
Which features of RedStar Poker are particularly noteworthy?
A crucial feature that will provide peace of mind to poker players using RedStar Poker is that this operator can offer licensed and regulated online poker due to their Curacao licence. What's more, their random number generator (RNG) has been tested and approved by a reputable third party. As a result, poker players can feel assured of the operator's commitment to gaming integrity.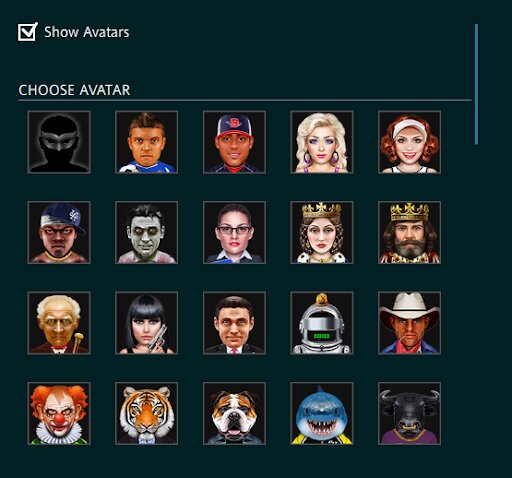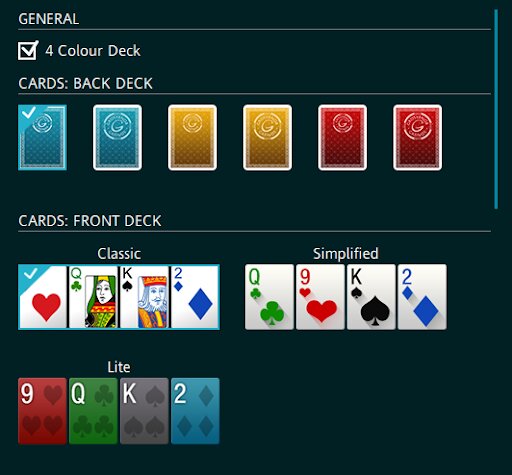 In addition to this, RedStar Poker provides players with many opportunities to customise their online poker experience:
Users have a choice of seventy-eight avatars to select which include animals, historical figures, flags, and more
Two colour and four colour decks are available with six designs for the reverse of the card and three designs for the front
There are three tables designs to choose from; default, classic, and simplified
If you prefer no distractions, users can elect to switch off sounds, animations, emojis, and the avatars used by their opponents
With regards to gameplay, RedStar Poker allows users to configure their bet size buttons to predetermined sizes based on the number of big blinds or percentage of the pot. Furthermore, users can convert their chip count displays into the number of big blinds they have remaining to save players from having to calculate this figure themselves and make speedier decisions. RedStar Poker also allows their users to rabbit hunt. This means that even if a player has folded they can see what the remaining community cards would have been to determine whether they would have improved their hand.
Moreover, users that prefer to have access to detailed statistics on their opponents will be pleased to know that RedStar Poker supports the use of heads-up displays (HUDs) such as Holdem Manager and Poker Tracker. But, if you don't have access to a HUD, the operator does store your hand histories for a limited period. However, unfortunately, it is not currently possible to implement hotkeys on this network that allow players to make more rapid decisions and increase their volume.
How can RedStar Poker be accessed?
The RedStar Poker apk uses the iPoker network and is available to download on their website here for all Windows desktop and Android users. Alternatively, if you prefer not to download the client, users can access and play through their chosen browser. However, before playing poker on this client, users are required to complete the registration process. This involves filling out a standard online form that requests your login details, email address, currency, real name, and residential address. The RedStar Poker apk isn't available in all countries as a result of their licence. Therefore, users will be prohibited from registering if they attempt to do so while in a country where RedStar Poker is forbidden.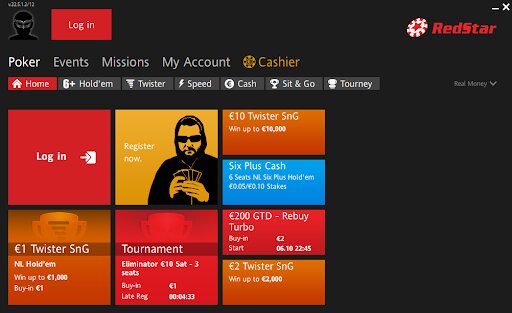 Once the registration process has been completed, users will be able to access the lobby and take advantage of RedStar Poker's very competitive initial deposit bonus. However, if you are unsure of whether you want to dedicate your poker playing time to this client, there are tournaments that are free to enter every day that will allow you to determine if this poker room suits you.
Which payment methods are accepted on RedStar Poker?
RedStar Poker affords its users the flexibility to make real money deposits and withdrawals through several payment methods. This includes:
Bank transfer via VISA or MasterCard
Cryptocurrencies such as Bitcoin, Ethereum, and Litecoin
ecoPayz
Neteller
Skrill
The minimum deposit required on this client is $10 and the majority of payment methods will allow users to deposit a maximum of $10,000. It is important to bear in mind that payment methods may vary based on the country that each player resides. In addition to this, users that elect to deposit and withdraw using cryptocurrencies should be aware that they will be subject to a small percentage charge by the network for converting their currency.
Summary: Advantages and Disadvantages of RedStar Poker
| | |
| --- | --- |
| Advantages | Disadvantages |
| The operator can provide licensed and regulated online poker. | Speed poker is only available at micro stakes. |
| The random number generator (RNG) has been tested and approved. | Tournaments are heavily weighted towards No Limit Hold'em with only a small offering for Pot Limit Omaha players. |
| Generous rakeback and promotions allow users to very reasonably attain thirty-five percent rakeback. | The platform suffers from a severe lack of traffic. |
| Heads-up displays (HUDs) are supported. | RedStar Poker is mostly only available to users in Eastern Europe. |