With the update of the GGPoker client, two new buy-ins have appeared in Spin&Gold 6-max: spins for $5 and $20 are now available. Let's see what other changes have taken place.
Prop Bet – Last Longer
The Prop Bet tab has appeared in the tournament lobby: the betting menu. Here you can create your own bets or join existing ones: for now, only the Last Longer format is available – a competition between tournament participants for the highest finishing place.
When creating, you need to select a tournament and specify the size of the bet (from 10 to 200 percent of the buy-in): contributions from their own accounts, and no commission is charged from them.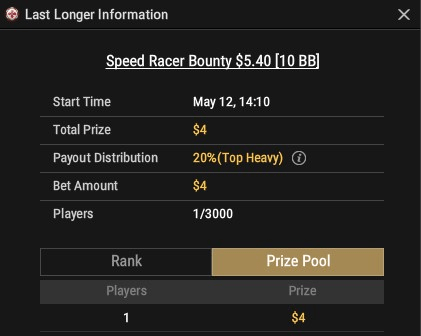 For betting, you cannot use the in-game currencies T$ and C$ – only dollars from the account. Results and history can be viewed in PokerCraft.
Two more types of bets have been announced – Bankroll Challenge and ELO Challenge, which will soon be added to the client.
Promotions and leaderboards
In the new month, $10,000,000 will be raffled off in all disciplines. More details in a separate article on GipsyTeam.
New client features
The application continues to add social features: now you can exchange voice messages at the tables.
The changes also affected five-card Omaha. To prevent collusion at the table and ensure fair play, a new rule is introduced: players will only be able to look at their hole cards when it is their turn to act.
In addition, we have limited the number of maximum tables that can be opened – now you cannot open more than 9 tables at one limit.