What is the Suprema Poker app?
Released in the autumn of 2021, Suprema Poker is the brainchild of several South American developers and club owners that were once associated with other prevalent poker applications. By creating their application, they have been able to successfully captivate the South American market, as well as the rest of the world. Suprema Poker is supported in several languages including; English, Spanish, Portuguese, Russian, Traditional Chinese, Japanese, Vietnamese, and Thai. 
This Suprema Poker review will pay particular attention to:
The array of games that are accessible
How much rake is charged as well as any available rakeback
The impressive features of the app
Any security or gaming integrity issues
Payment methods adopted by the app
How users can download and gain access
Is there a variety of games on the Suprema Poker app?
Similarly to other poker applications, Suprema Poker doesn't have a global lobby of real-money poker available. Instead, users are required to become a member of a private club. Once they have done so, they will be able to take full advantage of the plethora of cash games available, displayed in the table below:
| | | |
| --- | --- | --- |
| Game Type | Minimum Stake | Maximum Stake |
| No Limit Hold'em - Heads-Up | 4NL | 1800NL |
| No Limit Hold'em - Six Handed | 4NL | 1800NL |
| No Limit Hold'em - Eight Handed | 4NL | 1800NL |
| Pot Limit Omaha - Heads-Up | 4NL | 1800NL |
| Pot Limit Omaha - Six Handed | 4NL | 1800NL |
| Short Deck | 2¢ ante | $1 ante |
| Open Face Chinese | 4¢ per point | $10 per point |
Pot Limit Ohama enthusiasts have the option on Suprema Poker to choose from four-card, five-card, and six-card formats, whereas users that prefer the tournament grind can choose from buy-ins at low to mid-stakes, with many tournaments having significant guaranteed prize pools. Sit-and-gos are also available, but they don't receive anywhere near the same interest as the No Limit Hold'em and Pot Limit Omaha cash games. 
Interestingly, a rare find is that Suprema Poker offers heads-up tables for both No Limit Hold'em and Pot Limit Omaha. This format has seen an increase in popularity thanks to the well-publicized high-stakes duels including Doug Polk vs Daniel Negreanu, and the sequence of matches involving Phil Hellmuth. 
Therefore, if you have ever been tempted to dabble in a format that forces you to be mono a mono, pitting your wits against a single opponent, Suprema Poker could be the place for you. 
How much rake is charged on the Suprema Poker app? Is there any rakeback?
As discussed previously, there is no real-money poker in a global lobby, users must join a private club. Therefore, the owners of each club have full control over the rake that is charged to their members. However, the standard that has been set appears to be five percent rake, with a three big-blind cap, across both No Limit Hold'em and Pot Limit Omaha cash games. If you discover that a club owner is taking significantly more than that off the table, we would recommend taking your business to another club. 
Likewise, with the rake, club owners have free reign to implement rakeback and VIP promotions that could help attract more members to their club. A common promotion on the Suprema Poker app is a bad-beat jackpot. This promotion is funded by the rake and is paid out to players that lose with a qualifying hand. In the No Limit Hold'em cash games, the bad-beat jackpot would usually be awarded to players that lose with a full-house, specifically aces full of tens, or higher. The jackpot is distributed between the loser of the hand, the winner of the hand, and the remaining players sitting at the table. 
Club owners may also decide to offer tournament freerolls, as well as rakeback for members that can play a significant number of hands during a given period. However, we would warn all users to ensure that club owners can be vouched for by other players to follow through with payments for the rakeback and promotions they have advertised.
Does the Suprema Poker app have any impressive features?
Aside from having a very user-friendly interface, players using the Suprema Poker app benefit from being able to play on four tables at once. In addition to this, heads-up displays (HUDs) are supported through hand converters. But, if you are unfamiliar with how these work, the application provides basic information about each opponent by selecting their profile, such as the percentage of hands in which they voluntarily put money into the pot (VPIP). More detailed information on your opponents, such as how often they're raising pre-flop (PFR), or their pre-flop three-bet percentage (3B), can be bought from the in-app shop.
Other items that can be acquired from the shop include time banks in case you're faced with a particularly difficult decision, along with a range of emojis to interact with other players. What's more, if you have ever folded and felt curious about the remaining community cards, the rabbit that can be bought at the shop will allow you to do just that. This would usually be against the rules in most casinos around the world because they want to speed up the play.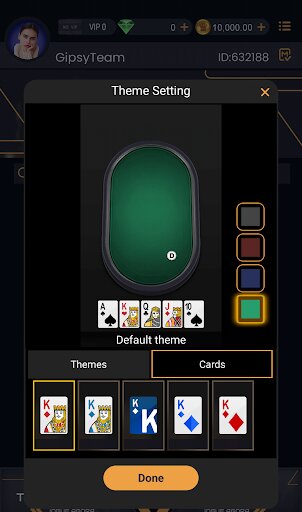 The Suprema Poker download also affords users a range of ways to customise their experience. For example, by selecting the hamburger menu in the top right-hand corner and selecting 'Theme Setting', players can alter the theme of the table, along with, the colour of the felt. Furthermore, players have five card designs to choose from, which include four-colour decks. On the other hand, for the benefit of studious players that like to be able to review their sessions, hand histories can be accessed by selecting your avatar on the top left-hand corner of the screen. The Suprema Poker app will save your one hundred most recent hands, as well as hands that are labelled as favourites for easier reviewing. 
Does the Suprema Poker app raise any issues regarding gaming integrity and trustworthiness?
With regards to gaming integrity, Suprema Poker uses an approved random number generator (RNG) to determine the cards that players are dealt, as well as the community cards on the felt. However, similarly to other poker applications, some concerns need to be discussed with regards to gaming integrity. For instance, the application doesn't have a licence because it doesn't have a cashier or allow players to deposit or withdraw real money. All transactions occur externally to the app with the user and the owner of the private club where the real-money games take place. This means that the user is forced to place a lot of faith in the club owner to segregate player funds and make them available upon request. Additionally, players must rely on the club owners to police their games, thereby preventing any acts of cheating, collusion, or bots. 
Which payment methods have the Suprema Poker app adopted?
As alluded to earlier, every deposit and withdrawal that occurs on the Suprema Poker download occurs between the player and the club owner that they are affiliated with. As a result, the methods of payment used will vary according to the club owner's discretion. However, some of the most commonly used payment methods include cryptocurrencies such as:
Bitcoin
Ethereum
Litecoin
Tether
However, as some users may be unfamiliar with cryptocurrencies, there may be some club owners that are willing to take alternative forms of payment such as Neteller and Skrill.
How do users access the Suprema Poker app?
The Suprema Poker app is available on both iOS and Android devices. This means that users can download Suprema Poker from either the App Store or Play Store. Once the download is complete, players will be asked to either register with an email address, log in with Facebook, or log in as a guest.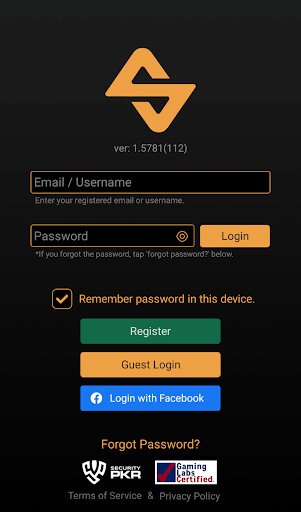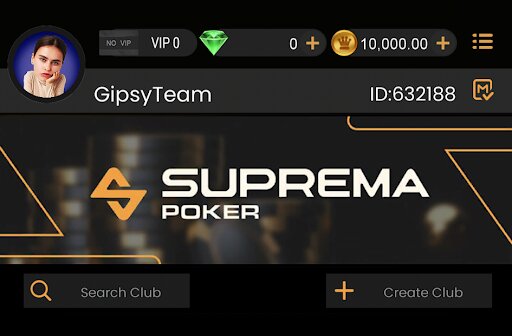 After choosing a screen name, users will be directed to the main lobby of the application. To play real-money games, you will require the ID of the private club you would like to join, search for it, and await approval from the club owner, or members of their staff. 
Once approval has been granted, users will be able to make their first deposit and begin to take full advantage of the range of games available. 
Summary: Advantages and Disadvantages of the Suprema Poker app
| | |
| --- | --- |
| Advantages | Disadvantages |
| There are a variety of games available | There is no global lobby, private clubs only |
| Multi-tabling is possible on up to four tables | The app doesn't have a licence |
| HUDs are permitted |   |
| Hand histories are available |   |
| The RNG has been independently approved |   |