Upoker Review
Upoker is the one of many poker apps that appeared in the late 2010s which have brought about a pivotal change in how online poker is played. On the face of it Upoker is effectively a sophisticated home game app where players can host games and play with friends and acquaintances; similar to the home game options offered on many online card rooms.
Upoker uses play chips which some people chose to use as denominations for privately arranged real money play. These entities, referred to as agents, manage their own clubs and games via the app. It should be noted that the makers of the Upoker app are not responsible for any private games that are played on the app and are not accountable for any financial arrangement that players choose to enter into when using the platform.
There are now hundreds of agents and clubs worldwide operating on Upoker. Many of these clubs have emerged in markets which don't have access to regulated online poker services. As a result the traffic on poker apps is now comparable to that of major online poker networks such as partypoker, PokerStars or iPoker.
Players are drawn to play on Upoker for various reasons. These include:
Ability to play worldwide
On average weaker player pools
High quality mobile interface
Freedom to play poker from any jurisdiction
Players should be aware that as clubs and agents are unregulated, it is highly advisable to only enter into playing agreements when there is a high degree of trust between players and agents. As clubs are privately run, players are completely on their own when it comes to deciding when, where and with whom to play.
Game types on offer largely mirror those available on traditional poker sites, although some variants such as lottery sit & gos and speed poker are unavailable. There are however other game types that are unique to app play such as 5-card Omaha and Open-face Chinese Poker (OFC).
UPoker is a great alternative for poker players who don't want to play on traditional poker sites or can't access poker services where they live.
Contents
Software
Access and Security
Clubs and Unions
Game Types and Limits
Multi-table Tournaments
Promotions
Rake and Rakeback
Registration
Deposits and Withdrawals
Advantages and Disadvantages
Conclusion
Customer Service
Upoker FAQs
Software
Upoker was developed to be a primarily mobile application. This is apparent when using the interface which is extremely smooth on mobile devices and has been expertly designed to be intuitive and easy to navigate. Tables are always oriented in portrait mode so as to facilitate easy gameplay. Upoker also has a PC desktop client allowing the option of multi-tabling which isn't possible in the mobile version.
The Upoker app has the additional option of a HUD for players who opt to acquire it in the in-app store. Players cannot deposit real money of any kind on the app, add-on purchases are made with in-app Diamonds which can be purchased with cash from the store.
Players can use third party hand converter software to input real time statistics. Upoker is compatible with the following software:
Hold'em Manager
PokerTracker
DriveHUD
Hand2NoteMain features and differences
Access and Security
As Upoker isn't legally a gambling entity the app can be accessed worldwide and played from any jurisdiction. Although Upoker has no involvement with any real money exchanges that players enter into when facilitating the app, Upoker has gone to lengths to prevent collusion and ensure the fairness of gameplay.
The random number generator (RNG) which the app uses has been independently audited by Gaming Labs and BMM test Labs. Many of the more popular clubs or unions also claim to check for and prevent collusion within their rooms although players are advised to make their own evaluations as to where to play.
Players are recommended to seek out an affiliate program that offers them some degree of protection and quality if choosing to play in a club or union. Contact GipsyTeam for recommended clubs and unions.
Clubs and Unions
Upoker offers a platform and functionality, and the game itself takes place in clubs - closed rooms with their own rules, currency, limits and tournament grid.
To play poker, you need to download the app, find a suitable club and apply for membership. The clubs themselves often form unions with a common pool of players.
In traditional poker rooms players just make a deposit and sit down at the table. On mobile applications such as Upoker things are a little bit different: each club has its own game currency and its own chip values. Money for the game is credited to the club via an agent.
Club games take place in different time zones: in one club players maybe mainly Brazilian amateurs and in another American businessmen. Players can contact the GT+ support service to find the best club for their time zone.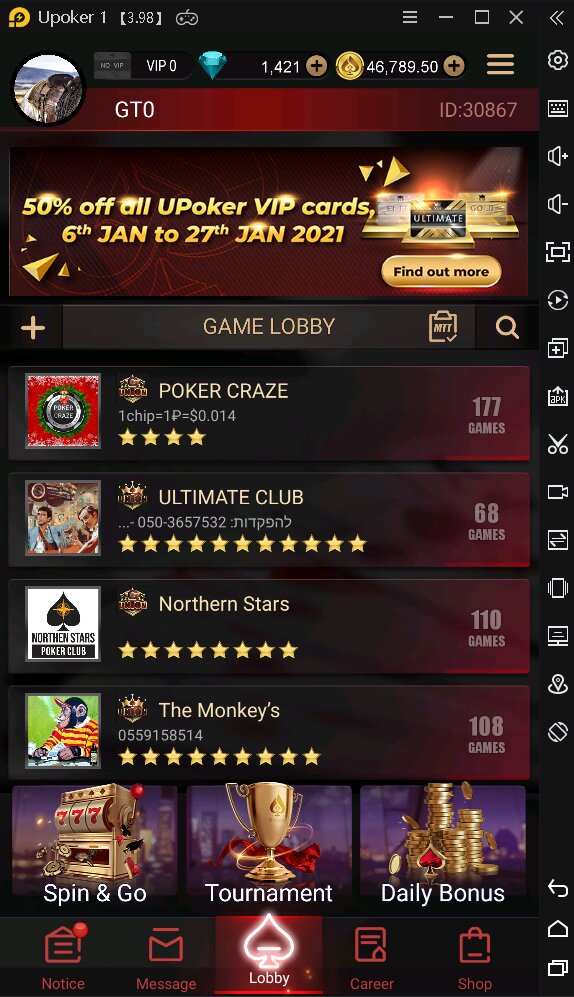 Game Types and Limits
The app spreads Cash Games, Spins, Sit & Go tournaments and Multi-table Tournaments. In addition to Hold'em and classic Omaha, the app has a large selection of 5-card Omaha, Chinese poker and 6+ Hold'em (Short Deck). Some unions also offer heads-up games.
At some tables there are restrictions on VPIP or a minimum played hand limit within a certain time frame to discourage tight play.
In GipsyTeam recommended clubs games are spread from $0.02/$0.05 to $5/$10 for Hold'em and PLO5. PLO tables run up to $2/$4. $0.05 /$0.10. Find out more about the game options at a convenient time for you by contacting GipsyTeam support.
Multi-table Tournaments (MTTs)
Initially poker apps were primarily about cash games and single table Sit & Gos. But as more players have taken to using the apps there are now various guaranteed tournaments running regularly.
Upoker also hosts the U-Series of Poker. Unlike cash games, these events are not confined solely to private players and are open to all players regardless of their membership of unions and clubs.
Promotions
When it comes to promotions, Upoker is a bit more complicated than regular poker sites. As Upoker is merely a play money platform which doesn't deal in real money transactions, the most lucrative loyalty programs and promotions available to players are those which independent clubs and unions offer for the services they run through the app. These differ widely depending on the club and have different terms and conditions. The most common offers are for rakeback, although it is not unheard of for agents to offer deposit bonuses as well.
The play money side of the app also runs tournaments and games which offer prizes such as electronics products.
Rake and Rakeback
Each club sets its own rake rules and rakeback payments, but most have a similar system:
5% from the pot, but no more than 3 blinds. (For NL200+, PLO200+ no more than 2bb)
No rake is charged before the flop
In Chinese poker, the rake is 3% with a cap
Rakeback is set individually by each club although on average you can count on around 30-40%.
Registration
The Windows application can be installed on PC from the official Upoker website.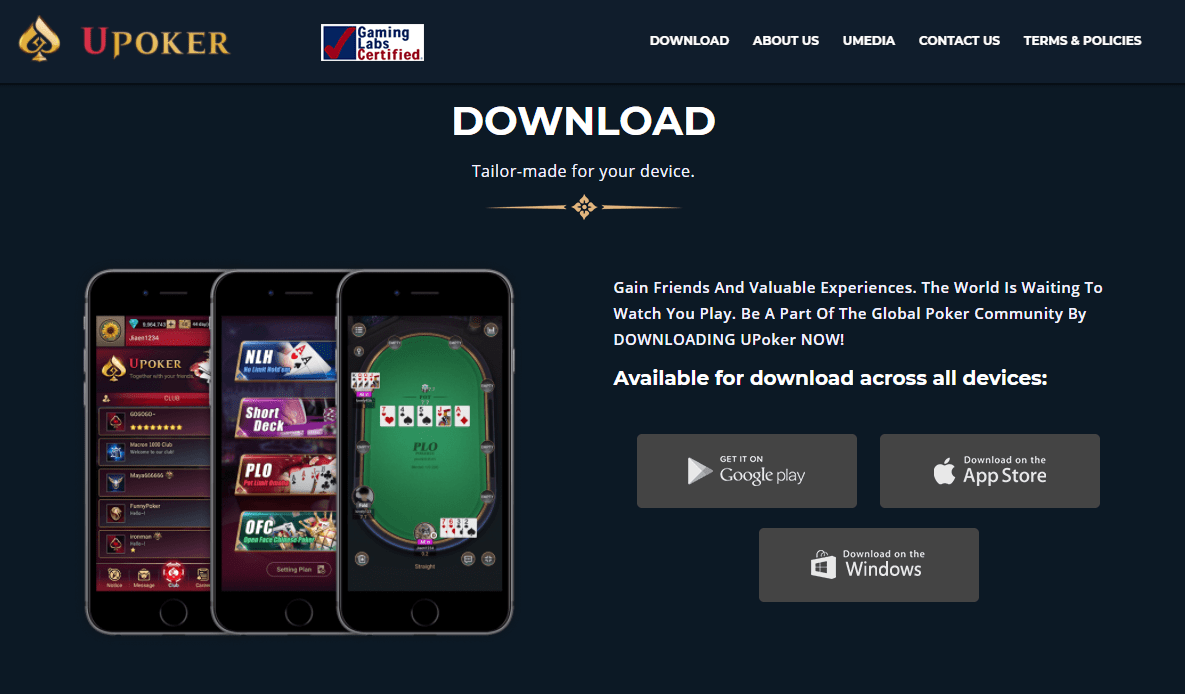 Poker Mobile App for iPhone/iPad
The Poker mobile app can be downloaded from the Apple Store.
Poker mobile app for Android devices
The app is available for download on Google Play.
The registration link is located at the bottom of the application start screen.
The application supports multi-tabling option, up to 4 tables at the same time.
Deposits and Withdrawals
In order to play for real money on Upoker players have to arrange payments with agents.
Several deposit and withdrawal methods are available in the application:
Skrill (USD\EUR)
Neteller (USD)
Cryptocurrencies (USDT/BTC)
Luxon
GipsyTeam only cooperates with trusted agents and give guarantees for deposit/withdrawal operations.
Due to its unregulated nature making transactions this way comes with unavoidable risk. Players should proceed with extreme caution when parting with their money to a third party. Upoker will not and cannot intervene with financial arrangements made by players using its product.
Clubs can set withdrawal fees and impose a percentage on transfers between players. The minimum deposit amount is $150. The average cashout time is 24 hours. In withdrawal requests, specify your account ID, the name of the club and the amount in chips.
Deposit chip rates are fixed at the at the time of the deposit and do not change over time. Profits are displayed at the current chip rate.
Advantages and Disadvantages
The main advantages include:
A lot of weak recreational players
A large selection of games
Lower than in standard rake
30-40% rakeback in some rooms
Assistance with creating an account and installing and configuring software
Assistance in choosing a club and depositing and withdrawing funds
There are also some disadvantages:
Vertical display of tables
Different deposits required for each club
No common lobby or schedule filters
Lacking financial protection or oversight
No common lobby, schedules or filters
Withdrawn commission in some clubs
Conclusion
Ultimately Upoker is not the right service for everyone. Players using clubs and unions incur an obvious risk in having to entrust funds with third party agents with no safeguards or regulatory oversight to protect their money. This is akin to playing in a live home or private game outside of a casino. Players have to make their own decisions and take their own risks.
However, Upoker does provide an alternative to traditional poker sites for players who cannot access online poker in their home country or players who want to play independently. Due to the international reach of the games a lot of players report softer competition than can be found on regular sites and game types not normally offered. The software is impressively good and there are generous rewards deals being offered in certain clubs for regular players.
Upoker is somewhat like the new wild west of poker; if you can handle yourself and fend for yourself you may just come out on top. But greener players may want to stick to the safety and security of the regulated poker rooms.
Customer Service
As Upoker doesn't have a registered gaming licence and doesn't handle real money transactions players will need to converse with agents operating within the app itself with regards to issues they encounter with deposits and withdrawals.
Email: care@Upoker.net
Upoker Frequently Asked Questions
Q: Is it safe to play on Upoker?
A: Developers have recently intensified the fight against collusion and other types of fraud. The application has been certified by Gaming Labs, which confirms the integrity of the RNG.
Q: Can I use poker HUDs and Tools such as PokerTracker4, Holdem Manager 2/3, Hand2Note on PokerBros?
A: Yes, but only through a special hand converter. Contact our support service and they will definitely help you!
Q: What should I do if a club has disappeared from my account?
A: Inform support, we will add the club back to your account.
Q: I can't see any tables or balance in my club, what's going on?
A: About once every two weeks, technical work takes place in the clubs, balances are calculated. Please write to us for clarification the duration of the work and its completion.
Q: What should I do if gems don't appear in my account after purchase?
A: You need to confirm the transaction by following the instructions sent to your email address.
Q: My account is blocked, what should I do?
A: Contact customer support, we will request a balance report from the club and transfer funds to a new account within 1-2 weeks.