Ya Poker Review With Bonus Info [+ App Review]
Ya Poker is the Spanish and Latin arm of the Winning Poker Network, so it's very similar to Black Chip Poker and America's Cardroom. They cater to players worldwide but focus marketing efforts in Brazil, Panama, Costa Rica, and other Central and South American countries.
High site traffic, welcome bonuses, and droves of inexperienced players make Ya Poker a worthy online poker option. They offer cash games from micro to high-stakes and multi-table tournaments with massive guaranteed prizes, but that's just the beginning. There's a lot more to tell you about Ya Poker's real money games in our room review.
Being part of the Winning Network gives Ya Poker modern software and a huge player base. Since they share the same platform and software, ‌YP players can participate in cross-network events. For example, there's The Beast rake race, which all players enter for free. YP also has a cashier that accepts regular methods and cryptocurrencies.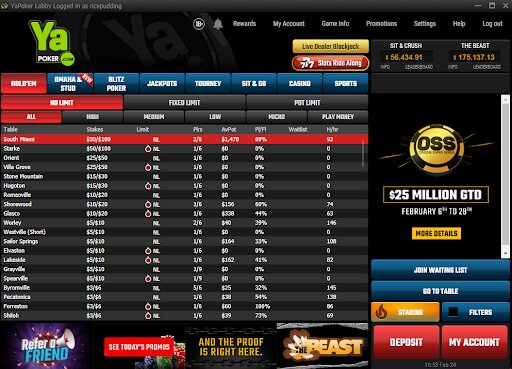 Ya Poker App, PC + Mobile
Ya Poker has a PC application and an Android mobile app. The interfaces are identical to other Winning Poker Network skins, except for the logos. The app has Spanish and English language options, but cash amounts are shown in USD.
The design of the PC app does a fine job of showing the different game categories without crowding your screen. Below the Ya Poker logo, you'll see blue menu buttons for different games, with more filters below. Sort games by micro to high-stakes or select Play Money to take a break from the real money games.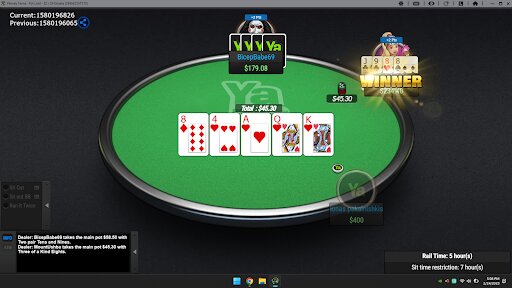 The PC client runs smoothly without stuttering, which is perfect for multi-tabling (20 table maximum). They've got most of the features that other top real-money poker sites have. You can see hand replays, toggle between cash and BB stacks, and read your equity during all-ins. There's also a chat window and the option to show your cards after opponents fold.
Ya Poker has the Run It Twice option, which lets you see two card runouts instead of just one. Some poker players like to run it twice to reduce the variance of their decisions.
There's felt and table customization, plus a note function to store info about your opponents. If you want more data on how everyone at your table plays, you should test out Hand2Note. They have several styles of heads-up displays (HUDs), a great tool that your opponents probably use already.
The Ya Poker Android App:
Several varieties of tournaments and cash games
Texas hold 'em, Omaha, Blitz, and Stud poker
Quickly load lobbies and tables without software lag
Process deposits from the app
Multi-tabling for up to 4 tables
Small application size and fast download
Custom avatars
The Cash Games At Ya Poker
Ya Poker offers a range of poker games, but the main formats are Texas hold 'em, Omaha, and Blitz poker.
Have you heard of Bomb Pots before? This trend started at live poker games in casinos and Ya Poker brought it to online tables. For example, let's say you join a Texas hold 'em Bomb Pot table. Most of the hands at these tables are completely normal, but once in a while, you'll see a large bomb appear on the table. Blinds are posted, then everybody is dealt cards and shown a flop right away. Cutting out the pre-flop stage makes for an interesting dynamic because you can't be sure how strong your opponents are.
Texas Hold 'Em
Hold 'em is the most popular format by a long shot, especially no-limit Texas hold 'em. Ya Poker's menu shows three styles; No Limit, Fixed Limit, and Pot Limit.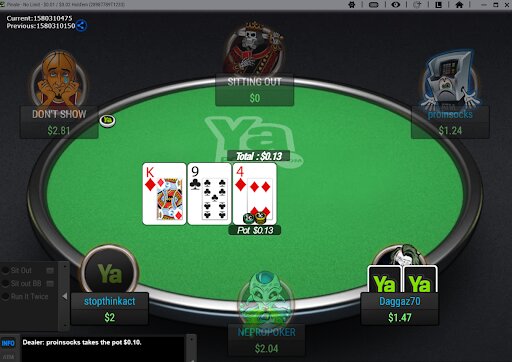 It looks like 99% of Texas hold 'em players on Ya Poker are playing no-limit hold 'em. The games for fixed limit and pot limit hold 'em are empty. This is actually normal, it's extremely rare to find busy fixed and pot-limit hold 'em games on poker sites.
Check for the small bomb icon in the Texas hold 'em lobby to find Bomb Pot tables.
No-limit stakes range from $0.01/$0.02 to $50/$100
Heads-up, 6-player, and 9-player tables
Omaha
Omaha-style poker has been gaining popularity and now it's offered by every major poker site. The busiest Omaha games at Ya Poker are at lower stakes, usually below $1/$2. Pot-limit Omaha is the most popular style by far, but no-limit and fixed-limit Omaha are available too.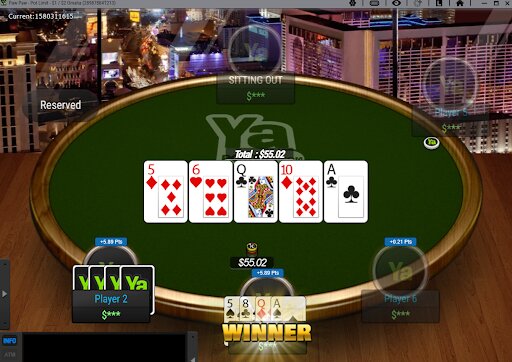 Standard Omaha is great, but some players prefer the hi/lo (split pot) format. Unfortunately, these games aren't busy at Ya Poker yet.
Ya Poker recently added 5-card Omaha and 5-card Omaha hi/lo to their list of games! That means that players hold five cards instead of the standard four. 5-card hi/lo isn't seeing much traffic at YP, but 5-card Omaha is getting some interest and players are at the tables.
Omaha stakes range from $0.01/$0.02 to $150/$300
4-player, 6-player, and 9-player tables
Blitz
If you've played online poker before, you might know about fast-fold poker. At Ya Poker, this game is called Blitz. It speeds games up by giving you a new table with new cards every time you fold. No waiting, just fold and start a new hand.
The Blitz tables are either Texas hold 'em or pot-limit Omaha.
Blitz stakes range from $0.05/$0.10 to $5/$10
Blitz tables always have a 6-player limit
Jackpots
Jackpots are no-limit hold 'em or pot-limit Omaha spin & go's. If you're not familiar with a spin & go, it's a three-way turbo tournament with a randomly multiplied prize. The minimum prize is always 2x your buy-in, but the maximum could be 20,000x. You'll only start with a small stack and the blinds raise every 3 minutes, so there's no time to wait for premium cards.
| | |
| --- | --- |
| Buy-In | Top Prize |
| $2 | $5000 |
| $5 ($1M Jackpot) | $1,000,000 |
| $10 | $25,000 |
| $15 ($1M Jackpot) | $1,000,000 |
| $25 | $62,500 |
| $40 | $100,000 |
| $50 ($1M Jackpot) | $1,000,000 |
Sit & Go
There's a healthy number of players in the sit & go lobbies of Ya Poker. Buy-ins range from $0.11 to over $200, but it will be harder to find full SNG games at higher limits. You can choose to play a standard sit & go with 6 or 9 players, or jump into an 18 or 27-player SNG for a bigger final prize.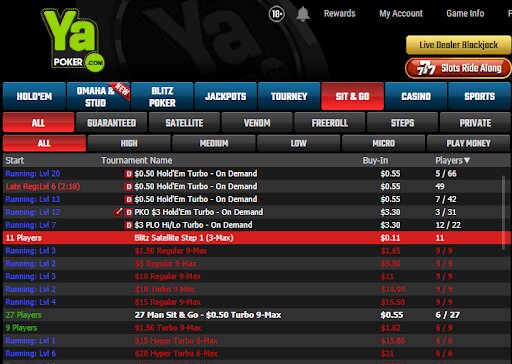 Sit & go's at Ya Poker are played in the most popular formats like Texas hold 'em, pot-limit Omaha, and Omaha hi/lo. The lobby also has several All-In-Or-Fold tables.
All In Or Fold
You've probably already guessed that this format only gives players two options, to go all in or fold their cards. You can tell that a table is an All-In-Or-Fold table by the small red "A" icon in the lobby. There are Texas hold 'em and Omaha AIOF tables.
These Are The Popular Tournaments at Ya Poker
Ya Poker has tournaments with great overlays, like the Euro Breakfast $4000 GTD for an $88 entry fee. There are $1000 GTD tournaments constantly running and some of them have $2.20 buy-ins.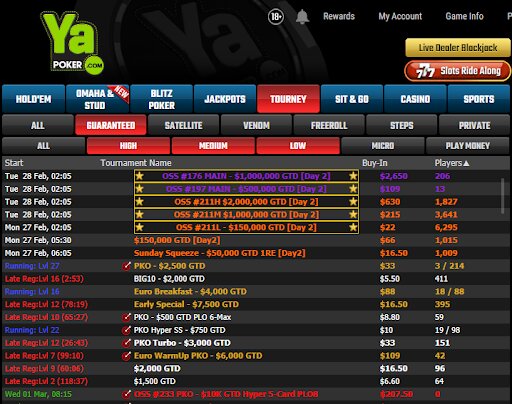 Here are some of our favorite tournaments at Ya Poker:
The Sunday WarmUp $300,000 GTD - $109 entry fee
PKO Hyper SS $7500 GTD - $21 entry fee
Loncar Mega Stack $30,000 GTD - $88 entry fee
PKO $12,500 GTD - $11 entry fee
Freerolls At Ya Poker
You can play in freeroll tournaments without spending any money. There are usually four $50 GTD Freeroll tournaments every day. On top of that, Ya Poker gives away tournament tickets in freeroll tournaments dozens of times each day.
Available Bonuses At Ya Poker
The Welcome Bonus at Ya Poker will give you a boost when you sign up. Deposit $25 or more and you'll automatically get an equal bonus in your account. The limit for this bonus is $2000, so anything above that amount will not be affected by the Welcome Bonus.
With almost every welcome bonus, the reward has to be unlocked by playing poker. After making your first deposit, hit the tables and play some hands. You'll get $1 of your bonus for every 27.5 Award Points you accumulate.
You earn 5.5 Award Points for each $1 USD contributed in rake fees or tournament fees.
If you're ready to get started, all you need to do is follow this link. You do not need a bonus code to get the Welcome Bonus. Since your account is new, it will automatically give you the Welcome Bonus.
The Beast Rake Race
The Beast is something every player is automatically entered into. Every hand you play contributes rake and that puts you on The Beast leaderboard. Top players earn huge cash prizes, just for playing!
How To Sign Up And Get The Ya Poker Bonus
Follow these steps to get your welcome bonus and sign up for Ya Poker.
When you make your first deposit, the bonus will automatically apply to your account. The minimum deposit for the promotion is $25, and the maximum is $2,000.
How Is The RakeBack At Ya Poker?
You can choose between two different ways to collect rakeback at YP. We'll look at both options.
You must choose one, but you can only switch your rakeback method once after that.
Flat 27% Rakeback
This consistent option is best for recreational players. A flat 27% of your rake and fees will be paid back regularly into your account. There's no need to unlock or build points to access this.
Elite Benefits Program
If you are paying less than $1500 in rake per month, it's probably better to choose the standard Ya Poker rakeback. This system seems to be far more rewarding for high-stakes players who build significant amounts of rake.
The Elite Benefits program has various tiers. The players at the highest level (Black Diamond) get higher rakeback, but they must invest a large amount of rake to get there. They also pick up Player Points along the way to spend in the Ya Poker store for rewards.
Guide To Depositing And Withdrawing At Ya Poker
Ya Poker has Bitcoin and 30+ cryptocurrency options, plus a few other deposit methods.
Credit Cards
LuxonPay
E-Wallet
Player To Player Transfers
Bitcoin remains constant but the list of accepted cryptocurrencies occasionally changes. Ya Poker accepts more than 30 different crypto coins, such as Litecoin, Ethereum, BTC Cash, Tether, and many more.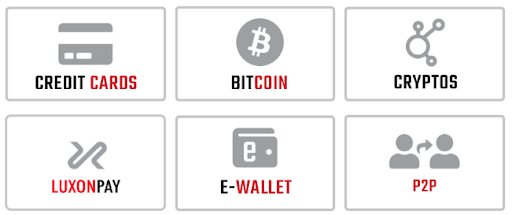 Getting Your Account Certified Is Important
Security is important anytime you make transactions online. For this reason, every reputable poker site asks you to submit a few documents to verify your identity. It's usually not required for making deposits, but almost certainly when you withdraw.
You'll usually have to provide:
ID Verification
Proof of Address
Frequently Asked Questions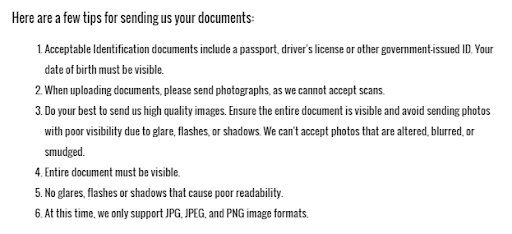 1. Which Countries Are Not Allowed To Use Ya Poker?
Players from France, Italy, Portugal, Spain, and the USA are not accepted at Ya Poker, but Black Chip Poker is the perfect alternative. It has the same software, welcome bonuses, and a soft player base.
America's Cardroom and Black Chip Poker are both options for American players living in the US. They are part of the Winning Poker Network, just like Ya Poker.
3. How Do I Verify My Identification?
When you have the Ya Poker app open, select the Cashier. You should see a Certifications button on the black menu bar, click Document Verification after that. This will be important if you want to easily withdraw your funds.
Send photos (not scans) to the Ya Poker staff to verify your identity. You must make sure everything is clear and visible.
4. Where Is Ya Poker Licensed?
Ya Poker is governed and regulated by Curacao, a Dutch Caribbean Island.