Dan Smith wins the Special Triton Invitational
The signature tournament with a $200,000 buy-in, where businessmen invite professionals, has already become the hallmark of the series. However, this time it collected only 73 entries – this is significantly less than in previous events.
A couple of weeks before the start of the series, the future winner called out to Twitter:
– Time for the traditional, fourth tweet in a year: "I need an invitation to Triton, contact me."
This time Dan's savior was Danish businessman Theis Vad Hennebjere, who had only two cashes on Hendonmob before this series. In 2015, he won a local tournament with 460 people, and in 2022, he made money in a similar invitational tournament at the Cyprus Triton Series. In this series, Theis limited himself to one tournament but did not get into the money.
But his partner performed much more successfully and earned $3,870,000. Dan entered the final table with the second stack, second only to Triton cash game star Elton Tsang.
For almost the entire final table, Smith sat low, avoiding major confrontations. While the rest of the players were eliminated, he calmly made it to 3-handed with eight blinds. Tsang had 18BB at that moment, and Mario Mosbeck was in the lead with a stack of 59BB.
Like a true professional, Dan started winning all-ins at just the right moment. First, in two hands he knocked out Tsang in 3rd place, and then, despite being two times behind in chips, he just as confidently beat Mosbeck.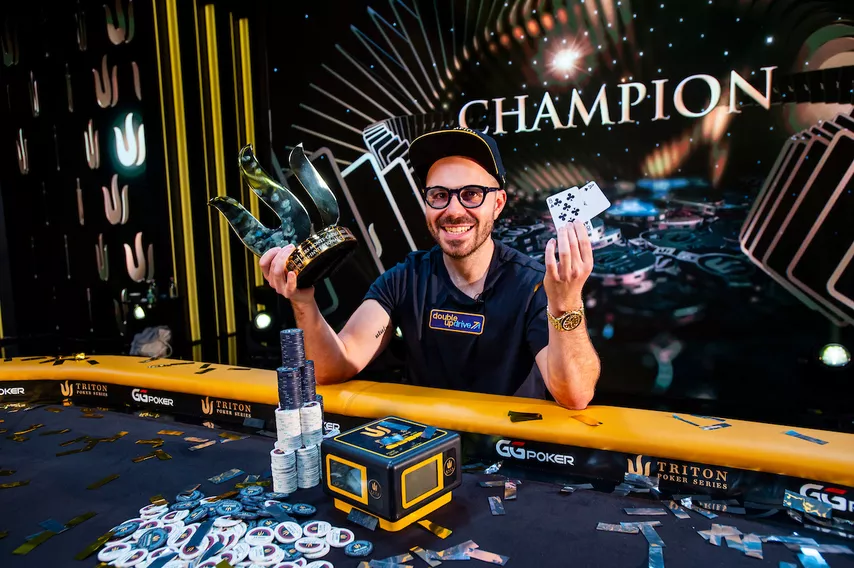 Russian series debutant Alexander Shelukhin finished the tournament in 5th place. His $1,125,000 prize is by far the biggest achievement of his already rich poker career. Alexander registered in the tournament as an amateur, and his guest was the second place finisher, Mario Mosböck.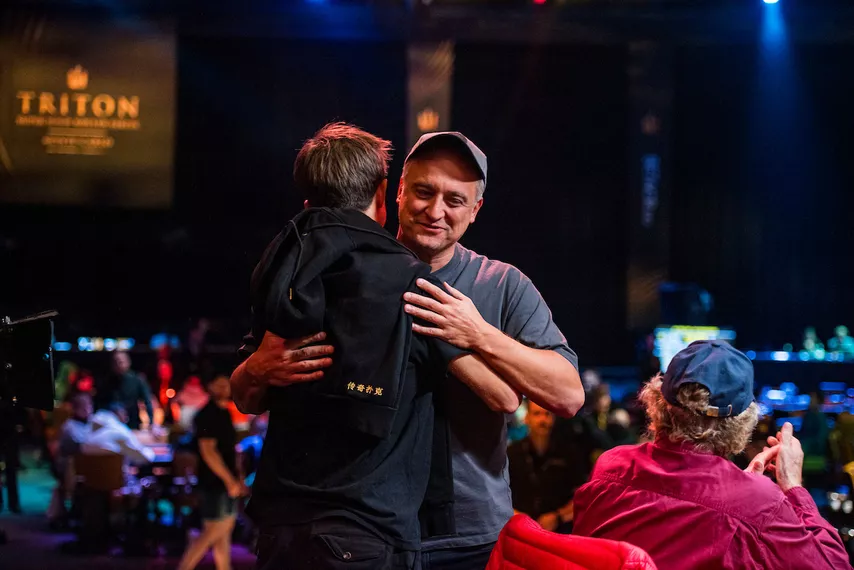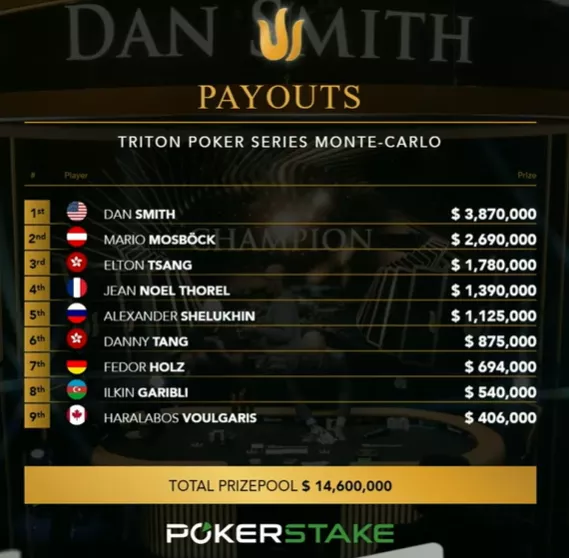 $40,000 Mystery Bounty Tournament
If the young Austrian Mosböck: At 14, I won $28,000 on Full Tilt and cashed it all out! was dissatisfied after losing the $200k heads-up tournament, buthe was not upset for long. A few days later, he became the winner of the Mystery Bounty tournament and received $1,438,000, of which he pulled out $720k in ten envelopes.
We have already talked about the poker rise of the former professional football player.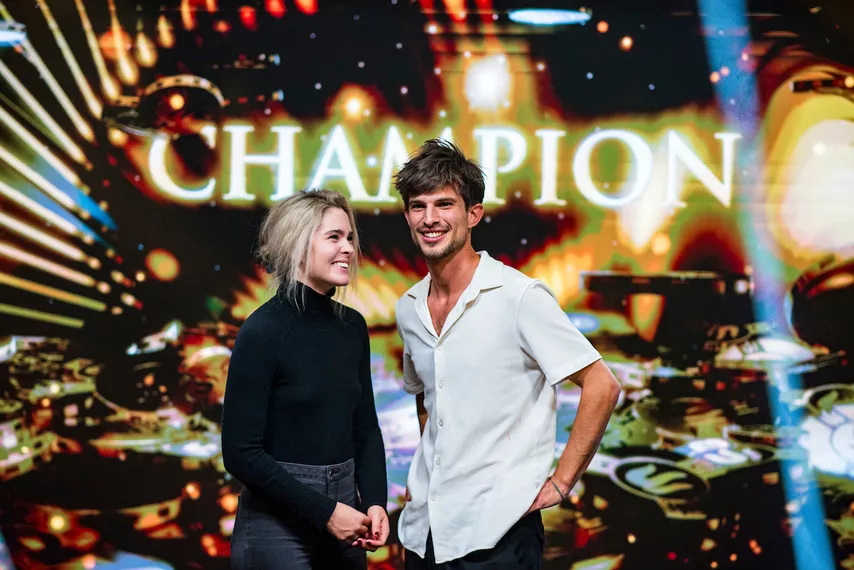 Mosböck entered the final table with a 4th stack (34 blinds), Michael Soyza was in the lead (118), and in last place was Viacheslav Buldygin (14 blinds), who, thanks to his original sense of humor, is gradually becoming one of the brightest stars of the series.
Viacheslav took 6th place (prize – $166,300) and earned only one envelope, but received an above-average bounty of $100,000.
Opening ceremonies are another feature of the Triton series and are always held in a formal atmosphere the day after the end of the tournament. Viacheslav amused the audience here too, communicating with Ali Nejad in a mixture of English and Russian.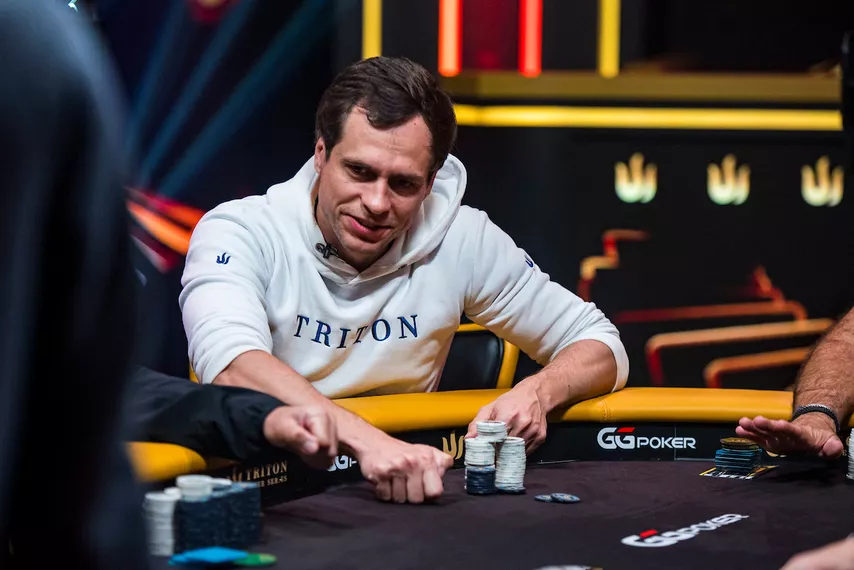 Frenchman Axel Hallay became the main "loser" of the tournament, he reached 5th place ($216,500), but did not make a single bounty.
On the opposite side of the variance was Indonesian Sammy Bolung, from the four envelopes assigned to him, he pulled out a total of $720k, including the top one.
Results of all players including bounty: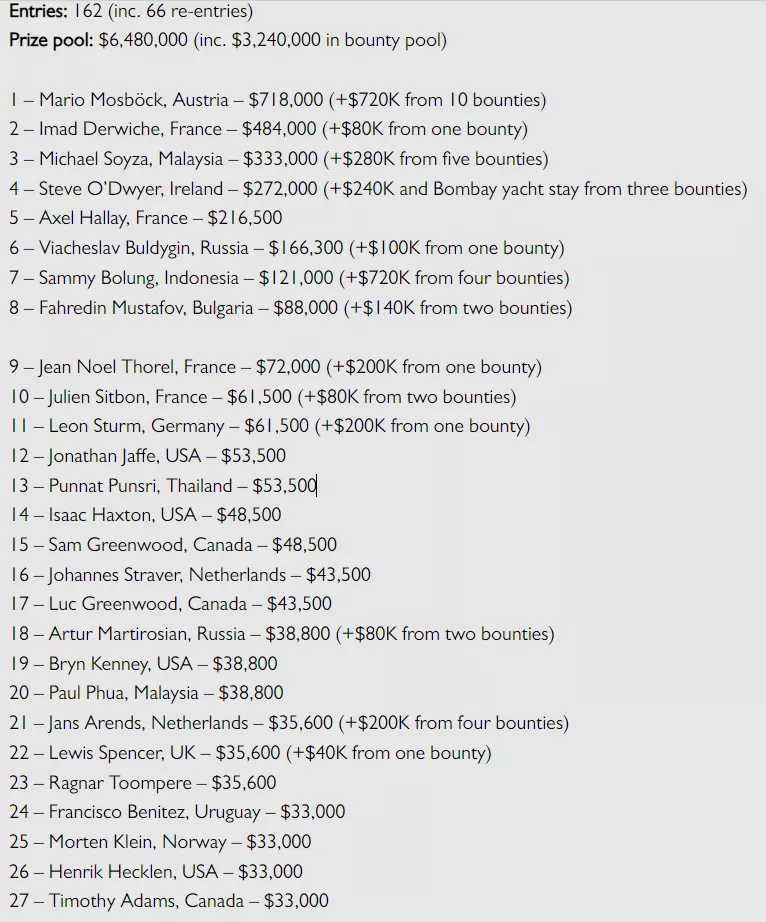 Upstreak Danny Tang
Only 12 tournaments were played in the series, in five of them Danny reached the final table, and won one.

In the victory, he beat Isaac Haxton heads-up, who had a very modest series by his standards. Ike received $1,070,000 for second place, his only seven-figure finish in Monte Carlo. Ike's prize money for this year already exceeds $15.4 million.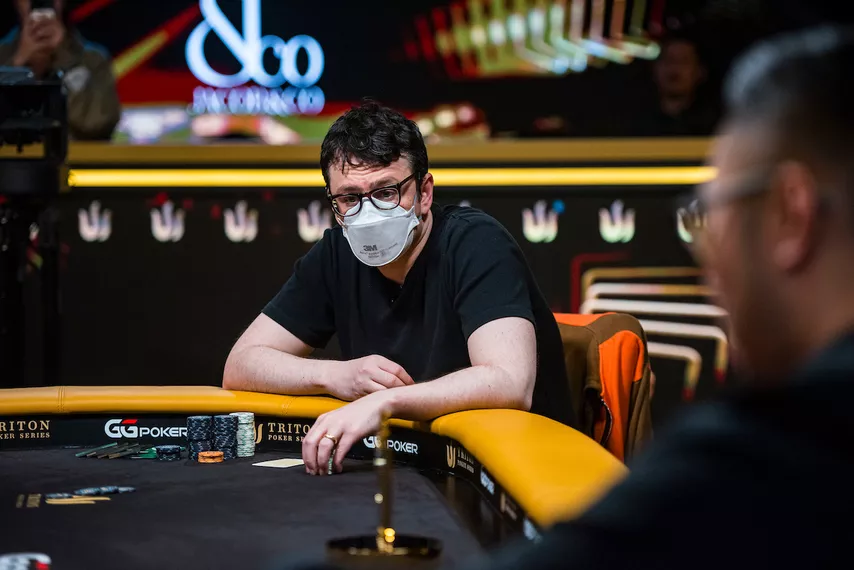 This is Danny's 5th Triton title, all of which he won this year, and dedicates his success each time to the memory of Ivan Leow.
– I constantly feel his presence. It seems to me that he is watching from somewhere above, and not just me. Webster Lim, Kiat Lee, Lun Loon, and Michael Soyza – we are all one family, and he was our big brother. So far I'm just the luckiest.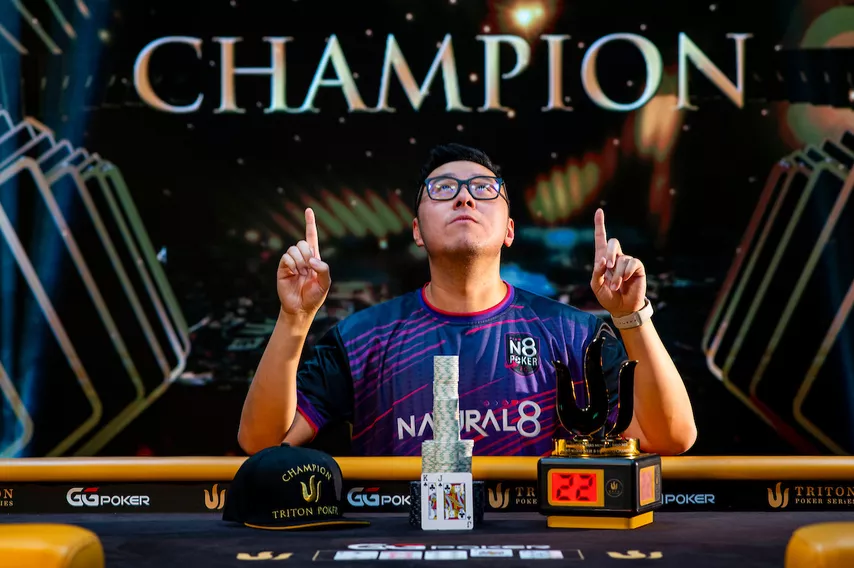 The day after these words, Webster Lim won GGMillion$ Live with a $25,000 buy-in. This tournament became the largest number of participants in Triton history (187 entries).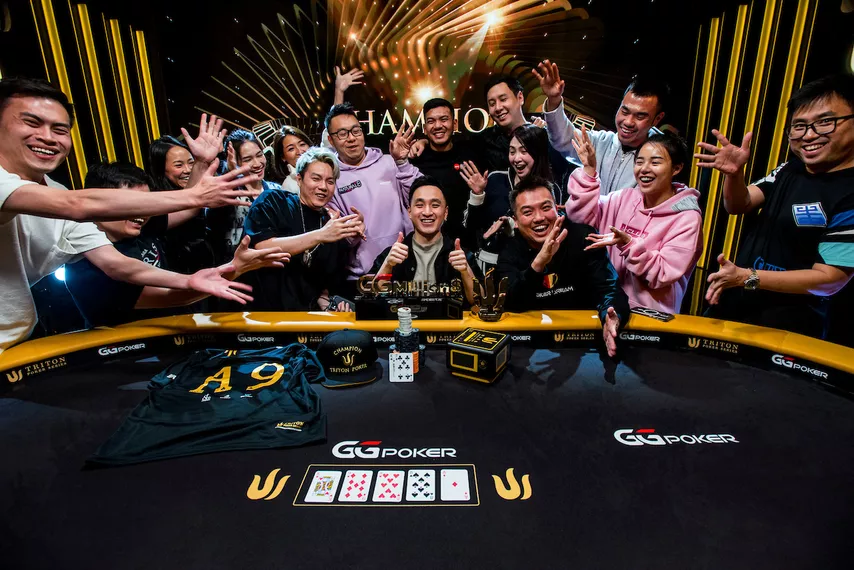 5th place went to Garik Yaroshevsky, for whom the series had not gone very well before.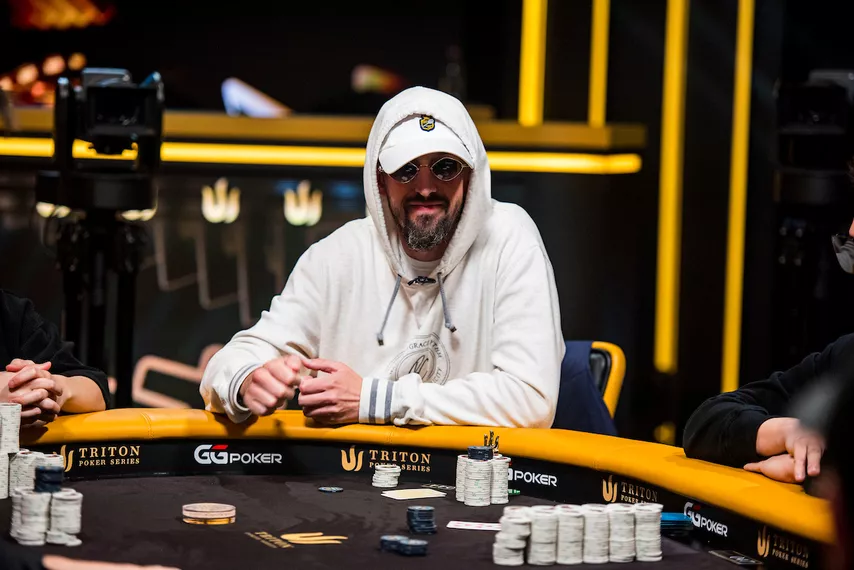 Jason Koon's 10th title
Jason sat on the fence until the final day of the series and won the very last tournament, a $25k turbo PLO. His closest pursuers Danny Tang and Phil Ivey have five trophies each.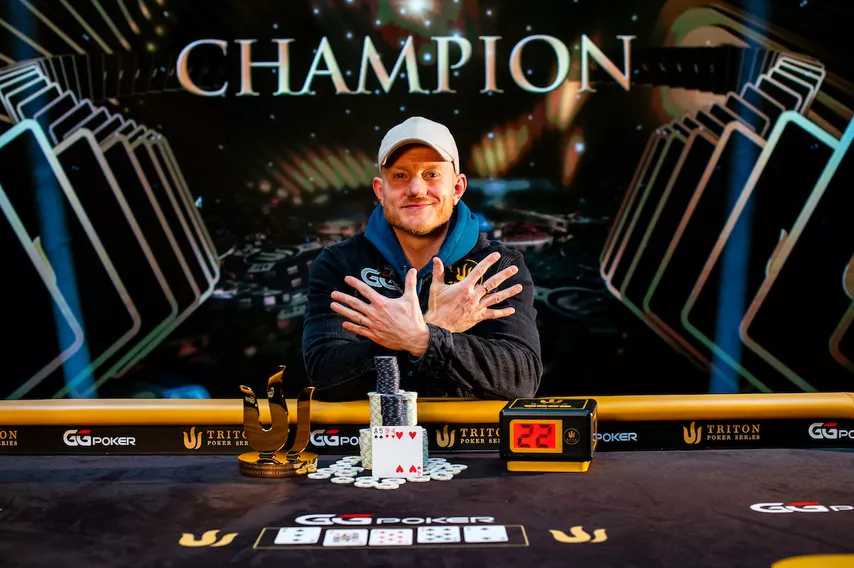 This tournament attracted only 50 entries and by a margin became the smallest in the series. Therefore, the prize for first place was quite modest by Triton's standards – $365,000. Jason beat PLO guru Eelis "EEE27" Pärssinen heads-up. Pärssinen managed to fly to Monte Carlo from Las Vegas, where PokerGO was also holding a series of PLO tournaments. The Finnish legend made money in five tournaments there and won one.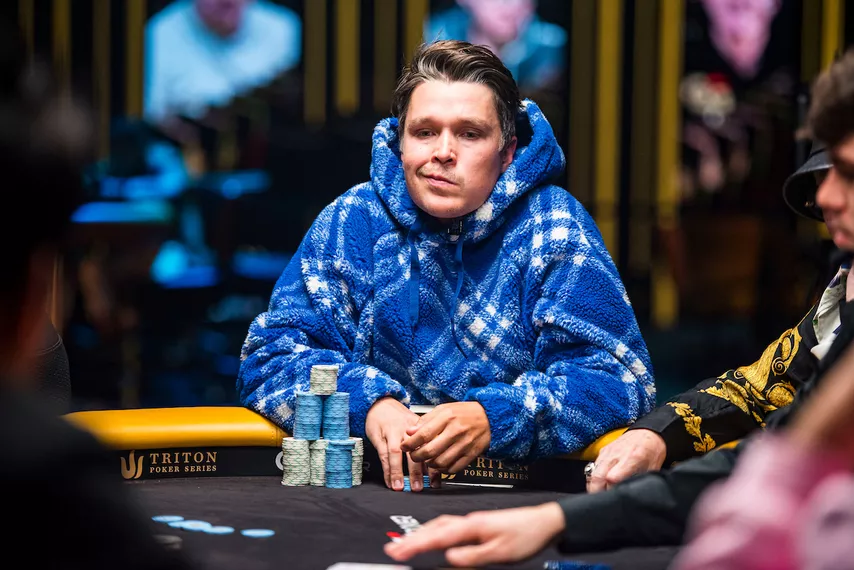 Fall of the Favorites
Several tournaments followed the same scenario – there was a huge chip leader at the final table, who missed out on victory at the last moment.
The $125,000 main event saw 135 entries. Adrian Mateos entered the final table with a stack of 125 big blinds, while the rest of the eight had between 19 and 32 blinds.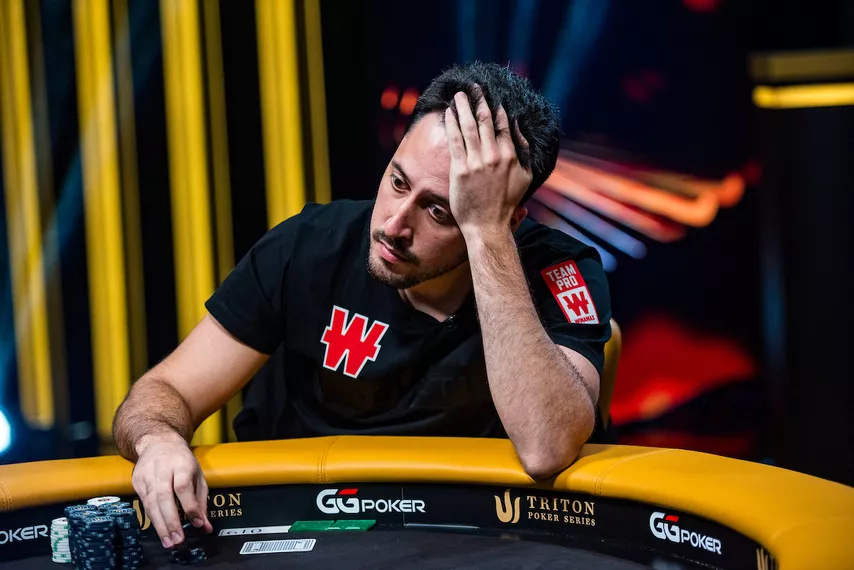 Adrian maintained the lead almost throughout the entire final table, but in the top three Matthias Eibinger took the lead from him. But Adrian quickly regained it when he bought a straight flush on the river against Santhosh Suvarna's nut flush.
Heads-up players started with fairly deep stacks – 62 blinds against 51 in favor of the Spaniard, but could not determine the winner for more than two hours. In the end, they agreed to chop, after which everything quickly ended in a banal flip – Mateos could not defeat the of Eibinger.
Matthias received $3,461,261, Adrian received $3,120,739.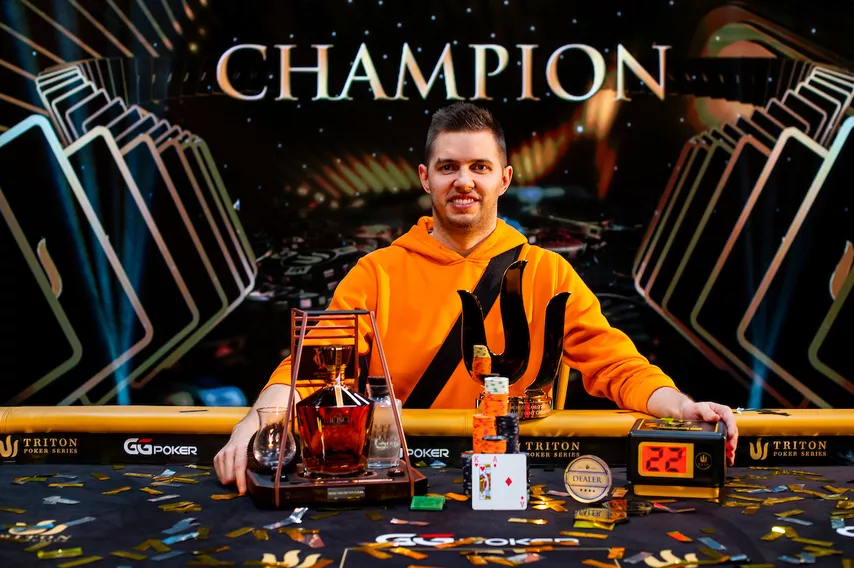 Aleksejs Ponakovs took 7th place.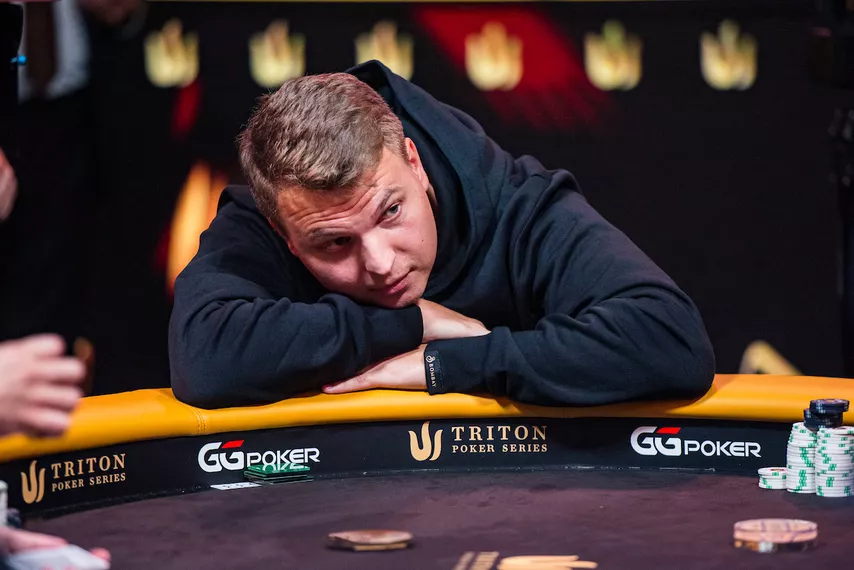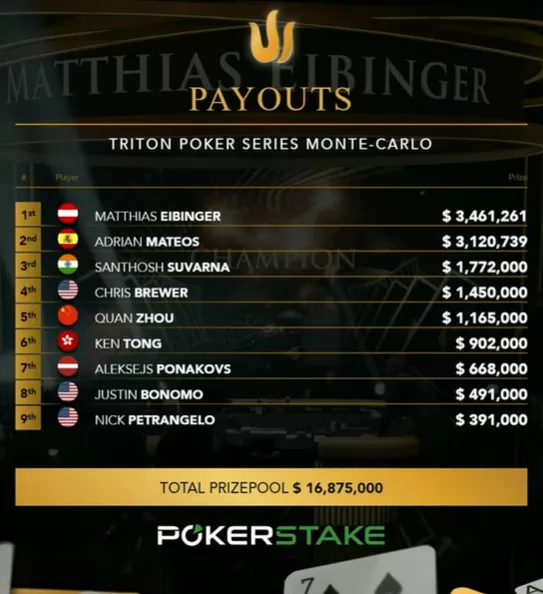 A similar story occurred in a $100,000 buy-in tournament in which there were 120 entries. Here Nacho Barbero (113BB) entered the final table as a confident chip leader; Punnat Punsri had 52 blinds, and the others had less than 30. Nacho maintained his lead until heads-up, starting with 47 blinds against 33 for Christoph Vogelsang. The players immediately made a deal and chose rather unusual conditions. Despite the difference in stacks, they divided almost equally – Vogelsang took 2.144 million, Nacho – 2.198 million, but left an impressive $500k in the drawing. The lead changed hands several times, but in the end, the German high roller was luckier. After the victory, Christoph said that even before the bubble he had one blind left, after which he won an incredible number of all-ins.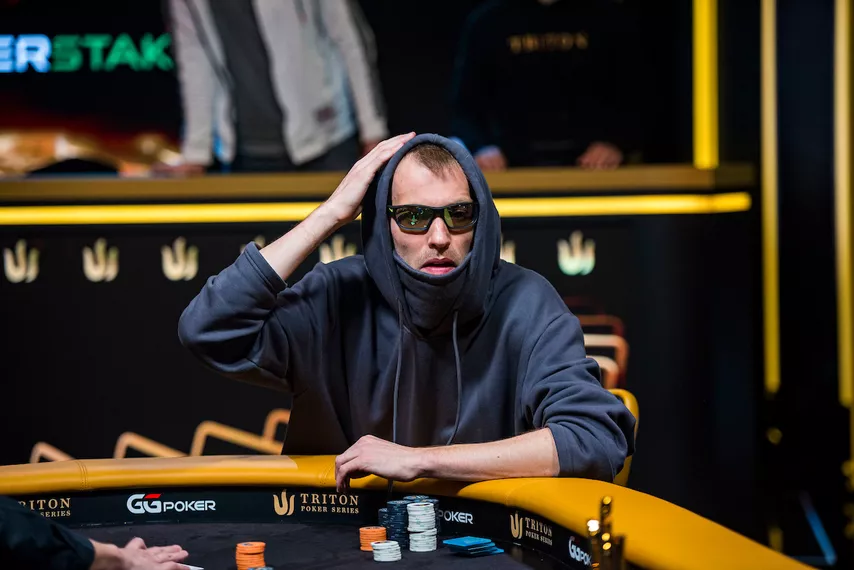 Nacho Barbero, who returned to poker at the beginning of 2023 due to failures in crypto investments, received more than $11 million in prize money in tournaments this year. His success began at the PCA series in January, after which he, in his persistently expressive manner, proclaimed 2023 the Year of Nacho.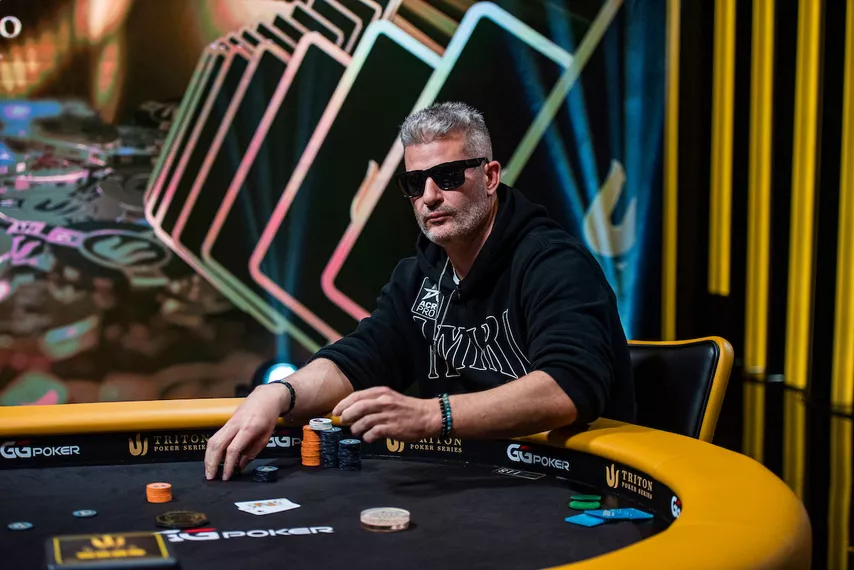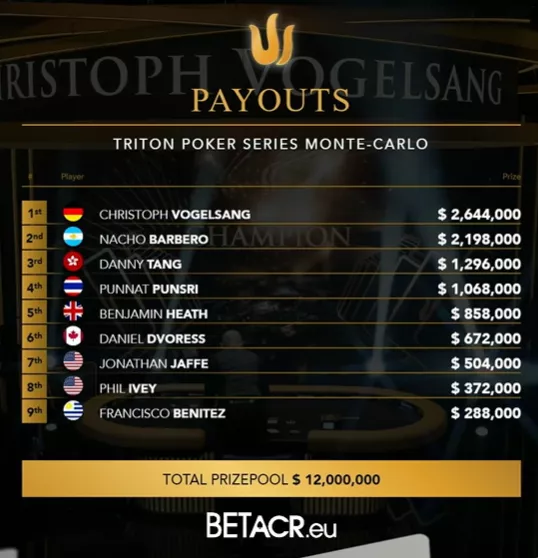 The $30,000 buy-in 7-max tournament saw 145 entries. Here, the main candidate for victory looked like Juan Pardo, who entered the final table with a comfortable 68 blinds; his closest pursuer, Luke Greenwood, had 37. But, as in the two previous tournaments, the favorite was limited to heads-up. Halfway through the final table, the stacks were not that deep. In the top five, Pardo still held the lead, but his stack was less than 25 blinds. In the top three, he played another brilliant hand. Let us remember that in August at the London series, Juan made the correct fold preflop with kings.
This time he had K-high and called Ole Schemion's three barrels and again turned out to be right (they limped-checked preflop).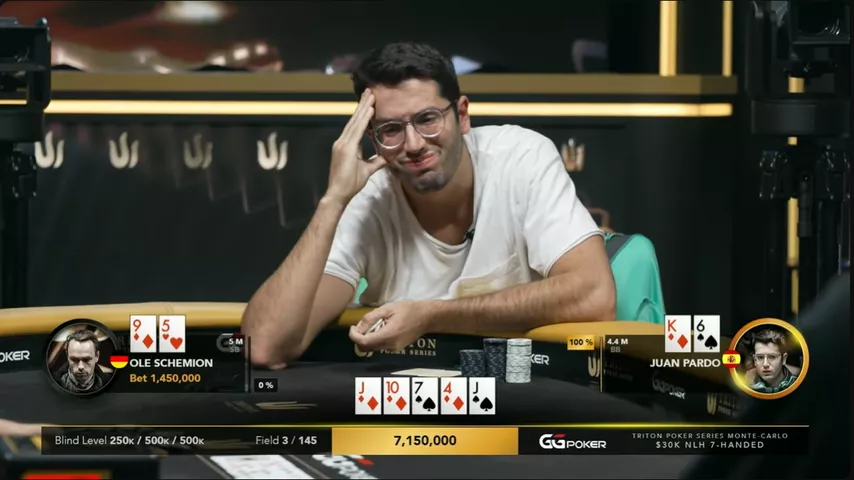 However, this was not enough to win. The champion was Ognyan Dimov from Bulgaria, who was unbeatable in all-ins that day.