Editor's Note: Daniel Negreanu recently went viral when he crashed a high school poker home game, so we are sharing a story written last year about Negreanu's first major televised poker victory.
In 2023, Daniel Negreanu is one of the most famous players in the world, the face of the poker brand. He has appeared in movies, poker TV shows, podcasts, and streaming and has been a regular at the highest levels of competition for over twenty years. He's sponsored by GGPoker. He has hundreds of thousands of followers on social media.
In 1999, Daniel was a relatively obscure young professional and never appeared on television. He was even simply called 'Kid' – the respectful definite nickname 'The Kid' was assigned to Stu Ungar. The final table of the US Championship, held in Atlantic City, was his first appearance under the spotlight. He got heads-up against John Bonetti, where Negreanu played the hand that changed his life dramatically.
Youth on the road to fame
In December 1999, when the world was afraid of the "2000 problem", Negreanu managed to reach the final table of the US Championship. He won his first WSOP bracelet a year earlier and has been successful at Foxwoods and Atlantic City, but he had to be on TV to make it big. And that hour has finally come.
"I was building a reputation for myself," Negreanu says, "and making it to the TV final table was supposed to turn me from a rookie to a respected professional.
There was nothing like a modern avalanche of information about events in the poker world in 1999. With the exception of Cardplayer magazine and occasional specials on ESPN, poker fans had only Internet forums at their disposal. There were only two $10k events on the tournament calendar – the WSOP Main Event and the US Championship. And in heads-up of the second most prestigious competition of the year, Negreanu had to fight with the man whom he infinitely respected and called his teacher.
– I was 25 – a green youngster in the poker scene. Traveling through tournaments, I met John Bonetti, one of the most famous players of that time. I liked him right away. At the table, he behaved like a mafioso, but he had a great sense of humor, and he always sought to enjoy the game.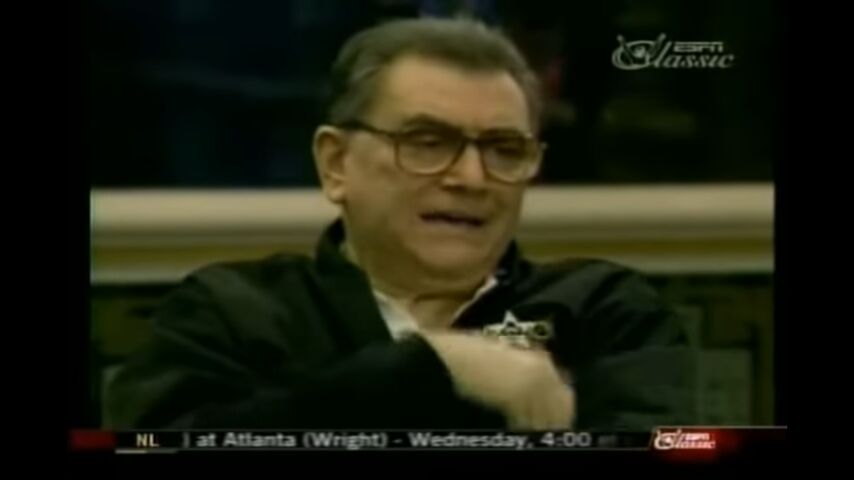 John Bonetti started his professional poker career when he was 59 years old. Three times he reached the final table of the WSOP Main Event – in 1990 (8th place), 1993 and 1996 (both times he took 3rd place). Won over 40 tournaments including three WSOP bracelets (1990, 1993, 1995). The total amount of prize money for his career exceeds four million dollars. He had been battling cancer since 1993. He passed away in 2008 at the age of 80.
When he first appeared on the television table, Negreanu chose a memorable image for himself – a sports suit in the style of the then popular Andre Agassi, complemented by a Nike baseball cap, beard, and earring exactly like the famous tennis player.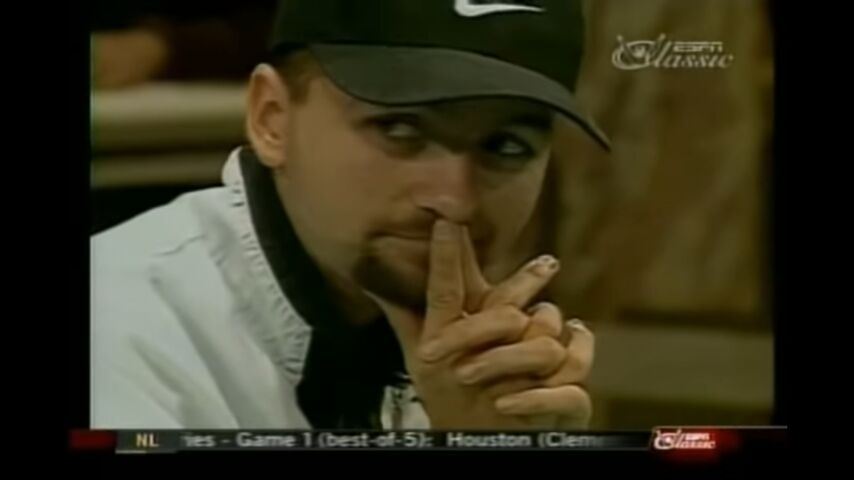 "I always wore a tracksuit to tournaments," Negreanu recalls, "and I had a fanny pack in which I put everything I needed – money, wallet, room keys, notes on players, results, etc. Smartphones hadn't happened yet! Surprisingly, when the cameras turned on, I immediately felt at home. It makes sense because in my childhood, I dreamed of becoming an actor. I was absolutely not nervous and even managed to be surprised by this.
Student vs Teacher
Poker players knew Negreanu from a bracelet he won in 1998, but the only way to truly breakthrough was to win a big televised tournament. The final table was going well, Daniel knocked out two opponents, but the heads-up against Bonetti didn't work right away.
– After playing a little one-on-one, I felt that I was outplayed. He just played harder. He seemed to be holed up in the trenches and from time to time carried out aggressive lines. Feeling that I was an outsider in this match, I decided to change my strategy. If you want to beat a stronger player, you have to be willing to take big risks.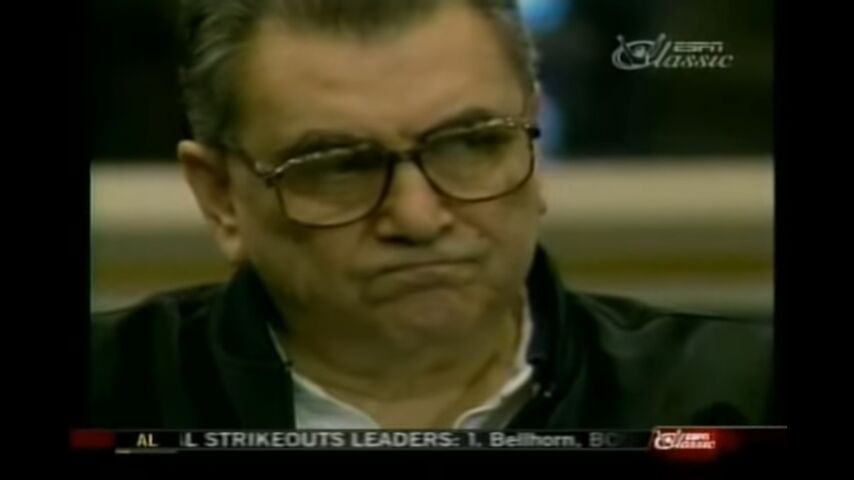 Preflop:
Daniel Negreanu –
John Bonetti –
Bonetti raised from the button and Negreanu called.
Flop:
After his opponent checked, Bonetti c-bet 10,000. Negreanu raised big to 90,000. In response, Bonetti went all-in.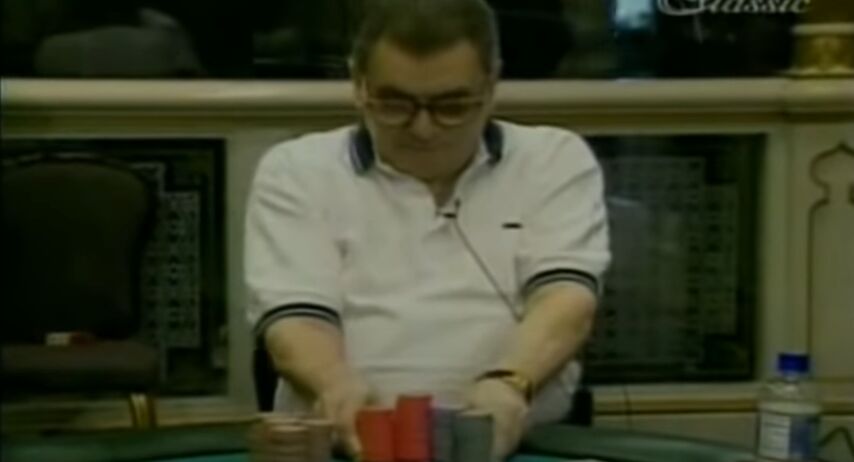 Negreanu's tournament life was at stake. In fact, he had 45% equity, but Daniel was worried about Bonetti's higher flush draw. And yet the logic of the duel demanded he take risks.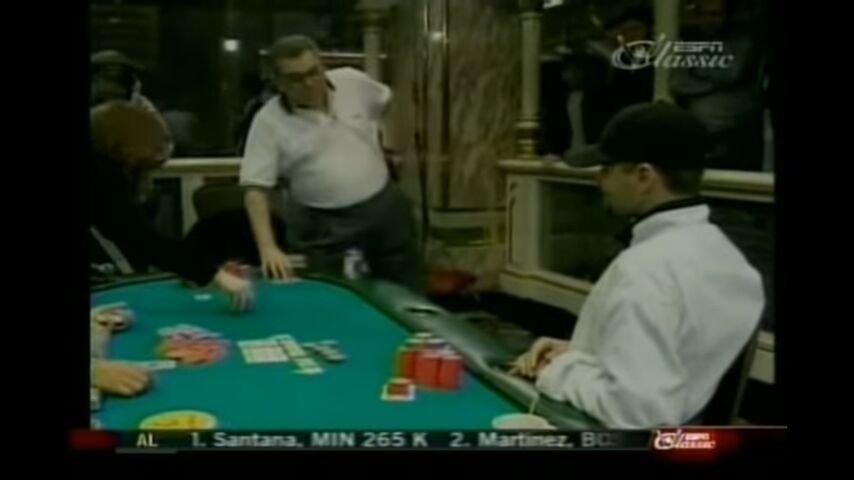 – "I reminded myself that it is profitable for me to gamble. Whatever his cards were, I had outs anyway," says Negreanu. "That's why I called. Our stacks were about equal, he has a little more – by 3-4 blinds."
Turn:
Not the best turn and Negreanu has less than 20% equity left. However, the young player, oddly enough, did not worry at all.
– Over the years, controlling emotions has only become more difficult! Daniel laughs. – I remember that at the sight of an ace on the turn, I felt only impatience. The thought flashed that I might have made a mistake, but the dealer immediately opened the river.
River: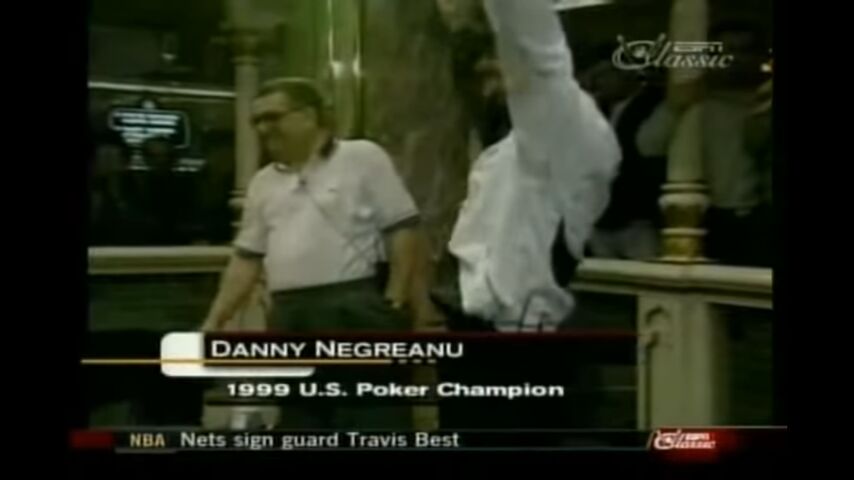 Seeing the spade that gave him the winning flush, Negreanu quickly got up and walked over to the teacher, whose face was visibly tired. The cheerful and talkative Bonetti seemed to convey these qualities to his young rival. Like a relay baton – or like an Olympic torch.
"It was all over in the next hand," Negreanu recalls. I still have the check I received.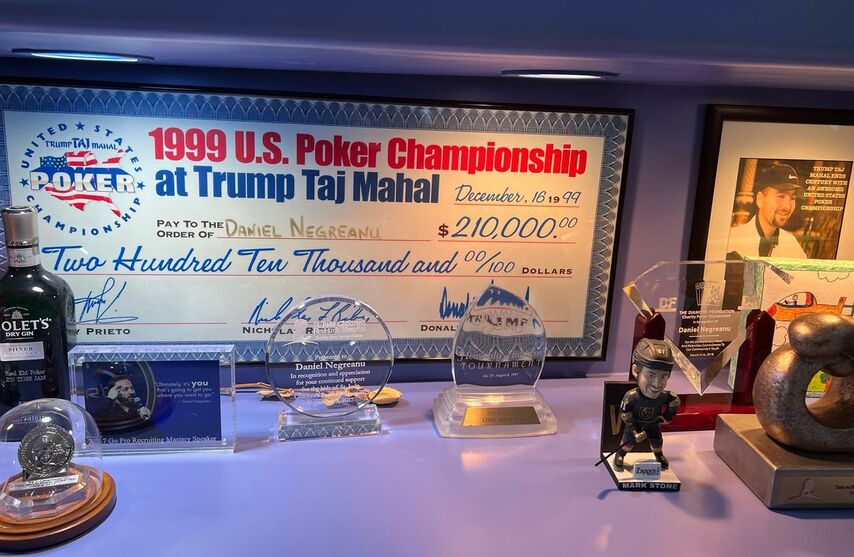 "When I got the money, I immediately sat down to play $800/$1,600, won some more, and went home," Negreanu recalls. – I got on the plane with a big check in my hands, and in the bag under a pile of things were wads of money. Arriving in Las Vegas, I became a walking advertisement for my victory!
New life
This big win didn't just change Negreanu's life. It changed him too. Without fear or hesitation, he walked through the airport with a bag full of cash and forgot about the past forever.
– Thanks to this victory, I was in the spotlight, – says Daniel. – I won $210,000 – a lot of money at that time – in one of the most expensive tournaments. It brought me fame and recognition. I started writing a column in Cardplayer, and became the voice of poker. I wasn't particularly interested in money, then or now, but I really enjoyed winning. And I always thought that I could win more, no matter what happens.
Negreanu says he never thought about what would have changed in his life if Bonetti's hand had held. However, luck did not always accompany him.
"The year Carlos Mortensen won the WSOP Main Event, I finished 11th and was the chip leader in the top 12 but lost a key hand. If I win it, who knows how it would have ended. However, in general, I have nothing to complain about.
Negreanu is philosophical about failures.
– The heavy blows that we experience in life provide us with new opportunities. Material losses or traumatic experiences make me stronger. In the last couple of years, I've gone through the worst period of my career in terms of all-in pots. It was very difficult for me. But my wife always said that I endure trials well ...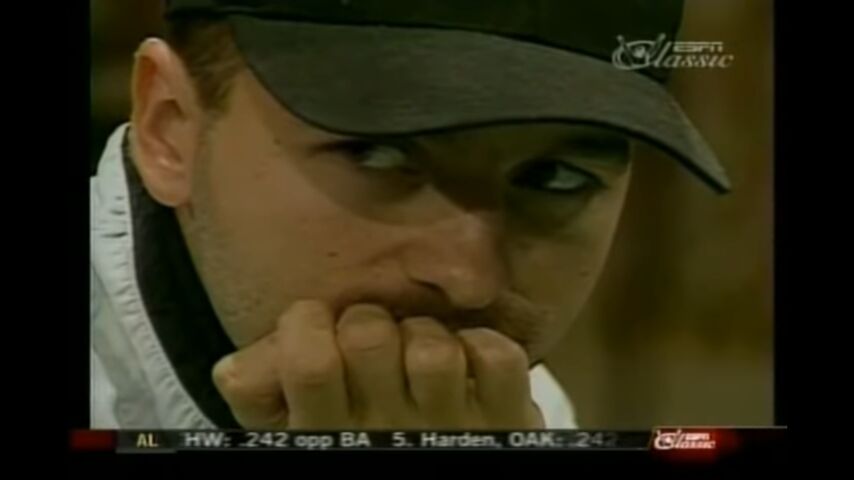 Life of a winner
Negreanu has already made poker history, but looking at him, it doesn't feel like he allows himself to live in the past even for a day. His passion for poker is overflowing just like in the early years of his tournament career.
– Cash games are work. You punch your ticket and then take the money, but it has no purpose, there is no overall score. As a child, I came up with my own tournaments where my favorite wrestlers were the players – I drew a grid for 16 people and rolled the dice. The winner received 50 points, the runner-up – 40. I painstakingly counted everything, my mother remembered this until the end of her days ...
The love of statistics is part of Negreanu's current motivation.
– I just played the US Poker Open just because they were giving out the prize for the best player in the series. What PokerGO does is a lot of fun. They came up with a system in which the fight goes to the last tournament, where the most points are awarded. Everything is in tension. This turns me on a lot. It's the same reason I enjoy playing the World Series so much.
Negreanu believes that he has changed a lot as a person over the past 20 years. It's not just about behavior, it's also about self-awareness.
– When you are 20, you are seriously worried about what others think of you. This is important, no doubt. At 30, you already react more calmly, you understand that it is impossible to please everyone. Now I'm over 40, and someone else's opinion has completely ceased to excite me. I have the wife I dreamed of and I'm living the life I've always wanted. I became the most authentic version of myself. The older you get, the more clearly you understand that it is most beneficial to be yourself.
The soul of the 1999 US Championship final table was a man named John Bonetti, who sadly passed away in 2008. His love for the game overflowed and, apparently, was contagious.
You can watch the footage of the tournament and the hand that changed Daniel Negreanu's life on YouTube.