If you don't have an 888poker account, this guide will show you how to register – and grab up to $88 in bonuses without depositing a cent.
888poker has tons of micro and low-stakes traffic for No-Limit Holdem and Pot-Limit Omaha, plus ways to create your own poker club with your friends. Their No-Deposit Bonus attracts many recreational players to 888, for obvious reasons.
888poker has been in the online poker game since 2002, giving players well-developed software to play online cash games, MTTs, and Spins for real money.


Long-running room with lively cash games and eight-figure MTTs
GT Bonuses


Bitcoin and US-friendly room that allows HUDs
GT Bonuses


Global crypto-only room with bad beat jackpots and weekly leaderboards
GT Bonuses
Let's cover the 888poker register process in 5 steps and get you to the tables.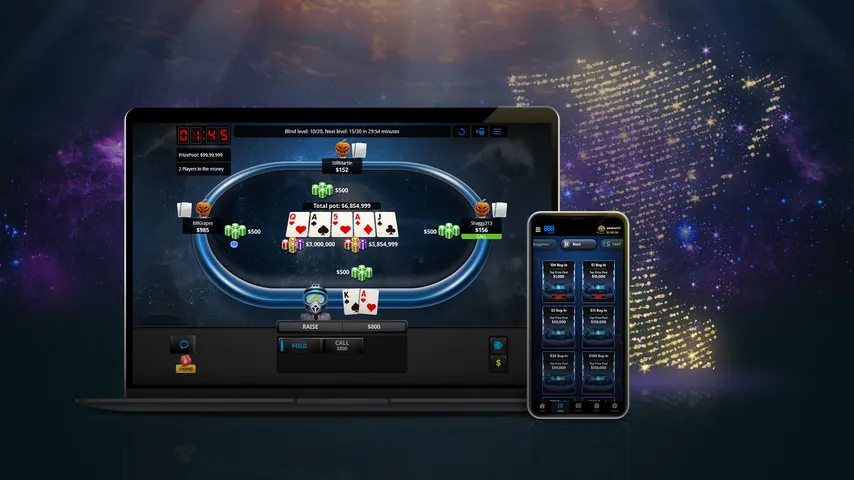 Important Note: Don't register two accounts with 888poker. Players are only allowed to have a single account on the site.
Step 1: Visit 888poker
To get started at 888poker, visit the registration page and click on Get Started.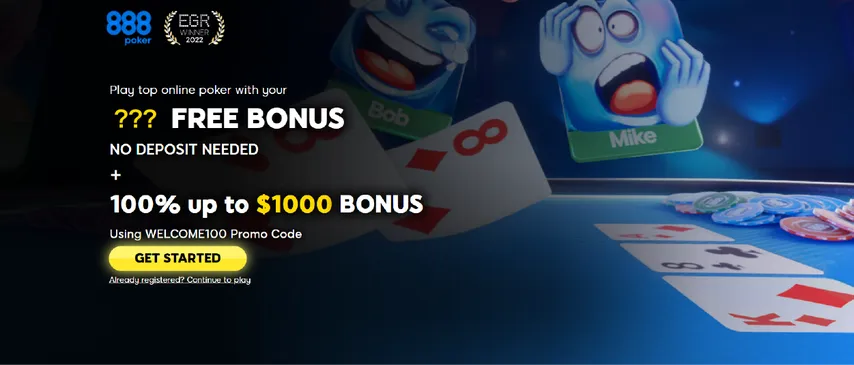 You'll notice that the No-Deposit Bonus varies depending on where you live. You might see that your bonus is $88, or a smaller number like $20. Either way, it's a big bonus that you'll soon be playing real money poker with – without any deposit.
On top of that – any deposit you make will be matched 100% if you use the promo code WELCOME100 in the 888poker cashier. This bonus is only valid on your first deposit.
Step 2: Create Your 888poker Account
Approx time: 2-3 minutes
Nobody enjoys this part, but it doesn't take long to make a new account. The create account page has 3 sections, which need basic stuff like name, contact details, and birthdate.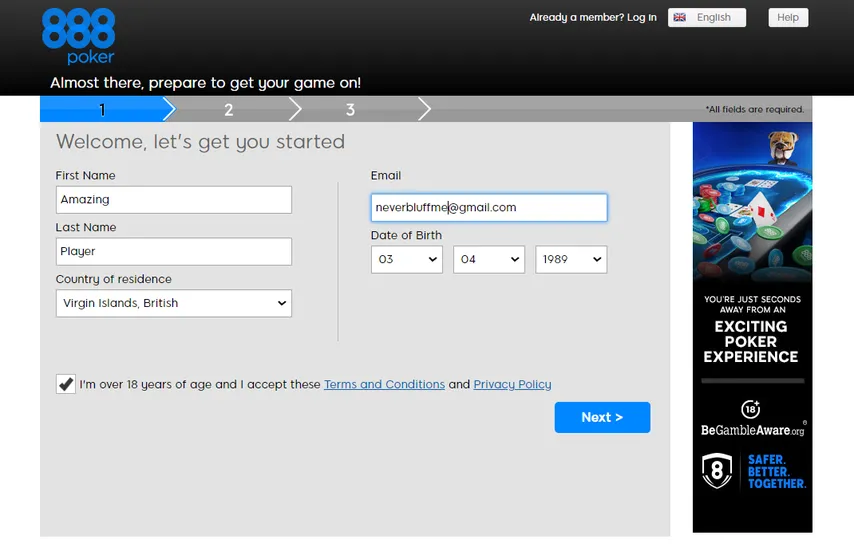 Make sure that everything you write here is factual and correct because it will be important later on. If you try to withdraw from your account but have used the wrong address or last name, you'll have a very tough time getting your funds out.
Even small details could be important, so double-check everything before you finish each step.
Now, you will see the Download Now button.
Step 3: Download the 888poker Software
Approx time: less than 1 minute
Click that blue Download Now button and you will start downloading the 888poker software. If you are on Windows, Mac, or Android and Apple smartphones, the file will be compatible with that system.
Check your email! 888poker has already sent you an email to confirm your address.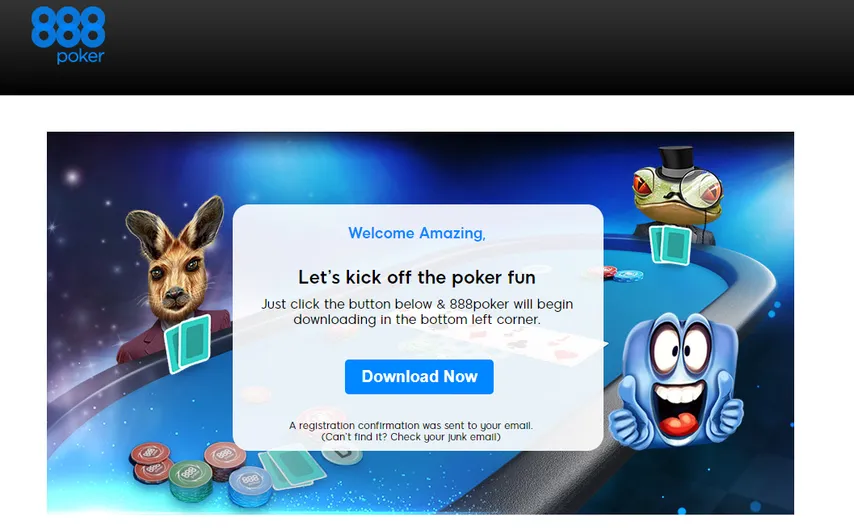 Didn't see your download begin? In your web browser, check the Downloads section (CTRL + J in Google Chrome), or just look directly in your computer's download folder.
If you still don't see that file, there is a good chance that your download was blocked by a firewall or the web browser's security settings. The download should be instant in Google Chrome, but you can switch to a different browser like Microsoft Edge or Safari if you are still having issues.
While You Are Waiting…
The 888poker app download doesn't take long (just a minute) but you could still register for a freeroll poker tournament in that time! Our schedule has daily free tournaments, with real cash prizes, and simple steps to enter.
Most prize pools are on the small side, but partypoker has lots of $200 freerolls each day, plus $100 and $50 events. They run every single hour on partypoker, meaning 24 chances to play (and win cash) each day.
Step 4: Install the 888poker Software
Approx time: 1 minute
Select which shortcuts you want to have (Desktop, Quick Launch, and Start Menu), then choose a place for 888poker to put the software files.
You're ready to install 888poker. Click Install and wait for a little while. On most computers, this will only take around a minute to finish up.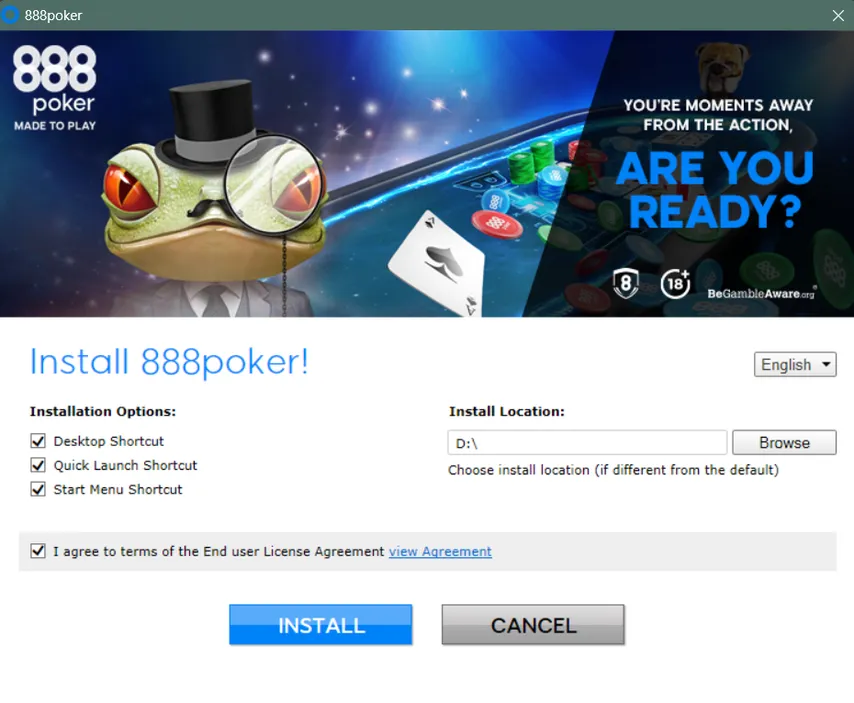 Once the installation is finished, 888poker will open up automatically.
Step 5: Login and Start Playing Poker
Do you remember your account details? Enter your username and password, then click Login.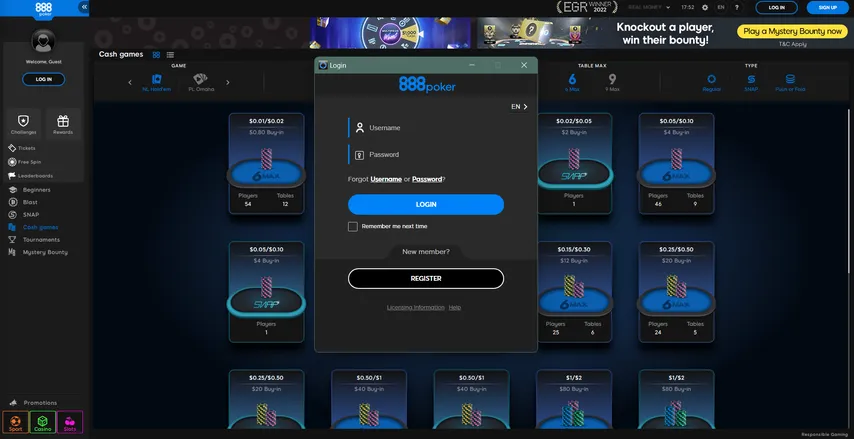 That's it! You are now fully registered and ready to play on one of the best online poker sites.
Don't Know How to Get Your No-Deposit Bonus?
Check your email again! Did you get your No-Deposit Bonus email?
The email will look a little something like the one below, with the bonus you are eligible for, plus your real name and 888poker username.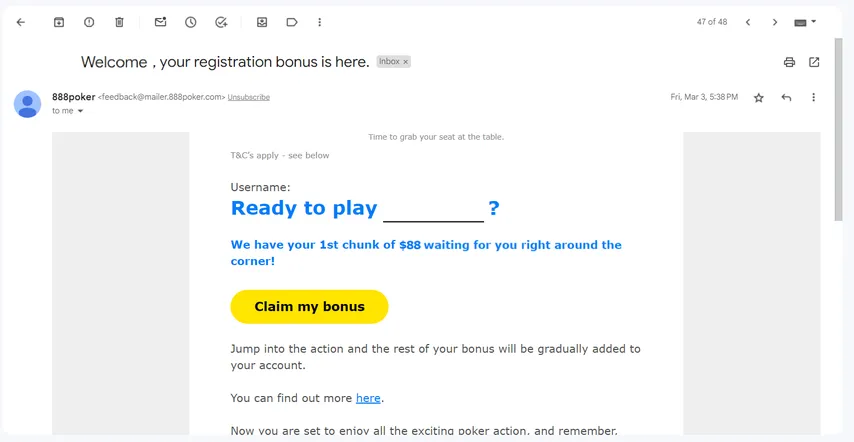 After checking your email folders, junk email included, it's time to check the address. Look inside your 888poker account (in the top left of the 888poker app) and find your details.
If your email is correct and you still haven't gotten anything from 888poker regarding your bonus, it's time to get in touch with the site directly. Let them know what is going on and they'll likely resend the email to you.
Need Help with Anything Poker-Related?
GT Support can help you register with 888poker, claim the welcome bonuses, and make your first deposit go smoothly. If you are having any doubts about the site, why not ask some professionals which rooms they recommend? There are lots of other options – and we're very familiar with all of them.
On top of that, they can point you toward different ways to get better at your favorite format of poker, at your favorite stake level.
GipsyTeam support
We will help you solve
any
poker question
We work
around the clock
without weekends and holidays
We respond within 10 minutes
Increased rakeback and personal bonuses
Help with deposits and cashouts
Access to mobile applications
Solving problems with accounts
Technical support
Questions about the site and forum