Poker chips are colored discs which are the game currency used to place and call bets in poker. For cash games, they directly represent quantities of money, with each type of chip worth a predetermined cash value. In tournaments, chips have no direct value that can be cashed out but winning more chips allows you to stay in the tournament for longer and receive larger payouts. Each color of chip has a different numerical value, this is so that you can play with fewer chips than if they were worth all the same amount but are still able to choose the exact bet size that you want.
When running your own game you will need to buy a set of poker chips, along with cards, and the information below should help you decide on the best option for you.
Materials
The materials available are:


Long-running room with lively cash games and eight-figure MTTs
GT Bonuses


Bitcoin and US-friendly room that allows HUDs
GT Bonuses


Global crypto-only room with bad beat jackpots and weekly leaderboards
GT Bonuses
Plastic is the cheapest option, these are usually made of ABS, with a low-quality feel. They are the most lightweight chips and can be harder to stack. Often, they will have colors but with no markings or values printed on them. They are the best poker chips option if you plan to play infrequently and don't want to spend much on buying chips, and they are still fine for playing poker with.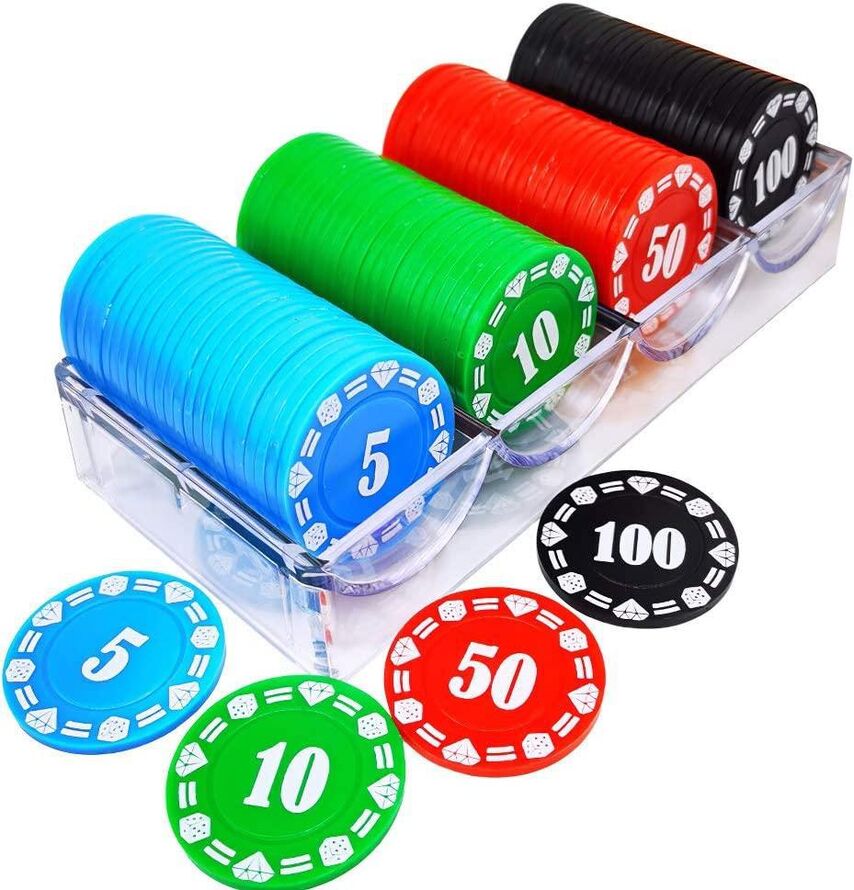 Composite chips are the next step up in quality, these are made of plastic but contain a metal weighted core which means they handle more closely to ceramic.
Ceramic is the type used by casinos, and the highest quality chips. They are injection molded chips which feel and sound like ceramic and are the most durable. They can have numbers or patterns printed on the entire chip, including its edges. Ceramic is the best option if you want the game to feel the most premium, or if you plan to hold regular games they are probably worth the investment.
Ceramic chips weigh approximately 10g but can be up to 16g for the highest quality ones. Heavier chips are better because they will stack more easily, and you can slide and throw around effortlessly, as well as perform tricks. So pay attention to the weight when choosing which ones to buy.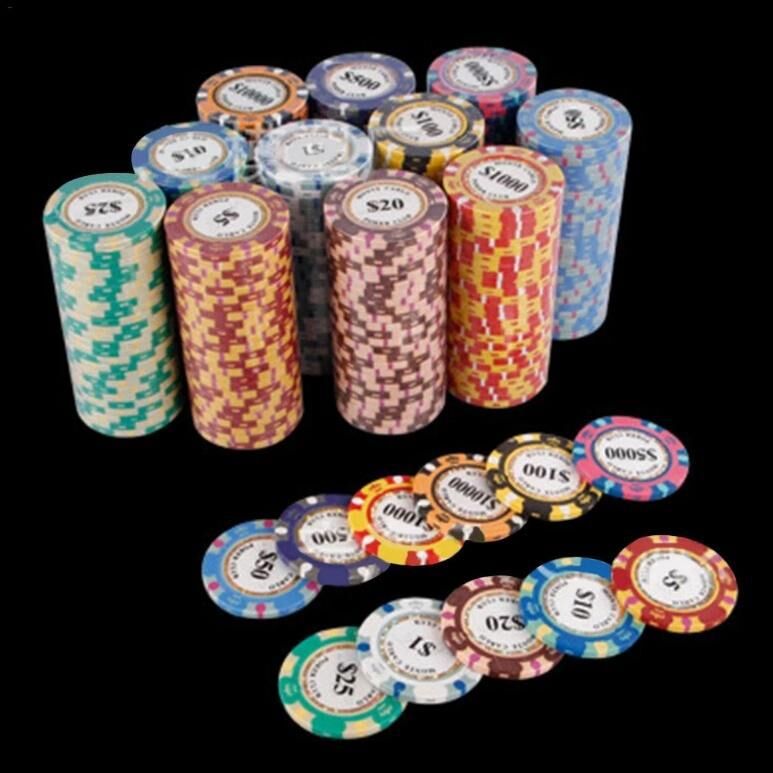 Design
Older chip sets most commonly came in red, white, blue and green but now there is a wider selection to choose from. It's important to use colors that are clearly distinguishable, otherwise it's down to preference. Some sets are plain while others have logos or complex patterns on them. Another choice to make is whether to have the poker chip values printed on each denomination of chip. This option makes it easy to see what each is worth but gives less flexibility in deciding how to use them, and in future you may want to play with different values than the games you initially buy for.
If a set isn't unique, players could cheat by finding the same set of chips and bringing in their own to cash out. If you are playing with friends this is likely not a concern, but custom chips are better for running larger or commercial games, although these will be more expensive.
Chips are easier to stack and count when their diameter is large enough, and when they weigh more or have a weighting agent. These factors also make it easier to do tricks too like shuffling, fanning and rolls. 
How many chips and denominations do you need?
To determine how many poker chips you need, consider the number of people that will be playing, if only 2-4 it would be excessive to buy a large set of 500+ but if 9-10 you need to make sure there are enough.
The number you will use depends also on the type of poker game you are playing with them, for example if you are playing deeper stacked in terms of big blinds you will need more chips than shallow stacked. You could work out how many each player will start with, and then account for after chips are won and lost and people buy in with more.
75 per player should be a sufficient amount, which would mean you need the following quantities:
| Number of Players | Chips Required |
| --- | --- |
| 2 | 150 |
| 3 | 225 |
| 4 | 300 |
| 5 | 375 |
| 6 | 450 |
| 7 | 525 |
| 8 | 600 |
| 9 | 675 |
| 10 | 750 |
If you plan to sometimes run a tournament with multiple tables, you would need an even bigger set.
Always look for the number of chips provided in a set, and how many denominations they are split into. It's not that necessary to have a large number of different colors (like more than 6) and can even make the game tougher if that means there's too few of each type.
When you are organizing chips, it's better for players to have more of the smaller poker chip values and fewer of the large amounts.
Custom Sets
Certain suppliers allow you to design your own chips, with a printed logo or design on their face. These will be significantly more expensive than standard chips and can require a minimum number to order so are not the best option for casual games where your priority is just being able to play.
One advantage of these is ensuring no one can cheat because you have unique chips. If they are customized with artwork, they may even have future resale value.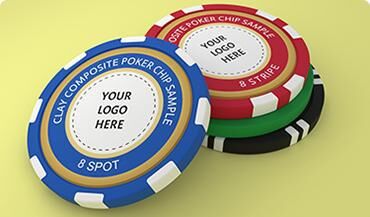 Cost
The cost varies with the material, designs, number of chips and the case they come in. 300 ceramic chips should cost approximately $35 USD while plastic ones $15 USD. You can order from suppliers directly, or big retail stores. Some poker sites have their own stores, like Pokerstars where you can pay with stars coins earned as loyalty rewards or real money.
Other Features of Sets
When buying a set, also pay attention to:
The case
Dealer Button
Cards and poker mat
Identification Features
Don't overlook what case the chips come in, especially if you intend to play in different locations and move around your chips. Decide whether you prefer a wooden, plastic or metal case (plastic may be less durable) and check if it has a good lock and handle.
Some cases make it easier to organize chips, like with racks and these may be removable so you can organize chips while playing too.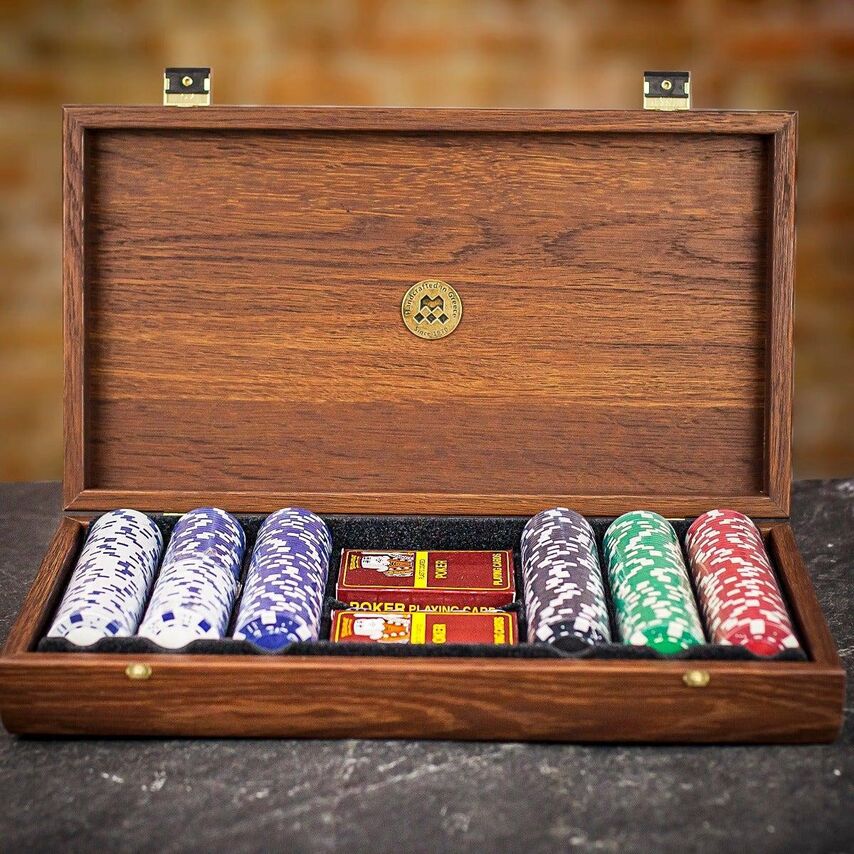 Some sets come with a dealer button, which is useful to keep track of who's dealing and easily see what position every player is in, but this is not essential. Poker cards and a mat can be included too, if you don't already have cards this may be better than having to buy them separately. There are chips on sale with RFID tags inside or unique high-resolution patterns to distinguish them and detect fakes. However it's unlikely you will want to order these for private games.




BetOnline
Bitcoin and US-friendly room that allows HUDs


CoinPoker
Global crypto-only room with bad beat jackpots and weekly leaderboards
Register using this link to get access to GipsyTeam bonuses:
Increased first deposit bonus
Increased rakeback and reloads
Help with deposits and cashouts
Access to closed freerolls
Round-the-clock support
We have created a selection of the best poker sites, which you may be interested in reading.