Phil Ivey is often described by his fellow poker pros as a seasoned professional. There's no doubt that he's one of the most talented players in the world, something that his opponents will agree on. No-limit Texas Holdem is his main game, but Phil Ivey dabbles in other games too. He'll bet on pro sports, 18-hole golf games with friends, baccarat, and anywhere else that he sees an advantage.
Adding up his winnings, sponsorships, and other revenue, it's safe to say that Phil Ivey's net worth is substantial.
After spending over 30 years playing poker, there are some stories to tell about Phil Ivey. Let's talk about the highlights and scandals of Phil Ivey's career.


Long-running room with lively cash games and eight-figure MTTs
GT Bonuses


Bitcoin and US-friendly room that allows HUDs
GT Bonuses


Global crypto-only room with bad beat jackpots and weekly leaderboards
GT Bonuses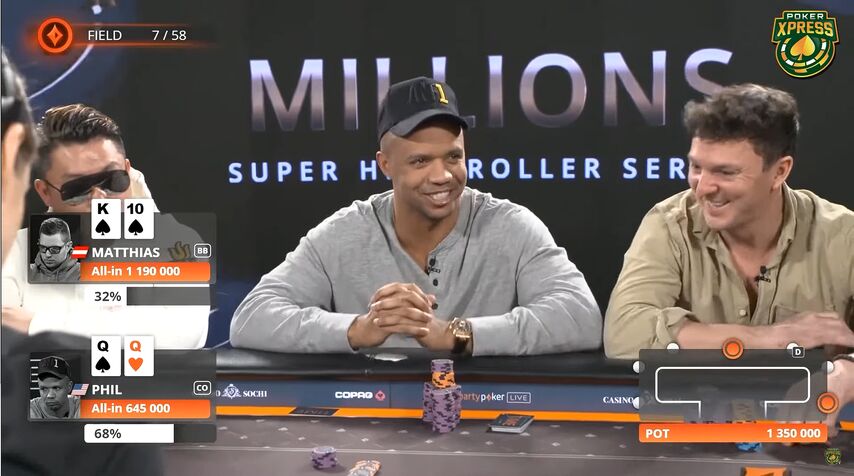 The Early Days of Phil Ivey's Poker Career
Phil Ivey started life in California in 1977, but he would spend his childhood in Atlantic City. This set Phil up perfectly for a life of poker since Atlantic City is considered one of the gambling centers in the US. It's not Las Vegas, but it might be the next best thing.
It was Phil Ivey's grandfather that showed him how to play 5-card stud, a game that isn't so popular these days, but was in the 80s and 90s. At the time, he was only 8 years old. It wasn't long before his grandfather could see that Phil had a talent for card games.
Instead of waiting until the age of 21, which is the legal gambling and drinking age in the US, Phil Ivey had other plans. Some money changed hands and Phil managed to find a fake ID that allowed him entry to Atlantic City casinos.
He built a bankroll over the years and earned the nickname "No Home Jerome" because of the long hours he spent at the tables. Eventually, Ivey would link up with Daniel Negreanu and Barry Greenstein to improve his game and speed up his poker journey.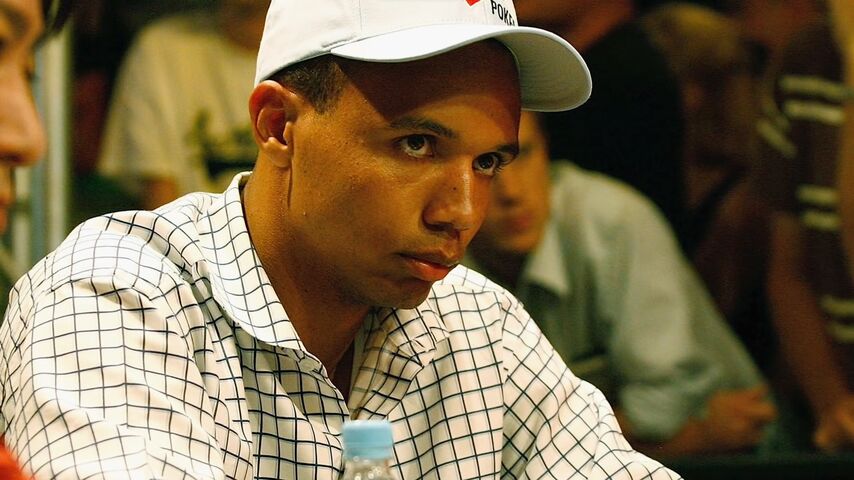 We don't know the exact day that it happened, but Phil Ivey developed one of the most impressive poker faces in the world. In his own words, Phil Ivey said that ‌silence and intenseness often made his opponents play worse.
Highlights of Phil Ivey's Poker Career
Pro poker players at the top of the sport (and yes, it is a sport) usually compare WSOP bracelets and winnings.
Ivey has been playing cash games and tournaments for as long as the poker world can remember. He holds 10 World Series of Poker (WSOP) bracelets, beaten only by Phil Hellmuth with 17. Ivey's best cash ever was over $3.5 million in an Aussie Millions event. Add all of his live winnings together and Phil Ivey has over $40 million in tournament earnings.
He also holds the record for mixed-game bracelets with a total of 5 during his career.
At this point, Ivey has $9,602,883 in WSOP winnings, which come from 82 cashes.
Things you should know about Phil Ivey:
Has one World Poker Tour (WPT) title
Four-time Triton Series champion
Phil has his own Masterclass course, as does Daniel Negreanu.
He won around $19 million playing online poker.
Entered the Poker Hall of Fame in 2017
Once beat a billionaire for around $16 million over 3 days of heads-up (2-player) poker. The stakes were $25,000/$50,000 and the game was no-limit Texas Holdem.
Freerolls will get you more experience playing poker, without investing any cash. It's still going to be a long road before you are taking down WSOP events or publishing your own poker book, but this could be one of your ways to study more (and book small wins of real cash).
Check our roster to see the tournaments you can enter, completely free of charge.
Which Poker Games Does Phil Ivey Play?
Phil Ivey doesn't stick to one poker format. You might see him playing Texas Holdem, but he also plays 2-7 Lowball Draw, pot-limit Omaha, H.O.R.S.E, 8-game mix, 7-card Stud, and many more.
Since his poker skillset is so diverse, Phil Ivey is able to win and cash in on many different events. That's something most poker players can't do.
Phil Ivey wins and loses money on the golf course too. He's known to approach golf with the same ferocity he approaches any game. Losing thousands from golf bets only gives him a reason to improve and beat his opponents in the future.
Reportedly, Phil is always looking for angles and money-making opportunities.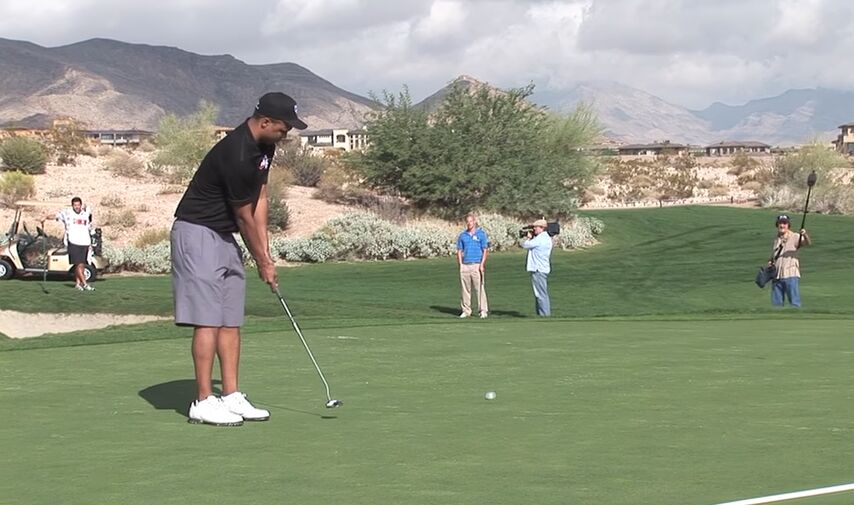 Does Phil Ivey Still Play Online Poker?
While it doesn't seem to be his main source of revenue, Phil Ivey definitely enjoys playing poker online. Phil Ivey played online during the initial poker boom, with a company called Full Tilt. He was one of the site's ambassadors and was paid a handsome salary before the business folded.
He's won large PokerStars tournaments, like the $215 Sunday Million, the $109 Mini Thursday Thrill, and the $100K Gtd Powerfest. Most of his net worth is from live events, but he still has an edge in online games.
He also played on WPT's poker platform in heads-up battles against players like Patrik Antonius.




BetOnline
Bitcoin and US-friendly room that allows HUDs


CoinPoker
Global crypto-only room with bad beat jackpots and weekly leaderboards
Register using this link to get access to GipsyTeam bonuses:
Increased first deposit bonus
Increased rakeback and reloads
Help with deposits and cashouts
Access to closed freerolls
Round-the-clock support
The 8-Year Phil Ivey "Edge Sorting" Scandal
In 2012, Phil Ivey and a Mandarin-speaking associate entered the Borgata Hotel and Casino to play Baccarat. This was not a normal session though. Phil had set terms for his games, like using a specific brand of cards and a dealer who spoke Mandarin Chinese.
Over the next few months and the following four Baccarat visits, the duo won $9.6 million. They also visited Crockfords Casino in London and used a similar playing method. This time, the London casino staff were suspicious of cheating and didn't return the full amount to Ivey and Sun, his associate.
It appeared that Phil had been using defects in the cards, combined with other factors, to increase his edge in the game and win millions of dollars.
A Painful End to the Story for Phil Ivey
Eventually, Ivey was ordered to return the full $9.6 million to the Borgata Casino. They had alleged that Ivey used cheating to create an unfair advantage to beat their game. Sadly for Phil and Sun, it seemed like the US judge had agreed.
Ivey also lost the case against Crockfords and later lost a UK supreme court appeal. The London casino kept the £7.8 million winnings.
Many players felt the casinos had agreed to Ivey's terms, so there shouldn't be a reasonable lawsuit to pursue. Unfortunately, judges in the UK and the US had different opinions.
Ivey's net worth took a bit of a hit from this saga, but lessons were learned.