Playing poker will be much easier if you are sure how strong your cards are. Poker players must understand the value of their hand, but also consider the possibilities of their opponent's hand. Deciding to fold your cards or commit to a hand may depend on your understanding of combinations. Similarly, a chess player can't play effectively without knowing the value of each piece.
The first few times playing poker, it might feel difficult to weigh all of these combinations in your head. You might also hear unfamiliar terms for some hands, and we'll explain those here. In online tables, hand ranking is calculated automatically, and professional dealers do the same in casinos. After playing a few hands, you'll start to witness and memorize some of these combinations.
Here's some online poker sites to begin with: 
Poker Combinations With Descriptions
Getting your opponent to fold to your bets is one path to victory, but sometimes you'll need a better hand at showdown. We'll start this list with Texas hold 'em poker combos in order, from weakest to less probable, premium hands.
Poker players sometimes use confusing terms for beginners. If you're ever unsure, check out our glossary of poker jargon or ask our support team. 
High Card
Sadly, the cards in your hand will often miss the community cards entirely. Whenever that happens, your highest cards will be compared to the other player's to determine a winner. An ace is a powerful card to have when neither player connects their hand to the board, like in the illustration here. The winner's hand is referred to as "ace-high", while the loser's hand is called "king-high".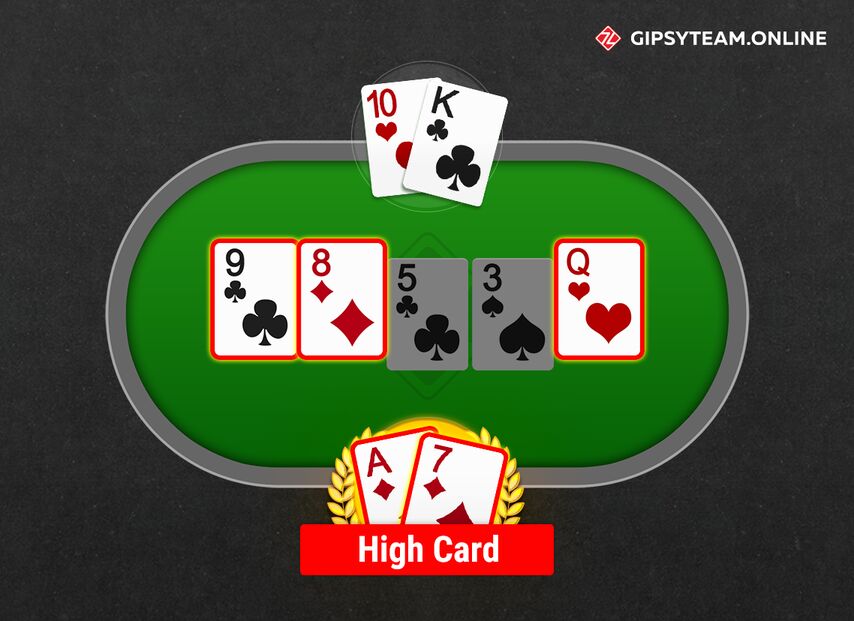 One Pair
Matching one of your cards to a community card gives you one pair. They can also be made by holding two matching cards, called a "pocket pair". The third way to have a pair is by using matching cards on the table.
Expect to pair one of your cards on almost a third of the flops you see.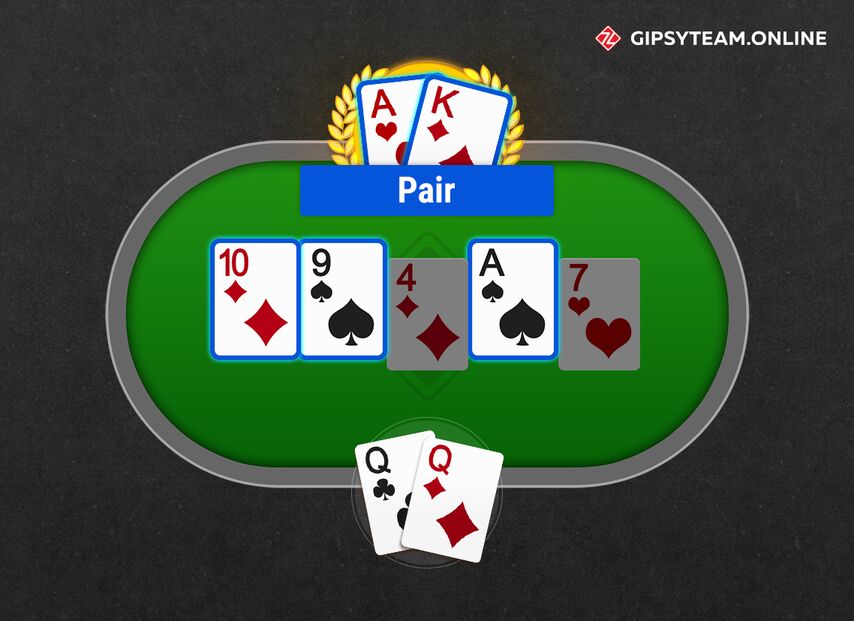 Two Pair
You can have two pairs by connecting both of your cards to the board, or by using two pairs within the community cards. It's possible to have three pairs, though it's useless to have more than two at showdown. Maybe you make two pairs using your cards, but a third pair appears within the community cards. The two highest two pairs will be your combination at showdown.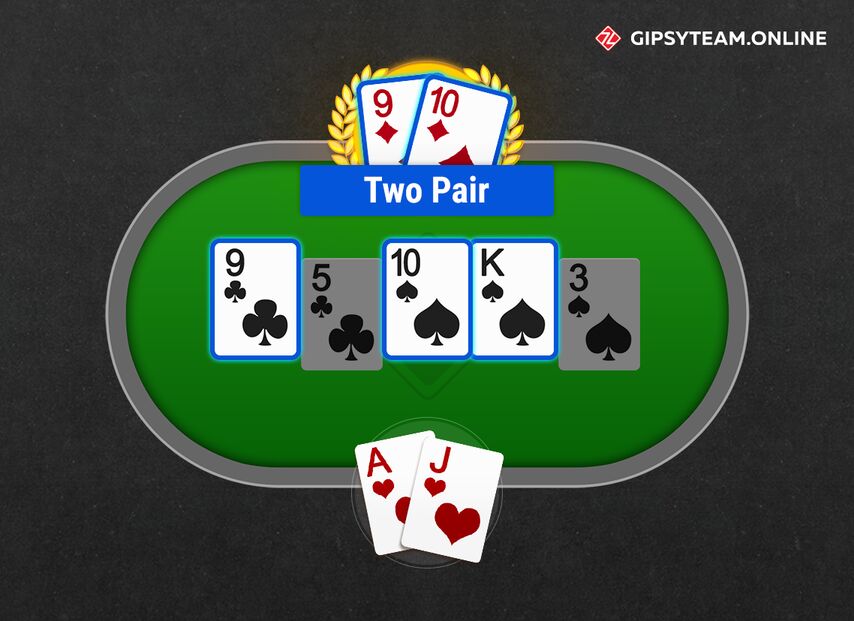 Three Of A Kind [Trips And Sets]
Like the name suggests, three-of-a-kind means having three matching cards. Just like with pairs, you can use the cards in your hand or community cards exclusively. Let's talk about the terms "trips" and "sets".
When you hear another player say they have trips, it means one of their cards matches a pair on the board. Both players in the example below have trips.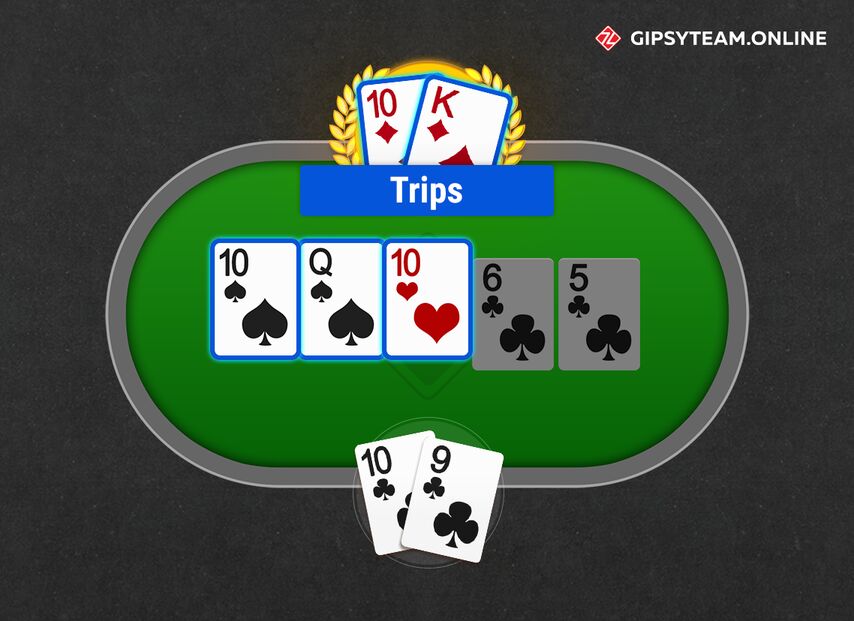 When you are dealt a pocket pair (two matching cards), you might be able to make a set. It's a strong hand that will be very disguised from your opponents.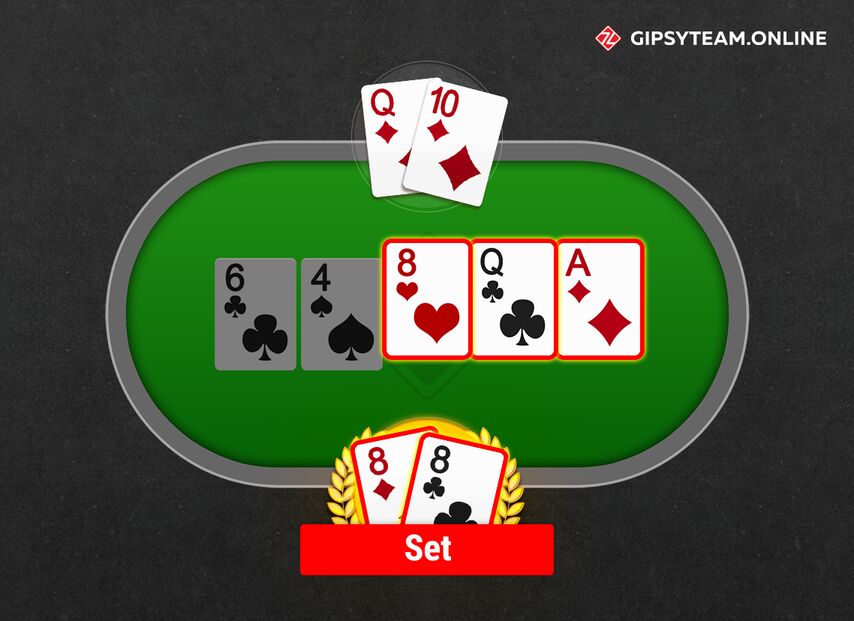 Straight
This is a sequence of five cards of any suit. You don't have to use both of your cards to make a straight. Aces can function as a one or follow a king in a sequence. The lowest straight combinations start with an ace, and the highest combinations end with an ace too.
In our example, the winning player had a gutshot straight draw on the flop. They completed their draw on the turn and beat the opponent's two-pair.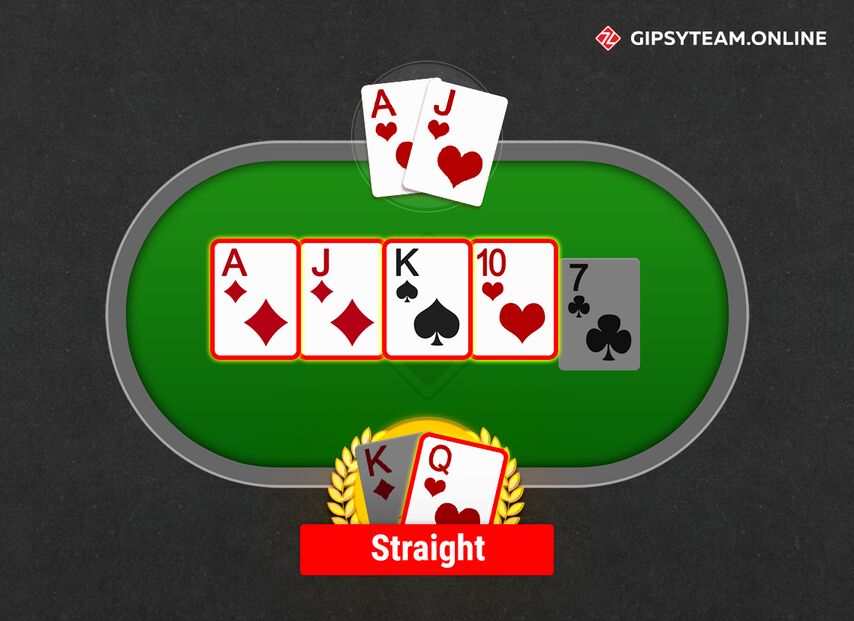 Flush
There's no need for the cards to be in a sequence for a flush, but they must all have the same suit. The ace is the highest-value card in a flush, so it's ideal to hold it in your hand to beat other flushes.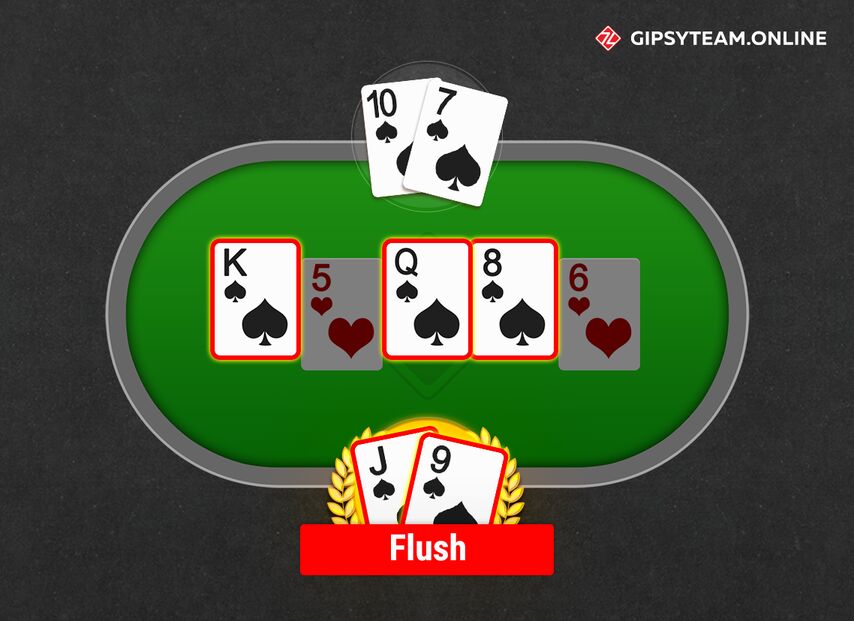 Flushes can be made with three community cards, like in our illustration. You can also form one with four suited community cards, plus a matching card from your hand. Sometimes all of the cards on the board have the same suit. If that happens, players will have to show a card that improves the shared flush to win.
Lets imagine that the 5 community cards are 5-6-3-8-9, all of the spades suit. Both players have flushes, but one player reveals a 4 of spades in their hand. They can replace the 3 of spades from the community cards, improving the flush and winning the hand in the process.
Full House
There are a few ways to make a full house, just like the other poker hand combinations. Simply put, a full house is one pair and three-of-a-kind. Check out our example to see how one full house can outrank another.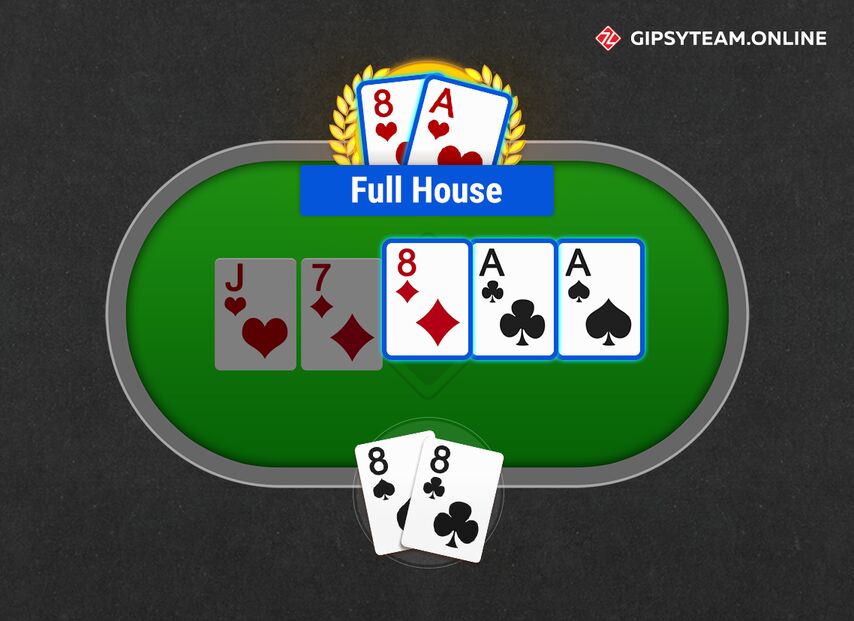 Poker players describe this winning hand as aces over eights or aces full of eights. That's three-of-a-kind aces and a pair of eights, which beats the eights full of aces (three-of-a-kind eights and a pair of aces) held by the other player. The player with the higher three-of-a-kind combination always wins.
Four Of A Kind [Quads]
Don't expect to see this hand on the table often, because it's one of the rarest poker hand combinations. We can casually call this combination "quads".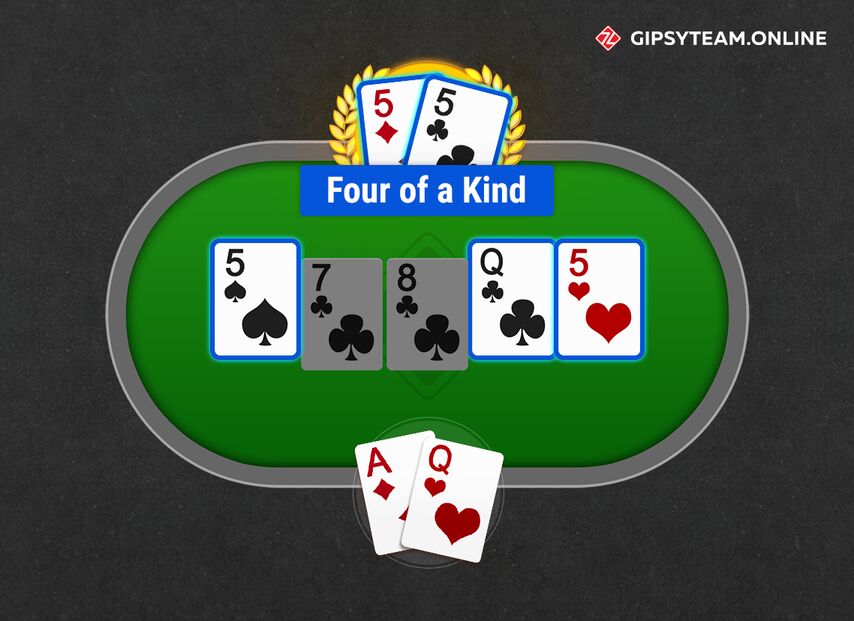 There are a few recorded instances on Youtube where two players have different four-of-a-kinds during the same hand. The shock around the table when the cards are shown is amazing to watch.
Straight Flush
When the stars align, you might see a straight flush on a poker table. A straight flush is five sequential cards of the same suit. They're ultra-rare and unbeatable, except for higher straight flushes. As unlikely as it is to be beaten, there are unbelievable videos of it happening.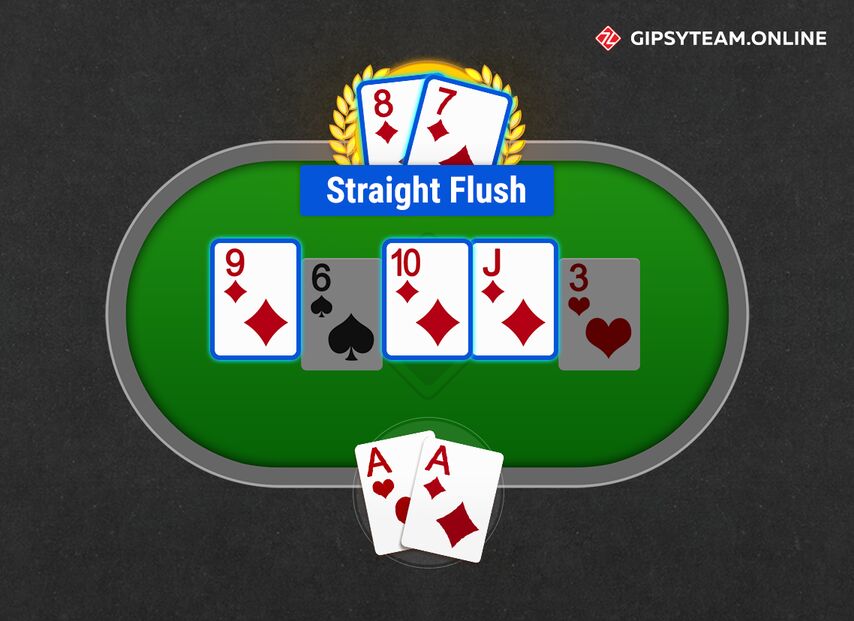 Royal Flush
This poker hand combination is so improbable that it probably appears in movies more than real life. Straights from ace to 10 of suited cards forms a royal flush.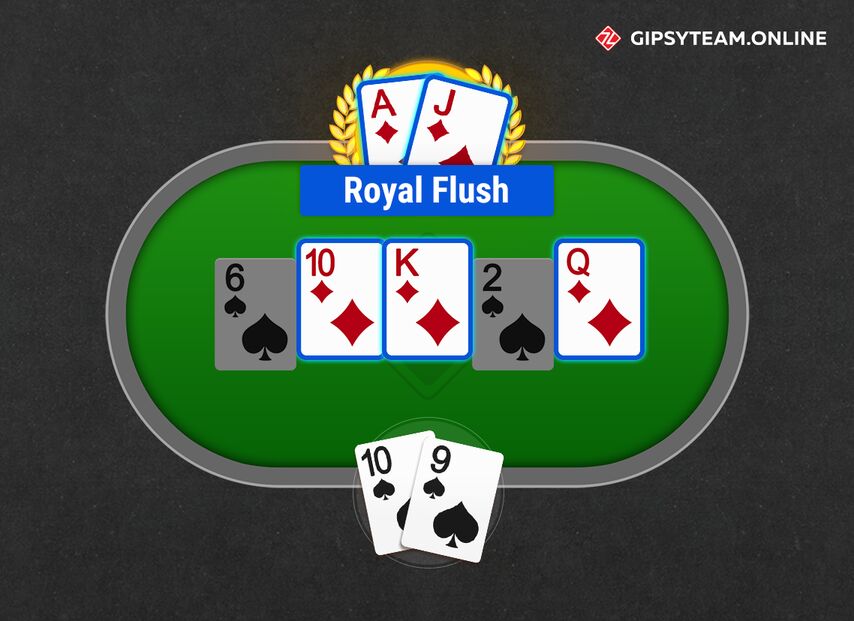 Your only problem after making a royal flush is extracting value from your opponents. With such a powerful hand, you'll have to tread carefully or you might waste this amazing combination.
Still have any questions? Feel free to ask our Support Team anything! 
GipsyTeam support
We will help you solve
any
poker question
We work
around the clock
without weekends and holidays
We respond within 10 minutes
Increased rakeback and personal bonuses
Help with deposits and cashouts
Access to mobile applications
Solving problems with accounts
Technical support
Questions about the site and forum
What Is "Playing The Board" In Poker?
"I play the board" is a poker phrase you might hear at showdown. It means your cards are so weak that using them in your final 5-card combination would be worse than using only community cards. Everyone can play the board, so it's only possible to lose or draw at showdown. Many poker players choose to bet in these unwinnable situations, in an attempt to bluff their opponents.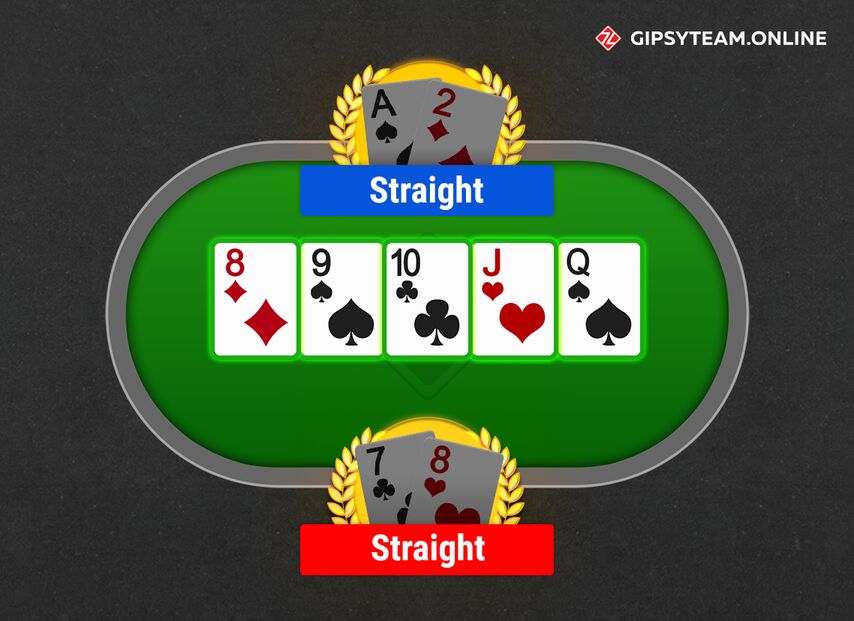 What Is A Draw In Poker?
Before you've formed a hand, you'll be "on a draw". You might need one or more cards to make a strong hand like a straight, flush, or better. Knowing when to give up on a draw and when to continue separates beginners from professionals.
The cards you hope to see hit the table are called "outs". Assuming your opponent has a stronger hand than you, these cards are your way out.
Successfully connecting your cards to the community cards gives you what's called a "made hand". You can still be drawing for a stronger hand, but now you have a made hand.
Flush Draw
When you're on a flush draw, you hope to see five cards of the same suit. You're ideally looking for just one of the nine matching cards left in the deck. If you need two more, then it's called a "backdoor flush draw". The turn and river card will have to give you the suit that you need, which isn't likely.
Backdoor Draws
We usually apply the term backdoor draw to straight and flush draws, but it might be used for full houses and less common hands too. Essentially, you need two specific card values or suits on the turn and the river. As you might guess, backdoor draws have a lower probability of completing.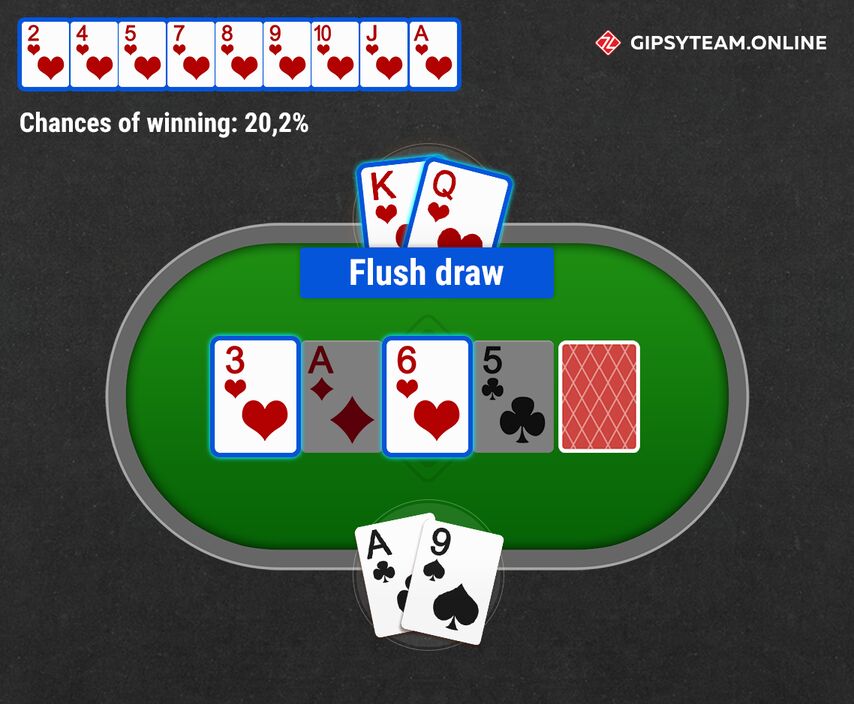 The illustration shows a player on a flush draw, but more specifically, a king-high flush draw. The desired heart didn't arrive on the turn, and there's one card left to come.
|   | On the flop | On the turn | On the river |
| --- | --- | --- | --- |
| Chance of making a flush holding two suited cards | 0.8% | 19.1% | 19.6% |
Straight Draw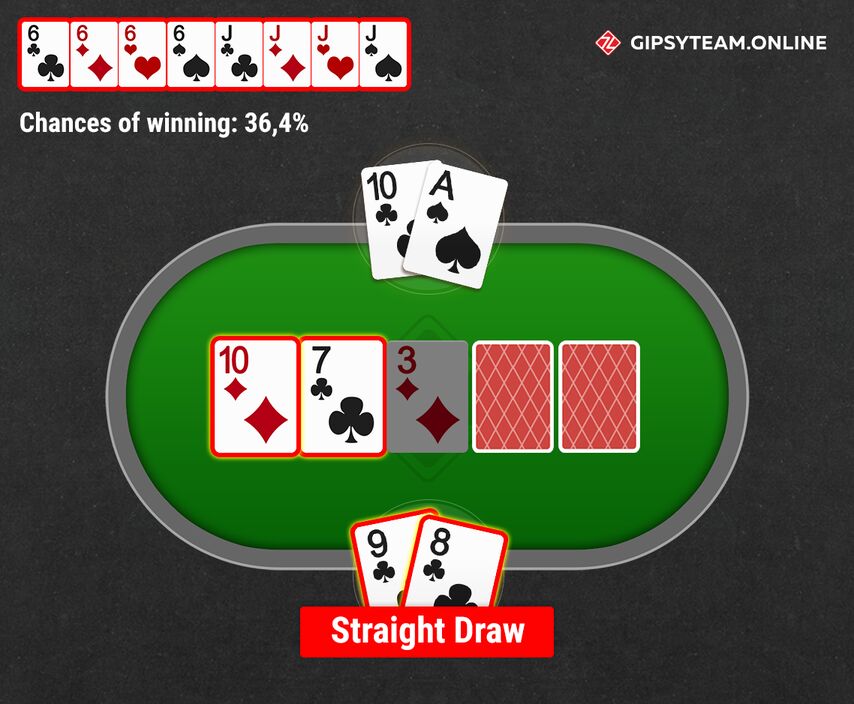 In our illustration, you'll see one of the two kinds of straight draws. The player with 8-9 connects with the community cards to create an open-ended straight draw. It's called open-ended because we can create a lower straight or a higher straight with the right card. That means that eight cards will complete our straight draw.
Gutshot Straight Draw
The gutshot refers to a missing card in the middle of a straight draw, not on either side like an open-ended straight draw. Since you're only looking for one card now, your chances are slimmer.
|   | Odds of a straight on the flop | Odds to complete on the turn | Odds to complete by the river |
| --- | --- | --- | --- |
| Chance of completing an open-ended straight draw | 1.3% | 17% | 17.4% |
| Chance of completing a gutshot straight draw | 1.3% | 8.5% | 8.7% |
What Is A Kicker?
Think of the kicker card like the sidekick. Imagine a situation where both players have the same pair; how do you decide the winner? We need to look at their second, unpaired card for the answer. That's the kicker, and it's used when players have an equally valued pair, two-pair, three-of-a-kind, or four-of-a-kind.
Players want to have the highest kicker they possibly can. Here's a common example that constantly happens on poker tables. Ace-king is a very strong hand. If you make a pair with either card, you also have the highest kicker card. Thus, ace-king gives us the strongest possible one-pair hands if we can connect with the community cards.
Kickers And Pairs
Both players in this example have a pair of aces, so we need to look at their kickers. Since the king outranks the queen, the red player is the winner. Aces are the highest possible kicker.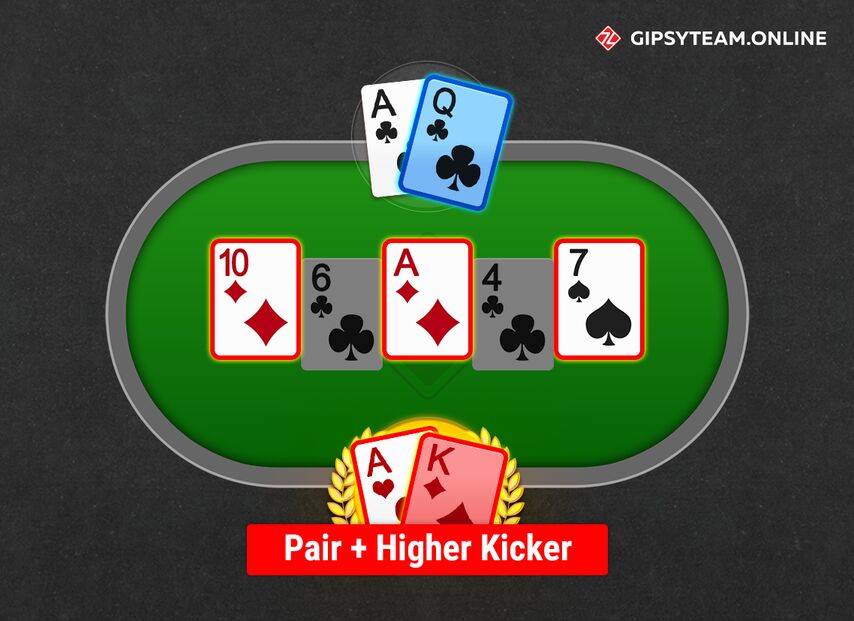 Kickers And Three Of A Kind
When two players have three-of-a-kind, we need to see whose kicker is stronger. In this case, the king has a higher value than the other player's 9.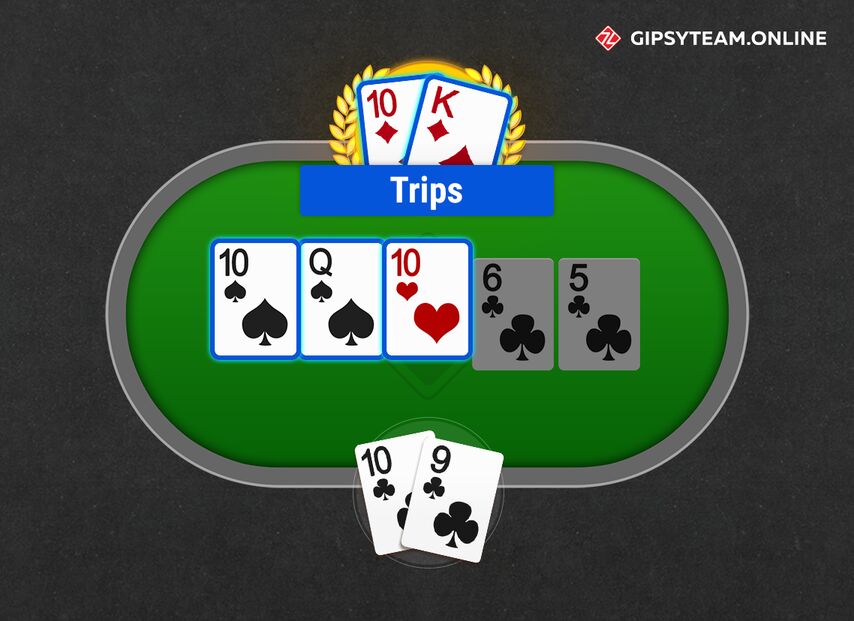 Kickers And Four Of A Kind
Kickers are very important, especially in a situation where both players use the same community cards. In the example below, they've both got four of a kind (quads), but the jack kicker outplays the 5.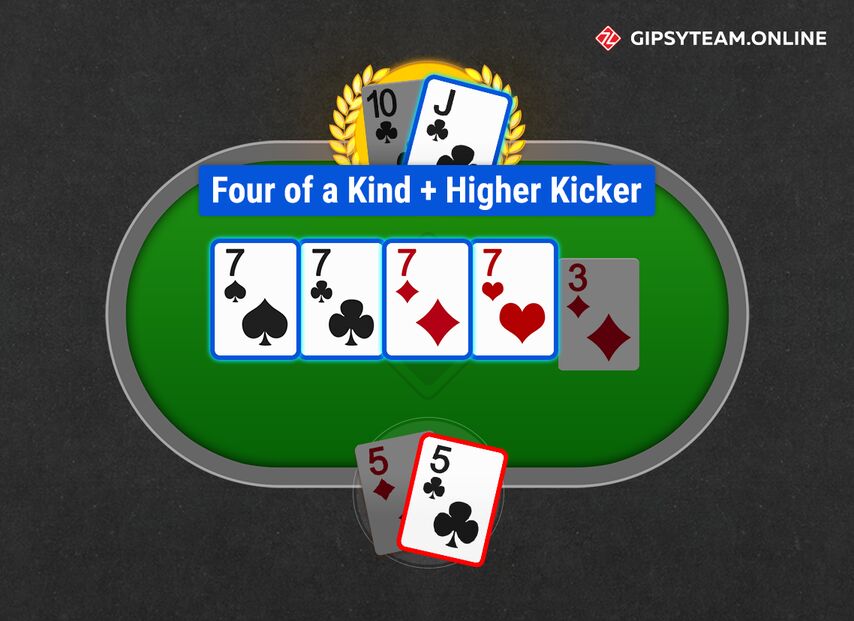 Kickers do not apply to hands like straights, flushes, full houses, or straight flushes. We can only use a total of five cards in our showdown hand. The highest version of the hand wins in this case. In a flush, the player with the highest cards of the suit wins. Similarly, the higher straights beat lower straights.
How Do We Determine The Winner?
You'll need to determine the winners at poker home games, but casinos and online rooms will handle it for you. Usually, you'll quickly see which hand is stronger. Other times, things are more complicated, when players have the same or similar hands.
Now lets see what happens when kickers can't be used.
Straight vs Straight
This illustration clearly shows how a lower straight can be vulnerable. One player has a run of 2 to 6, while the other runs from 3 to 4. This can easily happen when there are four consecutive community cards, like in this example.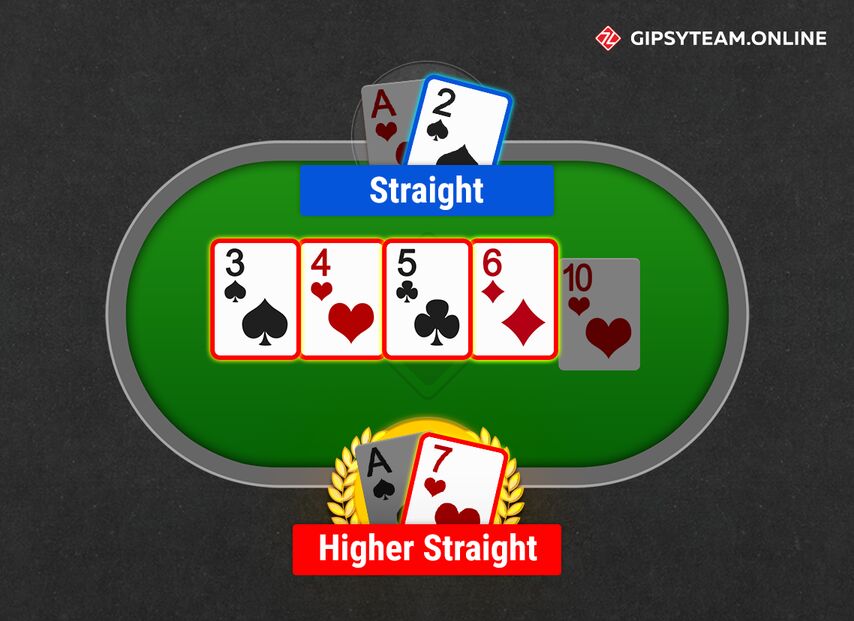 Flush vs Flush
The player with 10-7 unfortunately completed their flush draw on the turn, but the other player holds a higher value flush. Poker players commonly lose money in this kind of situation, since it's unlikely both players have a flush.
If the community cards are all of the same suit, there can be a split pot. Let's assume neither player has that particular suit to match the community cards. This situation creates a draw because neither player can improve the flush on the board. .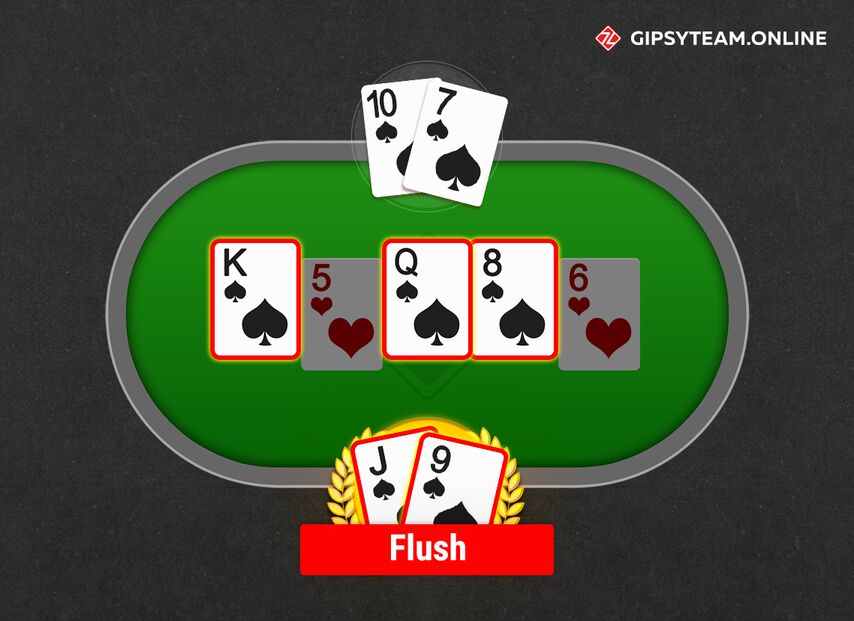 How Combinations Work In Other Kinds Of Poker
Omaha Poker
We've got four cards in Omaha poker, instead of the two we usually see in Texas hold 'em. The catch is, we can't use all of them. Choose the best possible combination you can, using two cards from your hand and three from the five community cards.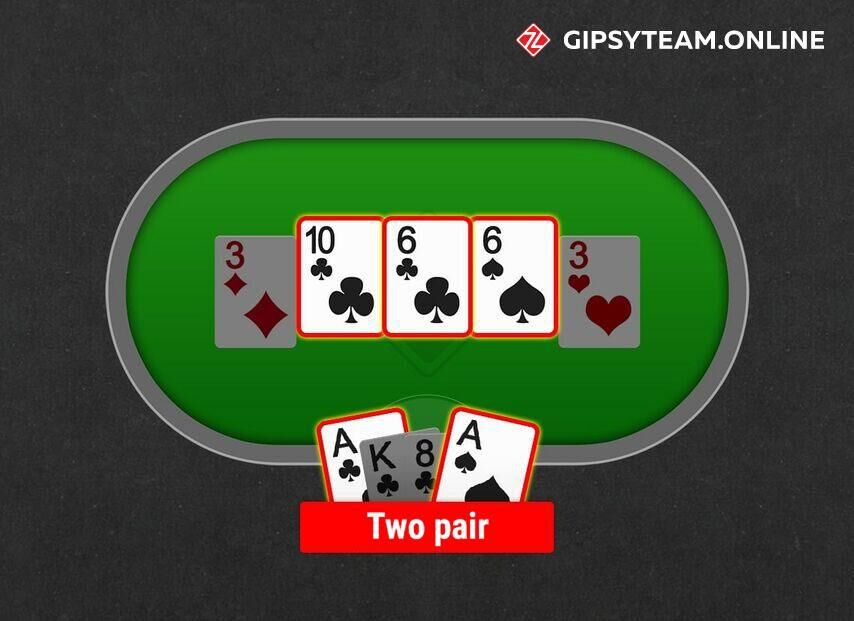 Short Deck Poker
This poker format uses a 36-card deck with the twos, three, fours, and fives removed. Probabilities change with this adjusted deck and a flush ranks higher than a full house. Aces are still the highest value card, but they also act as the lowest card; the 5.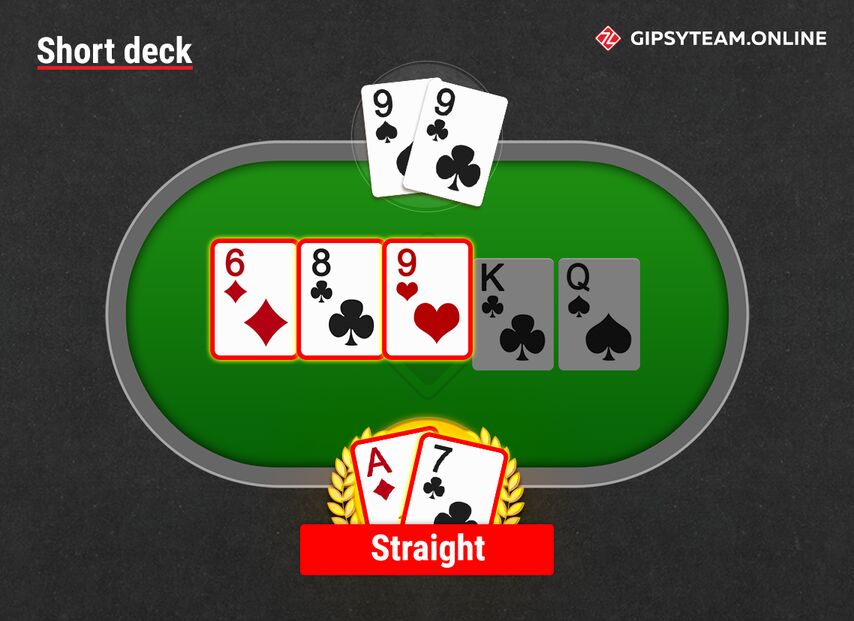 Split Pot Poker
Some poker variants have a hi/lo structure. The pot is divided between the highest-ranking combination and the lowest.
Learning How To Play Poker
There are several streams of content you can use to improve your poker skills. Managing your bankroll is also crucial. The golden rule is to never play outside of your comfort zone and don't move too quickly to higher stakes.
Range Calculators
Experienced poker players look at situations from the perspective of hand ranges. These are the different cards you might be holding. Range calculators give accurate probability and adjustable parameters to help you self-study. Trusted solving programs come with a one-time fee or a monthly subscription.
Flopzilla is a range calculator that charges a one-time licensing fee upfront for software access.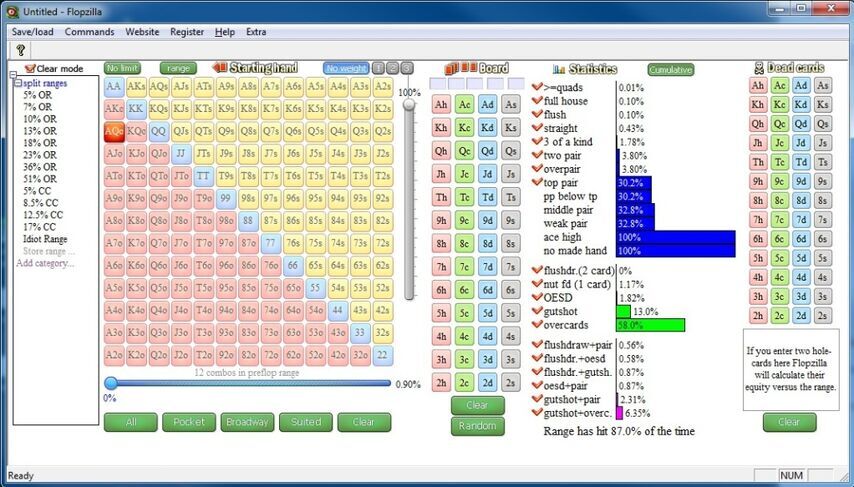 Poker Literature And Videos
Educational poker books are enriching, as long as you find updated and current material. Many beginners turn to Youtube to learn from professionals and Twitch to watch their favorite players live.
Poker Coaches
The cost varies greatly, but intermediate and advanced players could benefit greatly from a mentor's tailored advice. Coaches will bill you hourly for their services. For most, poker training apps like LearnWPT are much more accessible. There's still a cost associated with many of them, but it's magnitudes more affordable than hiring a personal coach.
With any device you've got, you can play free online poker with friends. Private home games are always a good time, but you can't always been under the same roof. Apps like Governor Of Poker 3 will let you join tables with your friends, without spending money.
Freerolls From GipsyTeam And 888poker
Building experience could eventually build your bankroll, but you don't always need to spend money. Freeroll tournaments start multiple times every day, and there's no reason you can't get in on the action. Enter as many freerolls as possible by registering with GipsyTeam. We're always publishing freeroll tournaments and passwords for our members to enter.
888poker is the app to download if you want soft competition and tons of freerolls. If you're looking to play poker without investing, this is where you need to be. They host freerolls, sometimes every hour, and their No Deposit Bonus lets you play other games with real money.
Get started by downloading their app. After you follow some email instructions, you'll get an $88 bonus, released in increments as you play poker.