You don't usually hear the words pool and poker in the same sentence. Just so you know, it has nothing to do with swimming in a pool or a snooker/pool table.
So, what is a pool in poker?
A pool in poker is a group of players who join forces and offer each other financial protection. These groups are made of players who specialize in Spins, which are hyper-turbo 3-way tournaments with a randomly spun prize.


Long-running room with lively cash games and eight-figure MTTs
GT Bonuses


Bitcoin and US-friendly room that allows HUDs
GT Bonuses


Global crypto-only room with bad beat jackpots and weekly leaderboards
GT Bonuses
What kind of financial protection do poker pools offer?
If you go through a losing streak, the other members of your poker pool can help. Everyone goes through a streak of bad cards at some point, which is why pools exist.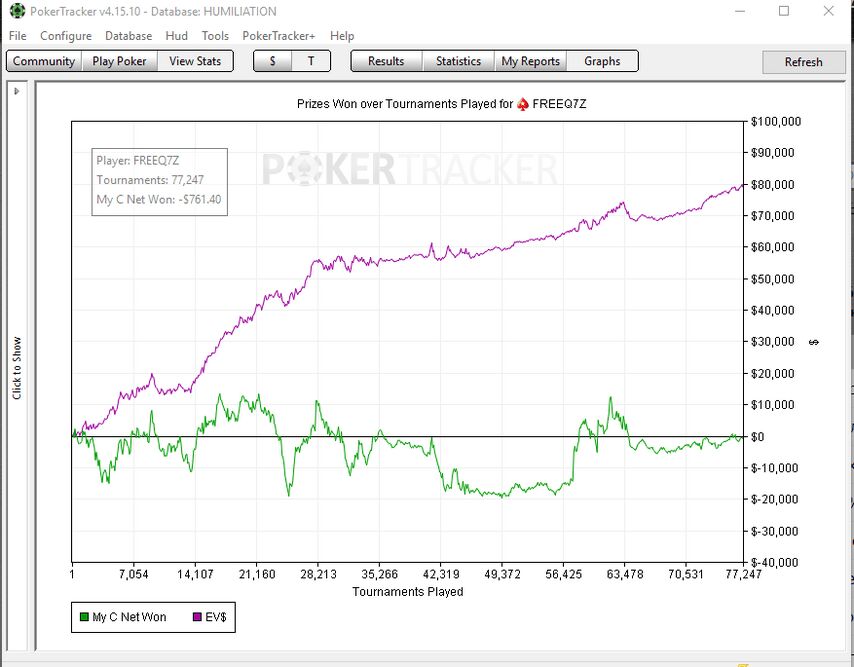 What is a Pool in Poker?
A group of players who organize themselves into a group is called a pool in poker. These players spend most of their time playing Spins on the major poker sites, where the game has become very popular.
The players who are allowed to join the pool must have a proven track record and an EV (expected value) above a certain threshold. By collecting players with decent EV, if some players have downswings, the others should be able to step in and help.
Pools use the generally positive EV of their players to combat negative variance, meaning results that are worse than expected.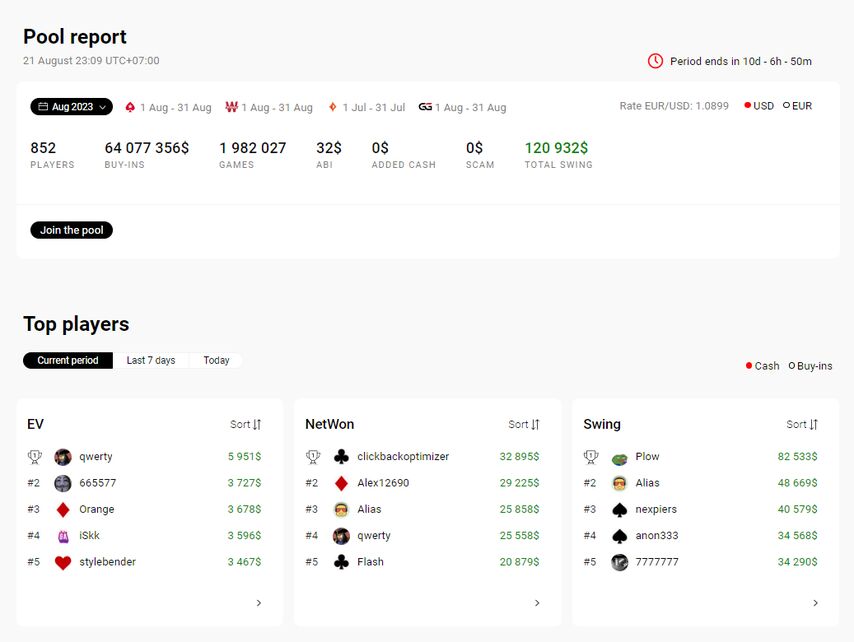 As you can see here at HyperSchool, a prominent poker pool, the progress of each player is tracked. This particular pool is open to many different poker sites, like GGPoker, partypoker, PokerStars, and Winimax.
Variance and luck play a much larger role in these Spins tournaments. Everyone starts with a very short stack and the action ramps up very quickly. There's no time to wait for premium cards like pocket Aces or Kings, you've got to do your best to play solid fundamental poker and come out on top.
The prize in Spins tournaments also varies. You might buy in for $1, but the prize could be anywhere from $2 to $10,000, depending on your luck. This is one of the main attractions for Spins players.
Why Do Spins Players Use Pools in Poker?
Because Spins are so heavily affected by luck and variance, some players might have a prolonged downswing. Even if they are stronger than their opponents at the table, it's possible to go for a while without profit. That's the nature of Spins, but downswings can affect any format of poker.
This is where a pool in poker is useful. Instead of one player in the pool suffering losses for a sustained period, the pool will help to cover some of the costs.
For players who are on a downswing, this is amazing news. Their stress can take a back seat for a moment and hopefully, their downswing will become an upswing before too long.
What Are The Terms for Pools in Poker?
The pool is just like any other organization, with rules and policies in place. Anyone who wants to join the pool will need to apply and give certain information to the organizers.
Since ‌players and organizers are investing in each other, every new applicant must be screened. The profitability of the group depends on this stage.
New players need to give data like:
Poker sites they play on
Stakes they play at
EV for the last three months
Expected schedule for playing and studying
Poker bankroll size
The pool organizers will thoroughly check this information and perform routine checks as well. Players usually submit some statistics monthly, meaning reports from tracker tools or other methods.
Important Things to Know About Pools in Poker
Always read the contracts once – and then again and again until you fully understand the terms. You don't want to be surprised by anything, especially since you're now investing in the pool.
Of course, you'll want to know how payouts work and how winnings are divided. You can find all of this in the terms that you'll see when you apply. If a player wins a huge jackpot, you need to know how your pool will split the winnings.
If you want to find a pool to join, we can point you in the right direction. Speak to one of our staff directly via Live Chat and we'll guide you to some trusted player pools.
GipsyTeam support
We will help you solve
any
poker question
We work
around the clock
without weekends and holidays
We respond within 10 minutes
Increased rakeback and personal bonuses
Help with deposits and cashouts
Access to mobile applications
Solving problems with accounts
Technical support
Questions about the site and forum
Where Can You Play Spins?
All major poker sites have Spins, but you want to be playing somewhere with lots of recreational opponents. That will give you a slight advantage over the player pool, which is useful for high-variance Spins.
We recommend partypoker as a good place to start playing Spins, with or without a pool. Their Spins start at $0.25 and max out at a massive $100 per game.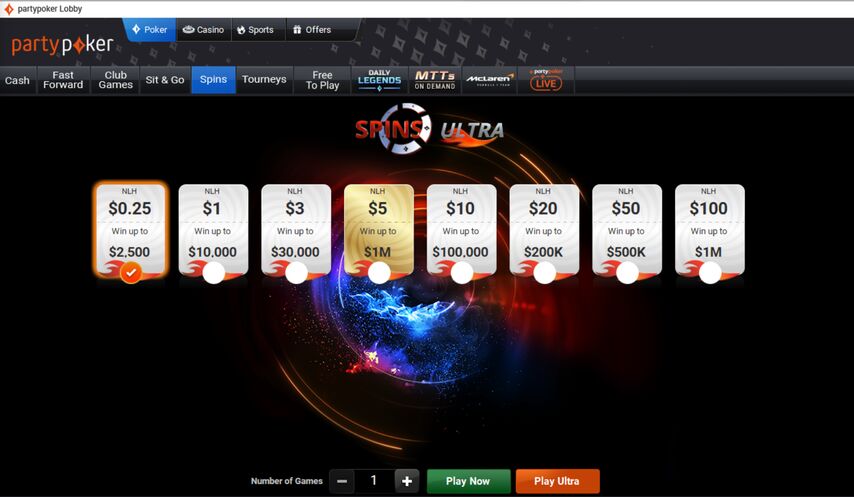 As you can see here, even the $5 buy-in gives you a shot at the $1,000,000 jackpot prize.
You can expect to find other Spins regulars here, but most of your opponents will be fairly casual. If you play solid strategy (which you can learn by training with ICMIZER), you'll have the advantage in many games.
The higher the buy-in, the more serious your opponents will be.