What is RFI in poker?
There are many poker terms that players need to learn. Most players are already familiar with raising preflop, even if they don't know the meaning of RFI.
RFI in poker means Raise First In, which means, the first raise in a hand of poker. Another term for RFI you might hear is "open raise"


Long-running room with lively cash games and eight-figure MTTs
GT Bonuses


Bitcoin and US-friendly room that allows HUDs
GT Bonuses


Global crypto-only room with bad beat jackpots and weekly leaderboards
GT Bonuses
Experienced players know that preflop raises are a normal part of poker. Every player needs to get familiar with opening and making that first raise in a hand. In this article, we'll talk about the RFI in poker and reveal useful strategies.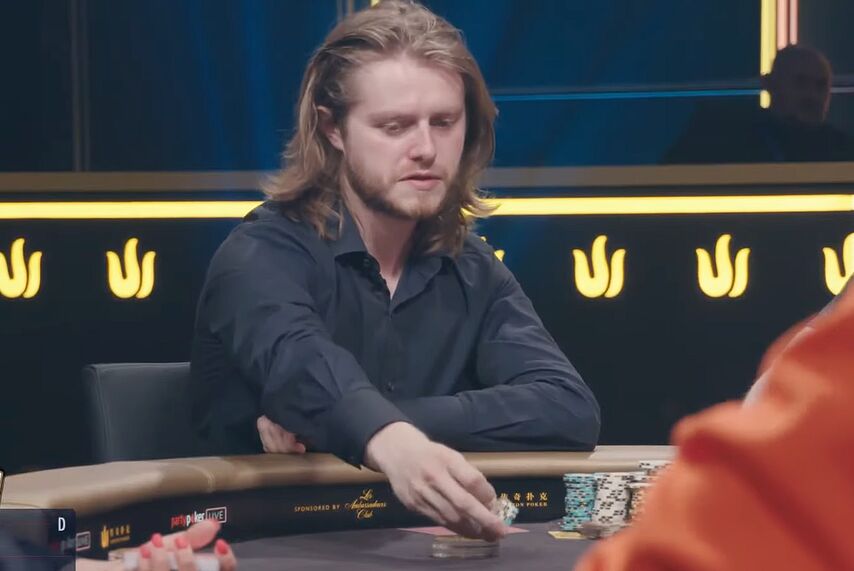 Raise First In (RFI) Basics
The RFI is a poker term meaning the first raise during the preflop round. It's the first display of aggression that we'll see, but why do players do it?
RFIs build a bigger pot. When you have a strong hand, you want to increase the size of the pot. Your potential winnings will go up, but you also make it difficult for lots of players to enter the pot for a low price.
You could win the blinds right away. "Stealing" the blinds is a good way to generate extra profit in cash games and tournaments. It works best from a late table position – after you've seen other players fold ahead of you.
An RFI protects your equity. Even if you have a fantastic hand like A-A, K-K, or Q-Q, you shouldn't play against lots of opponents at once. The chance of losing the hand increases as you let more players into the hand, which is where an RFI can be useful. Ideally, you'll get to play one or two opponents once you make an RFI.
Get familiar with open raises and RFIs in free poker tournaments. You invest nothing to play, but there are still real cash prizes, plus real-money tournament tickets you can win. This could be a good place to experiment with open raises from different positions and with different hands.
What Hands Are Good for RFI?
The hands that you choose for RFI or open raises depend on a few things. The table you are at and the opponents around you, as well as your stack size, position, and table image, will all be a factor.
Take a look at this open raise hand chart. This is a general guide and it highlights the hands you might use for a first preflop raise.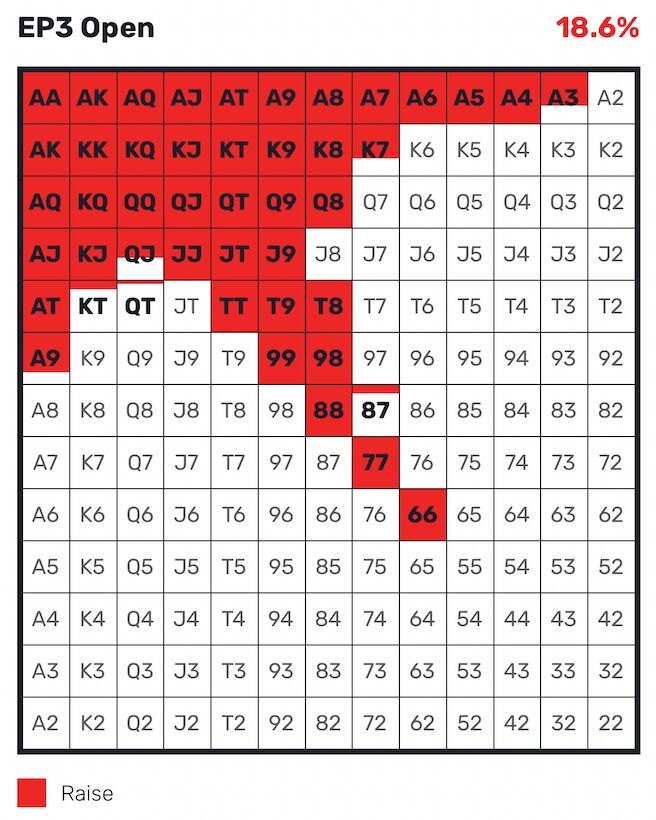 The highlighted hands in this chart include a range of premium hands (A-A, K-K, Q-Q, J-J, etc.), middle strength hands, and some weaker hands like A-3s, A-4s, and A-5s.
With such a wide mix of hands, this chart would best apply to middle positions at the poker table. The later the position, especially on the button (the latest position), the more hands you can include in this range. If you are in an early position, make your range tighter and more condensed.
What is the RFI Bet Size?
When you open raise or raise first in poker, it's best to only use one or two sizings at the most. If you choose a range of different RFI sizes, your opponents could pick up a pattern and predict your actions. However, if you just have one size for your open raise with your full range of RFI hands, it will be much more difficult to read.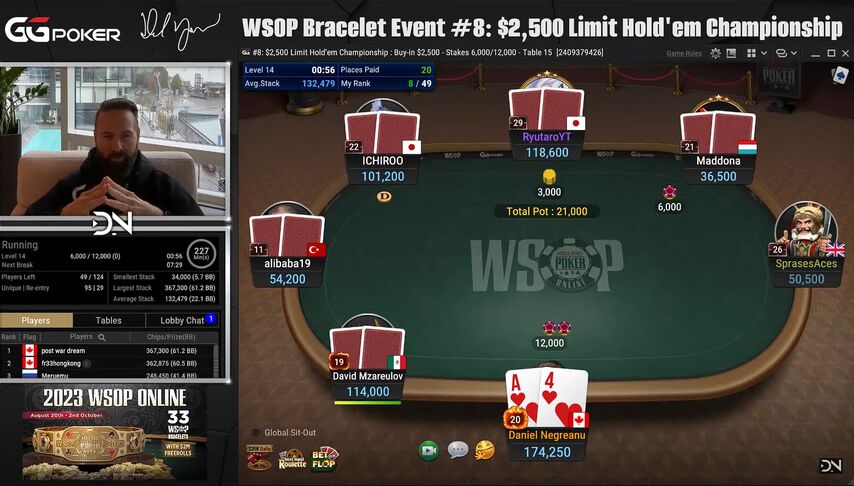 In multi-table tournaments (MTTs), the open raise size may change throughout the event. The open raiser wants to go heads-up or 2-ways to the flop, so making the bet a little larger is okay. If we size the open raise to small, we'll get multiple callers, including the small and big blind players.
As you can see in this screenshot from a GGPoker WSOP Online 2023 event, Daniel Negreanu chose a 2x bb size for his RFI.
In cash games, most players at the table will usually have a similar (or the same) RFI size. 2.5 to 3.5x the big blind size is normal to see, but different tables may go outside of those numbers.
If you play online at micro and low-stakes cash game tables, remember that you'll be playing against some very casual players. Feel free to increase the size of your open raise if you think your opponents will call more often than normal.




BetOnline
Bitcoin and US-friendly room that allows HUDs


CoinPoker
Global crypto-only room with bad beat jackpots and weekly leaderboards
Register using this link to get access to GipsyTeam bonuses:
Increased first deposit bonus
Increased rakeback and reloads
Help with deposits and cashouts
Access to closed freerolls
Round-the-clock support
What Happens When You Face an RFI?
You can call, fold, or raise (3-bet) when you face an RFI in poker.
With medium-strength hands, you can decide to call and see the flop, or occasionally 3-bet. It's important to think about your position at the table first. If you are in the small or big blind, you might be incentivized to call and see a flop with a wide range of hands.
However, if your opponent raises from UTG and you are beside them in UTG+1, you've got to remember all the players behind you. You might face a re-raise if you call the RFI from an early position. Also, you'll play in an early position for the rest of the hand, which is not ideal.
With your premium and strong hands, you should probably put in a 3-bet most of the time. If you don't 3-bet after an RFI, you might see a flop with multiple opponents. That will weaken the equity of your hand and leave you vulnerable.