What is short stack poker and what strategies can you use when your chips are dwindling?
If your stack of chips is getting small, you're playing short-stacked poker. Anything around 20 big blinds or less is a short stack, whether you're in a cash game or tournament.
Players can also be referred to ask the short stack if they have the lowest number of chips in a cash game or tournament. Obviously, with fewer chips, you have fewer strategic options. There's no time to chase low-equity draws and you've got to choose your moment wisely. We're about to talk more about how to play short stack strategy.


Long-running room with lively cash games and eight-figure MTTs
GT Bonuses


Bitcoin and US-friendly room that allows HUDs
GT Bonuses


Global crypto-only room with bad beat jackpots and weekly leaderboards
GT Bonuses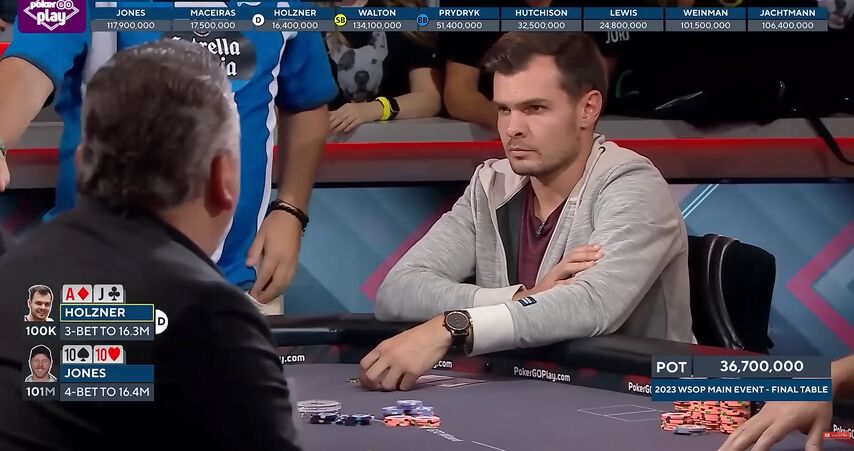 What is a Short Stack in Poker?
From mistakes or unfortunate situations, every poker player gets short-stacked at some point. Not all short stacks are equal, for example, a stack with 8 big blinds has to play differently from a 20-bb stack.
Even a 30-bb or 40-bb stack might be considered short, especially in a turbo or hyper turbo MTT.
If you are short-stacked in a cash game, you can always rebuy/refill. This makes playing short-stacked in cash games less relevant, but we'll still talk about it in this article.
When you play multi-table (MTT) or sit-and-go tournaments, you won't have a chance to refill your chips if you lose them. Sometimes you can rebuy a full stack in certain tournament structures (depending on the rules), but only if you lose your full stack.
To play in these rebuy MTTs, head to any of the main poker sites and filter tournaments by rebuy or re-entry.




BetOnline
Bitcoin and US-friendly room that allows HUDs


CoinPoker
Global crypto-only room with bad beat jackpots and weekly leaderboards
Register using this link to get access to GipsyTeam bonuses:
Increased first deposit bonus
Increased rakeback and reloads
Help with deposits and cashouts
Access to closed freerolls
Round-the-clock support
How to Play Short Stack in Poker Tournaments (MTTs)
With a short stack in an MTT, you don't have time to make plays or chase middle-strength draws. Players with fewer chips need to pick specific moments and get their chips into the pot with decent equity.
Do you know the turn and river betting rounds? Well – forget about those with a short stack. You probably won't be making any moves after the flop. In MTTs, short stacks usually move all-in preflop or on the flop.
Why do short stack players move all-in preflop?
If you move all-in preflop with a stack of 20bb, the best scenario for you is having one other player call, while everyone else folds. Why? It has to do with equity, which is your probability of winning the hand.
When you face multiple players, your equity drops a lot, even if you have a very strong preflop hand. Therefore, the best chance a short stack has to double up is to shove and reduce the chance of multiple opponents entering the pot.
What Hands Should Short Stacks Play?
There are no hard and fast rules for short stack play, but you can use a push/fold range chart (like the ones below) to form a strategy.
Remember, we are choosing hands that we can push/go all-in with (shown in red) or fold (shown in gray).

As you can see, the chart on the right has 8 different hands to push with, while the left chart has a much wider range.
The amount of hands you choose to push with will vary depending on your stack size and position. For example, if your stack is very low (around 8 or 10 bb), then you must push with far more hands. There's no time to wait for A-A when you have 8-bb. With a larger stack, though still relatively short, you can tighten the range more.
One way to practice push/fold strategies is to enter freerolls (as many as possible). Most people might not know it, but partypoker has hourly free tournaments, with up to $200 in the prize pools. These freerolls are called Round the Clock events, which you'll see after downloading partypoker's software and filtering for free tournaments.
Use Poker Tools to Learn Short Stack Poker Strategy
Luckily, there are poker tools that are built for this optimizing short-stack strategy in MTTs.
Meet ICMIZER, an affordable tool that will show you the rules for GTO short-stacked strategy. You can analyze push/fold scenarios in MTTs, SNG, Spin & Go, Knockout, and other tournament types.
ICMIZER will also teach you about ICM, to help you properly evaluate your stack size and make the most profitable decisions in the late stages of poker tournaments.
Check out ICMIZER 3 in the GipsyTeam Shop.
What are Online Short Stack Tournaments?
You might not have heard of this new style of poker tournament, called short or short stack events.
Every player starts the event with a short stack (usually around 20 big blinds) and the play can be quite aggressive. There's usually no room for much postflop play until players build up larger stacks.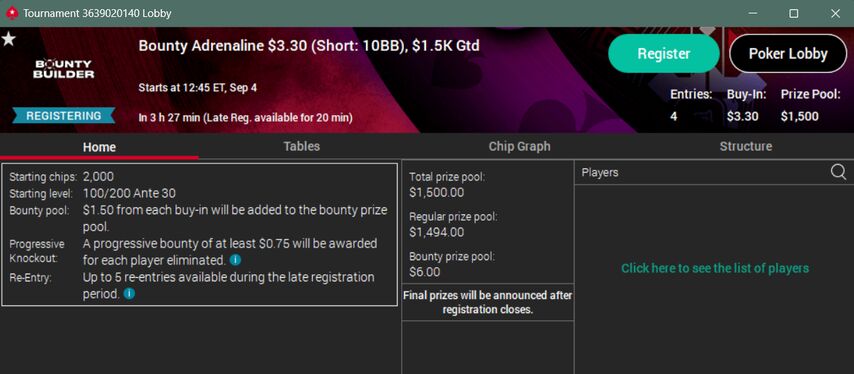 There will be a lot of players eliminated very early in the MTT, which is quite different from a standard MTT. Usually, short tournaments allow rebuys, which can inflate the prize pool.
Avoid registering late for these events, even by a few minutes. Time is very valuable when you are short-stacked, so you don't want to miss any hands or opportunities.
Short MTTs with bounties are available on PokerStars, as well as a full range of other MTT formats.
How to Play Short Stack in Poker Cash Games
Playing short-stacked cash games and tournaments has many similarities. Here are 5 tips for playing with a short stack in a cash game.
1. Memorize push/fold hands.
When you have a stack size of around 20 bb, you use your push/fold strategy. Get familiar with the hands you should push all-in with a short stack, like suited Ace, King, and Queen hands.
2. Be careful open raising from an early position.
If you make a normal open raise with a short stack, you might end up inviting lots of other opponents into the pot. Your equity will be lower and lower as more players enter the pot. Instead of open raising, you might choose to move all-in if your stack is 15bb or less.
3. Steal the blinds when possible.
If the action folds around to you and you're in a late position, consider pushing your stack in to steal the big blinds. Your opponents are going to know that your range is wide, but the size of your stack could be enough to win you the blinds and antes right away. This play could get you a double-up or increase your stack size a little.
4. Value high cards more and play less low cards.
If you have a short stack, you want a hand that can commit if it pairs with the flop. If you play a hand like 5-6, then your pair will not be strong, even if you connect with the flop. If you move all in, you're likely to be called by better pairs or stronger hands.
5. Almost any pair can be a push hand when you are short-stacked.
At 20-25 bb, a pocket pair will give you a great chance at doubling your chip stack. Against hands like A-K, A-Q, A-J, and A-10, you'll be even chance to win, or slightly ahead. When you've got a short stack, it's no time to be picky. This kind of coin flip is fine with 20 bb.