What is a squeeze in poker, also known as a "squeeze play"?
The definition of a squeeze in poker is:
When a player 3-bets (re-raises) after another player raises and has one or more other callers.


Long-running room with lively cash games and eight-figure MTTs
GT Bonuses


Bitcoin and US-friendly room that allows HUDs
GT Bonuses


Global crypto-only room with bad beat jackpots and weekly leaderboards
GT Bonuses
Maybe you can guess why this move is called a squeeze. The 3-bet is supposed to get rid of one or more of the players who called the first raise. When you squeeze them out of the pot, you'll hopefully face a single opponent, meaning you have more equity. You can also win the pot right away sometimes, which means you'll pick up the blinds and other
Let's start by talking about why and how to squeeze in poker.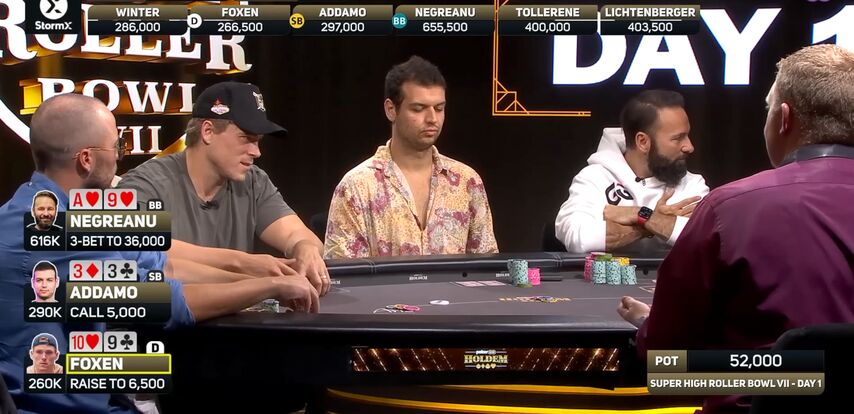 Why Do Poker Players Squeeze?
The squeeze is very useful, but this move is underused by casual players.
A squeeze is great for:
Thinning the field and playing against a single opponent.
Playing against multiple opponents lowers your equity and that's one reason why you learn to squeeze. Many players take a passive approach when they face a raise, which lets a lot of other opponents into the hand. Instead, they could choose a large 3-bet size and squeeze those extra opponents out.
Quickly winning the pot preflop. If you time your squeeze well and your opponents can't continue, you'll win everything in the pot. That's going to include the small and big blinds, plus all of the bets and raises. In cash games and tournaments, picking up the pot preflop with a squeeze play
Taking control of the hand and setting the pace. When you take the aggressive line of squeezing, you'll be in control of the action (unless your opponent 4-bets). Your image will look much stronger than it would if you just called the raise. This can give you something called a "range advantage", meaning your opponent must give you some credit for stronger hands. That table image and range advantage can be useful for bluffs on later betting rounds.
Collecting extra chips from the players who fold to your squeeze. Players who call the raise have a weaker range and will generally fold to your squeeze. This will add to the pot size and your potential winnings.
Freerolls can give you practice and profit while you wait for real money tournaments. Check out our freeroll roster to find real money events with no entry fee, but remember to practice your squeeze plays.
When Should You Squeeze in Poker?
When a player raises from middle position (MP) and one or more opponents call, it's a good time for a squeeze play.
You want to be in a late position when you squeeze. It's much easier to play profitably when you are in a late position, so of course, the button is the best place to be.
To squeeze from out-of-position (a term for early positions), you should increase the size of your squeeze bet. If you have multiple players in a better position than you, they might be incentivized to call a smaller 3-bet. In that case, your squeeze won't have the desired result.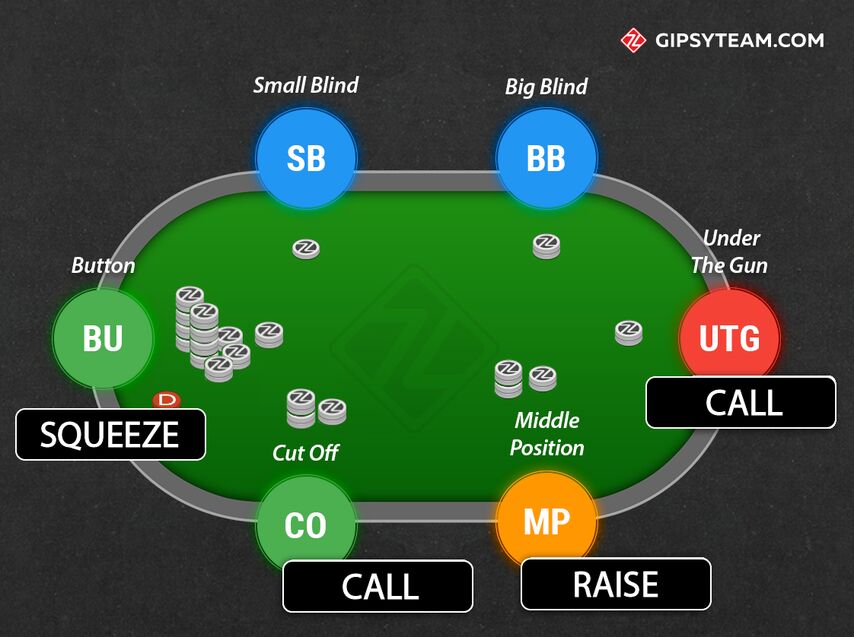 Use a strong hand when you squeeze (most of the time). You don't want to play your strongest hands against multiple opponents because of equity. The term "equity" means the calculated chance of winning the hand, among other things. Even the strongest hands lose heaps of equity when they go up against multiple opponents, which is why squeeze plays work.
Check your stack size and your opponent's stack too. If you squeeze with a small chip stack, you are committing a lot of your stack, so you need to be more careful.
What Are the Best Squeeze Hands to Use?
The hands you choose will change depending on your opponents and other factors. Nobody can tell you what the perfect squeeze hands are, because your squeeze range is always changing.
Choose hands for squeezes that:
lose lots of equity if they play a multiway pot, like 10-10, and better
Block your opponents' strong hands, like A-X or K-X hands.
However, when you start making squeeze plays, you should be holding strong and premium hands. That means hands like A-A, K-K, Q-Q, J-J, 10-10, and perhaps suited broadways like A-K, A-Q, and A-J.
The more comfortable you get with squeezing (and with your opponents' habits), the more hands you can begin to mix into your squeeze 3-bet range. It's important to mix premium hands with some of your mid-strength hands, otherwise, you will be too predictable.
The best way to find your squeeze range is to get comfortable at your chosen stakes, on a very busy poker site. If you've got some experience playing poker, but want to build more, we recommend hitting the micro or low-stakes games on a high-traffic online poker site. You'll constantly face new recreational opponents – exactly the kind of player you want to squeeze.
Which Players Should You Squeeze Against?
When you are choosing squeeze situations, you should know what your goal is.
Are you trying to squeeze as a bluff?
You should look to squeeze players who don't usually call 3-bets. Players who don't respond well to aggression are the best players to get aggressive with. If you think that the original raiser calls 3-bets often, you might not be able to bluff them preflop with a squeeze play.
Are you squeezing for value and isolating?
If you have a premium or strong hand and want to get paid, you can squeeze a variety of different opponents. Loose opponents may continue, as long as the price is right, and the same can be said for tight opponents. Remember, you don't want to squeeze so large that you lose value.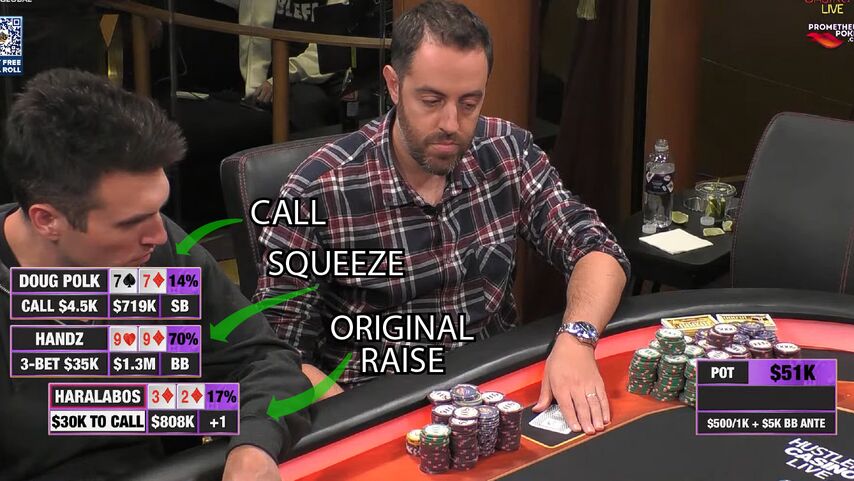 How Big Should Your Squeeze Size Be?
A squeeze is not the same as a 3-bet. It's a raise that needs to isolate the raiser or one other player, meaning you've got to size it up.
Even 3 or 4 times the raiser's bet might not be big enough, especially with multiple callers in the pot. If you don't make your squeeze large enough, you'll create a large pot with multiple opponents.
Start with a size around 3x to 4x the original raiser's size, but add more depending on how many other players are in the hand. Consider what your opponent's tolerances are and decide on a number that gives them a tough decision.
You're going to find out quickly if your size is right, just by playing online. If you get more than one caller when you squeeze, you're probably sizing too small. The good thing about playing at low stakes online is that you can refine these techniques, for less investment.




BetOnline
Bitcoin and US-friendly room that allows HUDs


CoinPoker
Global crypto-only room with bad beat jackpots and weekly leaderboards
Register using this link to get access to GipsyTeam bonuses:
Increased first deposit bonus
Increased rakeback and reloads
Help with deposits and cashouts
Access to closed freerolls
Round-the-clock support