What is straddle in poker?
In poker cash games, especially live televised games, you might hear the term "straddle". The definition of this term is:
A preflop bet that is optional and blind (meaning you don't see your cards before making the bet).


Long-running room with lively cash games and eight-figure MTTs
GT Bonuses


Bitcoin and US-friendly room that allows HUDs
GT Bonuses


Global crypto-only room with bad beat jackpots and weekly leaderboards
GT Bonuses
When a player straddles, they double the size of the big blind, meaning the stakes for that hand are doubled. If the rules allow it, straddles can be larger than 2x the big blind, which seriously inflates the pot.
Let's talk about basic straddle rules, strategy, and whether it's a good poker idea (or not).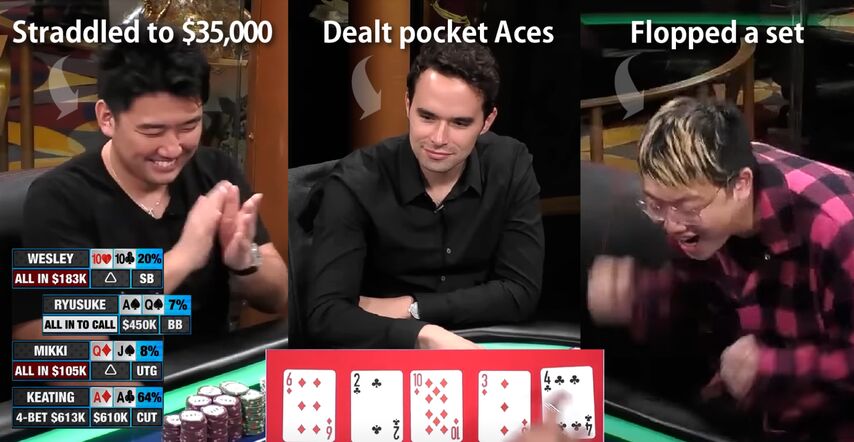 Basic Rules for a Straddle in Poker
Players seated directly to the left of the big blind can straddle – unless different rules are being used. A straddle means that you're essentially buying the big blind and increasing its size.
A normal straddle is 2x the size of the big blind, but it can be larger if the game organizer allows it.
After a straddle has been announced, all other players must either call the new bet size, raise it, or fold.
The player who straddles acts last in the preflop round, just like the big blind normally does.
The straddle must be announced or the chips must be placed on the table before any cards have been dealt to players. This is very important since a straddle must be a blind bet.
The dealer will announce the straddle to all players in live poker games.
Common types of straddles in poker:
Under-the-gun (UTG) straddles – permitted in many live poker rooms around the world.
Button straddles – Being able to straddle from the button position offers a positional advantage over UTG straddling, but it's much less common.
Players can re-straddle, but they must announce it before the cards are dealt. They'll need to put a legal raise on the table and they will be the last player to act preflop.
What is a Mississippi Straddle?
A normal straddle is done by the player who is UTG (under the gun), but a Mississippi straddle can be made by any player outside of the big and small blind position.
This means that you can straddle and still have a good position at the table, instead of being out-of-position. For example, a player can make a straddle while they are on the button and play the rest of the hand with the best position at the table.
The Mississippi straddle is available in some mobile poker clubs, but it's not available in most online poker rooms. You can check with our support team for updated information or select a mobile app, like PokerBros, or check our full list of mobile poker apps.
Straddling in Online Poker Rooms
Online straddles on GGPoker give you a short time so that you can think about re-straddling – but we're not encouraging you to start straddling all of the time.
Instead of straddling, we wholeheartedly recommend studying open-raises and 3-bets. It's much better to see your cards and make the right decision based on your position and other factors.
If you're playing online poker, it's not a good idea to straddle. You'll usually be the only one doing it, so you're giving everyone at the table a freeroll for a larger pot (at your expense). That sounds like the definition of a profit-losing strategy.
Straddle Size in Poker Cash Games
Most of the time, a straddle bet is the same size as a min-raise, which means 2x the big blind.
Straddles can be much larger depending on the rules of the poker room. Most of the time, you see straddles during casual cash games or televised events.
Some online poker sites like GGPoker let you straddle, but it isn't a common feature for other sites yet. On GG, you get the option to straddle to 2x the big blind. Other players will get the option to re-straddle once the first player straddles.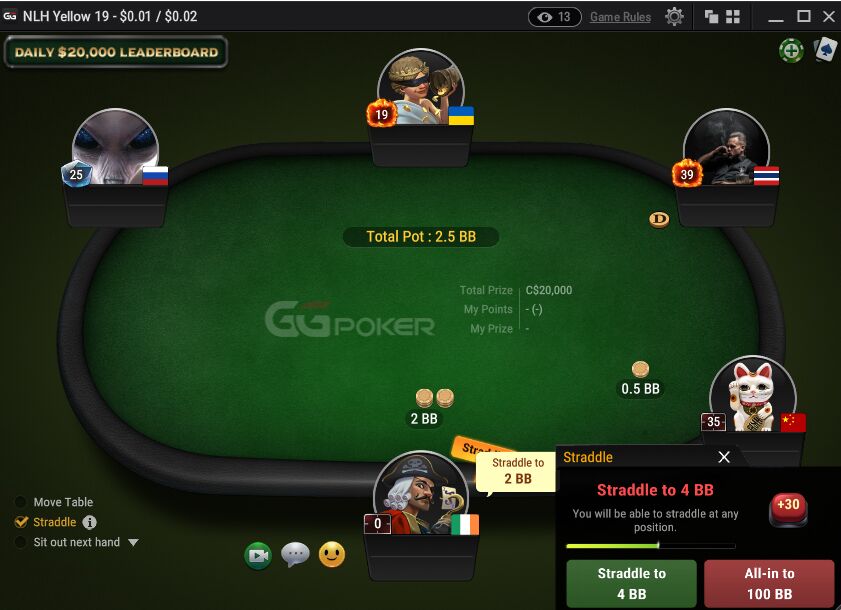 There are actually two blind preflop bets in GGPoker cash games:
With the No-Look All In, it's really just a massive straddle. You'll still be making the action while "blind", which makes it thrilling, but not a profitable move.
5 Useful Tips for Playing in a Straddle Pot
Tip #1: Straddles make the stack-to-pot ratio (SPR) lower, so you should play hands that work well in those scenarios. With a lower SPR, the chance of a player going all-in is higher. Play hands that will respond well to aggression, with fewer low cards and low connectors.
Tip #2: 3-bet with smaller size. There's no need to over-inflate an already bloated pot, so you can 3-bet slightly smaller and still create the same effect.
Tip #3: Be aware of short-stack players who could shove (go all-in) because of the straddle. Take a good look at the stacks around you so that you aren't surprised. You don't want to call or raise the straddle and then have to fold to a large-ish all-in.
Tip #4: Don't be the only player who is straddling. At the end of the day, a straddle is a blind bet and is almost purely to add some excitement and suspense to the hand. Try to avoid being the only one donating your chips for other people's enjoyment (and profit).
Tip #5: Don't feel pressured to straddle if you don't want to. If you sit down for a cash game in a casino or online room, you aren't obligated to straddle – even if other players are regularly straddling.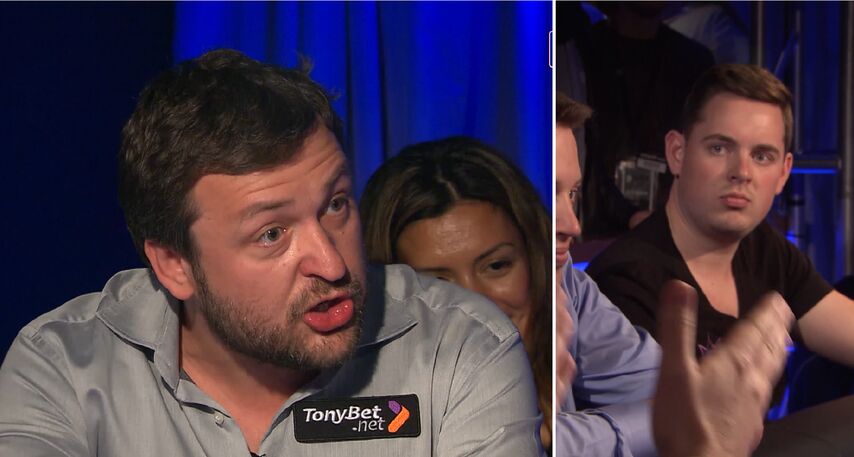 In this hand from the partypoker Big Game, Tony G gave another player an earful of his opinions after he missed a straddle. He called it "a disgrace".
Straddle Strategy: Is This Move a Good Idea?
First off, remember to check with the casino or cardroom to confirm that they allow straddles. Some organizers have different rules, so it's important to check.
We're not going to tell you that straddling is an effective poker strategy. It's not the purest definition of gambling, since you'll still be able to apply skill and strategy – but it's not far from it.
When you straddle, you're essentially hoping that you will be dealt a strong or premium hand. In preparation for this strong hand (which you will only be dealt a small % of the time), you increase the stakes.
The player who straddles will almost always be out of position for the postflop rounds. So, not only have the stakes been raised, but you've got a positional disadvantage.
Despite being a losing strategy for playing poker, it adds to the thrill of the game. You may find yourself at a table where lots of players are straddling, meaning there's much more in those pots. Join in and enjoy yourself, but don't make this a part of your strategy.
Make sure you aren't the only player straddling. If you are going to add dead money into the pot, it's best to have other players doing the same.