Video poker popped up in the 1970s and is based on five-card draw poker. It's one of the most attractive casino games in terms of probability and allows players to use strategy. Many recreational players love the game, but calculating players are the ones who can make a profit.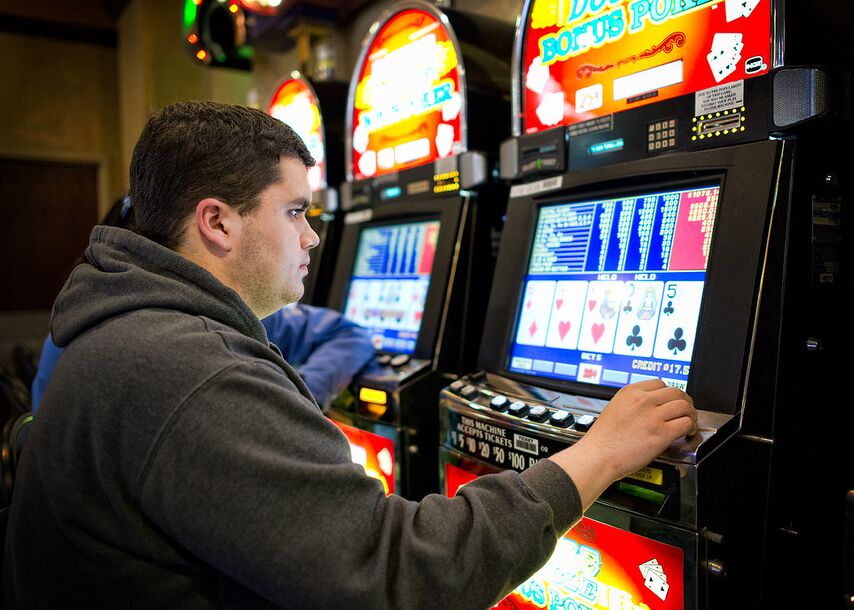 Here are a few reasons why video poker is so popular:
The casino or game owner has less edge than other casino games. The odds are fixed in video poker because the number of cards and their probability never change.
Some video poker sites and classic machines pay more or less, and you can use this to your advantage.
There's no pressure from other players or a live dealer.
We're going to talk about the rules, basic strategies, and where to play free video poker. It's not like playing a slot machine, even if you can find them near each other in casinos. This game offers great player advantages compared to other computerized games, but you've got to know how to play.


Bitcoin and US-friendly room that allows HUDs
GT Bonuses


Long-running room with lively cash games and eight-figure MTTs
GT Bonuses


Daily cash races, MTTs and Spins with big prizes
GT Bonuses
The Rules Of Video Poker
Video poker uses the same 5-card combinations as Texas hold 'em and Omaha poker (with some slight changes). There are many different types of video poker, so let's explain the basics first.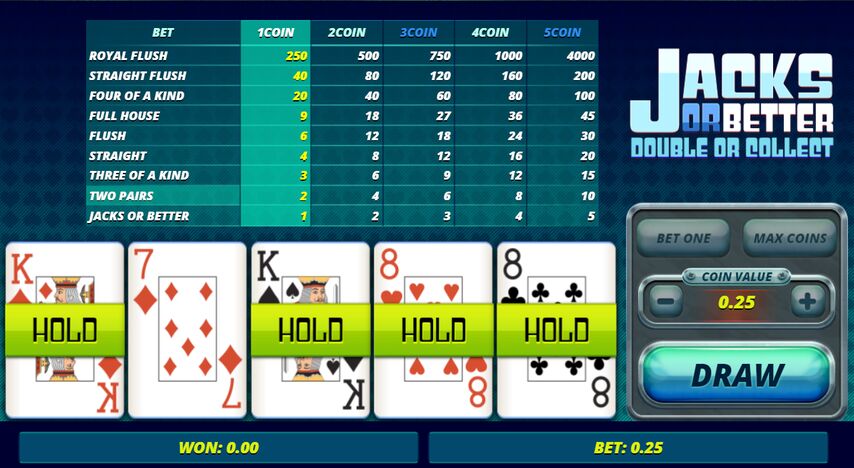 You aim to create the best five-card combination possible and receive a payout from it.
Let's play a hand of video poker together:
Bet and Deal: You place a bet and press the Deal button.
Receive Cards: 5 cards appear on the screen
Draw: Think about which cards you need and decide which cards to "hold". Any cards you select will be held while the others are exchanged. You can exchange any number of cards, or none at all.
Determining a Winner: The computer checks your final hand combination and pays your winnings if you are eligible.
Those are the basics, but knowing how to win lies in choosing cards to exchange. Playing video poker logically will improve your edge (and winnings).
Different Types Of Video Poker
Video poker machines were originally known as Draw Poker, which we now call Jacks or Better.
Here are some of the most common types of video poker.
This is the most common and simplest style of video poker. The minimum hand to get a payout is a pair of jacks. You receive the same amount as you bet (1-to-1 payout).
You'll see Jacks or Better with a fraction beside the name, like Jacks or Better 9/6 or Jacks or Better 8/5. This refers to the payout for full houses and flushes. 9/6 means 9x your bet is paid for a full house, and 6x for a flush.
This style of video poker makes the four deuces "wild," meaning they can be any card you want them to be. The minimum hand is three-of-a-kind since the wild deuces make it easier to form strong hands.
Similar to Jacks or Better, except with a pair of tens as the minimum hand.
This game is just like Jacks or Better, with boosted payouts for four-of-a-kind combinations with aces or face cards.
The minimum hand in Bonus Poker is a pair of jacks. Some hands, like four-of-a-kind aces, have bonus payouts.
Instead of a standard 52-card deck like most other video poker games, Joker Poker has 53. The joker is a wild card that can be used as any card that helps your hand. The minimum winning hand is a pair of kings and you can make five-of-a-kind because of the joker.
Progressive Jackpot Video Poker
As players use machines on the same network, sometimes they are building a jackpot. There's a big payout waiting for players who can get a specific hand, usually a straight or royal flush. The jackpot hand doesn't have a regular payout, because it pays out the progressive jackpot from multiple machines.
This is a list of popular types of video poker, but there are many others depending on where you play. Always read the rules of the game carefully.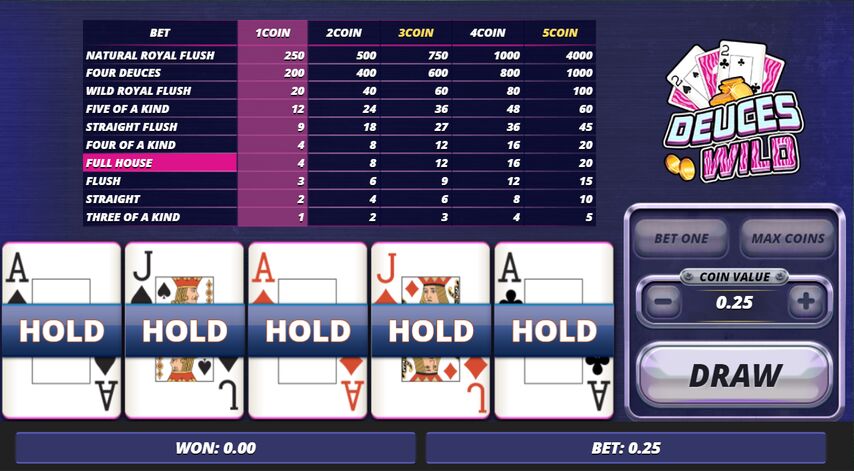 How The Payouts Work In Video Poker
Payouts are displayed in "pay tables" which clearly show how much you can expect from winning hands. There are many kinds of video poker and the payouts change for each one.
Find a format you like, then look for a place to play with favorable pay tables.
Take a look at this pay table for a Jacks or Better video poker game. The payout for a pair of jacks, or better, is one-to-one.

The red column shows the payout for a bet of one coin or chip. To the right, you can see the payouts for bets of 2, 3, 4, and 5 coins.
Experienced players focus on the full house and flush payouts. 9/6 is not the most common (9x for the full house and 6x for the flush), there is also 8/5, 7/5, and 6/5.
Basic Strategy For Playing Online Video Poker
Before you decide to start playing for real money, it's best to practice without any risk. Free apps like this one let you experiment with your strategies, risk-free. Toggle Trainer On to get tips on improving your drawing.
Knowing how to win at your chosen style of video poker is about understanding probability. Spend time practicing a specific format and focus on long-term odds, not short-term results.
When you play video poker:
Understand The Game
Find The Right Pay Table
Manage Your Funds
Be Thoughtful And Alert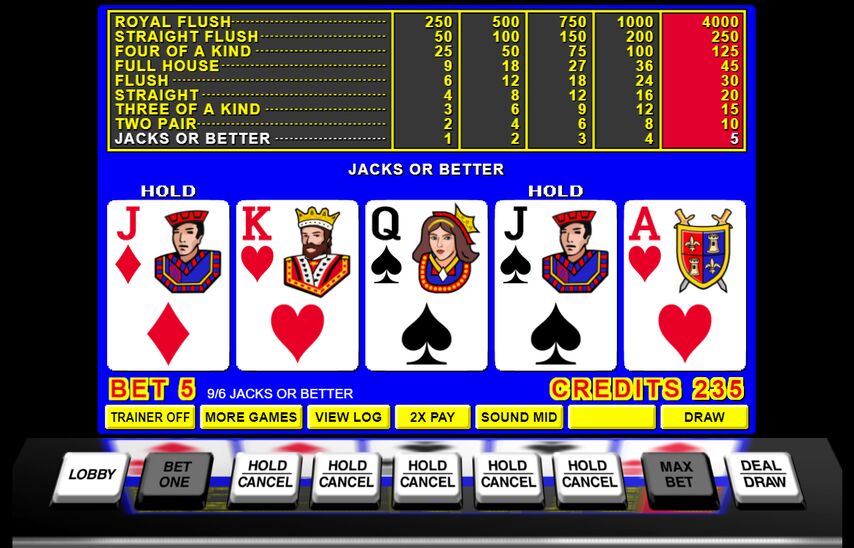 Basic tips for playing Jacks or Better:
When you have four cards to a straight or flush, hold those four cards.
Hold pairs (even low ones), rather than holding a single high card
If you have no pair, hold any card that is a jack or higher
888poker Offers Video Poker At 888casino
Anyone who is already playing at 888poker can use their account to play video poker at 888casino. They offer the main styles like Jacks or Better, Deuces Wild, and Joker Wild. They also offer Tens or Better, Aces and Faces, and Bonus Poker. The bets start at $0.05 and max out at $150.
Sign up for an account with 888poker and head over to the casino section. You can get $20 for free without depositing and a matched bonus of 120% (up to $500).
When you want to play against some real opponents, switch back to 888poker and head to the Texas hold 'em or Omaha tables. Video poker is fun, but there's nothing like sitting at the table with other players. They even have ways to set up your own cash games and tournaments for home games with friends.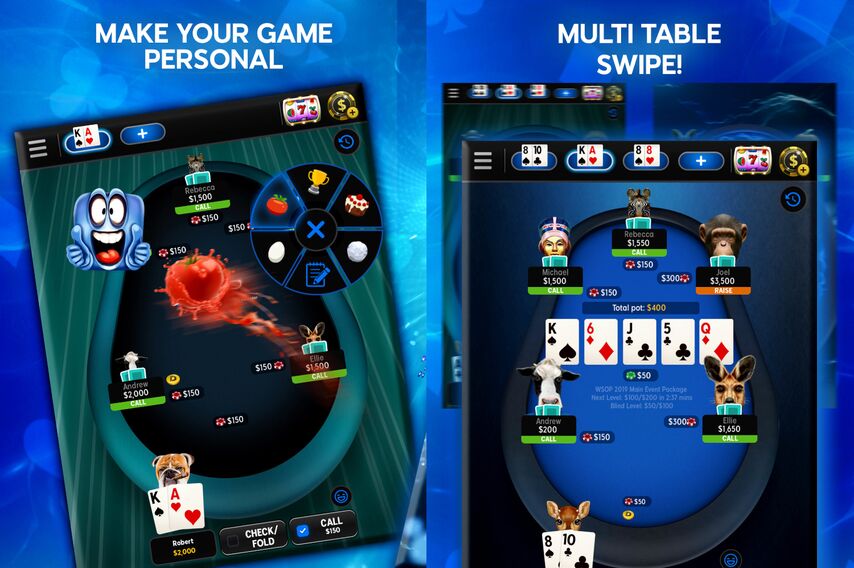 Poker clubs are becoming a player favorite these days. The mobile apps let players organize poker clubs and join groups around the world for cash games or tournaments. Check out our guide, right here.