An introduction to the PokerTime app
With over 152 tables running at one time, and almost 140,000 real registered players across the globe, PokerTime claims to be the best-rated poker app of 2022. This popularity is likely due to PokerTime being accessible to all players around the world, despite only being supported in the Chinese, English, and Vietnamese languages.
However, since its inception in 2019, PokerTime has attracted several critics, and this review will aim to shed some light on why, as well as address the following:
The formats and stakes of the cash games
How rake is calculated and is there any rakeback opportunities available
Specific features of the app that users should know of
The issues surrounding gaming integrity and trustworthiness
Payment methods accepted by the app
How to register and download PokerTime
Which games are available on the PokerTime app?
Once you have joined a private club, PokerTime has several variants of poker available which range from micro to high-stakes, with buy-ins estimated between $6 and $3000. The games that can be accessed on this application include No Limit Hold'em, Pot Limit Omaha, Short Deck, and Open Face Chinese, with ring games and heads-up formats available. If that wasn't enough, users have the option to straddle or play on tables with antes to spice up the action. As the PokerTime app can be accessed by users throughout the world, there are cash games in operation constantly during the day, with eight-handed, and six-handed No Limit Hold'em being most common.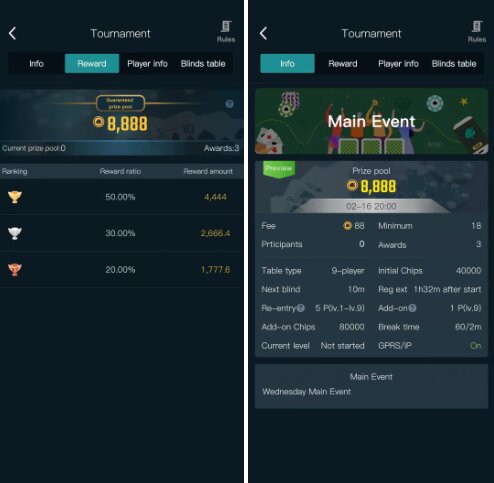 According to the PokerTime website, tournaments occur three times a week, on Monday, Wednesday, and Friday. Unfortunately, there are no options available for users that prefer sit-and-gos, three-handed hyper-turbos, or all-in or fold. However, all the formats that are accessible utilise play-money chips which are exchanged at a 1:1 ratio with the Chinese Yuan currency.
What is the rake and is there any rakeback or promotions on the PokerTime app?
The PokerTime app operates a different rake system compared to many other conventional poker clients. 
On this application, cash game tables operate for between sixty minutes and one hundred and fifty minutes at a time until they are closed. Once the game has come to an end, the players that made a profit from that particular session are subject to rake, instead of charging users rake after each hand.
The PokerTime app charges a five percent rake for the majority of their NLHE and PLO tables, with higher stakes tables being charged three percent. For instance, if a user at a mid-stakes table made a profit of $500 during a session, they would be charged $25 in rake. By contrast, any user that lost money during the session isn't required to pay any rake. Nevertheless, it is important to take into account that users may be subject to costs for depositing and withdrawing funds to and from the application. As a result, gains made by avoiding rake may eventually be made redundant.
In terms of rakeback offered by the PokerTime app, there are no official VIP deposit bonuses, high-hand jackpots, or payments given to users that can play a specified number of hands in a given period. However, to encourage users to remain on the platform, there is a giveaway where players are awarded a prize if they are dealt a particular hand a specified number of times during a twenty-four-hour period. In addition to this, private clubs may offer unique rakeback systems to encourage players to become a member.
What features of the PokerTime app should users be aware of?
A stand-out feature amongst Chinese poker applications such as PokerTime is that tables close after a specified amount of time has elapsed. This may be beneficial to users that have difficulty maintaining their concentration and discipline throughout a long session. Additionally, if there is a particularly difficult opponent on your table that's causing you a lot of problems, you may face a completely different group of players once the current session has come to an end. What's more, the PokerTime app gives players several opportunities to adjust the appearance of the platform. For instance, users can alter the design of the cards, as well as the table theme.
Another helpful feature provided by the PokerTime download is the ability to set up the bet and raise buttons to pre-defined amounts. For example, if you are the initial raiser, your strategy might be to open to 2.5 big blinds. Having the bet button already configured to this amount can save you a lot of time in the long term. Moreover, the filters that have been implemented grant users the ability to discover the games that meet their desired criteria, including where the biggest pots are occurring. However, when it comes to heads-up displays (HUDs), and other third-party software, PokerTime takes a zero-tolerance policy, and users that attempt to do so may face being banned from the application.
Are there any security or gaming integrity concerns associated with the PokerTime app?
The PokerTime app has a random number generator (RNG) that has gained the approval of a reputable third party, as well as, allegedly, state-of-the-art anti-collusion software. On the other hand, PokerTime doesn't have a licence and consequently isn't able to offer real-money poker that is regulated. Additionally, all transactions occur externally to the application itself. As a result, the operators have no duty to assist users with any issues they may be facing concerning absent or delayed withdrawals.

In addition to this, the trustworthiness of this application has been called into question on several occasions on public poker forums. As recently as January 2022, bruce22 on the twoplustwo forum states that after casually using the PokerTime app for thirteen hours over ten days, they requested a withdrawal, but it was rejected because someone had allegedly reported them as being a robot. As a result, bruce22 was forced to forfeit almost $28,000, and their attempts to resolve the issue with customer support were fruitless. What's more, bruce22 doesn't appear to be an isolated case as there is an entire thread dedicated to users that claim to have been wrongly banned from the application having been accused of colluding with other players.
Which payment methods are accepted by the PokerTime app?
Users are required to deposit at least $25 to use the PokerTime app. The methods that players use to deposit and withdraw to and from the application may differ depending on whether they use an affiliate or agent, or whether they choose to use the cashier directly. If a player is using an affiliate or agent, they may be prepared to accept a range of payment methods including:
Cryptocurrencies such as Bitcoin, Ethereum, and Litecoin
Neteller
Skrill
Transfers from reputable poker websites
However, if users elect to make a deposit using the cashier, they must transfer either Bitcoin, Ethereum, or Tether to a wallet address that operates externally to the PokerTime app. When using the cashier, it is recommended to transfer using Tether because the rate of exchange is the same when a user deposits and withdraws. However, users may experience different exchange rates upon making a withdrawal using other cryptocurrencies.
How do players register and download the PokerTime app?
The PokerTime app is available on both iOS and Android, as well as on PC if the user has access to a PokerTime android emulator. To begin the registration process, players must visit the PokerTime website and select 'Register'. By doing so, players will be directed to a page that will allow registration by providing an email address or mobile phone number, along with a password. After selecting 'Next', players will be sent a six-digit verification number by email or text message. Entering that sequence of numbers within the allotted time will complete the registration process.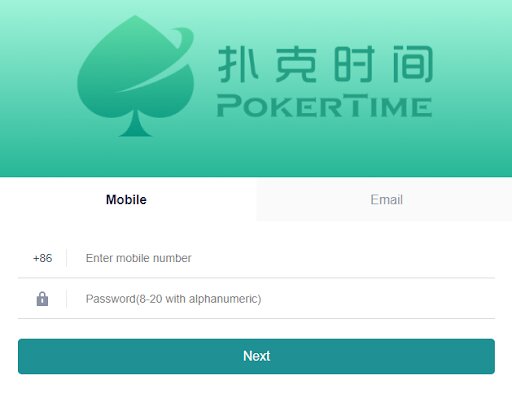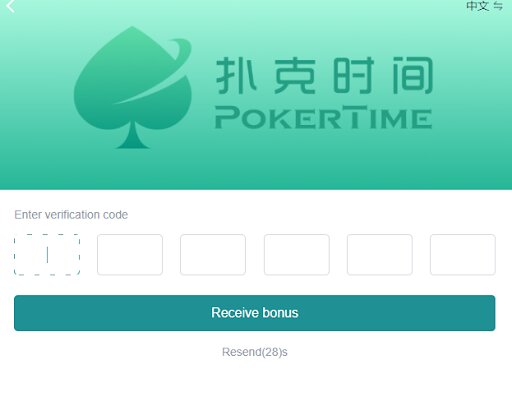 After registration is complete, you will be able to download the PokerTime apk to your chosen device. If you experience difficulty launching the apk, you may need to download a configuration profile and grant the application the necessary permissions.
Summary: Advantages and Disadvantages of the PokerTime app
| | |
| --- | --- |
| Advantages | Disadvantages |
| Accessible to players in all countries | Games are exclusive to private clubs |
| There's a range of cash game formats and stakes available | Losing players that aren't raked may be misled to believe they won't face charges elsewhere |
| RNG has been approved | There's no licence to regulate the games |
|   | Several accusations of banning and scamming innocent players |