Winamax Poker Complete App Review And Bonus Guide
Winamax Poker is on top of the French online poker scene and growing throughout Europe. They have close to 6 million registered users. Davidi Kitai (EPT, WPT, WSOP winner) is one of the skilled Winamax Team Pros. As an independent company, they offer some rather intriguing poker formats. More than ten thousand players take a digital seat at the tables every day, and up to fifteen thousand during peak hours.
Winamax upholds strict deposit and withdrawal security, so they won't process transactions without confirming a ‌player's identity. They use proprietary software and they've done a wonderful job building it. You can also bet on live sports events through their software, which has a few other features we love.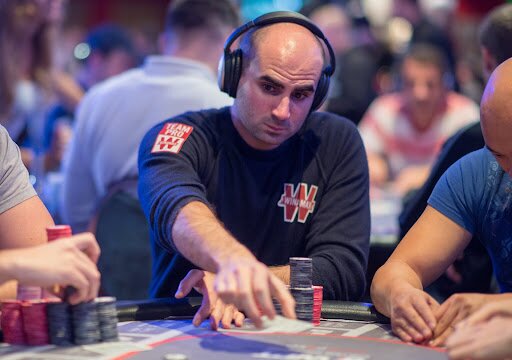 The Honest Winamax Poker Application Review
Winamax has built a platform comparable to PokerStars or partypoker in many ways. You can play it in your browser or download it to a device. The software runs on Windows, Android, Mac OS, and iOS. The computer app has a useful feature called Playground, which cleverly organizes your windows for multi-tabling. You can tile the windows, stack the tables into different tabs, or freely arrange them.
There are Incognito cash games for those who value privacy. Your table name will be completely hidden and the same for your opponents. If you don't want other players learning your style, this is a nice feature.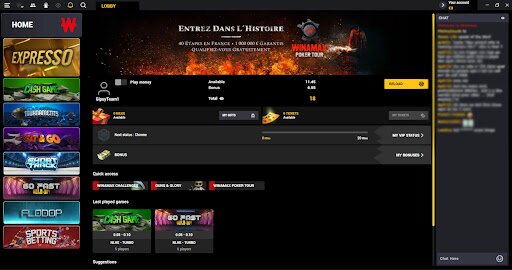 As you'll see from our screenshot, games run down the left of the PC application. You can switch between real money or play money on the homepage. You can add friends with the icon in the top left, to compare win rates and more.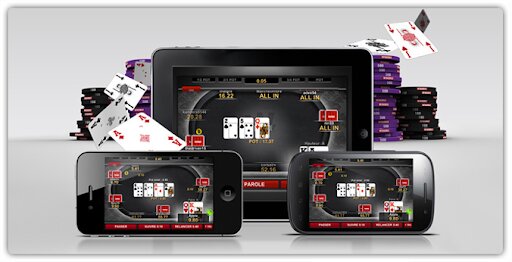 The mobile application sizes your cards and buttons perfectly for different devices. The app is intuitively designed with a simple layout. You can swap between the mobile software and PC or Mac OS seamlessly, but wait until you finish a hand first. Play up to four tables at once, with Texas hold 'em, Omaha, or other fun formats.
Full List Of Poker Games At Winamax
On top of ‌standard games like Hold 'em and Omaha, WInamax got a little creative. We're going to review each poker game they offer and include updated screenshots.
Texas Hold 'Em
No poker site would be complete without Texas hold 'em poker tables. Stakes range from €0.01/€0.02 to €15/€30. You can find most of the traffic at tables with less than €2 big blinds.
You'll see a few different Texas hold 'em formats in the cash game lobby, we'll talk about each one right here.

Another interesting thing about Winamax Poker is the lack of 6-max tables. Their tables only seat two, five, or nine players. The Heads-up Fight Club tables are marked by a little boxing glove icon.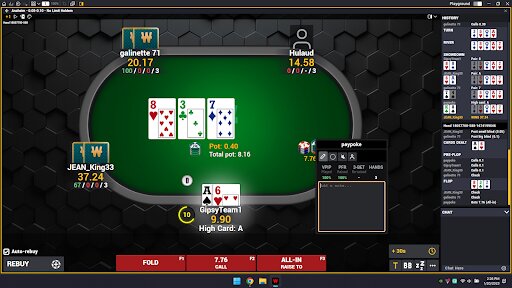 Pot Limit Omaha
Most of the Omaha action at Winamax is at the pot-limit Omaha and PL Omaha 5 card tables.
Both games have stakes ranging from €0.01/€0.02 to €10/€20. These tables are very active throughout the range of stakes we mentioned.
There are two other kinds of Omaha poker at Winamax, Omaha hi/lo and limit Omaha hi/lo. They don't attract many players. At the time of our review, there were no players active at these tables.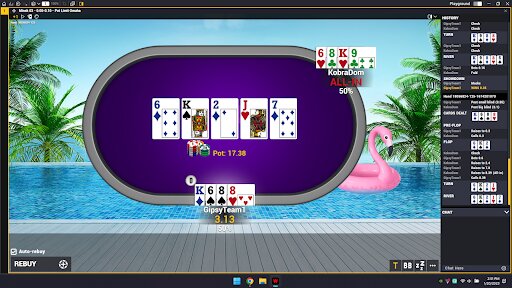 Incognito Poker
In the age of privacy awareness, it's nice to go Incognito sometimes. In these cash games, your identity will be kept anonymous at all times. As well as ‌giving you privacy, your opponents won't be able to build long-term strategies against you. There are no Incognito tournaments currently, only cash games.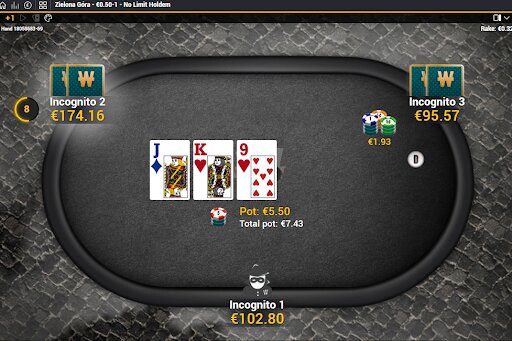 Espresso
If you have ever tried Spin & Go at PokerStars, then you'll know how to play Espresso. It probably got its name because of the lighting speed and quick thinking players need.
After you select a buy-in amount, you compete against three players for a randomly spun prize. Here's the good part; even a buy-in €2 buy-in can spin a prize of €1,000,000. That's an unbelievable 500,000x your entry fee, not a bad return.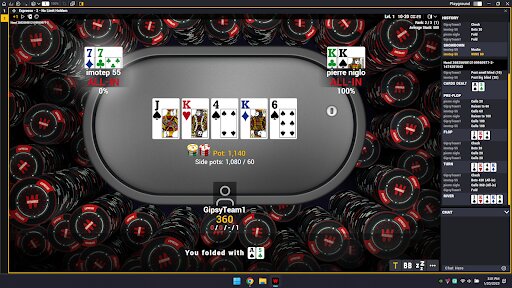 You can play Texas hold 'em Espresso at stakes between €0.25 and €500. Omaha stakes are a bit lower, ranging from €0.50 to €10. Games start when three players have registered.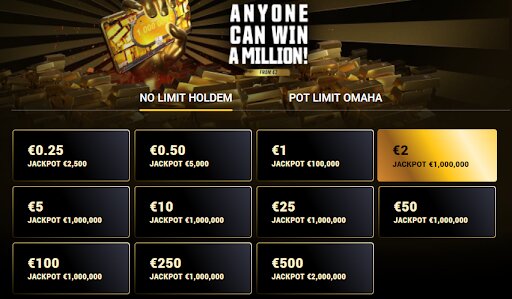 Short Track
Every player starts with five big blinds in Short Track. Buy-ins go from €0.10 to €150 in this fast-paced and unique game from Winamax. Because of the low amount of blinds, it feels similar to Blast from 888poker. The difference is, Blast is a turbo sit & go and Short Track is an ongoing cash game.
[IMAGE]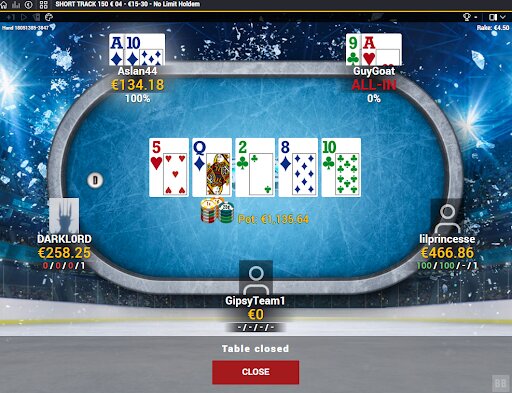 Go Fast
Just like Zoom at PokerStars or Snap At 888poker, Go Fast speeds up your poker hands. As soon as you fold, you'll be sent to a fresh 6-max table with new cards. Stakes range from €0.01/€0.02 to €2/€4 Hate waiting while your opponent thinks? Check out Go Fast at Winamax.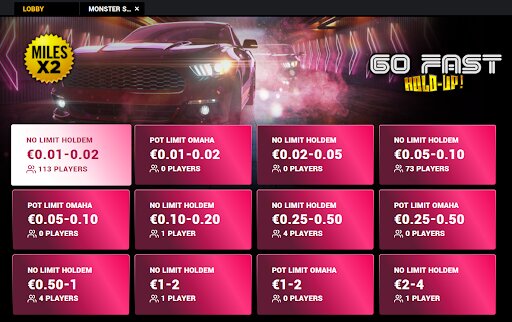 Let's talk about a great promotion going on with Go Fast games. If you see the table changing colors and chips sprinkling down from above, it's time for a Hold Up hand. The winner of this hand will get a prize, anywhere from 2BB to 500BB.

FLOOOP
Bomb pots are becoming more popular online after poker players fell in love with them in casinos. FLOOOP is Winamax's version of bomb pot poker, without any breaks. Players pay an ante before seeing the usual three flop cards. There's no preflop action, the hand begins at the flop. This creates a very interesting dynamic since we don't have our normal information from the pre-flop stage.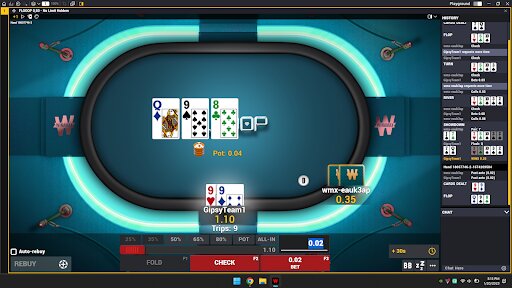 Sit & Go's
Winamax has Sit & Go's with 2-10 players at a table. Stakes are between €0.50 and €500. Texas hold 'em and Omaha SNGs have lots of players in the lobbies. There are a few different formats and speeds, like Double Or Nothing and normal or turbo. You'll find multi and single-table Sit & Go's.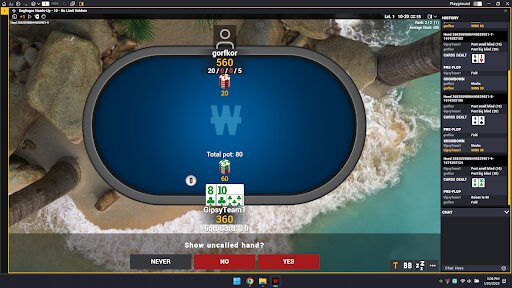 Freeroll Tournaments At Winamax Poker
The freerolls at Winamax come with decent prize pools and start often. Their regular freeroll tournament starts multiple times a day and has a €100-€150 guaranteed prize.
First depositors can take part in the Welcome Freeroll for a share of a €1000 prize pool. Your account has to be fully validated to get seated, which we are going to cover in the next sections.
Tournaments
The tournaments are lively at Winamax, even for ‌mid to high-stakes buy-ins. The lowest entry fees are around €0.25 and their most expensive entry fee is €500 There are deep stack, knockout, turbo, and classic tournaments.
We'll look at some of their most impressive overlays and popular events in the table below.
| | | |
| --- | --- | --- |
| Name | Entry Fee (Buy-In) | Prize Pool |
| Monster Stack | €1-€20 | €400-€1000 |
| Tea Time | €20 | €20,000 |
| Gladiator | €50 | €18,000 |
| Battle Royale | €200 | €100,000 |
Winamax has a multi-day event called Million Week. The guaranteed prize can be over €1,000,000 depending on how many entrants there are. Considering that prize, the €50 buy-in seems very reasonable.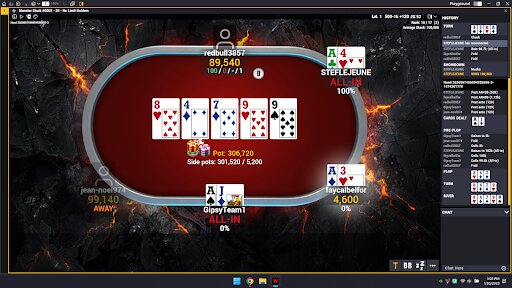 Two Big Bonuses And Winamax's VIP Reward System
Remember one thing about Winamax. They will not hand out bonuses to players who haven't verified their accounts.
In most cases, Winamax will ask for:
A document to confirm your identity
A document to confirm your address and residence there
If you want to get bonuses on a great poker platform without submitting documents right away, check out PokerStars. You must confirm your identity when you withdraw your money, but that's standard across the online poker industry. Check out GispyTeam's PokerStars review and collect bonuses as soon as you sign up.
1. The First Deposit Bonus At Winamax Poker
Get your first deposit doubled, but only after you've validated your account. The maximum amount Winamax will match is €250. Your bonus will be released 10% at a time. To get your money you must accumulate Miles, which are loyalty points. 30 Miles equals €1 in bonus funds.
2. €100 In Freebets With Your First Deposit
This offer can be combined with the First Deposit Bonus. This bonus gives you €100 of free sports bets. The net winnings from any bets you make are yours to keep.
You're only eligible for these bonuses before you've played on the poker tables. Make sure your account is validated before depositing.
Winamax's Rakeback And VIP Reward System
The rake at Winamax is slightly higher than other online poker platforms. The rake is 6.5% and is capped at €1.5 at €0.10/€0.20 stakes. At NL and PLO2000 the cap is €4.
Miles
Instead of using the term "points", Winamax uses "Miles". As you generate rake, you are building up your Miles. €1 of rake is equal to 4 Miles. Some poker games like Go Fast offer double Miles at certain times. You want to get as many as possible for even more rakeback.
VIP Rewards
The top levels of the VIP reward system get access to live tournament finals like the Winamax Poker Open and the Winamax Poker Tour.
There are 12 different tiers of VIP Rewards. The more miles you have, the higher your tier is. Aside from getting more rakeback (up to 40%), you can spend your earned points in the Winamax Rewards Shop. You'll access higher prize freerolls with each level you climb.
Depositing And Withdrawing
The minimum deposit is €10 with Paysafecard. You can use Skrill or Neteller for almost instant transactions. There isn't any cryptocurrency accepted, probably because of French regulations. Paypal and wire transfers will be useful for players without other options.
- The minimum deposit with Visa and Mastercard is €15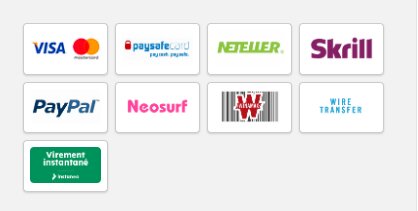 Frequently Asked Questions
Which Devices Does Winamax Support?
You can play Winamax in supported browsers, plus Windows, Android, Mac OS, and iOS devices.
Is There Tough Competition At Winamax?
The player base at Winamax consists of mostly casual players, especially in game modes like FLOOOP.
Who Are The Winamax Team Pros?
The list is long, but here are a few of the Winamax Team Pros.
Davidi Kitai, Sylvain Loosli, Gaëlle Baumann, Pierre Calamusa, Patrick Bruel, Adrián Mateos Díaz
Why Is Winamax's Rake Higher Than Average?
At 6.5%, Winamax's rake is higher than most online poker platforms. They are under French regulation, which might affect the fees they take from poker tables