It's not easy to get a 9% "approval rating" on Rotten Tomatoes, yet the dubious new poker movie by Russell Crowe and his co-creators, titled 'Poker Face' has managed just that.
The masterpiece (or craft) was released on November 16, 2022 and even collected $ 1.7 million. Apparently, all in the first week, since already on November 22 the film became available on various video platforms. In some theaters, it is still on the big screen.
However, our reviewers did not appreciate Poker face. Articles about the movie do not indulge in a variety of headlines – "Through the stump-deck", "Expectations did not materialize" and the like. To put it mildly, foreign critics are not happy either. "As Kenny Rogers stated long ago , you need to know when to fold – and these words Russell Crowe should have heeded when he received the Poker Face script," writes one of the critics. Nicely said, but Crowe didn't "receive" the script, he wrote it himself, and also acted as director after he replaced Gary Fleder.
The reason for the director's change was... covid. No, no, Fleder is fine. It's just that according to the script, it happened in Miami, and filming was planned there, however, during the next outbreak of the pandemic back in 2021, Crowe offered to film everything in Sydney, closer to his own home, and when it turned out that it would be difficult for the American Fleder to get to Australia, he closed embrasure with his own mighty chest. Judging by what happened in the end, Gary Fleder has nothing to regret.
Considering the reviews and ratings of the movie, one can't help but appreciate the heroism of PokerNews editor John Sofen, who spent over 2 hours of his life watching this movie. Alas, his personal impressions only confirmed the correctness of film experts.
"The movie is available to rent on Amazon Prime (for $5.99), but I must warn you that there are definitely ways to put that money to better use, like throwing it on a fire," says Sofen.
Indistinct plot
The film is filled with completely incomprehensible moments, and the events simply do not add up to a coherent plot. Sometimes there is a feeling that someone's evil hand has deleted some of the scenes, and the filmmakers just tried to blur stuff out by the release date of the picture.
For example, the scene in the art gallery – the main character named Jake Foley (Crowe) is approached by a woman, shocked by his interest in rare art. She asks permission to draw his portrait and records a short interview with him in order to get to know her future hero better. At this point (and this is about the 20th minute of an extremely leisurely developing film), one gets the impression that this mysterious lady will become some kind of important character. Maybe she'll have an affair with Jake, or what the hell is she, she's a con artist who wants to get her hands on the billions of dollars Jake made by building the world's largest online poker site (Scheinberg, is that you?!) and then a giant IT company. But alas! The woman will never be shown again until the very last minute of the film.
The whole point of this scene is to inform the audience that Jake's main passion is expensive works of art, and this "gun" will then go off in the film. However, do not rush to criticize – from what we are shown at the beginning, this fragment is almost the only one that is somehow connected with future events.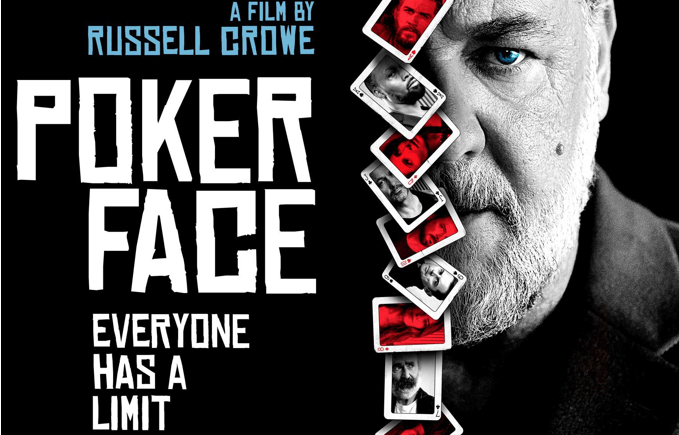 A bit of poker
If you, God forbid, expected to see a movie about poker, "Poker face" will disappoint you. However, it will disappoint you no matter what you expected. After about 40 minutes of strange or simply irrelevant dialogue, Jake suddenly invites four childhood friends to a pretentious country house to play a small tournament, a sit and go. The buy in is 5 million dollars, there is one prize – 25 million.
And here the status of the film changes from "something incomprehensible" to "what am I even watching". One of the "childhood friends" is played by the second star of the film, Liam Hemsworth, who is 26 years younger than Crowe. The art of reincarnation is, of course, beautiful, but everything is good in moderation.
The entire poker part of the film was reflected in exactly one hand. Two players with J-10 shove on the turn, both holding the nut straight with redraws to the flush. River – blank, divided.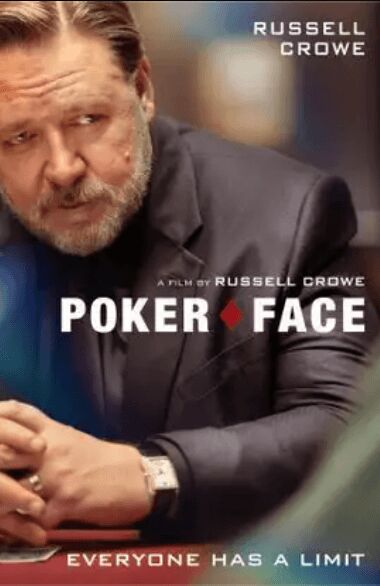 Watching the film did not completely kill Sofen's love for people, so he decided not to acquaint readers with more details of the plot – in case someone decides to watch it. However, it is also clear from the trailer that shortly after a short poker confrontation, armed robbers appeared in the mansion, who were clearly hunting for the protagonist's collection of antiquities, and a serious battle began.
Crowe has starred in a large number of blockbusters, so there is no doubt about his ability to shoot (and act) richly and beautifully, but this is far from Gladiator and not even The Mummy. However, Sofen also found a reason for a little joy – the film runs only 129 minutes, so not the whole evening will be spoiled, but only part of it!
However, there is a more economical way to get acquainted with the picture – you can limit yourself to watching the trailer:
And then spend your time on something more worthwhile. For example, you can watch the series "The Offer" ("Offer") about how the movie "The Godfather" was filmed. Not a masterpiece, but definitely better than Poker face. And yes, it's time to get back to work!