The organizers of the World Series got confused by the structure of their own tournament. Difficulties arose in the $10,000 Secret Bounty.
– Complete nonsense, – Chris Brewer is indignant . – Insane mid day structure change by WSOP. Bounties were scheduled to start day 2, beginning of level 16. Now they have decided we will play until the money tonight then bounties in play. Which means at least level 18. Pretty absurd to do to players.
– What ***? " Isaac Haxton didn't approve of this mess. – It's like changing the payout structure during the tournament. This gives a huge advantage to big stacks, and very disadvantageous to short stacks. Surely many would play differently if they knew about the changes. This is simply unacceptable.
"It definitely affected my game in two hands," Dylan complained.
"We decided to finish at level 15 after all," Chris said. – But until they figure it out themselves, bounties will start from the start of the day or only in money.
"Ha-ha, they managed to break the integrity of the tournament, while in fact not making any changes at all," Hayk cheered.
As a result, the bounty began from the start of the second day, but before the prizes. Artur Martirosyan pulled out $100k.
Wesley Flan continues to prove to viewers of Hustler streams that he is not a nit.
In one of the recent broadcasts, he bet-shoved the river with top pair against Daniel Cates. Jungleman with trips thought for two seconds.
"Ha ha, sounds like a bluff," Wesley conceded.
His trademark pose, in which he spends time waiting for the actions of his opponents, has already become a meme in Hustler.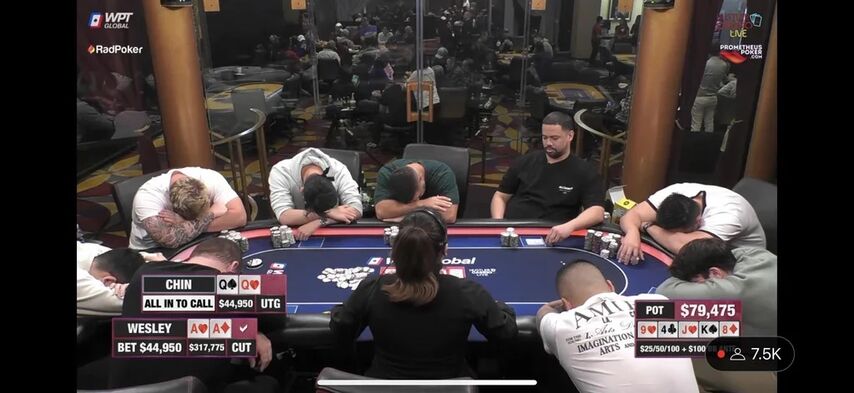 Cates comes to the WSOP for one event, the $50,000 Players Championship, which he won in 2021 and 2022. The fight is in full swing there, but this time Jangleman won't win – he's out at the end of the second day.
Cates chooses a bright image every year.
2022: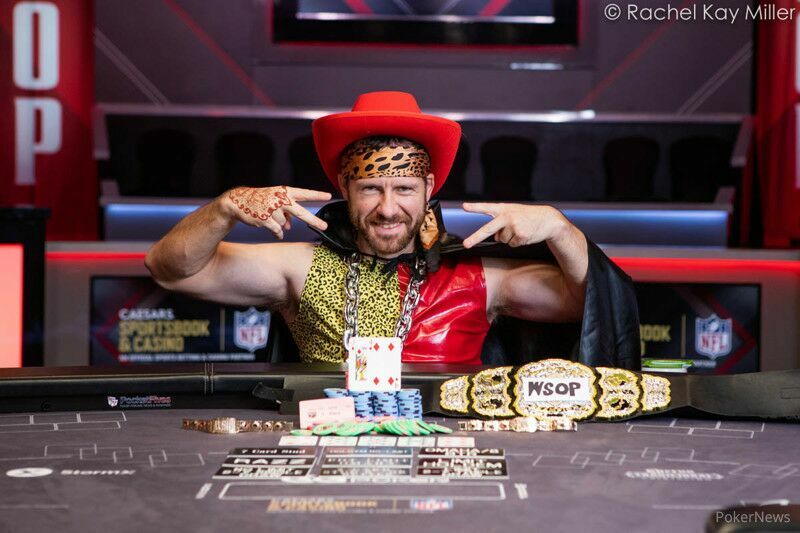 2021: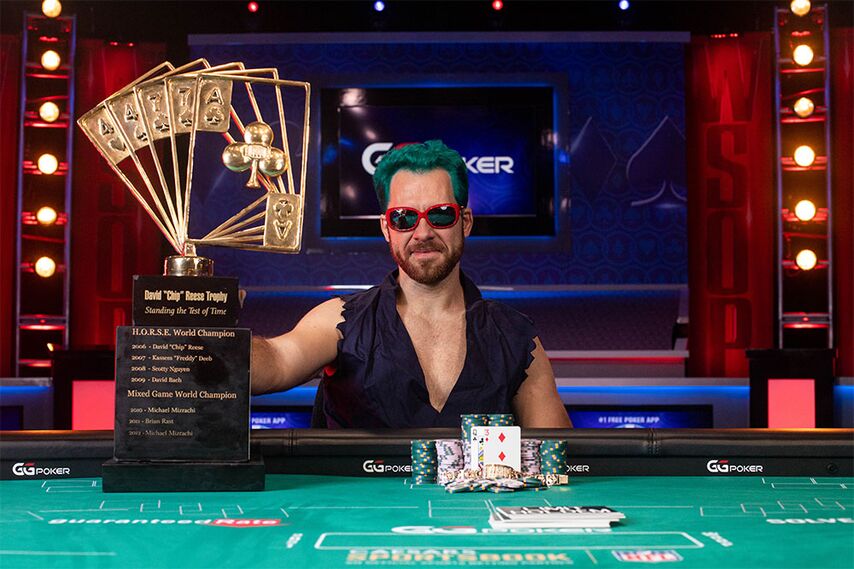 Didn't disappoint this time either.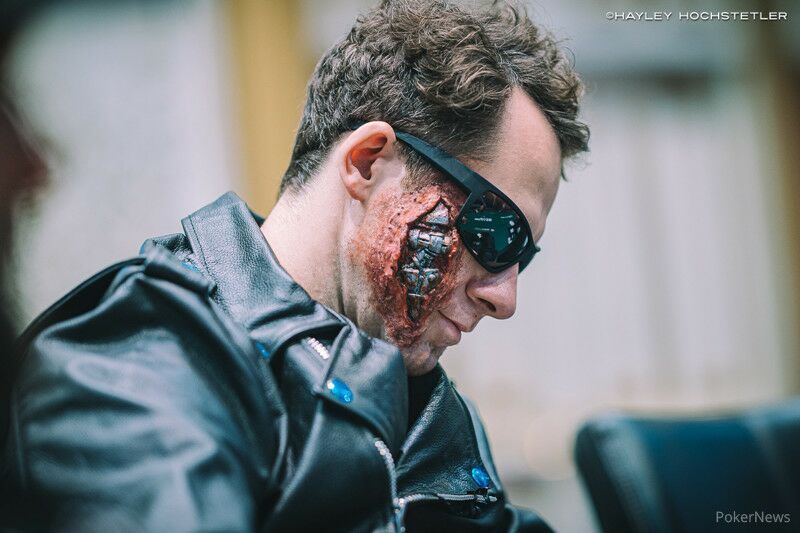 $100k tournament winner Jans Arends lost a friend:
Anyone seen Kessler? He didn't make it to the winners pic
Recall that at the end of last year, Allen laughed at Jans due to the fact that he did not have enough offline achievements.
Kevin Martin witnessed a unique hand:
– At my WSOP table, AA, KK, KK, and QQ were dealt. The queens flop a set, the river is A.
During the break of one of the tournaments, Kevin met an idol:
Freaked out when I saw Isildur at the WSOP One of my all time favourites. 🙌🏻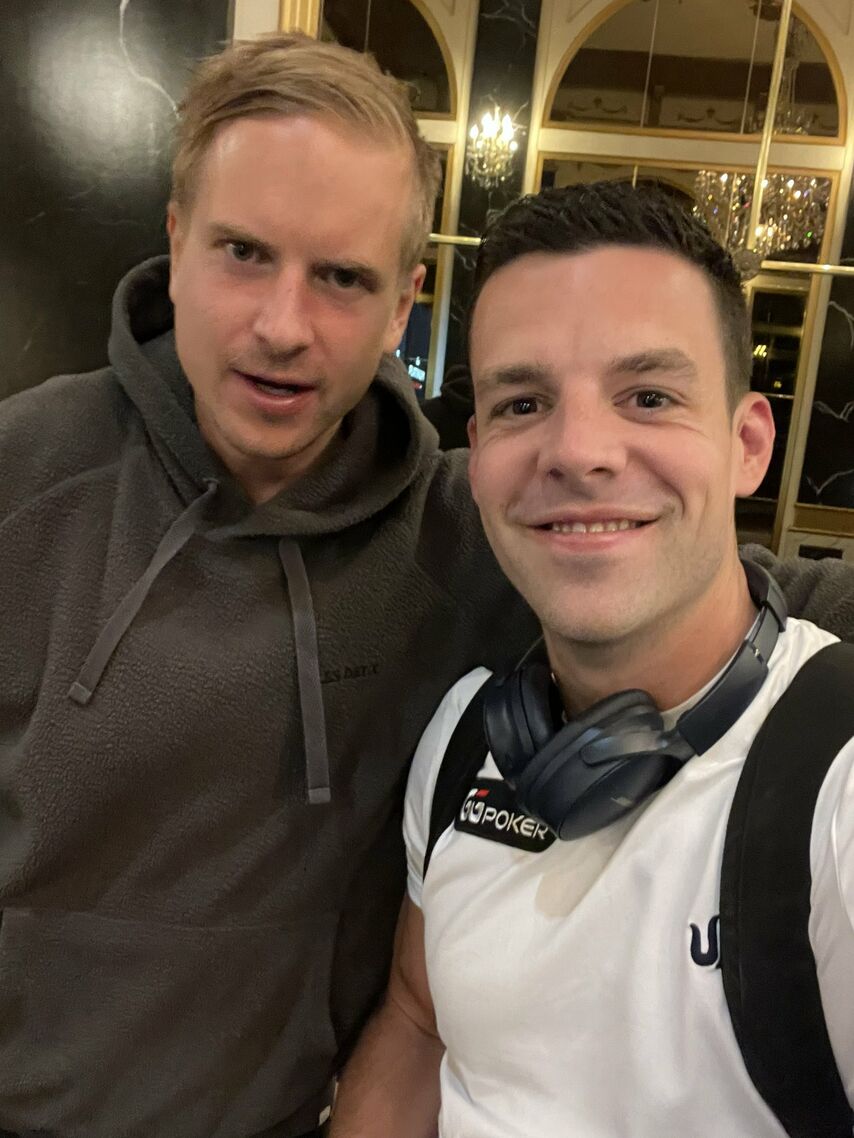 Viktor came to the series a week ago, while playing exclusively limit games, including the $50,000 Players Championship (like Cates, he has already been eliminated). In the $3,000 9-game tournament, Isildur cashed.
Viktor also got into one of Negreanu's vlogs.
– Look who's playing 2-7 here for $1,500. This is the legendary Viktor Bloom. How are you? Tell me, everyone is interested.
– Everything is fine.
– Do you play a lot of poker?
– Not really.
– Do you enjoy life?
– Yeah.
"That's right, you're still young."
Patrick Leonard played a "ridiculous" hand:
– Hand of the day from the $2k tournament.

I raised 2.5bb in UTG with

bb opened and called ⚡️⚡️

Flop check check 😏

Turn , check, I bet 2bb, BB with the words "suddenly split" paid 👨‍🍳👨‍🍳

river 😬

Pot: 8bb, 60bb stacks, how much do we bet?
"Check and hand over half the pot," Chance Kornuth suggested.
"Show the king and push," Allen Cunningham voiced another option.
"By the way, there is only one CORRECT answer," Pads added, but so far no one has voiced it.
Are you wondering how my day goes? Niall Farrell asked readers. – Well I just busted the 10k secret bounty before the money with 0/4 successful attempts at bounties and just booked a swap in the 2k with a clause where I forfeit some % if I'm ejected for being too drunk.
Maria Ho earned the easiest money in her life:
I shoved the river in 3-bet pot in the #WSOP $3,000 6-max, and the guy tanks and finally folds. Another guy, not in the hand, says show the bluff (I wasn't planning on showing.) Guy that folded says if you show a bluff, I'll pay you $1000. 😮 Guess who's now $1000 richer? #poker
Last week, the World Series was dominated by several established limit game stars.
John Monnette won the 5th bracelet in the $1.5k Triple Draw 2-7 tournament.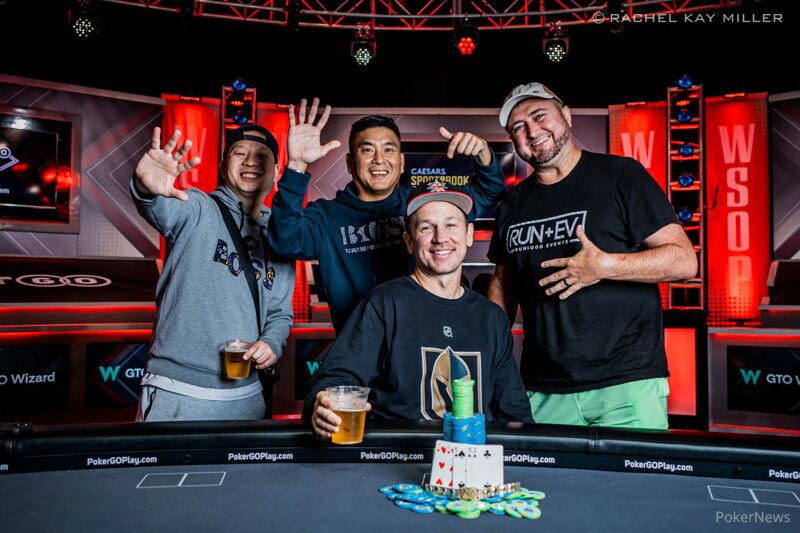 In heads-up, he spun it up with half a big bet.
"Thank you for all the support from everyone, it means a lot.," John wrote. – Also huge respect to Chris Chung, he handled my comeback with complete class then asked to be in the winners photo, true legend right there, won't be long before he gets his WSOP bracelet!
Benny Glaser, who made his 5th bracelet in 2-7 with a $10k triple draw, also spun off a single big bet.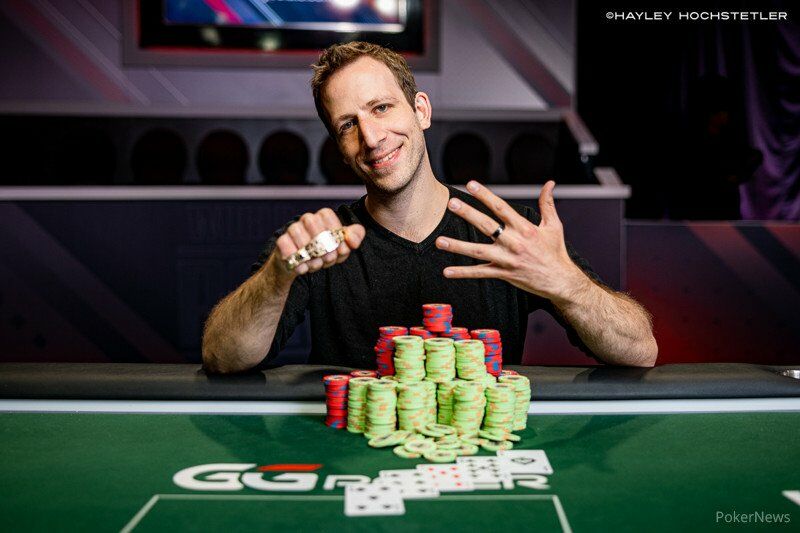 Shaun Deeb became the WSOP champion for the 6th time, conquering the $1,500 8-game tournament.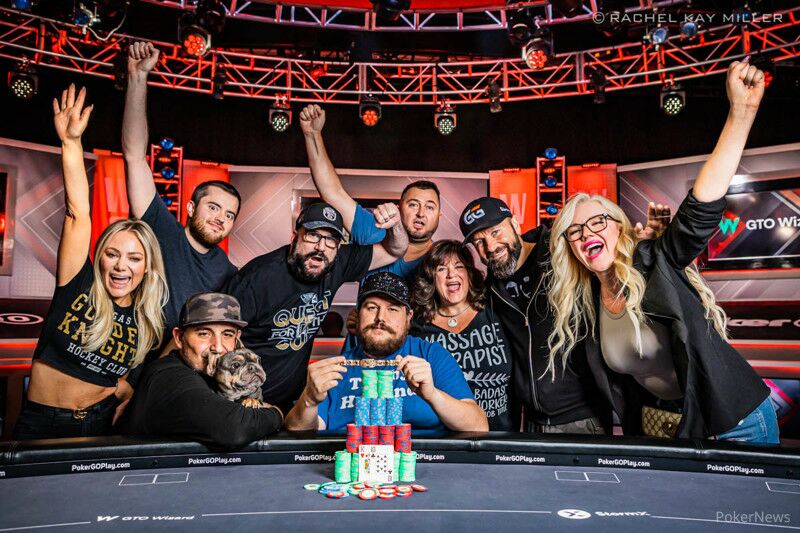 Daniel Negreanu was noted in his photo.
A couple of years ago, this was unimaginable, since Sean and Daniel's regular squabbles on Twitter ended in mutual insults. What pissed Daniel off the most was Sean's tweet that his marriage to Amanda would last no more than two years.
But the hatchet of war has long been buried, and the relationship between Daniel and Sean has improved, primarily thanks to their mutual close friend Josh Arieh. That evening, Negreanu was in a great mood, as he vigorously celebrated the Vegas victory in the Stanley Cup and came to the casino tipsy.
Shaun himself is not up to the celebrations, after the victory he immediately went to the gym.
Peacemaker Josh Arieh, who first went to hockey with Negreanu and then actively supported Shaun in his finals, won his fifth bracelet in the limit hold'em championship a couple of days before.
His winning photo with his fiancée Rachel turned out to be a little provocative.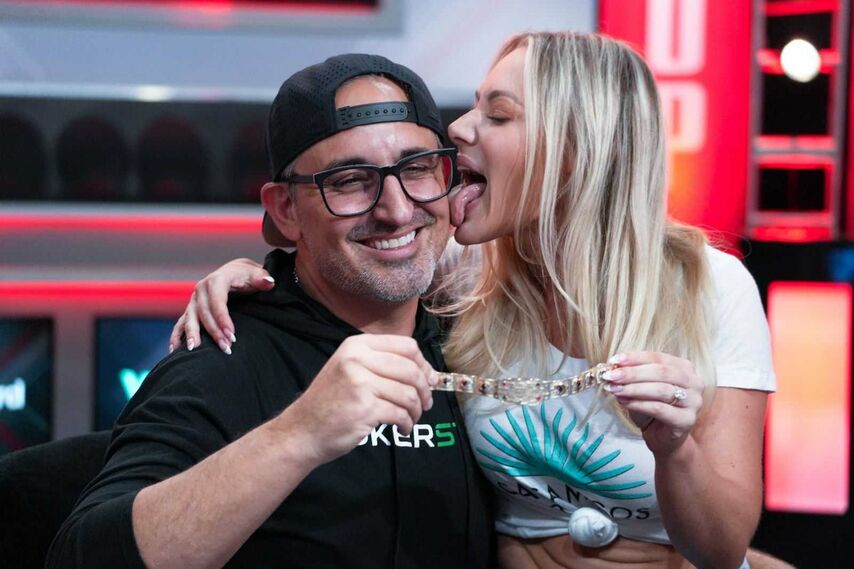 Scott Seiver was also very happy about the victory of the Vegas Golden Knights.
– My biggest losing day in 4 years – he wrote a few hours before the last match of the final. "But the Knights are going to win the Cup? Pretty good day if you ask me!!"
In recent weeks, Scott has hardly left the Bellagio, where a very expensive game is played around the clock.
"Ultimate test of poker equanimity is Bobby's Room." Dan Cates said, "Casual 3/6k might have something to do with it."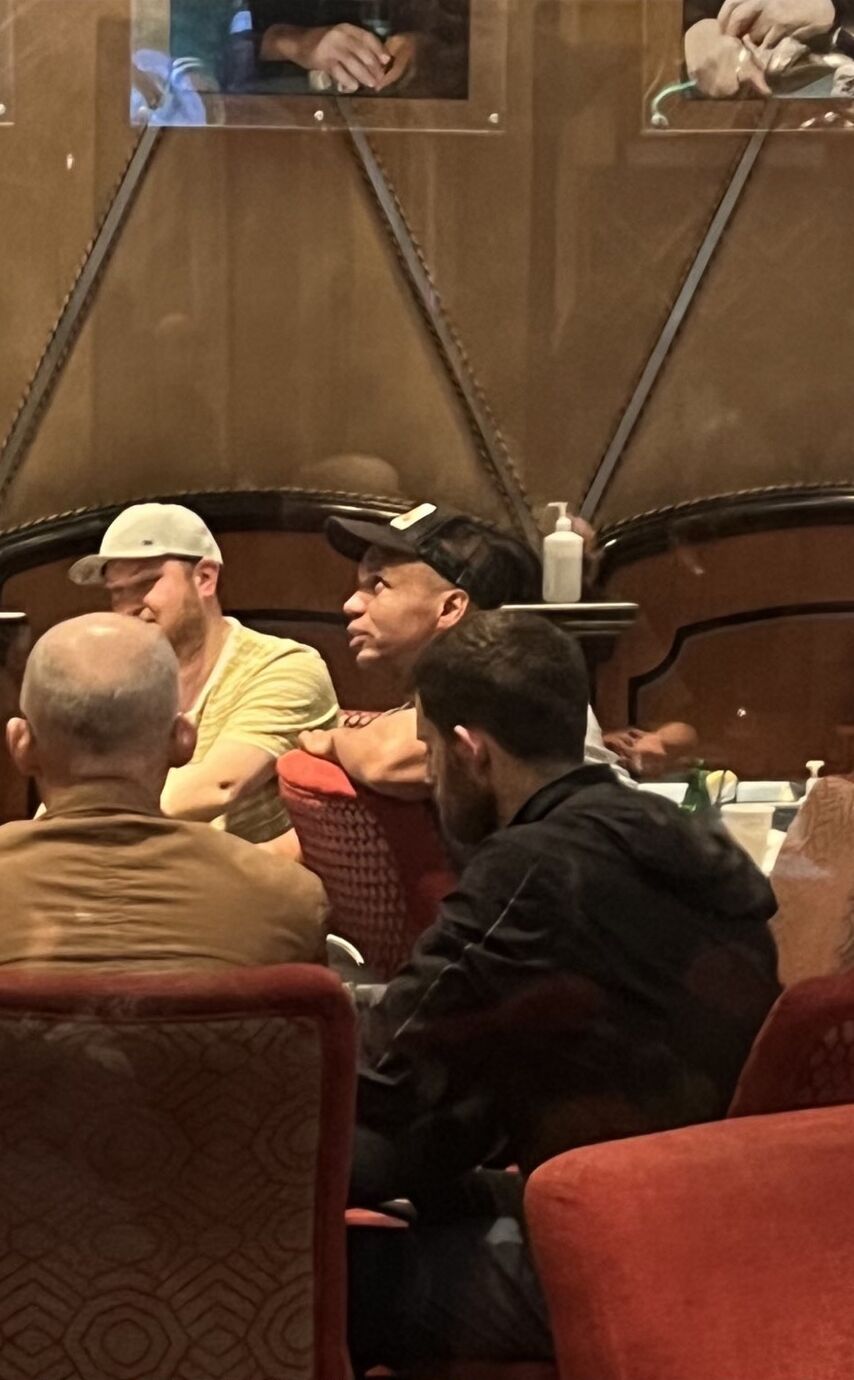 In the photo – Scott Seiver, Phil Ivey, Matt Ashton, and probably Talal Shakerchi.
Patrik Antonius, who also plays $3k/$6k every day, posted a picture of his stack the other day and challenged readers to guess how much money there is.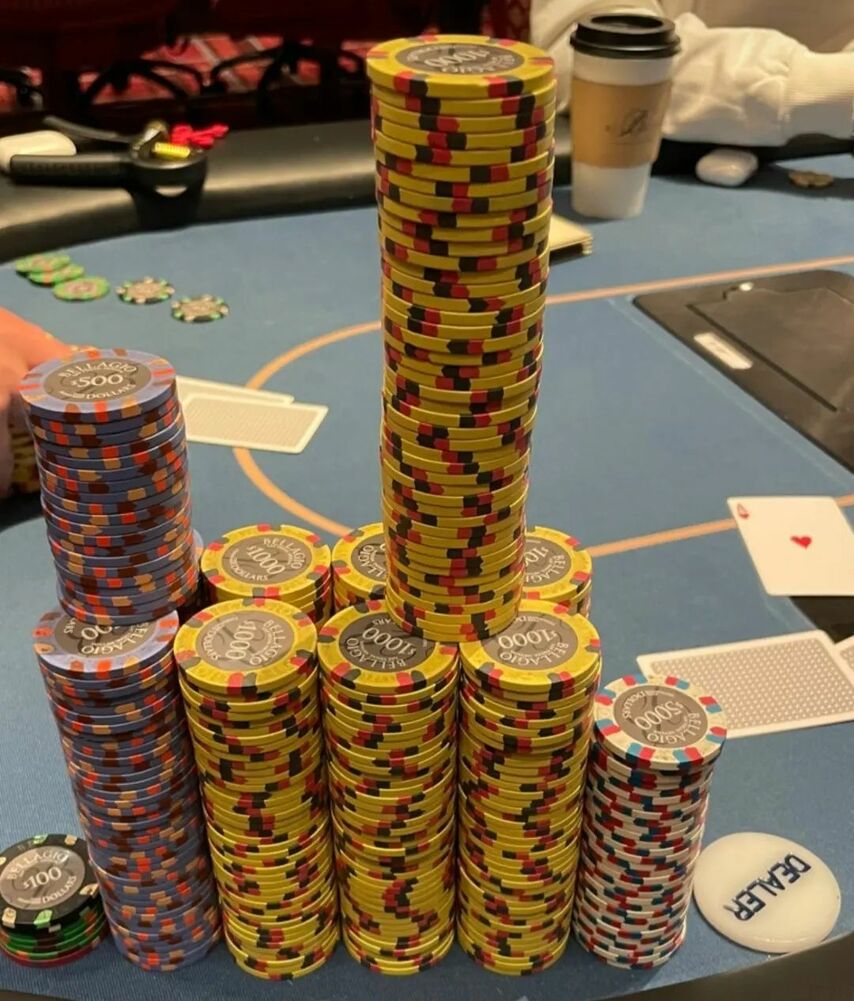 Joseph Cheong shares offline wisdom:
If you got a harry potter looking fucker at your table you know youre in for some long tanks.
The so-called Euro-regs are famous for the slow game in the series.
Dan Colpoys met one of these:
Real HH from yest... Euro open LJ 2.5 I def 45ss 50 eff get the KQJhhd check, euro goes in the tank staring me down for over a minute. I throw my hand into the muck before he acts and call him a dildo. 3k 6max should be fun today!
Gary Blackwood also fell victim to a representative of Europe:
Last 3 hands announced in $2k wsop event. Euro massive stack opens 3x utg, folds to me in bb and I catch him snapping a picture of his hand. I laugh and tell him that's a tell. I fold. He goes to muck. I tell him to show the aces. Shows 73o. Fuckin euros.
Kevin Martin offered a tempting bet:
Laying +2500 that Jesus Christ literally returns to earth before this European player at my table makes his river decision.
Dietrich Fast came to the defense of European players:
If ever were annoyed by sitting across this euro kid with headphones three betting you, you never been sandwiched between two american stonies talking about "the simulation"
Tom Dwan has not yet played at the World Series, although he showed interest.
– Will I still have time to sign up for $25k? he asked when the registration had already closed.
"No, but we are waiting for you at Gladiators of Poker for $300," the commentators replied.
"Ha ha, what the hell is this 😂😂?" Tom seemed to be interested.
The passions for Martin Kabrhel do not subside.
Videos of his strange manipulations with cards are posted on social networks.
Some found his sticky fingers suspicious.
On reddit, they posted a selection of videos where he very closely studies the shirts on the cards of opponents.
https://old.reddit.com/r/poker/comments/14czm5h/examples_of_martin_kabhrels_suspicious_behavior/
One of the users noticed that Martin did some manipulations when he had .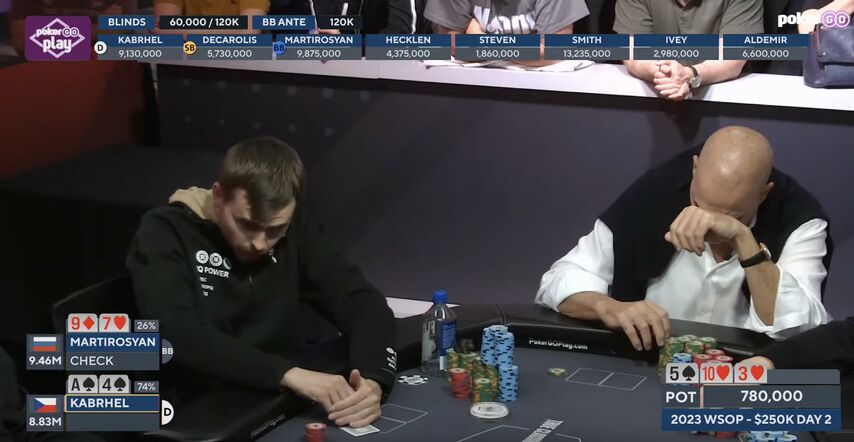 And then, within an hour, he played two non-obvious hands, when the opponents had exactly this card in their hand. He first looked at Al Decarolis' cards and called his 3-bet with . On the flop, Decarolis simply shoved and left Cabrhel with no room to maneuver.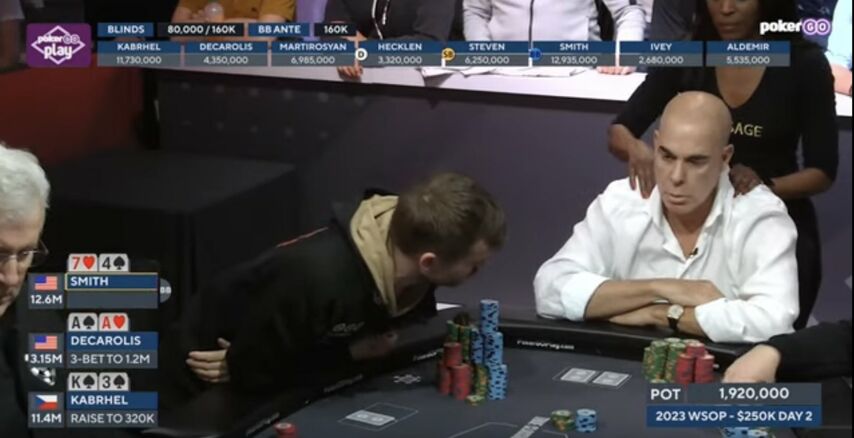 In a sensational bluff against Artur Martirosyan, Martin also studied his opponent's cards intently before his 4-bet on the flop.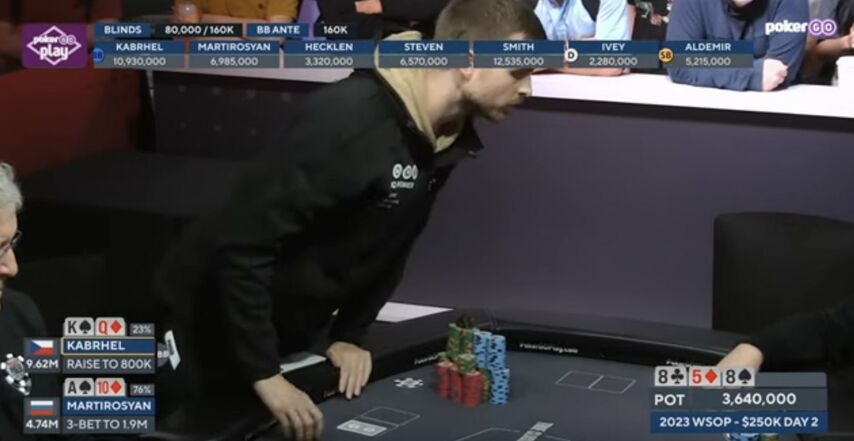 It's not very clear why calling an out of position 3-bet with against the short stack when you know exactly what he has . This is the same question Doug Polk asks in his video he released a couple of hours ago. But in the hand against Arthur, this information could really influence Martin's decisions.
After watching all the available videos, Polk did not find 100% confirmation that Martin marked the cards. Most of all, he is embarrassed by the hand with . In his opinion, if fraud did occur, then Kabrhel was most likely prompted by one of the fans.
Martin himself also denies all accusations. On Twitter, he wrote that he can be accused of questionable manners, a bad sense of humor, but not of cheating.
I am not a cheater, this is not true!! This gossip is damaging me not only as poker player, but also my business activities and my family. That's why I have decided to take legal action against Andrew Robl.
Robl was the first to publicly accuse Kabrhel of marking cards.
Farah Galfond found an original way to celebrate the atrocities of the Czech:
Happy Fathers Day to everyone except Martin Kabrhel's dad!
Chris Brewer was very emotional after his victory.
"Today I was incredibly lucky. I don't know why, but everything worked out perfectly. Nothing distracted me, I felt great. Okay, what to dissemble, it was just ***!
– Your first bracelet. What does this victory mean to you?
– It was this tournament that I wanted to win the most. It has everything – money, prestige, a complete package.
At this point, Chris's voice broke, and he even shed a tear.
– Sorry, there were many difficult moments in my life, but now I am happy.
On Twitter, Chris described his feelings in more detail:
The last 24 hours have been surreal. I received so many kind messages from people I have interacted with over the years. If I missed responding to anyone I apologize, but I deeply appreciate the support.

This win meant a lot to me, I was surprised how much. I still am processing it all. At the end of the day most of the result is variance and me getting good cards, but I would be lying to say that I was not proud of my execution yesterday.

I have had a lot of spots in my life between track and poker where things didn't go my way in big spots. It gave me a lot of anxiety and put me in dark places at times, the absolute bottom being my misclick call in Cyprus.

The sense of relief and happiness I felt in the interview was the result of that, I finally got it right when it counted. Hopefully I can continue to do so. I very much appreciate every message and "congratulations" I have received. It means the world ❤️
The misclick episode happened last fall on the Triton series. Chris made a big mistake in the $200,000 tournament and busted out on the bubble.