The 888poker app is your way to play online poker on a computer or mobile device.
Over more than two decades in operation, 888poker (formerly called Pacific Poker) has grown into one of the biggest poker sites in the world. You can play cash games and tournaments on the PC app, mobile app, as well as a browser app if you want to play without any download.
888poker is a great choice for online poker because it's quite well-known as a hive of recreational players – and that's great for profit at the micro and low-stakes games.


Long-running room with lively cash games and eight-figure MTTs
GT Bonuses


Bitcoin and US-friendly room that allows HUDs
GT Bonuses


Global crypto-only room with bad beat jackpots and weekly leaderboards
GT Bonuses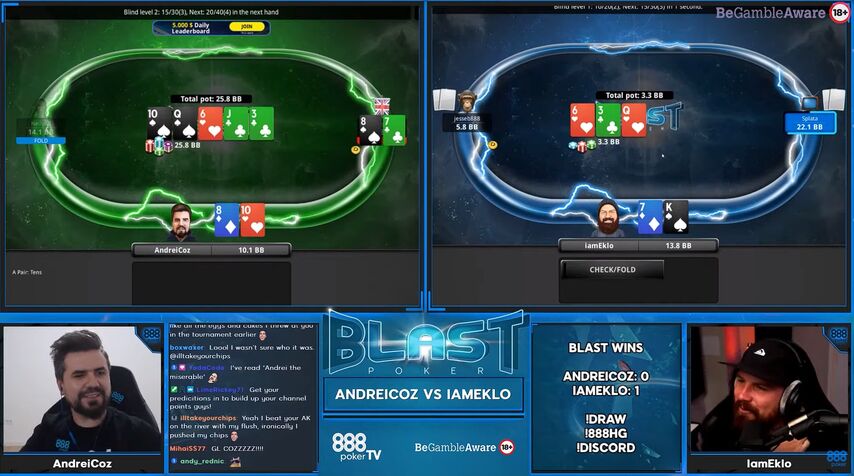 Register with 888poker (Collect Your Bonuses)
It doesn't take long to register an account with 888poker – but don't forget to submit your identification documents afterward for smooth withdrawals.
Start the 888poker sign-up process here (with any device).
You'll see the latest offer for players in your area, then press the yellow Get Started button.
Section 1:
Fill out your basic information, including your email, birthdate, and country of residence. 888poker asks for all of the same info that other major poker sites require.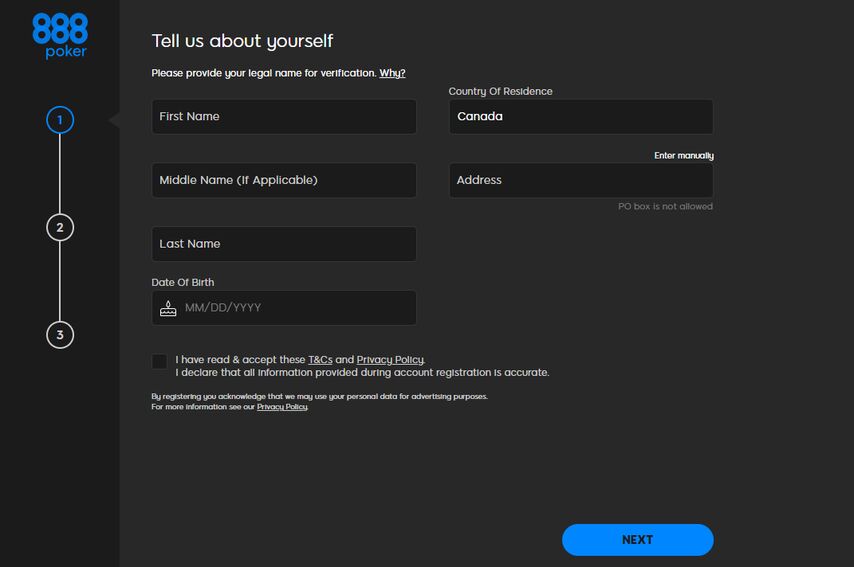 Section 2:
Time to choose your username! Try to make it unique and then pick a strong password to use with your 888poker account. The security question will come in handy if you ever forget your password, so don't make your question too out-of-the-ordinary.
Put in your email and phone number, then select Yes or No to the promotional material.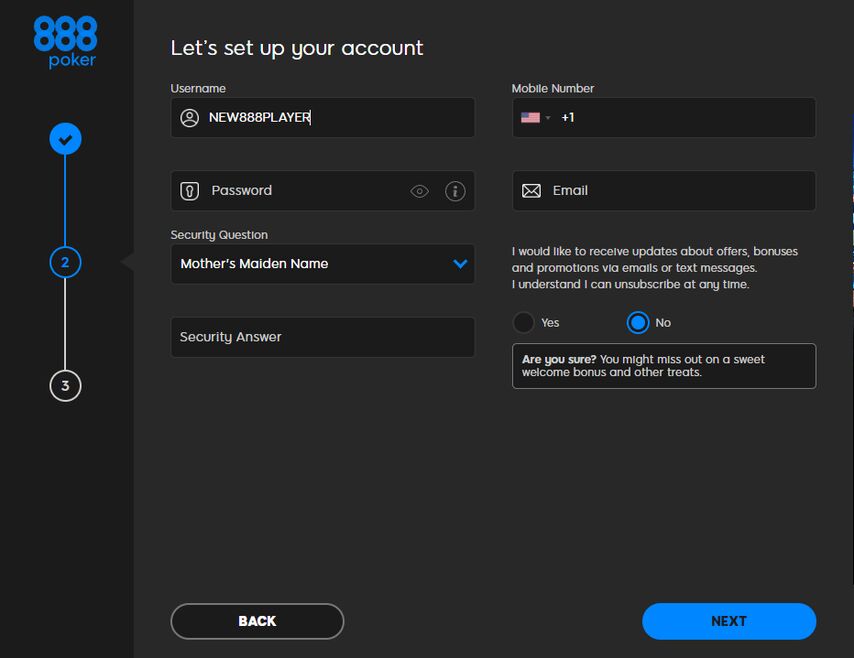 Section 3 (Last Step):
The final part of registration asks about your occupation and the industry you work in.
This is also where you can set deposit limits and also, loss limits. Then select Yes or No for the following two questions.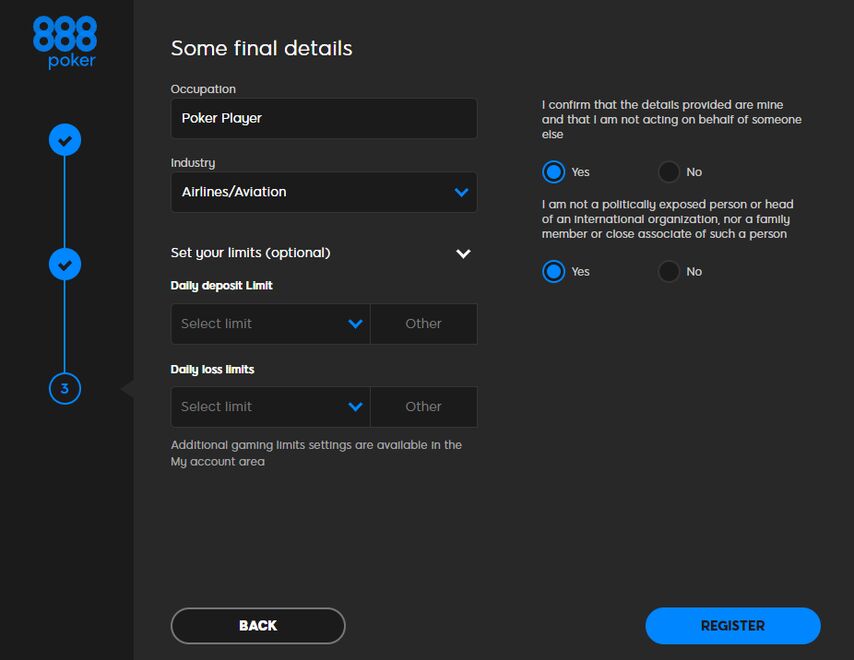 That's it!
Once you click on Register, your info will be quickly verified and you may be asked to correct any errors. If it all looks good to 888poker's system, you'll see a welcome message and another blue button that says Download in the bottom-right corner.
If you're on a PC, your 888poker installer will start downloading right away, although some users might get a warning message from their computer's security system. You'll need to confirm that you are trying to download the file by selecting Yes.
You've just got a free bonus from 888poker (usually $20 in rewards, though sometimes more). Check your email to lock in the bonus and check in your junk mail if you don't see anything from 888. More bonuses get unlocked when you make a minimum deposit.
The 888poker App for Windows and Mac PCs
The 888poker app has a clean design and a fairly intuitive layout. The menu runs down the left side of the window, which is where you'll find:
Account info
Challenges
Rewards
Tickets
Free Spins
Leaderboards
Blast, SNAP, cash games, and MTTs (multi-table tournaments).
Underneath your avatar (which you can and should customize), you'll see something called 888club and a level. As you play cash games and tournaments, your 888club level will increase and you'll get more rewards, including larger and larger freeroll tournaments.
Remember – if you can't access the app, you can always play in your internet browser from the 888poker website.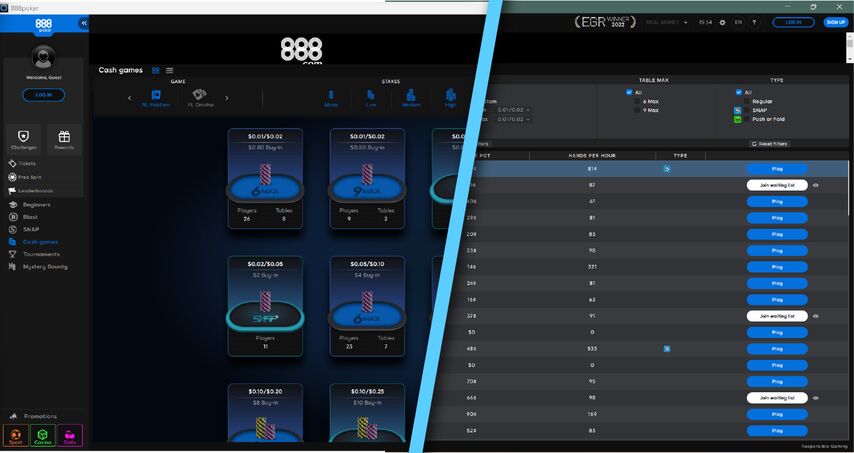 The cash game lobby layout can be switched from a list view to a simplified view, but in our opinion, the list gives you more control over the games you choose. Tournaments are always displayed in a list.
You can toggle to Play Money from Real Money in the top right of the application. This is your way to experience 888poker's games, like SNAP (fast-folding poker) and cash games.
Did you know that you can create private home games on 888poker and invite your friends?
Are Other Poker Apps Better for You?
Different apps mean a different player experience and possibly, better rewards.
If you're looking for a more interactive and visually attractive setup, GGPoker is going to be best for you. The GG software has lots of things that other poker sites don't have yet, like straddling, and bad beat jackpots, and they're also partnered with the World Series of Poker to offer online satellites.
There are also tons of ways to customize your avatar and the tables you play on.
On the iPhone, Android, and personal computers, GGPoker offers one of the best player experiences, by far.
How Do 888poker's Tables Look and Perform?
888poker's got very smooth PC software – and they need it to handle the high player traffic on their apps. Everything loads quickly and crashes are no more common than on any other app.
You can play up to 6 cash game tables at once, with no limit on MTT tables. Tables can be customized, but there are limited options. There aren't many frills or features, but the fundamentals are there. It's very uncluttered, which might make it look dated.
Aside from No-Limit Holdem and Omaha cash games, 888poker has lots of different MTT types, which we wrote all about in our complete 888poker guide.
Cash game and MTT tables are 6-max or 9-max, while Blast spins are 3-way.
Get More Functionality from the 888poker App
If you want to get even more out of 888poker's application, you should try 888Caption. This tool will make any regular poker player's life easier by customizing a lot of different things:
Custom bet sizes and raise sizes, including 3-bet and 4-bet
Custom open raises
Betting hotkeys (a huge time saver for a regular player)
Choose to bet as a % of the pot or in the number of big blinds
The 888poker App for Mobile Devices
The 888poker mobile app will work anywhere that has wifi, but make sure you've got a solid connection. You can start SNAP and Blast games, regular cash games, and MTTs.
You can play 4 tables at once in portrait mode and cycle between games quickly.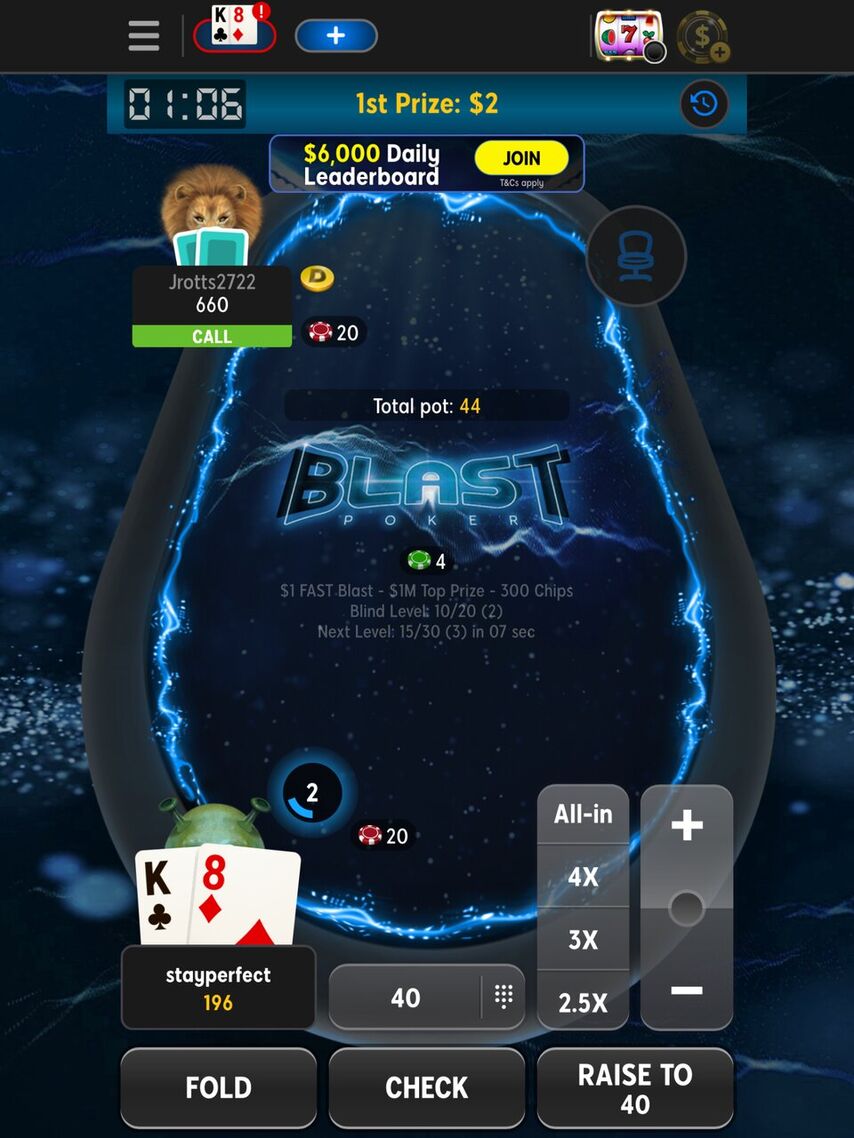 The buttons on the application are well-sized and it's convenient to use with one or two hands.
If you want to download the iPhone application, just head to the App Store and search for 888poker.
If you need the Android APK, you can either visit the 888poker website or your chosen APK site, like Google Play which has over 100,000 downloads.
Unfortunately, you won't be able to review hand histories or take notes on players with the mobile app. Some Android users have noted that the app isn't as quick as it should be, but that may be a software issue on an older smartphone model.