"Poker is a game where you can do everything right, and have it end so wrong" – Norman Chad. The WSOP commentator and recent Poker Hall of Fame nominee said this during the old ESPN broadcast introductions, and what Chad was speaking of is one of the main things that will often drive poker players crazy, both pros and amateurs: the dreaded bad beat.
What is the Bad Beat in Poker
Simply put, a bad beat is when you have a big lead in a hand, but then your opponent hits an unlikely card to take over the lead. A bad beat can happen at any time during the hand, but the term is usually reserved for the turn and river, as the odds decrease with every card for the players who are behind, thus making the beat that much worse based on the odds. However, it can also occur if players get the money in preflop.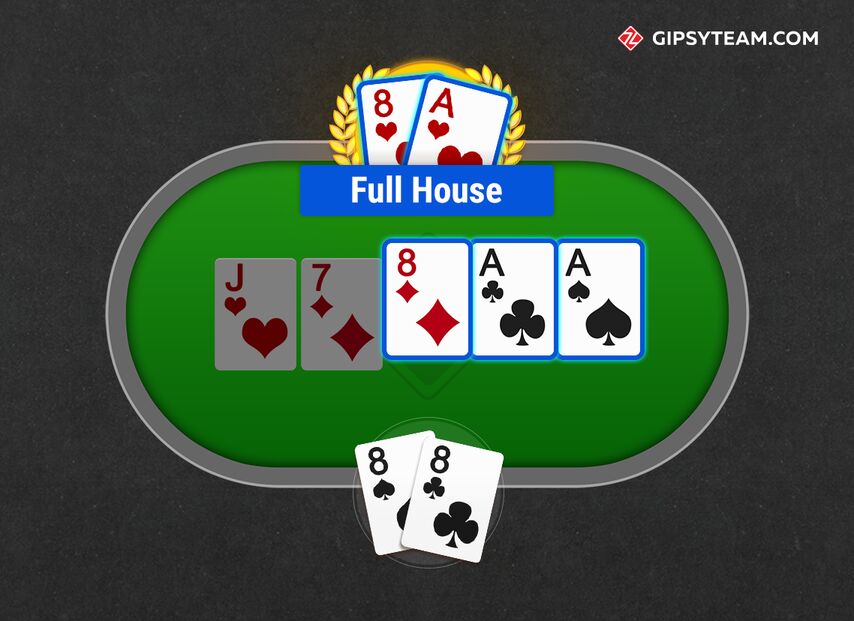 The Math Behind Bad Beats
This is just one of the examples of a preflop bad beat. Say you are all in with QQ, and your opponent has 1010. You have an 80% chance of winning the hand at that exact moment, and if the flop comes all low cards with no backdoor draws, you are then 92% favorite to win the hand. If the turn is also clean, your opponent will only have a 4% of hitting their ten, thus putting a bad beat on you. Of course, the 20% preflop chances do come in every so often when you are playing on sites like AmericasCardroom, GGPoker, and PartyPoker. Otherwise, bad beats wouldn't exist in poker.


Long-running room with lively cash games and eight-figure MTTs
GT Bonuses


Bitcoin and US-friendly room that allows HUDs
GT Bonuses


Global crypto-only room with bad beat jackpots and weekly leaderboards
GT Bonuses
Bad Beat Jackpot
Many poker rooms have taken advantage of these unfortunate bad beats by adding a bad beat jackpot to their cash games. The jackpot will often have specific rules to make it applicable. Players normally have to use both cards in their hand, and there is a threshold on the hand ranking for each player at showdown (usually at least a full house against four of a kind or better) Normally the losing player in this hand would get 50% of the jackpot, the winner gets 25%, and all other players who took part in the hand split remaining 25%. These jackpots make cash games more appealing for many players, as bad beats in MTTs get you nothing but a story, as these following players know all too well.
Some Terrible, Televised Bad Beats
Last year, PokerStars created a video compilation of some examples of the worst beats ever on their streams. Breakdowns of each of the hands, along with the percentages to display how bad the beats are, can be seen below the video.
Gerald Karlic Ace-King vs. Dominik Panka Ace-Queen
The two players get all the chips in preflop, where Karlic holds a 72% advantage. That lead catapults to 88% [Js][6h][2h] ensuring hardly any backdoor outs. A three came on the turn, meaning that Panka will only win 5% of the time, and this was one of those 1/20 shots comes in, the [Qs]
Eric Assadourian Ace-King vs. John Juanda Pocket Kings
In the next hand, poker legend John Juanda was in prime position to score a double up, holding pocket kings, dominating the Ace-King shown by Eric Assadourian. Neither player knew this, but another ace had already been folded, giving Juanda a near 4:1 odds advantage. A blank flop and turn, meaning only two aces in the deck could save Assadourian, a 4% chance. Well, you can probably guess what came.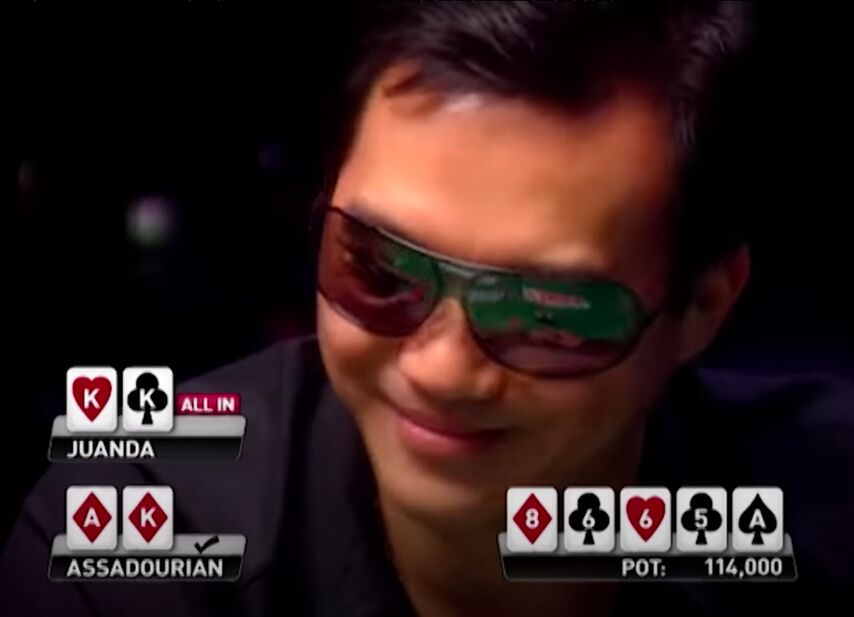 John Dibella Pocket Nines vs. Lee Goldman Pocket Kings
In an older PCA Main Event, Lee Goldman looked poised to score a crucial double-up with pocket kings, against the pocket nines of John Dibella. Oddly enough, two other pocket pairs, pocket fives and pocket tens, were folded preflop. The flop came six high, and the turn was a blank, pushing Goldman's edge from 75% to 95% by the river. But then, disaster struck, as the [9h] came down.
Vanessa Selbst Pocket Fours vs. Kevin MacPhee Ace-Nine
This particular hand is unlike any of the others on the countdown, in the sense that it ends up being simply a coin flip preflop. However, it is surely a fascinating a hand between two players that had a clear history at the time, In this hand, Selbst ends up six bet shoving with a small pair, and MacPhee talks himself into a call with just Ace-Nine. An ace on the flop sealed the hand for MacPhee, and sent Selbst on a now somewhat infamous rant.
Joeri Zandvliet Ace-Nine vs. Robert Csire Ace-Queen
The last hand shows just how much of a roller coaster some hands can be. At a UKIPT final table, Robert Csire's [As][Qd] looked great to score a double up against the eventual champion Joeri Zandvliet [Ah][9h]. Csire was 65% to win preflop, but he actually fell behind after the [Kh][Jh][Jc] flop brought flush draws and chop outs for Zandvliet. The turn was a blank to give Csire the lead again, but the brutal [9d] completed the board, sealing a wild bad beat, and propelling Zandvliet to a six-figure score for the win.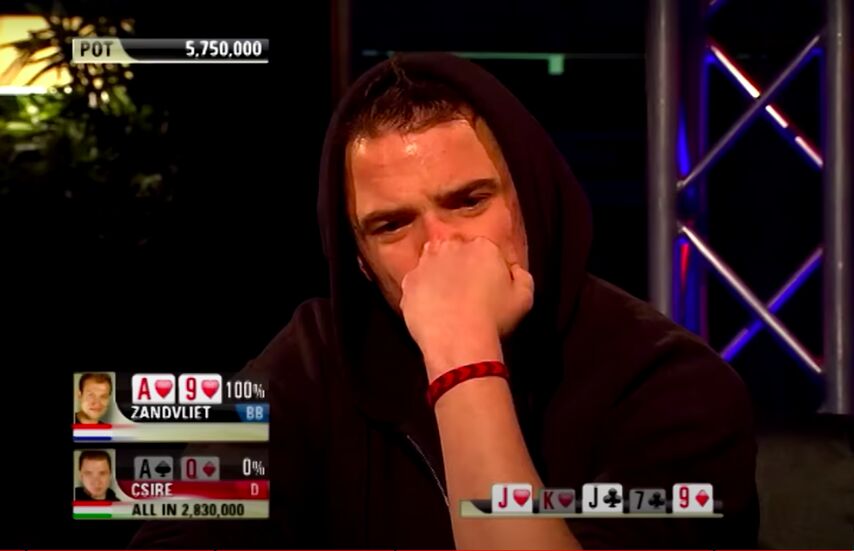 How to Deal With Bad Beats
The unfortunate reality is that bad beats are an inevitable part of poker. It will be impossible to play one lengthy cash game session, or play a handful of Multi Table Tournaments, and avoid suffering a bad beat. Most amateurs will go on tilt after a bad beat and have it affect their play in future hands. That is often what separates the top pros from even the average pros, as those who are able to put bad beats out of their head quickly will enjoy more long-term success. Learn to control your emotions after a bad beat, take advantage of those who cannot do that, and you will see a boost in your results over time.