What is a fish in poker and where does the term come from?
In the ecosystem of poker players, a fish is a less-skilled player who isn't winning the majority of their sessions. A fish might not understand the game of poker enough and probably doesn't spend time studying to improve.
A fish is not a nice thing to call another player, but despite that, it's a common term to use. Some poker sites even let you throw fish emotes at other players, which shows how well-known this term is.


Long-running room with lively cash games and eight-figure MTTs
GT Bonuses


Bitcoin and US-friendly room that allows HUDs
GT Bonuses


Global crypto-only room with bad beat jackpots and weekly leaderboards
GT Bonuses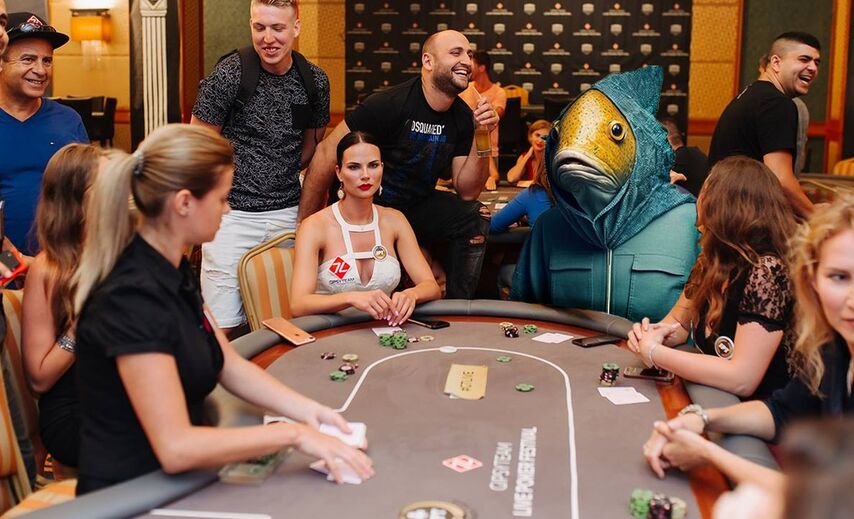 There aren't as many fish in high-stakes games. Fish generally swim from table to table at mid to low stakes.
Let's clearly explain the meaning of being a fish in poker (plus sharks and whales) and then talk about exploiting fish in poker games.
Fish, Sharks, and Whales in Poker
A fish is a weaker player who hasn't developed a firm understanding of poker theory and probably doesn't use a well-thought-out strategy. At one point, every poker player was a fish. It's a poker stepping stone that nobody gets to skip, but some players never graduate to the next level.
You might see a fish making strange bluffs, folding very often preflop, and even ignoring their position at the table. Most fish love to see flops and try to make hand combinations with tons of different hole cards.
A shark loves everything about a fish. With a higher skill level and more experience, they boost their win rate by playing against fish. In a nutshell, this is the poker economy. What separates a shark and a fish is usually practice, self-study, and table selection, among many other things. Fish can become sharks eventually, if they care enough to study the game.
A whale is like a fish, but with a seemingly limitless bankroll. They are a rarer sight, but you'll know when one is at your table. Whales show fearlessness and don't mind calling bets with very little equity. To them, the money at play might be unimportant, which influences their "strategy" a lot. Their strategy is usually to see as many flops as possible, with very little consideration about hand selection or VPIP.
You'll find the highest concentration of fish and whales at the larger poker sites. Strong marketing, promotions, and related businesses (like casinos or sports betting) bring a lot of recreational fun-seekers to the poker tables.
5 Ways to Find Fish at Your Table
There are 5 ways to spot the fish at your table, sometimes instantly if you're using a HUD (heads-up display).
1. Color labels and player notes.
On every poker site, you can highlight players with a range of different colors. You might highlight the sharks in red and the fish in green, or vice versa. You can combine these color labels with written notes to help you remember the specifics of a fishy player.
2. High VPIP and low PFR stats on a HUD.
Hopefully, you're playing on a poker site that allows heads-up displays. The information you get is extremely valuable and can help you identify different kinds of players instantly. A fish will generally have a high VPIP (30%+), meaning they enter lots of pots. Their PFR (pre-flop raise stat) will be low, maybe around 5%.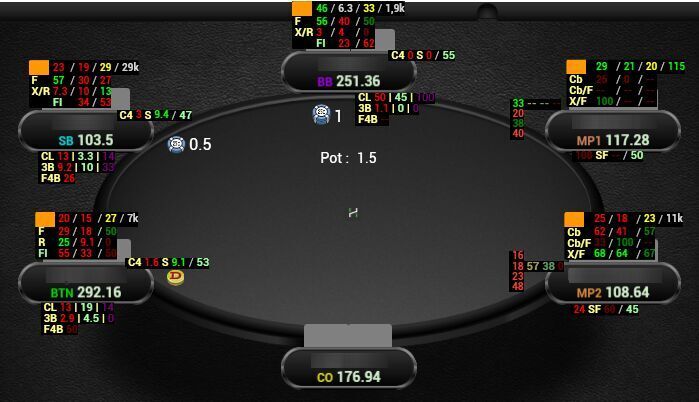 3. Super-passive play style.
Playing passively means that a player doesn't take many aggressive actions like raising or 3-betting. Fish are usually passive and will be happy to call bets, hoping to connect with the board, but not being aggressive until they do.
4. Unbalanced raise frequencies.
Fish usually don't understand balance in poker – meaning the strategy of mixing different kinds of hands. For example, raising with a diverse range of draws, and logical blocker cards, instead of only raising with premium hands.
5. Strange bet and raise sizes.
Fish don't usually have a clear strategy when they make bets or raises. You'll see them choose lots of different sizings, probably, without understanding why. Sometimes the size of these bets is very expressive because the fish usually have a simpler perspective on bet sizes. Small bets when they have a strong hand and want callers, would be one example of that perspective.
Get a better understanding of poker math to become more of a shark with each session.
How to Play Against Fish in Poker Games
Playing against fish in online poker or live games is your bread and butter as a player. You need to know how to find these players and then maximize your win rate.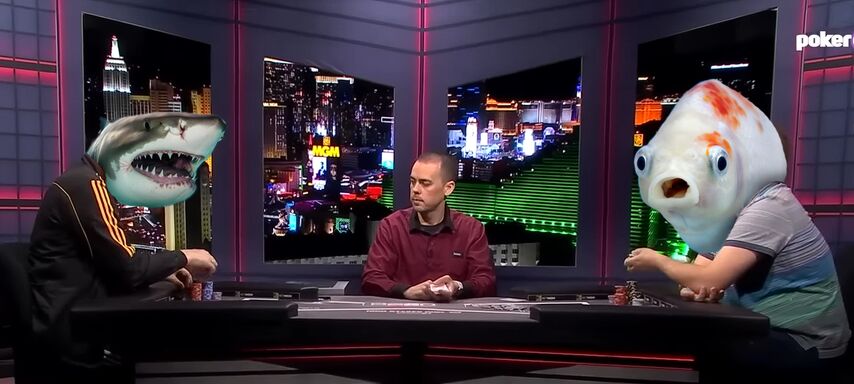 Don't get too complicated with a fish.
You've got to remember that your fishy foe is playing predictably, so your complex bluffs and value bets might not work as you intended. Don't apply complex strategy to a player who doesn't understand it, especially with your bluffs. They might not be aware of the hand you are representing.
Drive the action, because the fish won't.
Since fish are generally passive and prefer to call, call, call, you should be betting to generate value. You can play strong and mid-strength hands more aggressively to get paid by the fish's weaker range. The chances of getting raised are low – but if you do get raised – you've got a bit of a problem. Fish aren't known for creativity, so a raise is often a reliable strength tell.
Use your postflop experience to outplay the fish.
Fish are more comfortable preflop, but as things get more complicated, they often misplay. Use the skill advantage you've got (from studying poker) to outmaneuver the fish postflop.
Fish play a wider range, so you should play a wider range too.
You should adjust to the fish's wider-than-average range, meaning you widen your own. Since you will be more familiar with different spots, you can play this wider range more effectively than the fish.
Don't underestimate the power of tilt.
Fish can be easily frustrated when things don't go their way or they get a bad beat. Take advantage of this moment by playing strong hands even more aggressively and milking the most value from the fish.
Get into the action with fish in freeroll poker tournaments. You'll be surrounded by the same kind of player we've written this article about – and it won't cost you a cent to enter. You get the chance to practice playing against fish, plus a shot at real cash prizes, meaning that there's nothing to lose (but lots to gain).
You can check our freeroll schedule or visit partypoker and sign up for the hourly Round The Clock freerolls. The prizes range from $50 to $200 and there are 24 events every day.