A sign up bonus can make your bankroll bigger and reduce the rake (poker room commission) for a short time. It's one of the big perks of joining a new poker site, but some promotions are for all players – not just new ones.
GGPoker has a few different ways to give their players rewards. We're about to show you several promotions running right now, available whether you are new or a long-time regular on GG.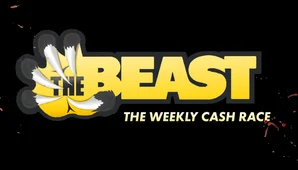 It's these GGPoker promotions, fantastic poker software, and unique games that have built GGPoker's player base into one of the biggest in the world.


Long-running room with lively cash games and eight-figure MTTs
GT Bonuses


Bitcoin and US-friendly room that allows HUDs
GT Bonuses


Global crypto-only room with bad beat jackpots and weekly leaderboards
GT Bonuses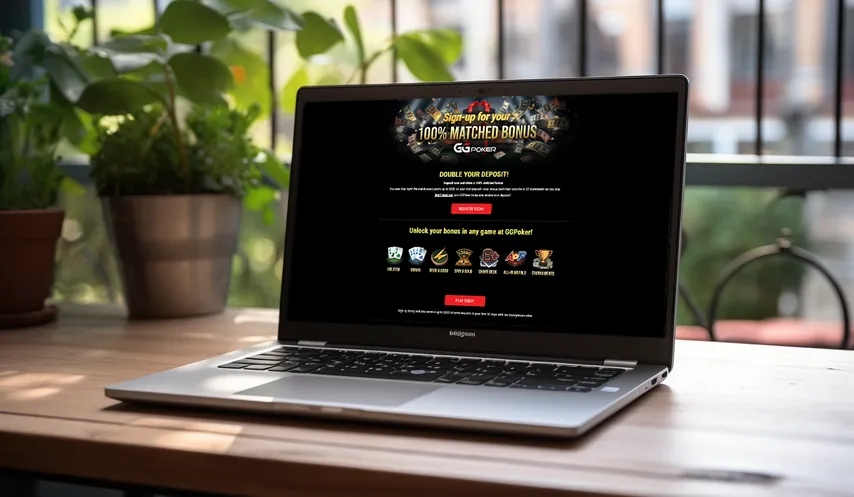 Become a GGPoker Player First
Before you collect promotions, you've got to create your player account on GGPoker.
The process is super simple and should only take you a few minutes. When you follow that link, you'll see a red button that says Register Today. Click on that and fill out your information to become a GGPoker member.
When you complete the registration steps, you will see a Download button so that you can get GGPoker's software. It's available on Windows and Mac computers, plus mobile devices.
Rewards for New Players on GGPoker
Your first deposit at GGPoker can get a big boost, without much effort.
Every poker room wants you to sign-up and start playing, but GG has more to offer than most rooms.
The Two Welcome Bonuses for New Players at GGPoker
You can choose between two bonuses when you first make your deposit to GGPoker. To be eligible, you need to deposit $20, and then make your choice. There is no code for this bonus, just select your option at the cashier.
It's up to you: Either a 100% matched deposit bonus OR $100 in rewards.
Option 1: The 100% Matched Deposit Bonus
Matched bonuses are fairly standard promotions for poker rooms. When you deposit $20 or more (up to $600), you get that amount matched, but the money isn't fully unlocked right away. If you deposit $20 and GGPoker matches it, you will get your matched bonus cash in small increments as you play more poker. (90 days maximum to unlock)
Option 2: $100 in Rewards
Players who don't want to unlock their rewards slowly can choose $100 in rewards. Over 6 days, you will get different rewards credited to your account, which are ready to use right away. GG has set challenges for this bonus, like playing a certain number of All-In or Fold hands. If you want to collect the full $100 in rewards, you'll have to complete the challenges.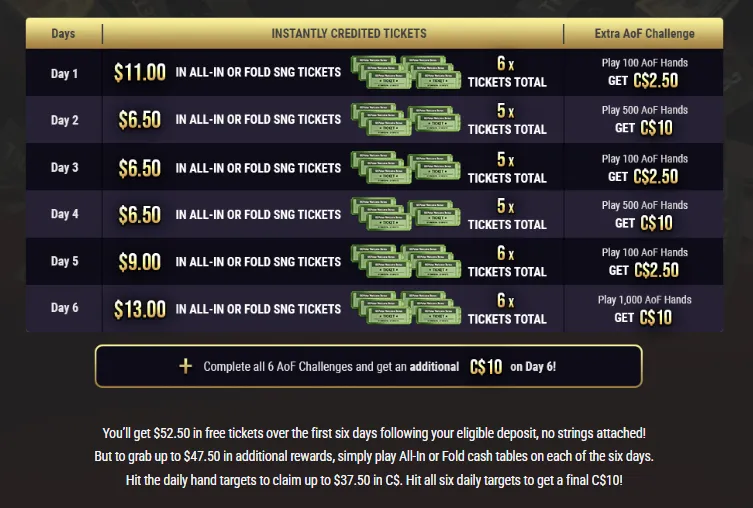 The 30-Day Honeymoon Promotion
When you sign up with GGPoker, you will be offered something called a Honeymoon promotion.
This is a no deposit bonus that will ask you to complete challenges over 30 days. If you complete every challenge, there is $350 in rewards you can collect – but that is almost impossible. Some of the challenges on the final days are extremely difficult, so don't expect to collect the full $350 in rewards.
Still, there is a lot of free cash on the table for completing the easier challenges, like playing 50 Texas Holdem hands or winning with a full house. Every day of the honeymoon, you'll see a different challenge and a reward for completing it.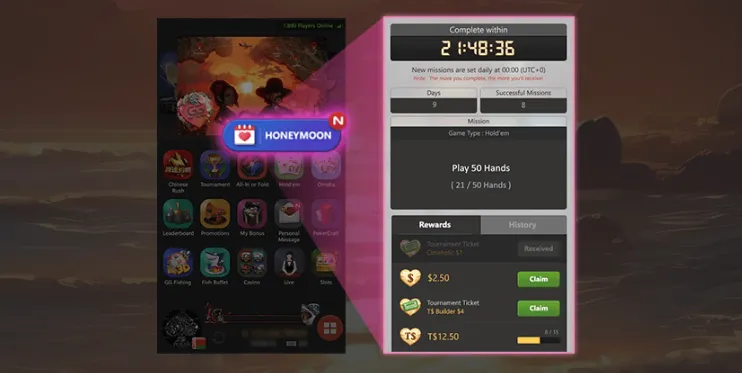 You can start your 30-day Honeymoon with GGPoker by opting-in (no code required). If you don't click the Honeymoon button your home screen, the promotion won't start – so make sure you opt in.
Something else that poker players should be opting-in for is freerolls! Visit our schedule to see which rooms are hosting freerolls today and get into the action. These tournaments are free to enter, but you could walk away with cash or real money tournament tickets.
Rewards for Existing Players on GGPoker
If you already made a deposit and claimed your welcome bonus, you might be wondering if there is any promotion you can use.
GGPoker doesn't have a reload bonus at the moment. If there is a reload bonus in the future, GT+ members will be notified straight away.
Instead, GGPoker has its own loyalty club to reward the regulars.
GGPoker Loyalty Club: The Fish Buffet
When you create your GGPoker account and start playing, you'll automatically join the Fish Buffet.
Everyone starts as Plankton (the lowest tier of the Fish Buffet) with 15% rakeback, but you can work your way up to Goldfish, Shrimp and Sharks, collecting more and more rakeback with every new tier you reach.
The more rake you contribute, the higher your Fish Buffet rank will go. At the highest tiers like Whale, Shark, and GGPlatinum, you can get between 40% and 60% rakeback.

Once you build up enough points, you'll get to spin the wheel for your reward (or a higher reward). If you prefer, GG also gives you the option to choose a fixed cashback structure that pays out every week.
Daily Freebies
Just for logging in, you get to claim a free reward from GGPoker. Each day of the week, you'll receive a $0.25 Spin and Gold or Battle Royale ticket – except for the bigger $1 ticket on Saturday.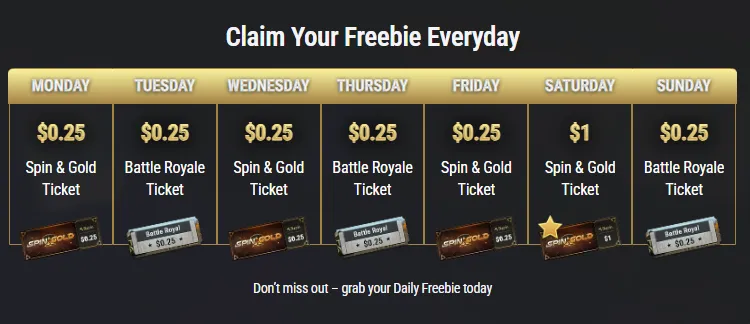 These daily tickets are a nice gift from GGPoker, but if you're really looking for ways to play for real money, then play in partypoker freerolls. There are 24 each day, with prizes of $50, $100, and $200.
Open the partypoker software and search for Round the Clock free tournaments, which start every hour.
GGCare and GGCheers
If you're having a very bad day at the poker tables and your opponent just hit their miracle card to win the pot, you don't have to go emptyhanded.
Anytime you suffer extraordinary bad beats or impressive victories, you can be automatically added into a Daily $100,000 Flipout tournament. Since it's a flipout, every player automatically goes all-in until the winners are crowned.
Essentially, GGCare and GGCheers give you a freeroll for a huge prizepool.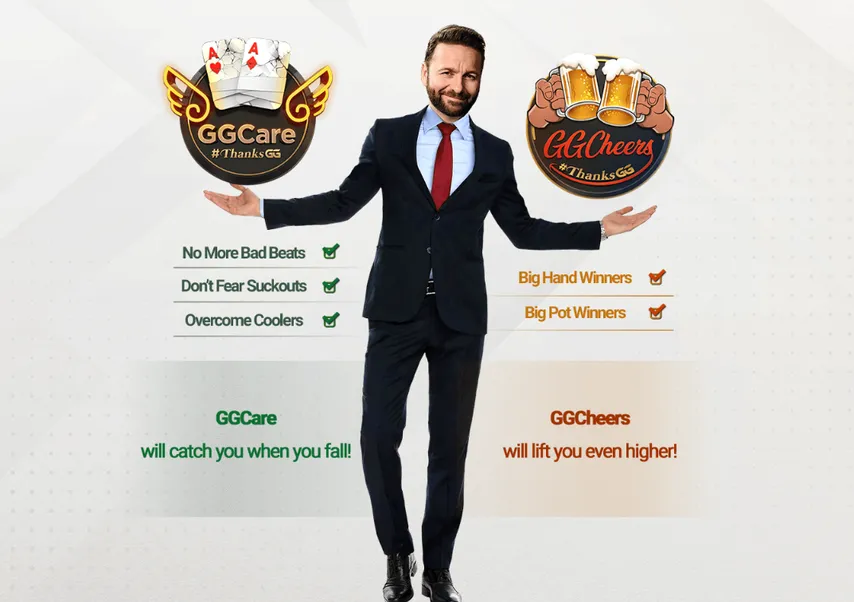 MTT Bubble Protection (Save Your Buy-In)
Registering early for a real money MTT on GGPoker gives you a big advantage called Bubble Protection.
Nobody likes the fear of busting from an MTT on the bubble, just before the money. However, if you register early for an MTT on GGPoker and bust out on the bubble, your buy-in is safe!
This protection is cost-free and will make you whole in case you get eliminated on the bubble. All you have to do is register for the start time of an MTT.
Bubble Protection is available for these tournaments:
Daily Guarantees
Bounty Hunters (excluding Speed Racers)
Omaholic
Chinese Zodiac
GGMasters