There's insurance for vehicles, homes, and blackjack, but what is insurance in poker?
In poker, insurance is something that cash game players can do to protect their money when they are the favorite to win the hand (meaning they have a higher probability of winning than their opponent).
Traditional poker insurance comes from live cash games, and it has an agreed payout and premium, meaning the cost of insurance.


Long-running room with lively cash games and eight-figure MTTs
GT Bonuses


Bitcoin and US-friendly room that allows HUDs
GT Bonuses


Global crypto-only room with bad beat jackpots and weekly leaderboards
GT Bonuses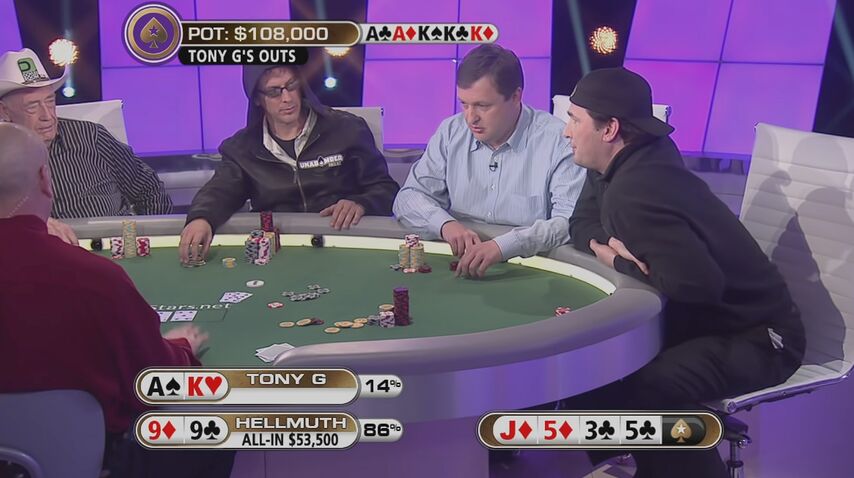 In online poker, you'll see insurance features called "cashout" or "payout" in ring games, but never tournaments. You'll get this insurance option in cash games on major poker sites when you are all-in against opponents. It means you can get paid for your equity (% to win) right away, minus a small fee, and avoid a bad beat.
Clear Definition of Insurance in Poker
How does poker insurance work?
Insurance is offered by the house (game operator) or another player. In live games, you'll usually hear a proposition to get things started, like "Do you want insurance?" or "Can I get insurance?".
Insurance doesn't affect the outcome of the game, which is why anyone can offer insurance – even the player you are playing against. Insurance is never offered in tournaments, just in live cash games, usually at very high stakes or in televised games.
The game has to pause while players agree to the terms, which include:
A payout: the amount the insurer will pay you if you lose the hand.
A premium: the amount the insured player has to pay if you win the hand.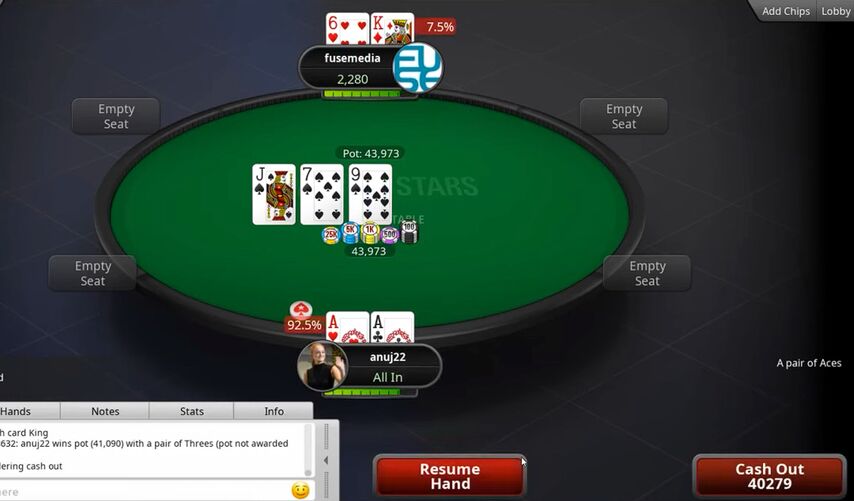 When you play online poker, you'll never have the option for insurance – but you will find something called "cash out" on some poker sites, PokerStars. With this feature, you can instantly win the percentage of the pot that matches your equity. So, if you are 80% to win the hand, you can take 80% of the pot (minus a small fee) and avoid a bad beat.




BetOnline
Bitcoin and US-friendly room that allows HUDs


CoinPoker
Global crypto-only room with bad beat jackpots and weekly leaderboards
Register using this link to get access to GipsyTeam bonuses:
Increased first deposit bonus
Increased rakeback and reloads
Help with deposits and cashouts
Access to closed freerolls
Round-the-clock support
Insurance for Spin & Go Games
You usually can't get any insurance in spin-and-go tournaments – or any tournament for that matter. At GGPoker, you can get insurance on the buy-in for the spins.
If you're playing Spin & Gold, you will see two options as you're registering.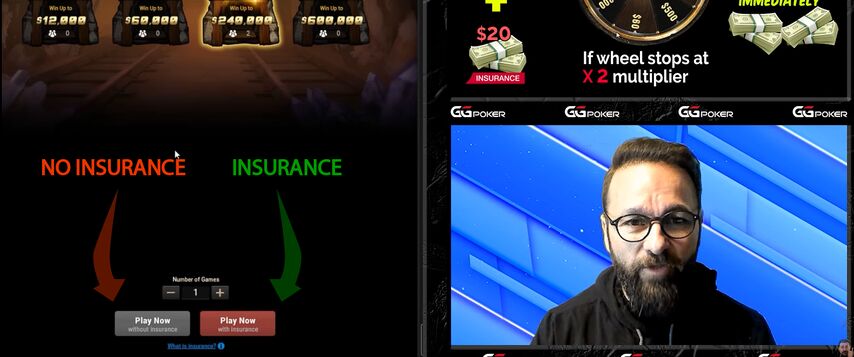 Let's say that you want to play a $1 3-player Spin & Gold and you are about to start.
You select Play Now with Insurance and the game begins.
The prize is a 2x multiplier, so you instantly get paid $2. That's $1 for your insurance payout and $1 for your buy-in to the Spin & Gold. You can still win the prizes on offer.
If the prize multiplier is a higher number than 2x, you don't have any insurance and the game keeps going normally.
In a $1 6-max Spin & Gold, you need to spin a 4x prize multiplier to get your insurance payout (your $1 insurance + your $1 buy-in = $2). You can still win prizes, of course.
How Do You Calculate Insurance Payouts and Premiums?
Your equity (probability of winning) is used to calculate payouts and premiums for poker insurance.
If you have a higher chance of winning the pot, you will need to pay a smaller premium – meaning that you will only pay a small amount to get insured, but your payout will be larger. That's because you are likely to win, so the insurance shouldn't cost much. On the other hand, a bad beat should be more rewarding since it's more unlikely.
Simple Example of How Insurance Works
You are playing against one other player and both of you are all in.
There is $1,000 in the pot and you have 80% equity against your opponent.
You ask for insurance and the other player agrees. Here are the terms:
If you are the winner, you will pay them $200 from the pot.
If you are the loser, your opponent will pay you $800 from the pot.
That's a very simple example of insurance, with payouts and premiums that are directly even with your equity in the hand.
Most of the time, you'll have to pay the insurer a little extra just to make it worth their while. Don't expect to get direct odds.
While you're reading this article, you could be playing in a freeroll poker tournament at the same time! Compete for cash and gain some experience at the same time. Check out our schedule and see which free tournaments are running today.
Should You Use Insurance in Poker?
Pro poker players sometimes use insurance, but it's not too common – and here's why.
Insurance would be great if the person insuring your hand would give you increased equity or at least direct odds, but that's not usually the case.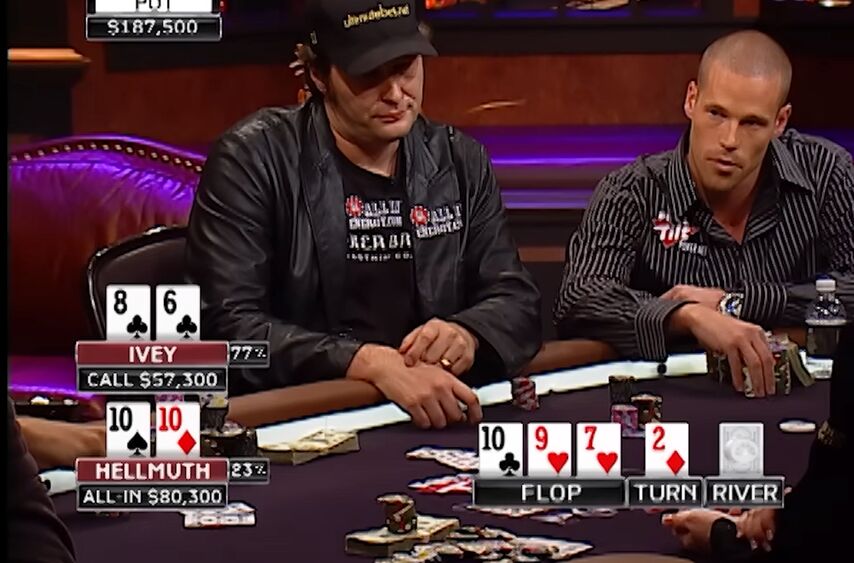 Oftentimes, you will be offered deals that give you less equity than what your hand actually has. This means that in the long run, taking insurance deals will hurt your EV (expected value).
Insurance can help you avoid variance – but it will hurt your EV over a long enough time period. Variance in poker is unpredictable, but accepting lots of insurance deals where your equity is lowered will rob you of profit.
If your win rate chart looks healthy enough in a live poker game, you might consider insurance in some of the larger pots to protect from variance. In games where you don't have a massive edge over your opponents and the edge is small, don't lose extra edge but accept insurance (because the lowered equity in the insurance deal will only decrease your already-lower win rate).
You'll have to understand your win rate by using a chart or tracking software, but you should probably be measuring your success (or lack of it) in your chosen game.
Can Online Poker Players Get Insurance?
While poker insurance isn't available online, there is a feature called "cashout" or "payout" that does something similar.
Insurance protects from negative variance, just like an online cashout. If you are playing a cash game on PokerStars or GGPoker, you can use this feature to get paid your (almost) exact equity from the pot.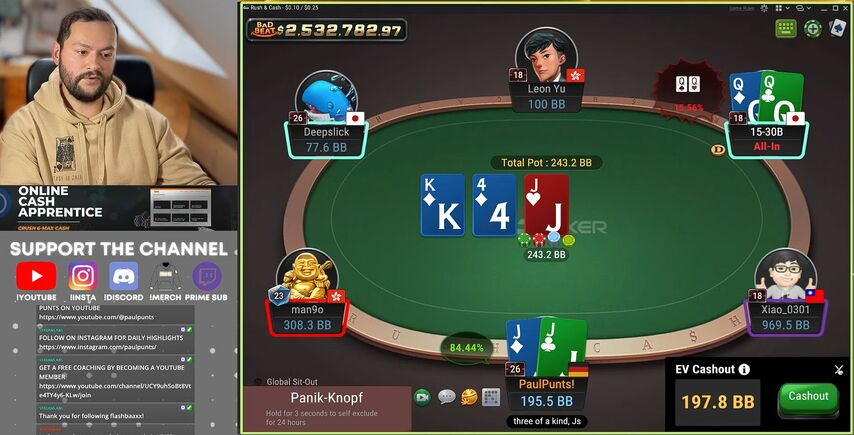 On GGPoker, the cashout is only available to the player with the equity advantage. On PokerStars, it's available to all players.
Let's imagine that a couple of pro poker players like Daniel Negreanu and Fedor Holz have gone all-in and the pot is at $1,000. The cards get flipped over and Daniel has 25% equity, while Fedor has 75%.
Mr. Holz doesn't want to deal with any variance, so he clicks the Cashout button. He instantly wins 75% of the pot, minus a small fee of around 1%. This means that he gets to collect $750 (minus the fee) and he doesn't risk losing the full pot to Daniel Negreanu.
Even if Fedor wins the pot, he can only get paid 75% once he clicks Cashout. If Daniel decides not to cash out his equity, he can win 100% of the pot if he gets lucky. Alternatively, he can cash out 25% of the pot.