Celebrities playing poker is far from a rare occurrence. Ben Affleck famously won the $10,000 buy-in California State Championship in 2004 for over $355,000, and every year at the WSOP, you are bound to bump into a movie star or musician who loves poker. One of those players could be none other than Tobey Maguire. The former Spider-Man actor is widely known to play both at the casinos and in private games, and there is even speculation that a character in the poker movie "Molly's Game" is based on Maguire. Learn more about the actor and his poker past below.
Maguire's Hollywood Run
Maguire was born in June of 1975 in Santa Monica, California. He first appeared in a Hollywood movie The Wizard, when he was just 14 years old. He was in a handful of small roles through the rest of the 1990s, but he catapulted to stardom when he was cast as Spider-Man in 2002. He would play the role in two more films in that franchise, and he recently reprised the role in 2022's Spiderman: No Way Home. It is in this era of his Hollywood phase that Maguire really started to get into poker, and started to play in some of the biggest underground and private games available.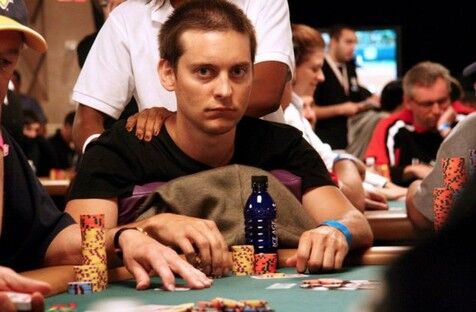 Live Poker Results
Maguire has earned $218,898 in tournament winnings according to Hendon Mob. Nearly half of that came with his biggest live score of $95,480, which he earned by winning a $2,000 buy-in Phil Hellmuth Invitational at the Hollywood Park Casino in 2004, where he defeated a field of 123 players. He also has three WSOP cashes, including his last live tournament score, a 292nd place finish in the 2007 WSOP Main Event for just under $40,000 adding to his overall winnings. Maguire's biggest poker scores can be seen in the table below.


Long-running room with lively cash games and eight-figure MTTs
GT Bonuses


Bitcoin and US-friendly room that allows HUDs
GT Bonuses


Global crypto-only room with bad beat jackpots and weekly leaderboards
GT Bonuses
| Year | Event | Place Finished | Prize Money |
| --- | --- | --- | --- |
| 2004 | $2,080 Phil Hellmuth Invitational | 1st | $95,480 |
| 2007 | $10,000 WSOP Main Event | 292nd | $39,445 |
| 2005 | $10,000 Bellagio Cup Event | 8th | $22,885 |
| 2004 | $2,500 Fiesta Al Lago Event | 4th | $17,967 |
| 2004 | $10,000 Mirage WPT Main Event | 24th | $16,201 |
It helps to answer the question: Is Tobey Maguire good at poker? At the same time, he built up quite a reputation for himself, and not just at the green felts at the WSOP or at various casinos in Los Angeles, like the Bicycle Casino, Commerce Casino, Hustler Casino, and others. There's even a chance that in the heart of the poker boom, you might have run into Maguire on the online felts on sites like Pokerstars, PartyPoker, or 888poker.
However, Maguire was most known for his involvement in private Hollywood games, so much so in fact, that a movie was made about them. While he "only" made over $200,000 in recorded earnings, Maguire has won tens of millions in these private games.
Connection to Molly's Game
While Maguire did not appear in the poker movie Molly's Game as an actor, he found a way to be involved in it, at least according to many associated with the project. The movie starred Jessica Chastain as Molly Bloom, who organized and ran high-profile private poker games for some of Hollywood's biggest stars. Michael Cera played a character simply titled "Player X" in the movie. He was one of the regular players who was a handful for Chastain to work with, often causing her headaches with his outlandish demands for the game.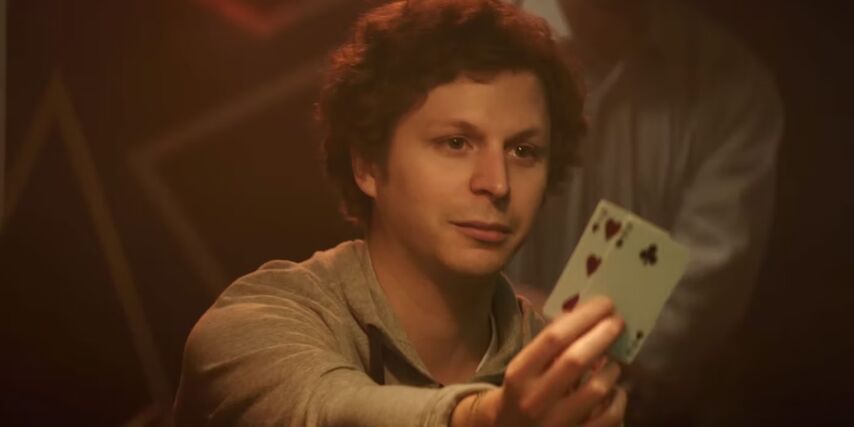 There are even rumors of a story where Maguire offered her a $1,000 tip, but first, he demanded that Molly bark like a seal. It is widely believed that this character is based on Tobey Maguire and how he often acted while playing in these games. It was not the only scandal Maguire would find himself in over the years.
Other players in Maguire's games were no strangers to controversy themselves. Brad Ruderman was a healthy hedge fund manager who was a regular in Tobey Maguire's poker game. It's rumored that he lost millions over his time spent at the tables, including some of it to Maguire himself.
It turns out there was a big scandal here, as Ruderman was running a Ponzi scheme, which eventually got the attention of the FBI. During the investigation, Ruderman claimed to have lost about $25 million of his investors' money on the green felt. As a result, Maguire was at one point sued for $300,000 to try and recoup the losses from one jilted investor. It's believed Maguire settled for $80,000, using some of his winnings from the game to pay it out. It's safe to say that if you want to play in these kinds of games, you would benefit by studying up on the GTO tables to try and maximize your profit.
Tobey Maguire has largely disappeared from the limelight in recent years. Maguire's return in No Way Home was the first acting credit he was involved in more than four years, and even that role was simply a voice role in Boss Baby. Maguire has also virtually disappeared from the poker tables, at least the public ones. His last recorded poker tournament cash came all the way back in 2007. It is unknown if Maguire still plays in private games, but it wouldn't be a surprise considering his overall desire to stay out of the spotlight.