How many times have you walked through a poker room, and heard a poker player say one of the following: "Ahh you rivered me!" "I had you until the river." "My opponent always gets there on the river!" Or perhaps you've read the famous Barry Greenstein poker book, "Ace on the River." Learn more about the often pivotal river card below.
What is a River in Poker?
There are terms for every common card on the board in a hand of Texas Hold'em or Omaha. The first three common cards are called the flop, the fourth card on the board is the turn, and the fifth and final card is called the river. After the river, there is one more round of betting before the cards are exposed and the hand is completed.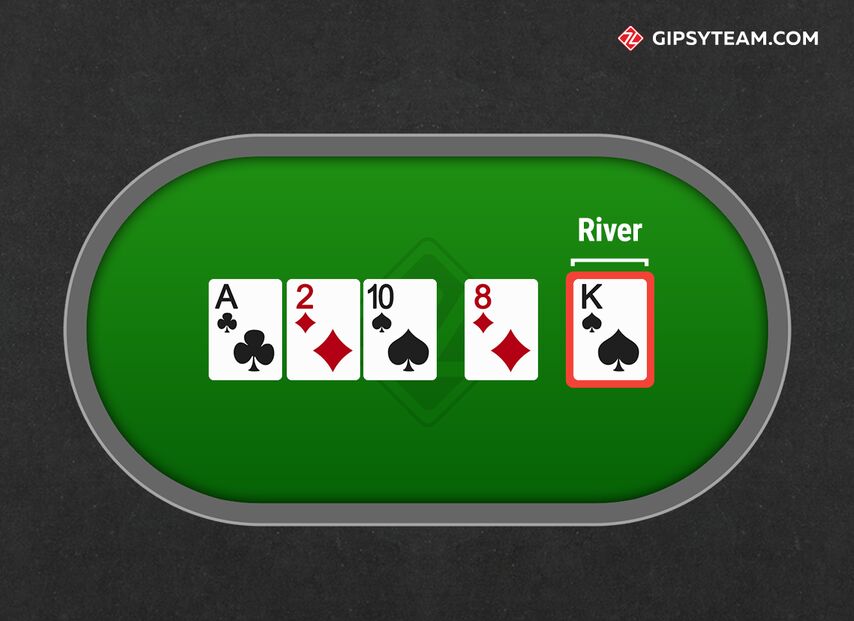 The river completes the board and usually drives the most action. Unwritten rules often say players with weak hands will look to bluff to win the hand now that all the cards are dealt, while players with made hands will be looking to extract value. Many a poker tournament has been won or lost on the river card, and not just always because the two players were already all in. There is a whole world of river strategy that has been honed and perfected by pros over the years, especially with the recent emergence of GTO solvers.


Long-running room with lively cash games and eight-figure MTTs
GT Bonuses


Bitcoin and US-friendly room that allows HUDs
GT Bonuses


Global crypto-only room with bad beat jackpots and weekly leaderboards
GT Bonuses
Strategy on Scary River Cards
It's difficult to give a blanket set of rules on how to handle certain river cards, because every hand will vary depending on stack sizes and style of play for each opponent. However, a quick way to improve your game drastically is to get comfortable bluffing scary river cards, often regardless of your stack size.
Say, for example, you make it to the river with a hand like pocket eights on a board that ran out [Jc][9c][2s][5h][Kc]. There's a small chance your hand was good going to the river, but now that virtually every draw has come in, you will likely have to turn your marginal hand into a bluff in order to win the pot. This is especially true if you are in position, and it is checked to you. If you aren't willing to bluff big on river cards like this, then maybe poker isn't the game for you. Skilled pros will balance their river bets well, meaning they will bet similarly when they make their big hands on the river in order to throw off their opponents.
A flush or straight coming in on the river isn't the only time that you should be looking to pounce on the river though. Say you make a three-bet in late position with a big hand like Ace-Queen, but the flop comes all low cards [6h][4s][2c]. If you want to continue to represent a big hand, you will have to be prepared to potentially fire three barrels. If you hit your over card, great, you can bet for value. But if the turn is a [10x] and the river is a [Kx], you still need to be ready to bluff. Obviously, your specific hand hasn't improved this time, but these cards are more likely to hit some of your three-betting range (AK,KQ,1010). You will need to make bets like these to get hands such as pocket nines or even pocket jacks from a tighter player to fold if you want to win multi-table tournaments on websites like GGPoker, PokerStars, and 888Poker.
Iconic River Cards Over the Years
Chris Moneymaker started the poker boom when he won the WSOP Main Event in 2003, and along the way, he hit a few big river cards. No river card was more important than the ace on the river he hit to knock out poker icon Phil Ivey in 10th place. If Moneymaker does not hit that river, it's very possible that Ivey would have won the 2003 Main Event, as he would have been one of the top stacks to start the final table. Instead, history was made in a completely different way.
Another WSOP Main Event champion who can credit a momentous river card to his success was 2011 champion, Jonathan Duhamel. On the road to the final table, Duhamel scored a knockout of Matt Affleck that many poker fans will never forget. Affleck shoved the turn with aces, Duhamel made a light call with jacks and a straight draw and hit a rather heartwrenching river card.
At the 2023 WSOP Main Event, a huge river bluff by Daniel Vampan has been making its rounds on Poker Twitter. His opponent, accomplished British pro Toby Lewis, had made the top flush on the river, but that card also paired the board, meaning Vampan could have had a full house. Instead, he had eight high, and got a massive shove through.
Our last iconic river card is not as iconic as the others mentioned, but it does perfectly encapsulate the ecstasy and agony of poker in a matter of moments. Poker pros Carter Gil and David Peredes were heads up on the turn when Gil talked Peredes into making a light call, saying "if you call you'll need a queen." Peredes called, he did in fact need a queen, but to Gil's surprise, that queen did come.
The river is often the most important card in each poker hand, so you will want to make sure you master these strategies in order to boost your profit margin at the tables. What was the worst beat you took on the river? Let us know in the comments.