Introducing PokerIQ, the ultimate preflop training online software designed to teach you how to play Hold'em. PokerIQ provides a well-equipped NL Hold'em preflop range trainer to assist players in improving their preflop skills. In this review, we will explore the main features of PokerIQ, highlighting its unique qualities and benefits for players seeking to enhance their game.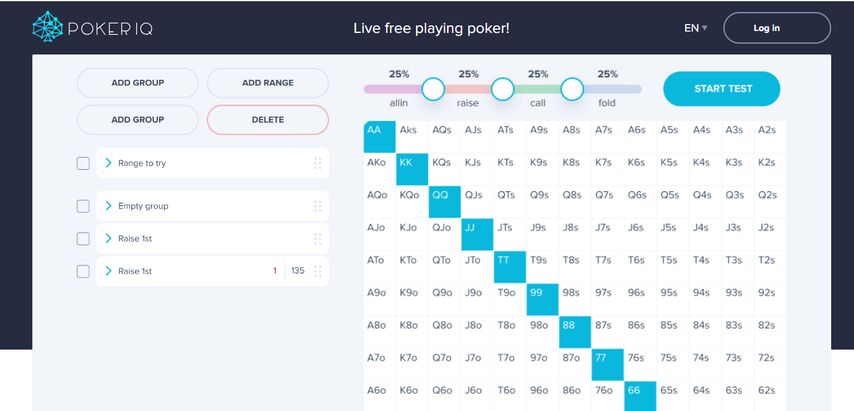 Compatibility
The PokerIQ Preflop Trainer is a flexible tool for improving your poker abilities that work with mobile phones and computers/laptops, meaning you can use the trainer on the road or at your desk. With mobile phone compatibility, you may practice your preflop strategy whenever and wherever you choose.
On the other hand, computer and laptop users can benefit from the PokerIQ Preflop Trainer's compatibility with popular operating systems like Windows, macOS, and Linux. Whatever platform you choose, the PokerIQ Preflop Trainer provides a fluid and immersive experience that allows you to develop your abilities and improve your game playing one hand at a time.


Long-running room with lively cash games and eight-figure MTTs
GT Bonuses


Bitcoin and US-friendly room that allows HUDs
GT Bonuses


Global crypto-only room with bad beat jackpots and weekly leaderboards
GT Bonuses
Multiple Stimulations
PokerIQ's effective training software provides many scenarios to help you become a more strategic player. The tool includes extensive training alternatives for each situation, whether facing a raise, making an open limp, open raise, 3bet, 4bet, 5bet, squeeze play, or a scenario with one preflop raiser and a caller. Executing these situations will give you significant insights into optimum techniques and a broader grasp of preflop dynamics.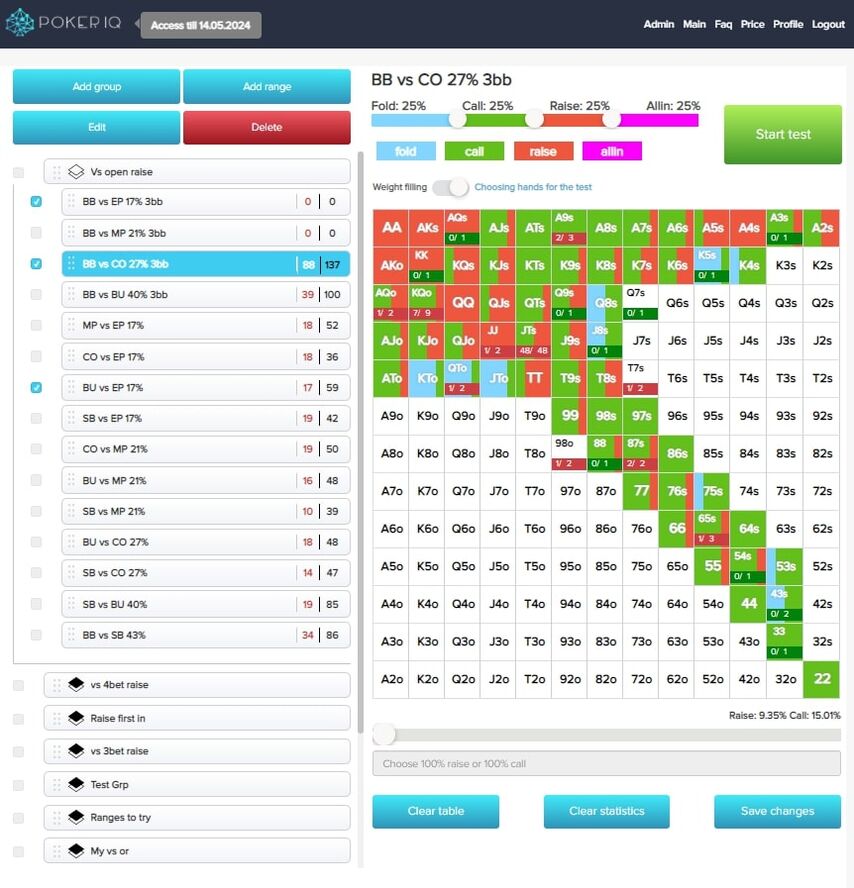 A more extensive hand breakdown of the software
The customizable features of the PokerIQ Preflop Range Trainer set it apart. You may change the size of the stacks, raises, color labels, and statistical data for the players at your virtual table. This degree of customization enables you to recreate dynamic hands, simulating issues you could face in real-life poker situations. You may concentrate on areas that need work and fine-tune your decision-making process by personalizing the training environment to your particular needs.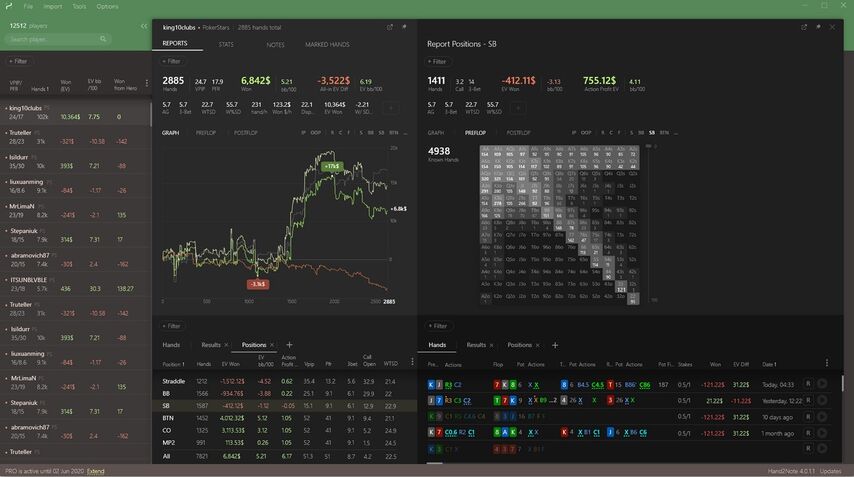 AmericasCardroom, PokerStars, and 888Poker are popular online platforms offering a range of options to play against players worldwide. The PokerIQ preflop trainer can be a valuable tool to improve your game and increase your overall win rate at these sites.
Saves Training Progress
PokerIQ's ability to record all training data is a notable feature, enabling players to pinpoint their faults and analyze their development over time actively. This feature gives essential information for efficiently refining one's poker abilities. Players may discover areas where they may be making errors or struggling by revisiting previous training sessions and evaluating the data, enabling them to make focused improvements. Furthermore, the ability to measure progress over time provides a feeling of success and inspiration since players can see how far they've progressed from their initial starting place. This detailed feedback system enables players to make informed choices and adjust their strategy as needed, resulting in a more confident and skilful poker player.
Flopzilla and Simple Preflop Holdem Integration
PokerIQ provides a beneficial option, enabling players to import ranges from popular programs like Flopzilla and Simple Preflop Holdem. This integration elevates the training experience to a whole new level, allowing players to assess and develop their preflop game in a fluid and fast manner.
Users may utilize the features of this smart poker software to analyze and grasp the subtleties of various hand ranges by importing ranges from Flopzilla. They may readily investigate the equity, potential, and playability of different positions, acquiring helpful information that will help them make better decisions at the table.
Similarly, the option to import ranges from another highly renowned poker program, Simple Preflop Holdem, further improves the training process. Players may evaluate their ranges to optimum methods, find leaks, and fine-tune their strategy to optimize profitability using its enormous array of pre-calculated GTO (Game Theory optimum) ranges. This integration allows you to combine the strengths of multiple tools, giving you a comprehensive toolkit for improving your preflop game.
Price and Download
Available for download on all devices, this trainer offers incredible value at an affordable price. For just $9 per month, you can unlock a world of possibilities. It allows you to create up to 1500 ranges and provides access to free ranges and regular updates to keep your game sharp. With a 7-day full refund guarantee, you can try it risk-free and review the tool before you decide to buy it. You can opt for the $7 monthly plan and save $24, or go all-in with the annual plan at $5 per month, saving a whopping $48. With the ability to create up to 15000 ranges, the PokerIQ Preflop Trainer is a must-have for any serious poker player.
Cons
Although PokerIQ has several excellent features, it still needs to improve in other areas.
Overemphasis on Preflop Play
While the pre-flop stage is undoubtedly essential, poker is a multi-street game. Players not practicing post-flop play may struggle to transition their preflop abilities to more comprehensive play. For instance, PokerIQ leaves players ill-prepared for the complex post-flop decisions, and the software may inadvertently create a lopsided approach.
No Real Monetary Consequences
Money is at stake in an actual poker game, and the dread of losing it can influence decisions. Practicing with play money in PokerIQ range trainer may not impart the same level of discipline required to manage your bankroll responsibly. This lack of consequence can lead to reckless decision-making in real games, so you should first use the app in online freerolls to get the hang of it.
Lack of Multiple Poker Variants
Another major drawback of PokerIQ is its limited scope, as it fails to incorporate other popular poker variants like Pot Limit Omaha (PLO).
In today's diverse poker landscape, many players are branching out beyond traditional hold'em and exploring other exciting games. By neglecting PLO and other variants, the PokerIQ tool misses an opportunity to cater to a broader audience and hinders players' chances of becoming well-rounded and adaptable poker players.
Performance Score
| Feature | Score Out of 10 |
| --- | --- |
| Compatibility | 8.5 |
| Price | 7.0 |
| Applicability | 5.0 |
| Practicality | 6.0 |
| Simulations | 7.0 |
Overall Score – 7.0
PokerIQ Preflop Range offers a comprehensive training tool for poker enthusiasts. Compatibility across platforms and multiple stimulations allows users to enhance their skills effectively. The feature to save training progress is advantageous, and it's affordable to buy. However, over emphasis on preflop play and the lack of popular poker variants may not suit all players. Overall, it can be a helpful resource for those seeking affordable training options.