If a downswing is a period of losses, what is the upswing in poker?
Upswing is also the name of a poker site that offers training, quizzes, and general poker articles.
Doug Polk chose the name "Upswing Poker" because it means experiencing a higher-than-normal win rate. In a nutshell, he's implying that poker players can improve their win rates by being a member.
Paying for poker training is usually too expensive for most players and doesn't make financial sense. Many of the courses can be purchased individually, but you'll need to buy a monthly subscription to access the full collection.


Long-running room with lively cash games and eight-figure MTTs
GT Bonuses


Bitcoin and US-friendly room that allows HUDs
GT Bonuses


Global crypto-only room with bad beat jackpots and weekly leaderboards
GT Bonuses
We are going to look at what Upswing Poker offers and find the most useful courses.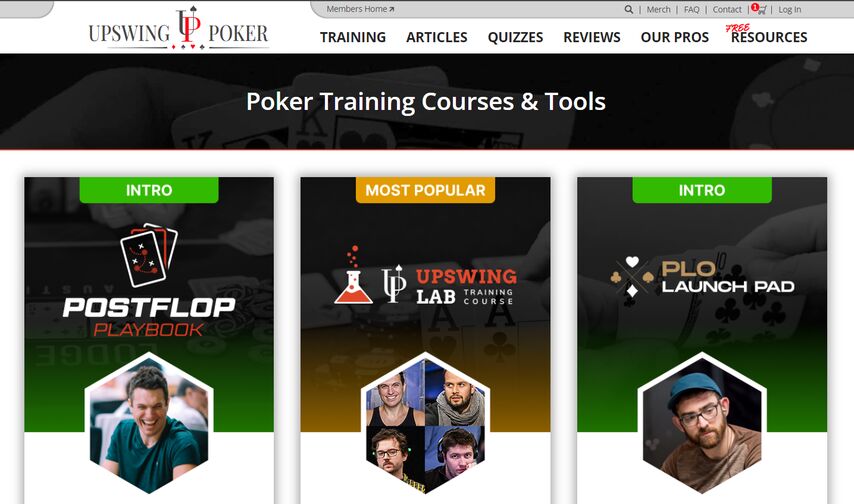 Here Are Upswing Poker's Courses
The courses that Upswing Poker offers seem to address specific areas of poker. The site currently has 12 different options for preflop, postflop, and lots of other areas. Cash game and tournament poker players will find specialized courses for each discipline.
There are three Pot-Limit Omaha courses, one for Short-Deck, one for mixed games, and six courses built around Texas Hold 'em.
Intro Upswing Courses:
There are a few tools and poker courses that are affordable, known as the Intro Courses.
Intro Packages:
Postflop Playbook: Cheap 2-hour course with postflop advice
$7 one-time payment
Upswing Lab Training Course: Members-only training for Texas Hold 'em
$99 per month
PLO Launch Pad: Training for live and online PLO
$99 one-time payment
PLO Matrix: Preflop range analysis tool for 4 & 5-Card Omaha
$49 per month to use the tool
Advanced Upswing Courses
The rest of the courses are Advanced Courses that carry a hefty price tag. There are nine different Advanced Courses, each costing $999 for lifetime access, meaning you can complete them at your own pace.
All of these high-priced courses are built by the professional coaches at Upswing, which might explain the price tags.
These pros include Doug Polk, Nick Petrangelo, Darren Elias, Uri Peleg, and several other names with impressive Hendon Mob charts.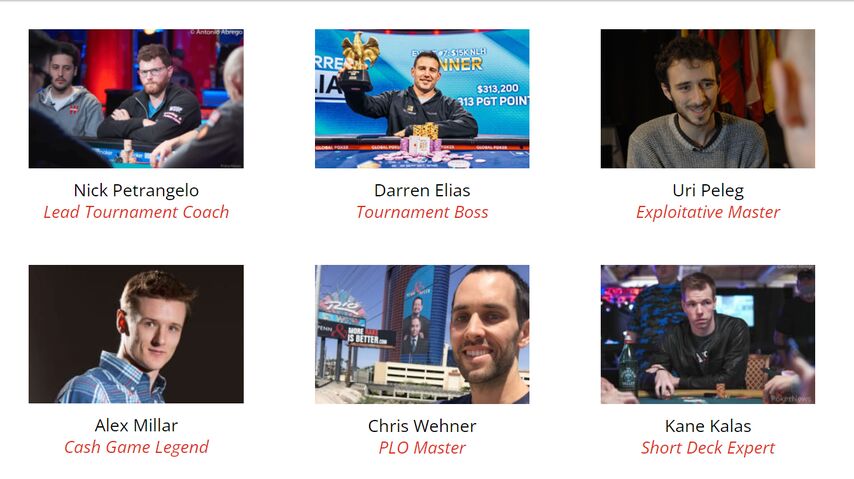 Advanced Courses:
Heads-Up Master Class with Doug Polk
Road to Victory with Nick Petrangelo & Darren Elias
Smash Live Cash with Nick Petrangelo
Elite Cash Game Exploits with Uri Peleg
Advanced Cash Game Strategy with Kanu7 (Alex Miller)
Advanced PLO Mastery with Dylan Weisman & Chris Wehner
Mixed Games with Jake Abdalla
High Stakes MTT Sessions with Nick Petrangelo
Short Deck Course with Kane Kalas
Thankfully, the $999 cost isn't monthly, but it's still way outside of the budget for most micro and low-stakes players.
Upswing offers a money-back guarantee in case players don't see the value of the course.
There Are Other Ways Poker Players Can Train
If you want to invest in poker training without spending a thousand dollars, there are plenty of other options.
You could try a training simulator like ICIMIZER or PokerIQ first. Both programs are significantly cheaper (less than $20 per month) and you'll be able to analyze hands, simulate pre-flop situations, and play more optimally. Both programs will help you use range charts to become a stronger player in any tournament or cash game.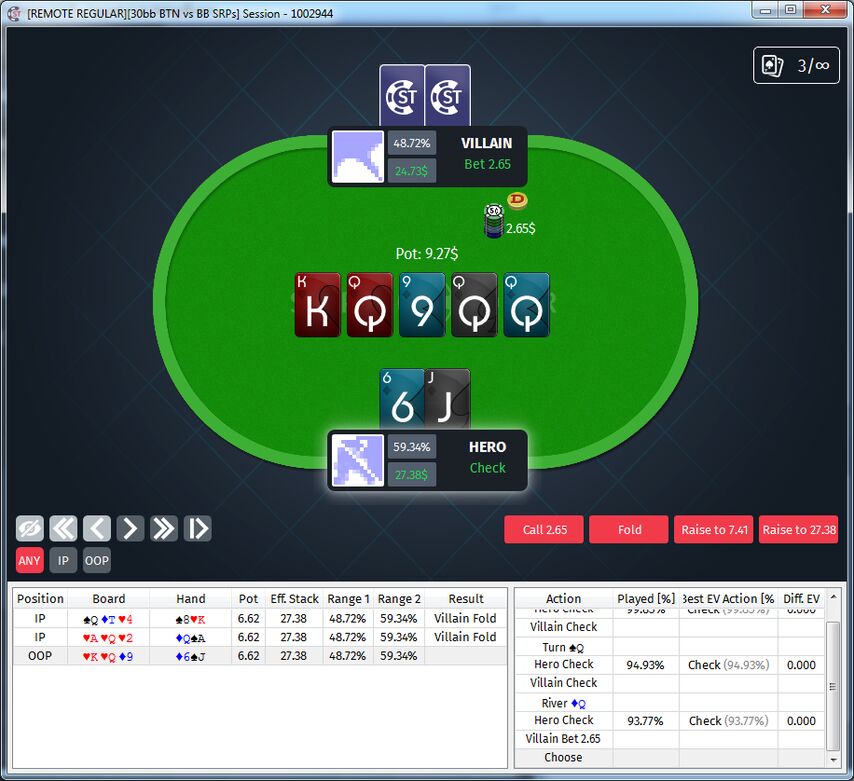 If you want to focus on postflop, you can hone your skills with Simple GTO Trainer. This tool trains you in valuable postflop GTO strategies that you can customize for the stakes you play at. It even comes with drills to solidify the skills you're learning. A program like this is less than $100 for a 3-month license.
Using these tools and self-studying can be super-effective for players (and super-affordable).
Is Upswing Worth The Price?
There is no doubt that Upswing coaches have put together some very advanced material for this website. Some poker players are seeing results, as their testimonials page will remind you.
A more important question is; Can you afford to pay $1000 for a poker course at the stakes you play?
Mid and high-stakes players can justify the cost of the Advanced Courses, but low and mid-stakes players are a different story. The price of a single course represents a huge amount of buy-ins at the lower stakes, meaning several months of profits.
Some of the cheaper tools on Upswing, such as the PLO Matrix, are more expensive than comparable preflop PLO tools.
So, is an Upswing course worth the price?
Check your poker bankroll and calculate this for yourself. The Intro Courses are not going to impact you significantly, but the Advanced Courses will. Does the cost of a course represent a large % of your bankroll?
If you play at micro or low stakes, it may be more practical to look into these courses in the future, when you reach higher stakes.
Upswing Doesn't Actively Update Poker Site Reviews
New online poker sites are popping up all of the time, and some of them are worth looking at. The one thing that Upswing lacks is updated poker room reviews.
They've briefly covered the biggest names, like 888poker, PokerStars, and partypoker.
Smaller sites and poker clubs don't have any guides written about them for players to check out.
One of the things that GipsyTeam does best is full coverage of poker sites and club apps. We steer players away from sites with shady reputations or known issues. We'll also show you which software you can use with your chosen poker site, like heads-up displays (HUDs).
Our staff are available at almost any time of day for a Live Chat. Get in touch with us, so we can talk about how to make poker more profitable for you.




BetOnline
Bitcoin and US-friendly room that allows HUDs


CoinPoker
Global crypto-only room with bad beat jackpots and weekly leaderboards
Register using this link to get access to GipsyTeam bonuses:
Increased first deposit bonus
Increased rakeback and reloads
Help with deposits and cashouts
Access to closed freerolls
Round-the-clock support