There's a romanticized idea of poker players who make successful decisions instinctually. In the world of online poker, that's a losing strategy. If you're not using the tools available, you're giving opponents a massive advantage. This applies to all levels of real-money online poker. Even at micro-stakes, players will be tracking your statistics to use against you.
Poker tools are a way to study the data around you. There's no way to remember everything we see, so it's nice to have a computer's memory at our disposal. Poker tools let us analyze real and hypothetical scenarios. It's best to view these digital tools as learning instruments, rather than ways to win quickly.
GipsyTeam reviewed several free tools, paid tools, and self-study poker programs.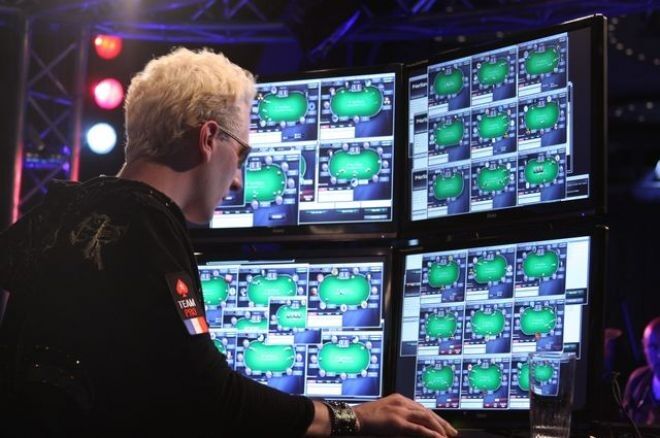 How Are Poker Tools Used To Help Players?
We'll cover a few main kinds of poker tools in this guide. If you use these tools properly, you'll access a wealth of new information about yourself and your opponents. Let's talk about what poker tools actually do for players.
Poker tools can:
Track your opponent's statistics to make informed decisions
Display your hand's odds of a win, loss, or tie
Run training simulations to test your poker skills
Calculate the optimal strategy for different scenarios
Store your session's hand history and analyze it later
It's important to mention that not all of these tools are allowed on poker sites. Always check the site's policies before using a Head's Up Display or other 3rd party software.
Let's talk about the most commonly used online poker tools.
Heads-Up Displays
Usually abbreviated to HUD, a heads-up display feeds live information. It usually overlays whichever poker app you're using. You'll see valuable information with a quality HUD. The software keeps a lengthy and accurate memory of how your opponents are playing.
Popular HUDs have other features alongside the in-game overlay. Top HUD apps store your hand histories for two main reasons. Firstly, it's to give you real-time accurate data about your opponents. Secondly, it's so each hand from your poker sessions can be put under a microscope. You can return to specific spots and replay hands, a great way to fix leaks in our strategy. Some apps like Hand2Note have functions that highlight your errors in different table positions and scenarios.
Heads-up displays always allow you to create detailed notes on your opponents. These might be general notes or memos about very specific spots.
A Few Things A HUD Usually Displays At The Table:
How passive or aggressive a player is, depending on their table position
How often a player takes the betting lead
The number of times a player re-raises
How often a player puts money in the pot (VPIP)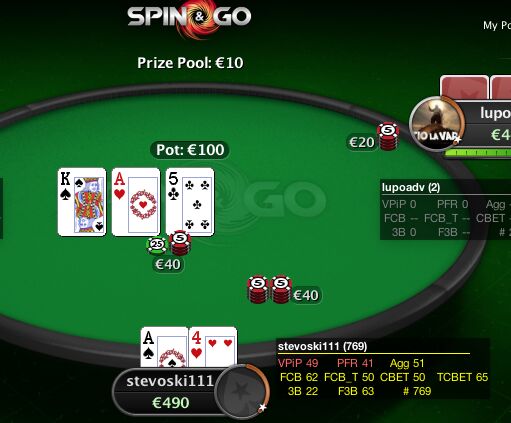 Here's Why You Should Start Playing Poker With A HUD
You know that online player who seems to know exactly what to do? They're probably using a HUD. Winning against these players without having the same information is unlikely, especially over a long period. This data helps you exploit weaknesses, but you'll make the final decisions. A HUD isn't an autopilot, just a navigator.
HUDs are wonderful for multi-tabling too. Recalling a single player's tendencies becomes a struggle when you're playing on several tables. A heads-up display will remember that for you, plus statistics you couldn't possibly track.
Online Sites Where You Can Use HUDs
Online Sites That Don't Allow HUDS
GGPoker (uses their own built-in HUD)
Equity Calculators Can Crunch The Numbers For You
What are my chances here? That's a common and vital thought that crosses the mind of poker players. An equity calculator shows your chances against other hands during various betting rounds. You can input data, such as your cards and your opponent's. Equity calculator software can have a range of features, but that's their main function.
Most development for equity calculators has focused on Texas hold 'em poker. However, on our website you could use free online calculator for hold 'em, 4 cards, 5 cards and 6 cards omaha, as well as short deck. 

Poker Solvers For Post-Play Analysis
It should be no surprise that poker has computerized solving software. The Chinese board game "Go" has more possible moves than the number of atoms in the universe. It's considered the most complex game ever, but Google's AI solver easily beat the world champion. Naturally, developers turned their attention to creating solvers for online poker.
A poker solver can tell you how you should have played in certain situations. You won't be able to use it during hands, it's a learning tool to use away from the tables. Solvers base everything on user parameters. You feed the solver information like bet sizing, stack sizes, and preflop ranges, and it generates an optimal strategy.
If you haven't heard of Game Theory Optimal before, let's briefly explain that. GTO poker theory proposes that there are subjectively optimal ways to play. At its core, the GTO strategy is supposed to make your actions profitable based on probability.
Which HUD Poker Tools Are Worth The Money?
Most heads-up displays are useful, but some are better quality than others. When you download HUD software, you don't just get an overlay. Most apps come with
They can help replay hands from past online sessions. You can check whether the math supported your decision, then create strategies for the future. Here are some of the best available programs and what they offer you.
The Hand2Note Dynamic Heads-Up Display
The Hand2Note windows software is a comprehensive poker tool stuffed with features. It's a prime example of software giving you information you'd usually miss. They offer a HUD with 100's of metrics to select from, including Fish and Reg mode. Since you can't always apply regular strategies to new players, the software will adjust. It works smoothly with PokerStars tables.
The Hand2Note software includes:
Quick and easy notes on players and hands
Detailed hand history and reports
Pre-flop and post-flop range charts
Fully customizable pop-ups and stats
Fish and Reg adjustments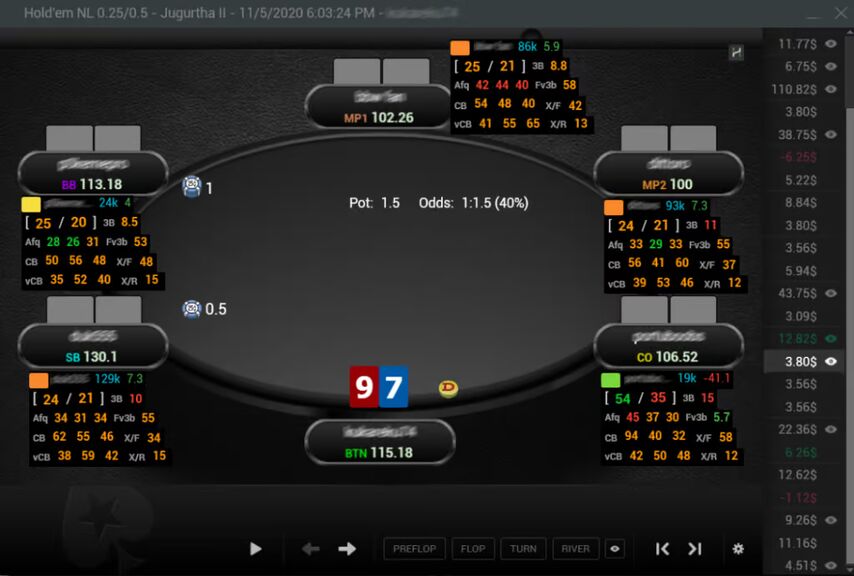 Let's say you're facing a newcomer at the poker table. Will the HUD be blank? Because you don't have a history with them, Hand2Note will helpfully apply ranges from other players on the site.
The BASE plan doesn't cost anything, but it doesn't have all of the functionality of the subscription plan. You should test out the premium Hand2Note software first, with a free 30-day trial.
Hand2Note Supported Poker Sites
888poker
PokerStars
iPoker Network: RedStar Poker, Guts, etc
Winamax
Black Chip Poker
PokerTracker 4
This HUD has been popular for a while. PokerTracker 3 stopped being supported in 2014 after the fourth update was released. PokerTracker 4 supports no-limit, limit, and pot-limit structures, for cash games and tournaments. It's comprehensive and easy to use, even for new poker players.
The PokerTracker 4 software includes:
Customizable HUD
Advanced filtering and reporting for self-study
LeakTracker, a way to find your weak areas and improve them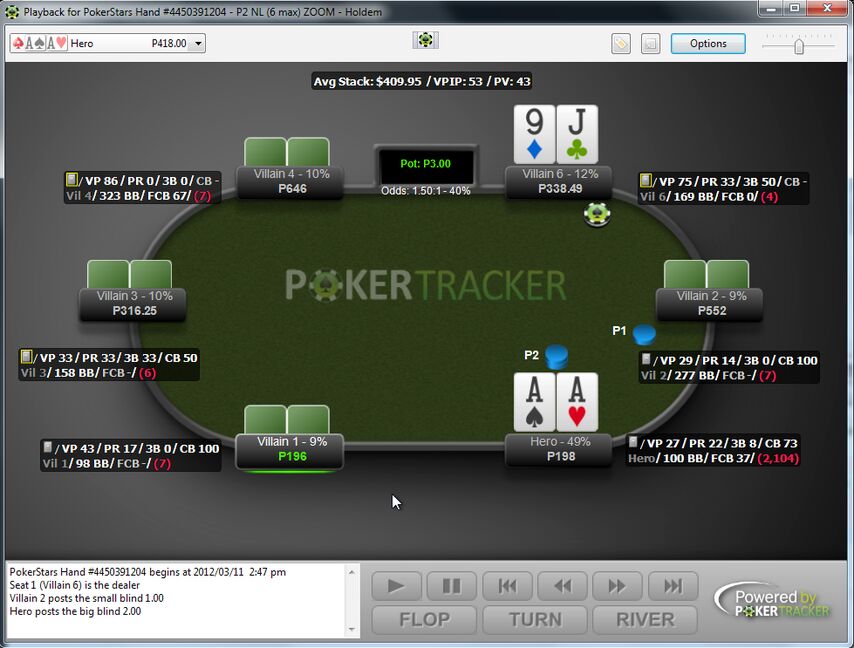 While you're at the tables, you'll get to customize which stats are shown to you. These windows arrange themselves nicely around the player icons. The HUD is just one aspect of PokerTracker 4, real value comes from the reporting feature. The filters can isolate trends and highlight problematic areas of your play. You can get super-specific and look for particular hands to improve. For example, perhaps you struggle to play pocket pairs out of position. The game filters can help you find and fix that hole in your game.
After a 14-day free trial, PokerTracker 4 offers their program for a one-time fee.
| Poker Game Format | PokerTracker 4 For Small Stakes | PokerTracker 4 For All Stakes |
| --- | --- | --- |
| Texas Hold 'Em | $64.99 | $99.99 |
| Omaha | $64.99 | $99.99 |
| Hold 'Em And Omaha | $99.99 | $159.99 |
The Poker Tracker 4 software is available for Mac and Windows.
PokerTracker 4 Supported Poker Sites
888poker
PokerStars
iPoker Network: RedStar Poker, Bet365, Guts, and more
Winamax
Hold 'Em Manager 3
We have to mention Hold 'Em Manager 3. This HUD software has been used by 1,000,000+ cash games and tournament players. They've got a 14-day trial, so you'll be able to see if your win rate improves, for free.
The Hold 'Em Manager 3 software includes:
Pre-made or custom HUD
Detailed post-game review with every imaginable filter
Player-to-player analysis
Situational views for specific poker predicaments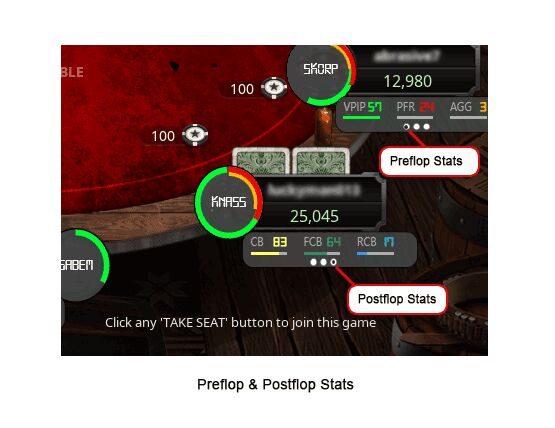 The Hold 'Em Manager 3 HUD stores your opponents' stats and tendencies for you to use against them. The overlay works in real-time and while using the hand replayer afterward. You'll like the color-coded visuals and customizable displays. If you're looking for a little extra information, you can use the pop-up windows for a detailed view.
After your sessions, you can evaluate your performance using Hold 'Em Manager 3. Instead of a simple win/loss value, you can filter your results by stakes, table size, game type, and more. You can even compare yourself to your rivals.
Hold 'Em Manager 3 Supported Poker Sites
888poker
PokerStars
partypoker
iPoker Network: RedStar Poker, Bet365, Guts, and others
Winamax
Poker Equity Calculators For Self-Study
Free poker equity calculators will just display the odds, while subscription apps will give you useful functions. They can help replay hands from past online sessions. You can check whether the math supported your decision, then create strategies for the future.
Calculate Equity And Pot Odds With Flopzilla
This reliable company has been helping poker players study their game for many years. Flopzilla's interface isn't complex like other software. It's easy to run range analysis by inputting your details. You can quickly find out how your hand range interacts with the flop, turn, and river.
The one-time $25 payment to unlock the software is affordable compared to other equity calculators. The difference between Flopzilla and a browser-based free calculator is clear when you're using it. There are loads of filters to review hands with and the software adjusts instantly to changes.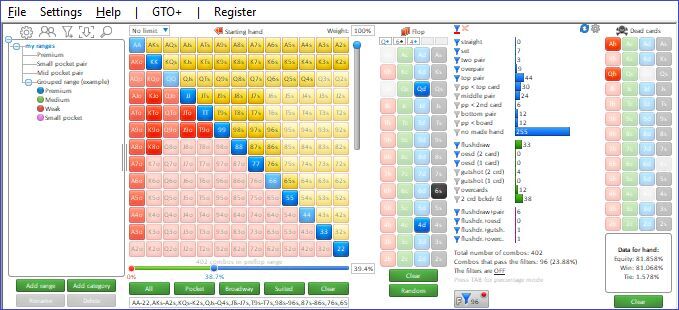 If you like the sound of Flopzilla's equity calculator, get in touch with GipsyTeam support. We'll set you up with a free trial, plus any promotions that might be going on.
Calculate Your Equity For Free From Any Browser
If you just need simple pot odds, head on over to our equity calculator. It's got no frills, no fuss; just simple equity percentages after you input the cards. You can add the flop, river, and turn cards to show likely outcomes.

Offline Tools For Self-Study
You can flick through your app's hand replayer, but you won't get any tips or directions for improvement. Studying before and after playing is part of life for winning players, make it part of yours too.
Advanced Poker Training Self-Study App For Micro-Mid Stakes
The Advanced Poker Training app is like having a poker coach on your device. After you run through some hands, the leaks in your poker will be highlighted. You can replay any scenario and alter cards and positions. They also offer more personalized support from up to twenty advisors at Advanced Poker Training.
The software automatically notes spots where you made an incorrect decision. You'll be able to quickly access those records and look at alternative ways to play. You can bring up any hand you've played, but these mistakes will be highlighted.
A Few Advanced Poker Training App Features:
Review your sessions against skilled AI poker programs
Weekly Challenges
Learn cash game and tournament strategies
Training videos
Review your statistics and monitor improvements
Brain Button to share a pro's thought process
The Nuts Game is on the Advanced Poker Training app. You need to be able to look at a randomly generated board, and quickly determine the best possible hand.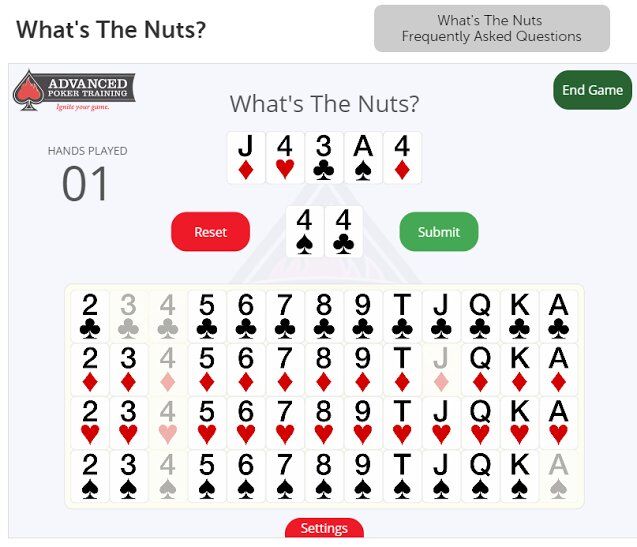 Advanced Poker Trainer has monthly plans starting around $40. They are confident about the software and offer your full payment back if you don't love it.
LearnWPT
Here's another great training software. World Poker Tour claims to have solved over a billion unique poker scenarios with their GTO Trainer. Just like Advanced Poker Training, you'll play through sessions and receive advice based on your results. The layout is simple and the poker situations are realistic. The more hands you play, the clearer your leaks will become.
A Few Advanced Poker Training App Features:
Beginner and advanced training videos
Cash game and tournament options
Train from specific positions and scenarios
Submit hands using the Ask A Pro feature to get a personalized response from the LearnWPT Pros.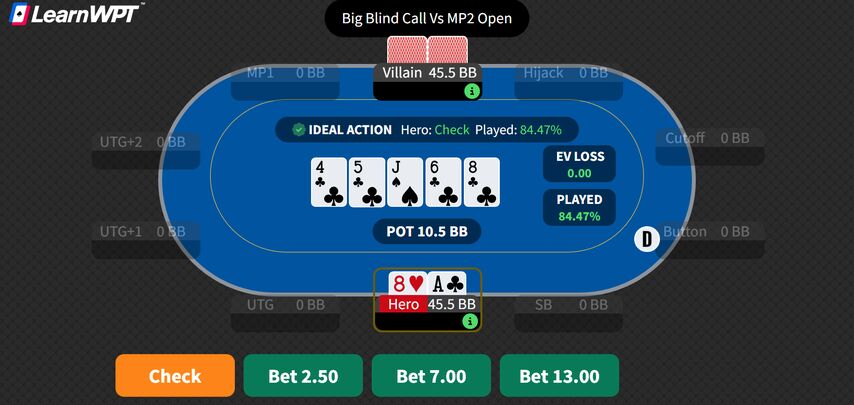 The app isn't free, but you can try some of the functions before deciding about a LearnWPT membership. You can try the first month for just $5 after you've done a playtest on their website. After your first month, plans range from $30-$100.