Ilya Pavlov recently won a high roller in Cyprus and received $787,000, and a couple of days after the victory, we called him and discussed a wide range of issues – from fighting downswing to life in Montenegro. We also learned how Ilya almost acquired an unwanted mustache.
– Hi Ilya! Congratulations on your first live victory. What was your best result before this?
– In 2017, I won $250,000 online.
– Is $700,000 a big amount for you?
– Thanks to our staking foundation, not really, to be honest.
– Before this victory, were you in the black in live poker?
– About zero. I haven't gone to play very often, this is about my 10th or maybe 12th series. I went out sometimes, but more to see friends than to earn money.
– Tell us about your emotions after the victory. Did they match what you imagined?
-- When the tournament ended, my wife immediately ran up to me, hugged me, and I almost burst into tears. During the game, you have to keep your emotions under control, but then they simply overwhelm you. Friends also came to congratulate me. I had a hard time holding back tears, only then did I calm down a little.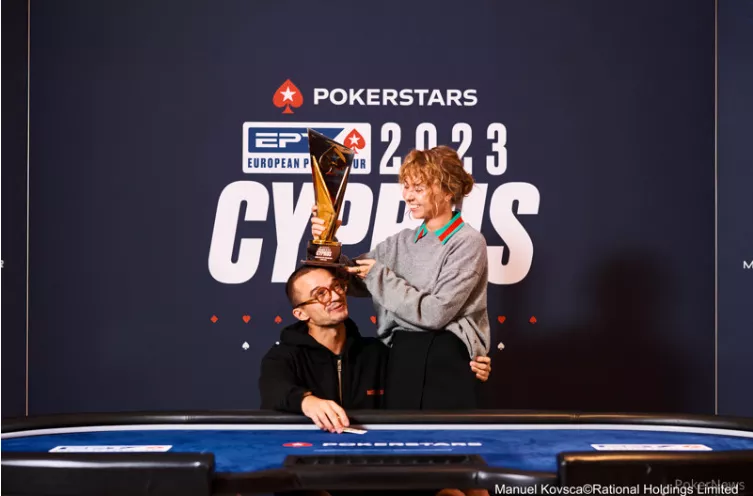 – Is there a big difference with online?
– Live evokes much more emotions. This manifests itself even in typical situations – online you sit at the computer like a robot, you don't see your opponents, and you don't think about how you look. And here, even during small hands, you realize that your heart is about to jump out of your chest. You try to control it, but, naturally, it doesn't work out very well. So yes, live significantly outweighs online in terms of emotions. But there is also a downside – you can fold for eight hours straight and then sit on tilt for the same amount of time.
– Have you already celebrated?
– I did not have time. When we finished the tournament, the main was already over, the staff was packing up tables, and people were leaving. So we just went to the buffet, and five hours later I had to go to the airport.
– What was the most difficult decision during the tournament?
– Well, there weren't really any, to be honest.
There were a lot of tough hands emotionally. Perhaps this is out of habit. One of them was with Dario Sammartino, when he got a backdoor flush on the river. I was very worried then.
There were still a lot of strange hands in the Main Event. Online, I wouldn't even think about folding in these situations. Against an amateur, there was one – 3-way pot, flop – , we continuation bet, and our opponent raises. There's another on the turn, we have a full house with . The amateur bets again. The river pairs the 9, and the opponent quickly pushes all in. Online, I wouldn't even understand what's going on here – the inconsistency starts preflop, so I'd just press call, and if it's a cooler, I'd just open a new tournament. And then it seemed that the field was weaker, plus amateurs play smarter, like to play bullshit and set traps. So, I decided that I would find a better situation. There were also few time banks – they were given out four or six a day, and I had to spend the entire pack on this hand. Perhaps this is an easy fold for live regulars, but I spent an incredible amount of time and effort on it, about 12 time banks. As a result, I persuaded myself to fold, but my opponent never showed his hand.
Before the final table, there was a hand with Selahaddin Bedir (Ed. – top 2 of Turkey on Hendon Mob ), who then took third place. He chose the bet-check-check line with top set in position. Well, what is this anyway? He has top set and checked it down. Moreover, I had a bluff catcher with which I would have paid most sizings. This was the peak of surprise from the showdowns, although there were many strange hands during this series.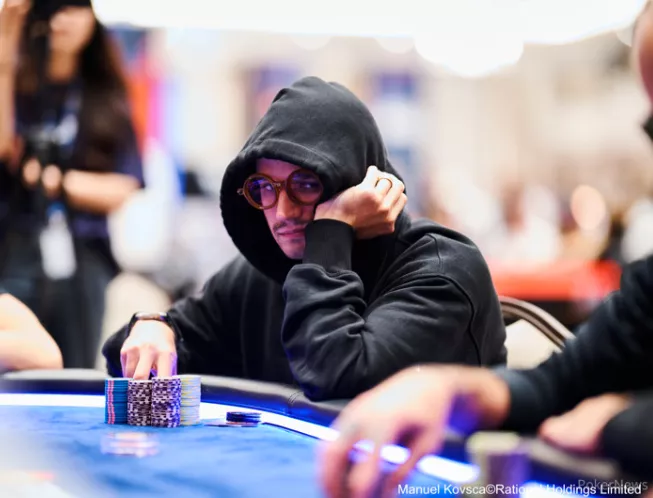 – Do you often play $10k tournaments online?
– Quite rarely, I treat such buy-ins carefully and try not to overdo it, I play them mainly in series.
– How do you feel about rewarding yourself for winning?
– My beloved wife Daria often reminds me that sometimes it's worth rewarding yourself, but I myself forget about it. From this point on, I want to help my parents build a bathhouse.
– Do you think it's good for motivation to reward yourself for results?
– I try to focus on the internal state. If I feel like I need to reboot and relax, then I'll go to the spa, for example. This helps me a lot.
My friend Oleg is also encouraging me to buy a motorcycle. He took me at my word – if I finish this series, then I'll take it. The likelihood was extremely low, so I easily agreed. Now I have to buy it.
– You used to like to bet on results over long distances. Is this still the case?
– For me, this system still works, although the amounts in disputes are always insignificant. The last time I was with a friend was for a month of continuous meditation. I think the practice of meditation slightly contradicts the concept itself, but oh well. In general, we bet that if I missed more than two days in a month, I would give myself a mustache like Hitler. This motivated me well, and I managed to cope. Well, we periodically arrange something similar with friends or trainers from the foundation. I think it's part and parcel of poker life. But everyone has been refusing me crossbooks for a long time.
– This is good, it means they consider you a respected player.
– For me, this is rather a red flag, which suggests that people have begun to approach poker differently – more rationally, thoughtfully. I kind of approve of this, but I think it kills the romance of poker. We once tried to get involved with one of the funds for results, but nothing worked out.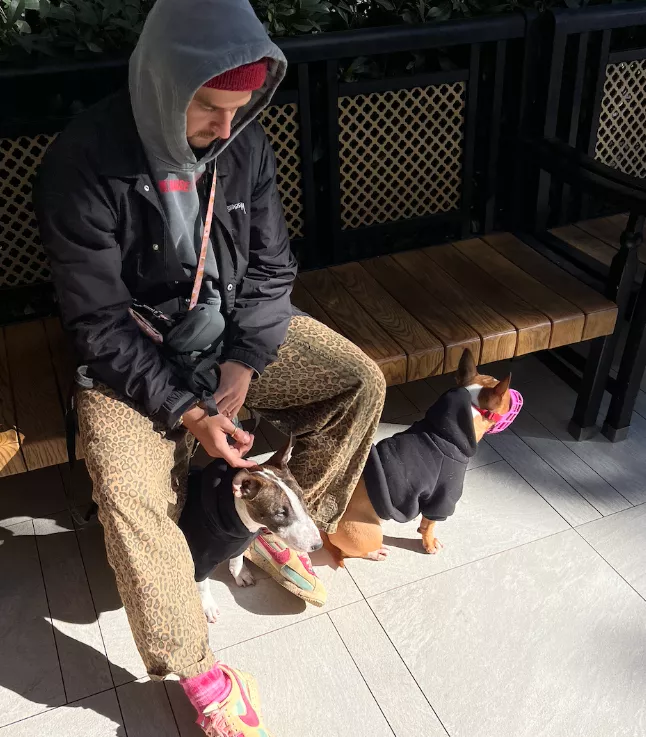 – You now live in Montenegro. Are you planning to move because PokerStars are leaving?
– Not yet. This news shocked me, to put it mildly. Well, how could it be announced in just a couple of days? As soon as I found out, I went to confer with Dasha. We were both very upset and began to consider our options.
I remembered how a couple of days before the start of the war I wanted to go to Tyler's boot camp in Panama. Parents weren't happy with the news: "How is it that we won't see you for two months!?" And in two days we are leaving for another country for an indefinite period. In general, the news about Stars's departure was perceived through the prism of flashbacks. Plus, now we have two dogs, and this immediately reduces the choice of countries – any America is eliminated due to long flights, since the dogs do not fit in the cabin, and we heard that they can freeze in the luggage compartment.
– What are the names of your dogs?
Ruthie and Disya. Disya is short for Dispersion. It seems strange now, but it seemed like a great idea to me.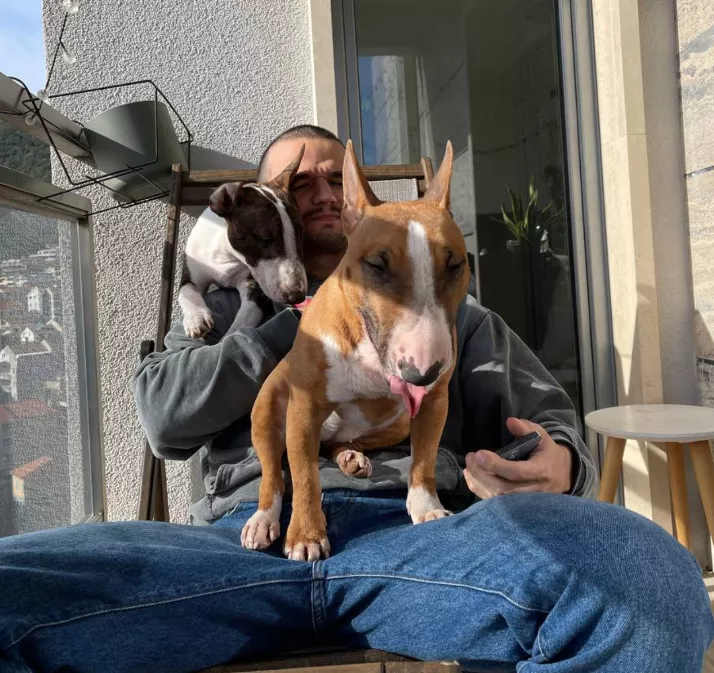 – You wrote that you managed to build a good schedule in Montenegro. What does it include?
– The main role here was played by the time difference. It seems insignificant – when we arrived, the difference with Moscow was two hours, now it's one. But even this greatly affects life. The workload has shifted by two hours, meaning you can go to bed two hours earlier, around 2-3 AM. As a result, you live almost like a normal person. This freed up time in the first half of the day, and there was an opportunity to do something other than poker.
My schedule is fixed. I try to exercise regularly, most recently tennis. I'm ready to go to the gym at the expense of other things, not for results, but to unload the brain and get distracted so that my head doesn't boil. I conduct training sessions at the foundation almost every day, and I need to prepare for them. I try to ride 3-4 days a week. In Moscow, I talked mainly with people not in poker, and they have days off on Friday-Saturday-Sunday. But for poker players, it's the other way around. In new countries, you communicate mainly with players who live on approximately the same schedule. So here I have even more socialization. To be honest, it's even too much for me; I'm used to spending a lot more time at home.
I have been practicing meditation for more than five years with varying frequency, but I still cannot understand whether I feel any benefit from it. But I try, at least during the series, to create for myself such an island of calm during the day.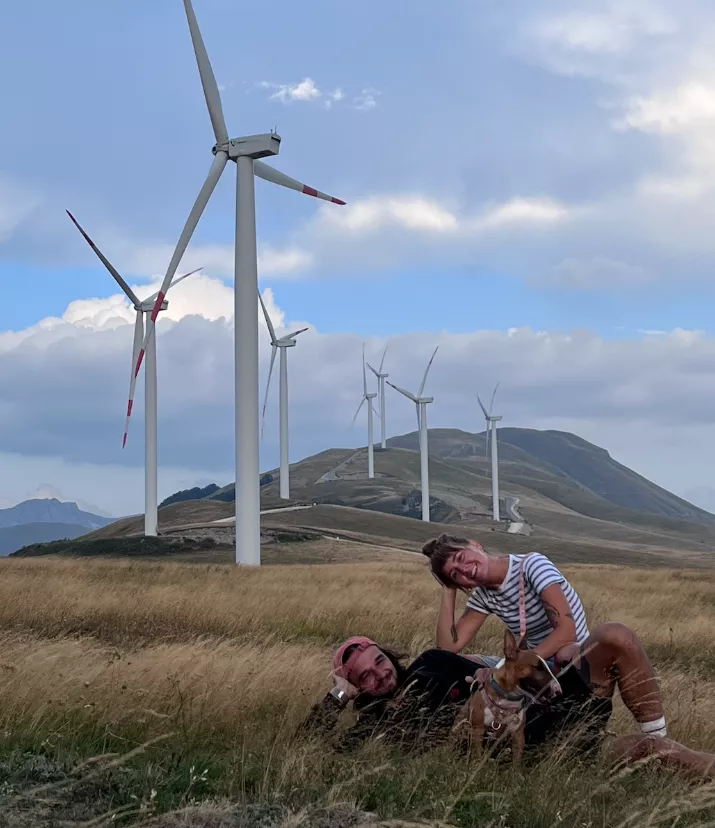 – I read that you organized a boot camp in Montenegro for the guys from the foundation. How did everything go?
– We didn't quite have a successful boot camp. We just decided to help the guys from Ukraine, Russia, and Belarus with their move. We found three apartments, organized workplaces, the players only needed to bring a computer, and we provided them with monitors, tables, and everything else. Now we rent six apartments, only now few people need them; at medium limits, most of the load was on Stars.
– Are you going to transport the guys somewhere else?
– We have a similar story developing in Kazakhstan – we have been renting apartments for three months now.
In fact, things didn't turn out quite as planned. Instead of a boot camp, which involves a deeper dive into poker, and a lot of theory and training, the guys came just to live, we did not notice that they were more involved in the process. Plus, we didn't set a time limit for staying in these apartments, perhaps because of this someone relaxed.
– Did you pay for their apartment in full?
– Yes, we paid for housing, and the guys had to grind a little more, 600 tournaments a month instead of 500.
In Montenegro, our apartments are rented until March, and we definitely won't renew the lease. And in Kazakhstan, we will focus on the enthusiasm of the players. Still, there are nuances with the time zone; it is not at all suitable for MTT players – +4 hours to Moscow time, you have to exist completely in no-life mode. According to the guys' stories, they went to bed around 10 AM, woke up at 6 PM, and in winter did not see the sun at all.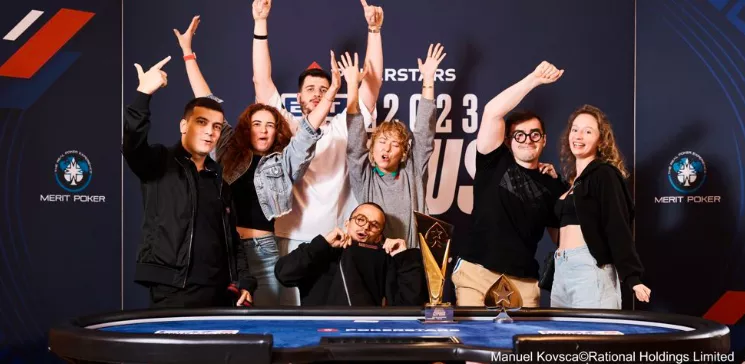 – You collaborated with Tyler for a long time and then stopped. Can you tell me what happened?
– The idea of ​​cooperation was that our foundation would become a preparatory group for Tyler's conference. More understanding guys came to him, especially since they only play with their own bankroll. We had to provide a stream of players, and the Tyler Foundation gave access to its materials to our coaches. But it turned out that the most conscious and active players often become coaches themselves, therefore their motivation to go to Tyler disappeared, because they already used his knowledge base. Tyler justifiably did not like this, so we decided to change the conditions, but in the end, Andrey did not wait for the first results of these changes and decided to separate completely.
– How is the situation with the ban of your coaches on GGPoker developing?
– Not at all. Moreover, Tyler was also blocked, and he plays very little. But they sent him a questionnaire and eventually unbanned him. But the rest of the guys seemed to have simply been neglected. They wrote to the players' union (Poker Integrity Council), which, supposedly, should help in such ambiguous situations. But that didn't help. This organization includes LuckyChewy (Andrew Lichtenberger), he is the only one who responded to Slava Hofr, and promised something, but no progress has been made yet.
– Let's try to figure it out – GGPoker has banned several coaches from your fund. What are they accused of?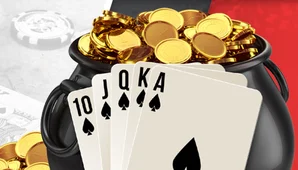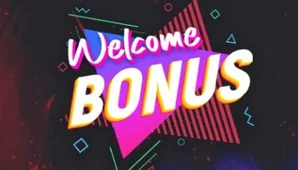 – The fact of the matter is that they never formulated a clear accusation; there is a list of violations, mainly about remote desktop programs. Such programs are used in funds; in order to save on software, it is installed on the server. Trainers have access to the server. But here you can't ignore the human factor – you set something to be considered, rolled down the window, and then sat down for a ride. Perhaps this could become a problem. Another option is to stream on Discord without delay. In theory, they can give you tips on them, but we stream from coaches who themselves play ABI $300 and teach the entire fund.
– And it was the coaches who were banned, not the students?
– Yes. Such streams were a very cool format of educational content, but now I had to give them up, I didn't want to run into a ban again. It was useful for the players to watch live how a coach from high limits makes decisions and voices his thoughts and actions. This is very difficult to formulate later, during training. To be honest, we only recently learned about the clause in the rules banning such streams. For the room, this is logical, since theoretically the player can be given hints. I heard that Brazilian funds are doing this.
– How relevant is the problem of ghosting now, and how do rooms in general cope with it?
– As far as I remember, Pads once wrote on Twitter that he had insider information that ghosting was put on stream in Brazilian funds. But no one seemed to react to his words.
As I understand it, ghosting is a thing that is very difficult for rooms to prove, and maybe even impossible.
– Isn't it very profitable for foundations of players like yours to engage in ghosting?
– From a financial point of view, probably yes. But when it comes to player development, this is always a disservice. Still, making expensive decisions in the later stages is an important part of the skill of any MTT player, and if a person does not make these decisions himself, then the skill will not improve. In general, we categorically condemn ghosting.
– And if someone in large foundations was engaged in ghosting, would this become known?
– It seems that there must definitely be a person whose principles would not allow him to do such things. Or someone who was dissatisfied with the cooperation and would tell everything out of resentment towards the management. So I don't think that this is practiced in large funds.
– How can this problem be solved? It seems that only by banning streams without delay.
– This is true. And it turns out that GGPoker has such a clause in its rules. This is kind of prohibited, but the wording there is strange and very vague. After all, rooms have specific programs that cannot be used during the game, why not write in software that cannot be launched together with the client? Why not prohibit the client from opening programs that share the screen? Yes, this is radical, but no one would have problems later.
– What about both? How relevant is this problem at high stakes, where everyone already knows each other?
– People play better, so it becomes more difficult to write a working strategy for a bot. Here again, we can remember Tyler, he continues to regularly search for bots and send them to rooms. He recently dropped a bunch of bots at GGPoker that he thought came from WPN. There is generally a cosmic number of bots on WPN; they steal millions from there. But most bots have a very clear limit there – they play up to ABI $200. Apparently, the strategy there is built precisely on exploitation, and, apparently, it no longer works higher. Tyler suggests that these same bots are gradually moving to GGPoker, he reports them, but it is not yet clear whether the room will somehow react to this.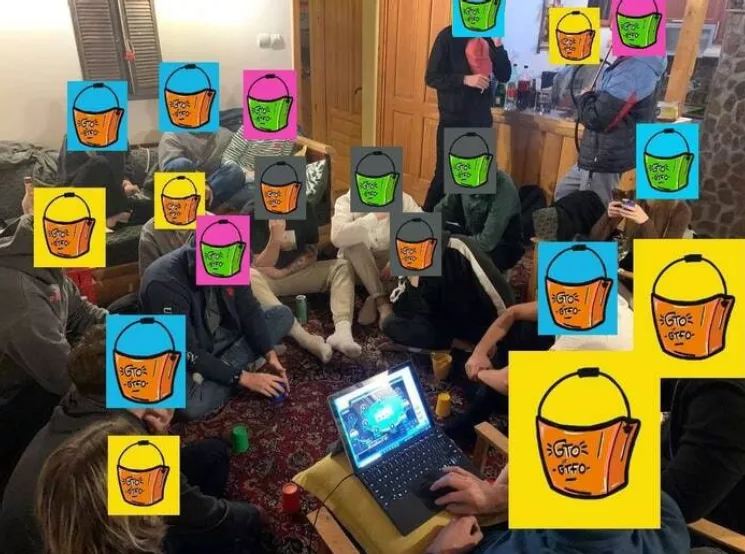 – Are you currently involved in admitting new players to the foundation?
– No, I didn't do this from the very beginning and entrusted everything to the coaches.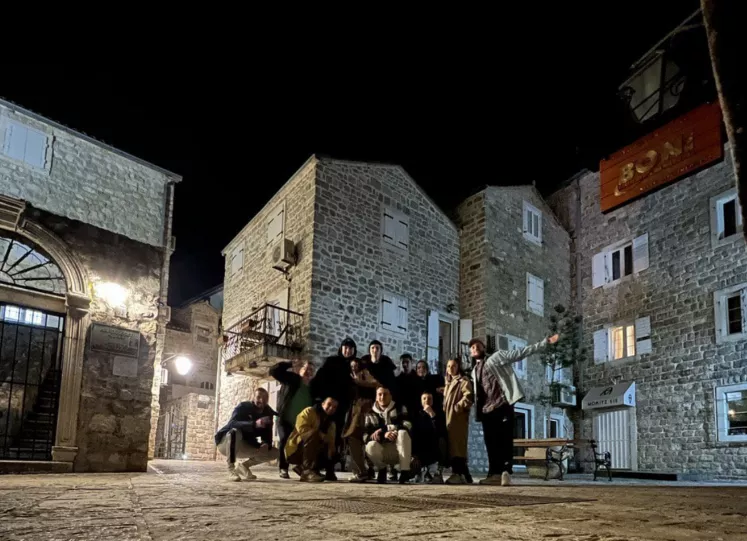 – How can you quickly understand that a new player has potential?
– I think one of the key signs is how involved a person is in the process, and how much time he is willing to devote to poker.
It may sound cynical, but age also plays a role – when a person is 22 years old, he is usually not yet burdened with family and children, it is easier for him to get excited and spend a lot of time on his favorite activity. And with the technical part, everything is quite simple, there is a clear indicator – the win rate. It is the most objective indicator of skill.
– What mistakes do you often see among beginners, and what do coaches have to fix most often?
– From the technical side, it all comes down to building a general strategy. Many people have garbage in their heads of concepts that they picked up from disparate sources or streams. And often these concepts are very poorly combined with the tendencies of the field at low limits. It is much better when a new student has very little experience, the coach will help him build everything from scratch. This will turn out much faster and more efficiently. It happens that players with extensive experience come to the fund, even if the results are good, but it is very difficult to work with them since for them they themselves are an authority. In general, retraining is much more difficult than teaching from scratch.
– Let's talk about money. Where do you earn more – in a fund or in poker?
– This year is going very well for me, except for the downswing in expensive online tournaments. If we consider on average, then I earn a little more in the fund. If the fund develops at least somehow, then sooner or later it will become impossible for poker to compete with it in terms of earnings.
– What is your ABI online?
– About $300, but higher during a series.
– How confident do you feel in expensive tournaments, at ABI $2-3k+?
– My distance there is quite small, I only enter those tournaments in which I am qualified. And there are not so many of them. For example, on GGPoker during a series, it might be $10k. My expectation, of course, is not minus, but it's definitely not worth the variance.
– How do you make money in such tournaments? Are there really enough fish there?
– The main money, in any case, is made at the expense of amateurs. I believe that there are a decent number of tournaments in which no one wins money at all. The variance simply determines who will do better today in coin flips. There are tournaments in which there are either no amateurs or almost no amateurs. But some of the regulars believe that they have an advantage in such lineups. It seems to them that they are very tough guys and are ready to fight with everyone.
But this is only one side of the scale; on the other hand, without playing in complex lineups you are unlikely to become a top player. However, sooner or later, when playing in strong lineups, you will find yourself in a streak that can simply destroy you mentally.
– Did this $200k downswing have any influence on you?
– Perhaps. I have such a personality that I lose confidence in the game quite easily.
– What helps you cope with stress?
– Discussion with competent players, an outside perspective. You can also ask to break down your game, although I don't remember the last time I did this. Listening to other opinions and seeing the same thoughts goes a long way toward regaining your confidence. Now I have become more stable in this regard, I don't roll back so much during downswings. This one was the most expensive in my career, but I was fairly calm the whole time. Most likely because I have a fund that takes the financial pressure off me. Thanks to this, I experience much less stress than the average player at my limits.
– How does this stress manifest itself in you?
-- I just enjoy the game a lot less. It is much more difficult to immerse yourself in the game headlong. I get distracted more easily by something and lose my balance while grinding.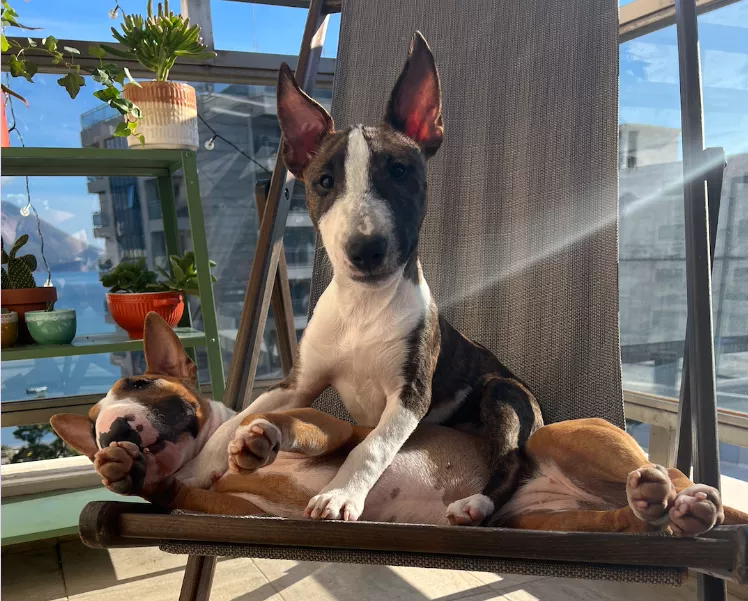 – Here's an old quote from your blog: " In poker you should go for the overincome, devoting as much time as possible to it, and not for money for food – you can get this at 5/2." What is overincome and extra effort for you?
– For some reason, I remember it very often. These are abstract concepts. The essence of the post was that a person who works "at a factory" receives stability, but there may be problems with career growth. To get a promotion, a lot of factors must come together. But it also has its own goodies – insurance, pensions, no matter what anyone on the forum thinks about them. Living in this format, it is much easier to predict the future. If you go for the same thing in poker, then, in my opinion, you are doing something wrong.
Poker players need to be treated the same way as athletes in their careers. They usually clearly understand that their career is limited in time. This means you can't help but make extra efforts. And overincome is, of course, an abstract amount; it is different for everyone. In general, when playing poker you should build a financial cushion and think about the future.
– How long is the maximum time for poker for you?
– If you count it together with work at the foundation, then I guess 200-250 hours. But this is such a "dirty" number. In MTT, you often finish one table with low concentration, because the tournament started a couple of hours ago, and you have already formally completed the session. To make 200 hours in cash, you need to be a monster. I spend about a quarter of my poker time on theory.
– Why do you think that an approach like "I will earn $2k a month playing NL100 and at the same time do what I love" is not okay?
– If you have a strong love for poker, then this outweighs everything. More than once I had talks with friends, and they reminded me not to forget to live, at least sometimes. But I have a completely different attitude towards this. I really like to play, I like to delve into theory, despite 11 years of playing poker. I love poker and don't regret spending time on it.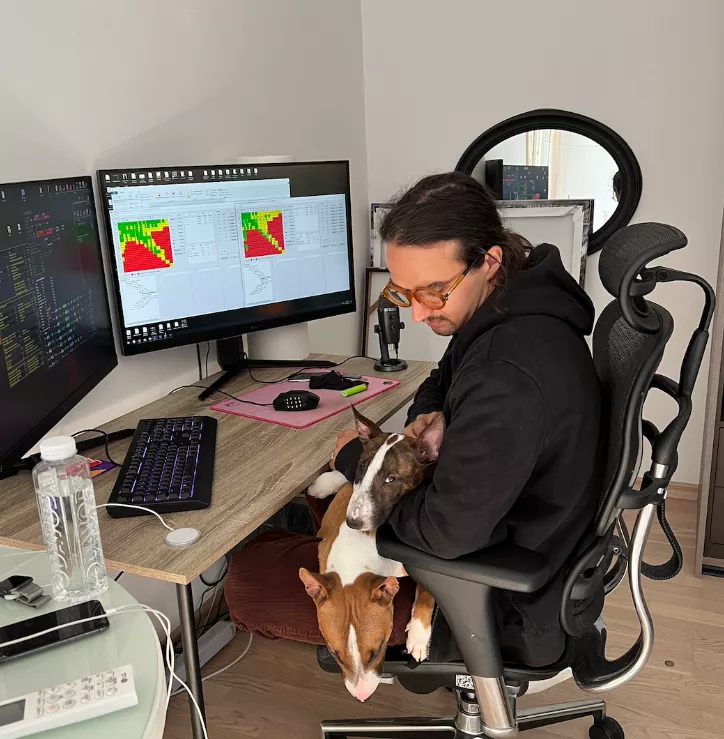 – Last question – who was the main winner at the Cyprus EPT?
– It seems the answer is obvious – me, of course. Moreover, in this case, it is objective. I have a history of 50,000 online tournaments, but this is the first time that such a wild god mode has been turned on for me. There were spots in which I was bluffed, they were right theoretically, since most likely I would re-bluff there, but in fact, I just had the nuts in every hand. In general, I gave everyone a hard time.