What is dead money in poker?
This term can be used (in a not-so-nice way) to talk about a player who is extremely unlikely to win.
However, the most-used meaning of "dead money" is talking about chips in poker. An ante is a good example of dead money in poker. It's not connected to any action in the hand, but it does make the pot larger.
Another example of dead money is the blinds when the players in those positions fold, plus other bets from players who have folded. A squeeze can also force players to fold and leave dead money on the table (like you can see here).


Long-running room with lively cash games and eight-figure MTTs
GT Bonuses


Bitcoin and US-friendly room that allows HUDs
GT Bonuses


Global crypto-only room with bad beat jackpots and weekly leaderboards
GT Bonuses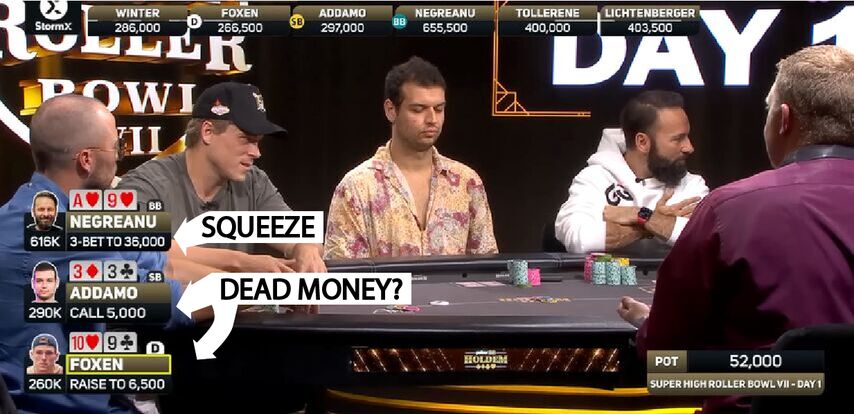 Dead money is important because it adds extra chips to the pot, which means more profit – if you can go after it smartly.
Dead Money: Where Does it Come From?
Dead money refers to chips or players.
If you're talking about chips:
Dead money means any chips that are not connected to a player in the hand.
The blinds, antes, and chips from a player who folds are dead money. It's a term for tournament (MTT) poker and cash games too.
So, if you make a bet, that is not an example of dead money. However, if you fold your hand and when you get raised – but other players continue playing – your bet is now dead money.
If you're talking about a player:
Dead money means that a player is not very skilled and probably won't win the pot. If you're stealing blinds from another player, maybe it's because you think they are "dead money".
Bomb Pots Create Lots of Dead Money
Have you heard of bomb pots? Instead of having a normal preflop, everyone donates some big blinds and goes right to the flop, completely skipping the preflop action.
Every player at the table sees a flop together in a bomb pot, but the pot is already large. You'll be up against a bunch of random hands and you won't have any information about your opponents.
Sometimes, like here in this ACR Bomb Pot, you get a favorable hand. Rampage sees a good situation developing in front of him. Although he isn't in the latest position, having two overcards with the nut flush draw is great news in a Bomb Pot.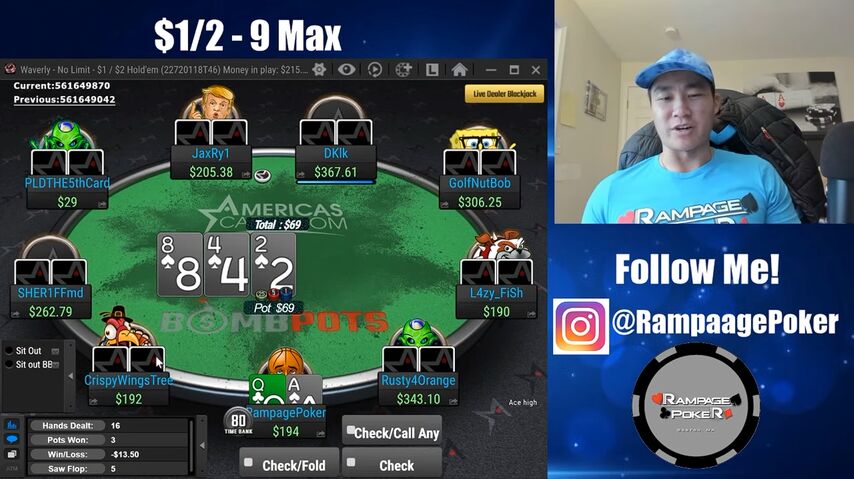 In this 9-max game that Rampage is playing in, each player game $8 to the bomb pot, or 4 bb. After that, $3 of rake was taken. (9 players x $8 = $72 – $3 = $69).
That's almost 35 big blinds in the pot and these Bomb Pots happen 4 times each hour.
Bomb Pots are available on ACR, but also in mobile poker clubs like PPPoker and PokerBros.
Dead Money in GGPoker Splash Pots
A GGPoker Splash Pot is not the same as a bomb pot, but there is still going to be dead money here.
Like a bomb pot, the players all donate a set number of big blinds, but the action starts preflop in a Splash Pot. So, it's like a regular hand of poker – with a bunch of dead money in the pot.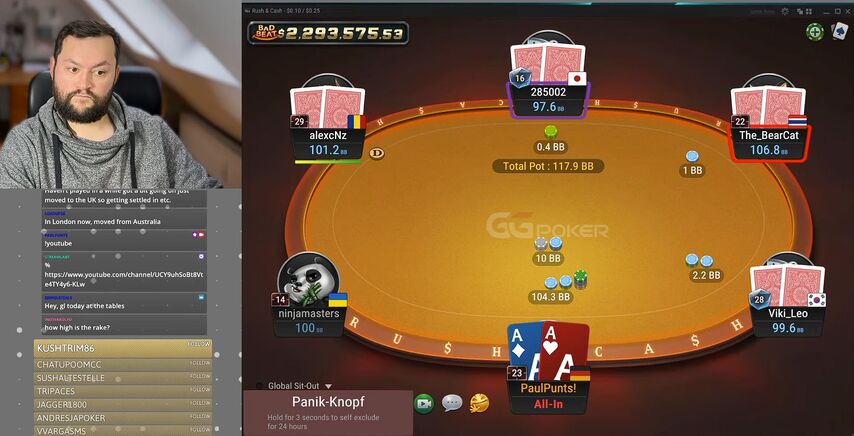 If you play Rush and Cash (GGPoker's fast-fold poker tables) and the table turns golden, you're in a Splash Pot. A random number of big blinds will go into the middle and you'll have extra incentive to win the hand. Hopefully, you get as lucky as Paul did in our screenshot.
GGPoker might have the best software ever built for online poker, with tons of game types and ways to make new players feel welcome. Find out how to grab your bonus in our GGPoker review.
How to Play if Dead Money is on the Table
Anytime there is dead money on the table, you can win more chips. That's the obvious part, but how should you adjust your strategy?
Be aggressive, but not wild.
The risk vs. reward is more attractive when there is dead money out there in the pot. Whether the dead money is there now, or you plan on squeezing another player out of the pot to create more dead money, it's got to be considered. This extra cash means that you should be slightly more aggressive, but don't feel like you must commit over a few extra big blinds.
Anticipate the extra aggression from opponents.
This is especially true for dead money in ACR or WPT Bomb Pots. Players will get extremely aggressive over the extra chips in that pot, so you can expect a wider range from those players. Expect large overbets, shoves, and steal attempts. Be wary if the players with a low VPIP are getting involved in a big way.
Use raises and 3-bets to get dead money from weaker players.
Raising to force players out of the hand, also known as an isolation raise, can put some dead money into the pot. You'll collect the weaker player's preflop calling chips and anything else, plus, your equity will increase with every fold – plus, who doesn't love the fold equity?
Want to Play in a Freeroll Tournament Today?
A freeroll is a tournament with a cash prize and no cost to enter. It's also a poker term for a situation where you can either break even or be successful – without anything bad happening.
That's very true for freeroll tournaments. You gain experience, and if you're playing well and avoiding bad beats, you could win a nice payout.
One of the best sites, partypoker, has freerolls running every hour for up to $200. That's 24 chances to win every day!