GGPoker has a fast-folding poker game called Rush and Cash and it's unlike the fast-folding games on other poker sites.
Fast-folding poker is a popular cash game (and sometimes MTT) variant where folding sends you to a brand-new table with new cards. You'll join a large pool of other players who are constantly being arranged and seated at new tables. The hands of poker are the same, but there's no waiting around for new cards.
GGPoker Rush and Cash games are different because of Cash Drops, which are prizes that either go into the pot or straight into everyone's stacks.


Bitcoin and US-friendly room that allows HUDs
GT Bonuses


Long-running room with lively cash games and eight-figure MTTs
GT Bonuses


Daily cash races, MTTs and Spins with big prizes
GT Bonuses
We'll share important details about the Rush and Cash stakes, rake, structure, and traffic, plus a few alternatives on other sites.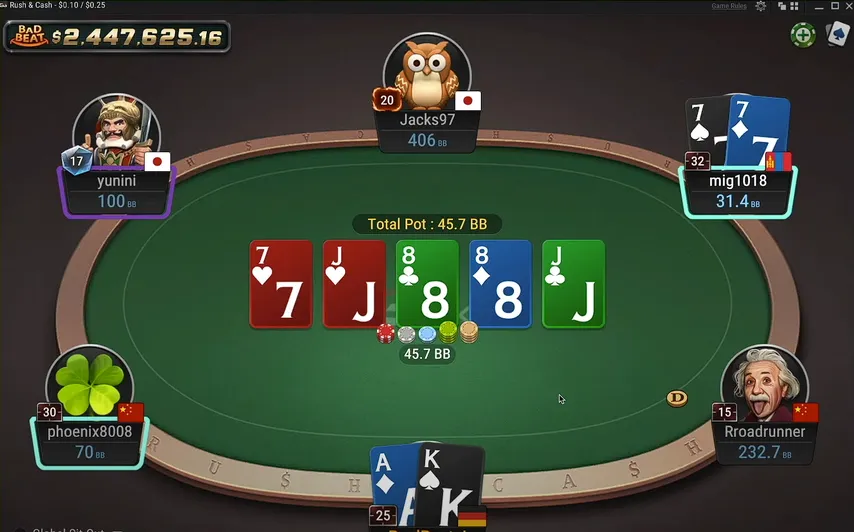 Start Playing GGPoker Rush and Cash
Find the Rush & Cash icon in your GGPoker PC or mobile app and click it.
You'll go right to the Rush and Cash lobby with all of the different stakes for this game.
Select Join, choose how many games you want to play, and hit the felt.
You can play multiple games of Rush and Cash, not just one table. You'll also be able to see which GGPoker Pros (like Daniel Negreanu) are playing, shown right beside the player count and hand/hr stats.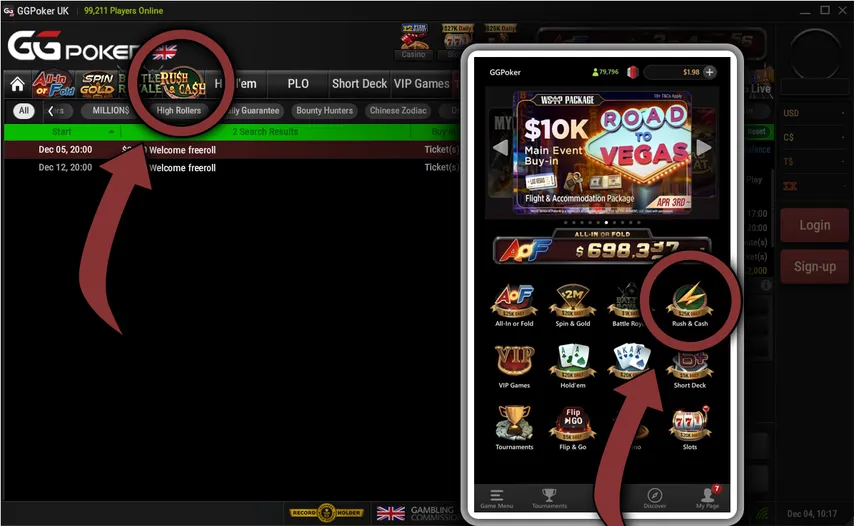 Rush and Cash games are either No-Limit Holdem or Pot-Limit Omaha.
Rush and Cash stakes go from $0.01/$0.02 to $1/$2, so there are only micro and low-stakes (no mid or high-stakes games).
GGPoker also has play money games if you want to play fast-fold poker for free, but the smart thing to do is play freeroll tournaments instead – and actually have a chance to win real money.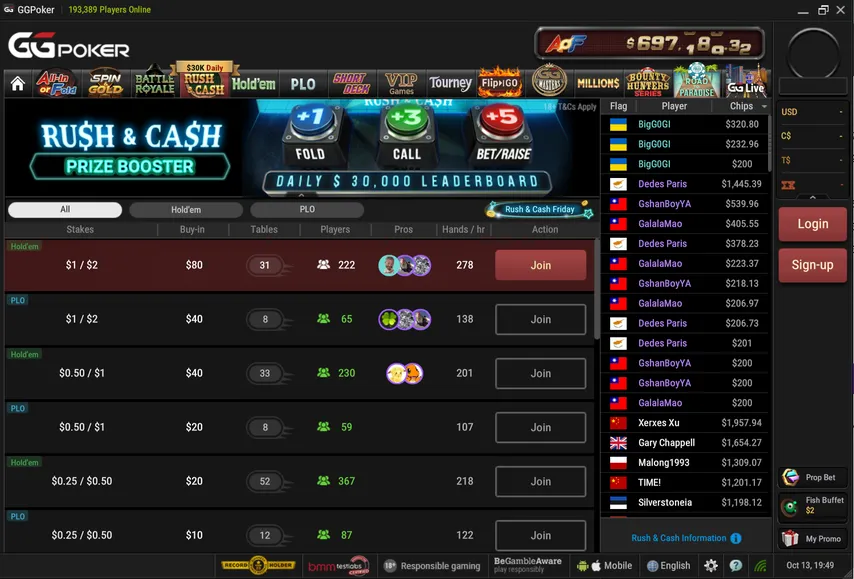 GGPoker is a good place for fast-folding poker, but some players might look for better rake and player rewards – and those players should check partypoker.
Along with one of the best rakeback programs in the biz, partypoker has hourly freerolls with prizes up to $200 that you can play alongside your favorite games.
Of course, they have a fast-fold game called Fast Forward.
If you are ever looking for the fast-fold game on a new poker site, anything that sounds quick or speedy is a good guess. On America's Cardroom, it's called Blitz.
All You Need to Know About GGPoker Rush and Cash
So you've signed up with GG and you feel like playing cash games, just not the regular kind.
Luckily for you, most poker sites have adopted fast-fold poker. Less waiting and more poker, but at GGPoker, there are also Cash Drops at these tables (more about that later).
Hit fold and get new cards at a new table – it's that simple.
If you want to watch the hand play out after you fold, just hold down the fold button to become a spectator.
GGPoker Rush and Cash Leaderboard Promo
GGPoker also has a leaderboard for each stake level of Rush and Cash games.
Players can stack points by using their Fold, Call, and Raise buttons, each with a different point value. Every stake has a daily prize, which gets split between the top players on the leaderboard.
In total, GGPoker will give away $30,000 each day in their Rush and Cash leaderboards.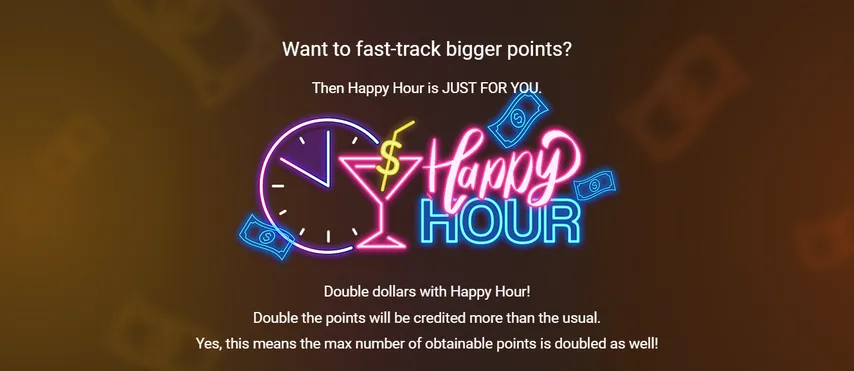 There is a max of 20 points per hand to win, and winning a Cash Drop pot wins you an extra 10 points. During a Happy Hour, which lasts for about two hours between 22:00:00 and 23:59:59 (UTC -8), you will get double the points.
If you want to play on a leaderboard that isn't won by playing like an agro-loose player and raising too often, head to PokerStars.
The leaderboards on PokerStars are won by complete chance. Your cards have point values and you can't do anything to influence how many points you get. You can win attractive prizes, just for showing up, not for adjusting how you play poker.
Cash Drops/Splash Pots in GGPoker Rush and Cash
When the table turns a golden yellow color, you're about to play a Cash Drop pot!
When this happens, anywhere from 10 to 600 big blinds will show up on your table. Smaller prizes will be in the pot, while the larger ones will go straight into every player's stack after being divided up.
It's a normal hand of Rush and Cash poker, with a much larger pot to win.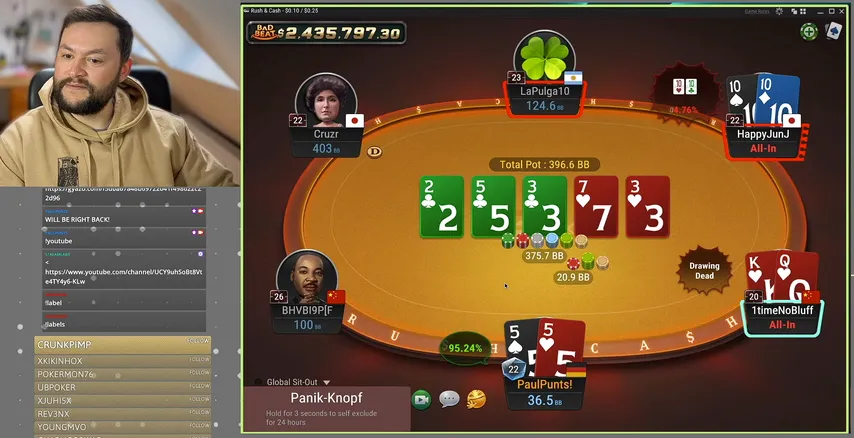 The Rake in GGPoker Rush and Cash Games
Check out this rake table to see how much commission GGPoker is taking from the Rush and Cash tables.
As you can see, the rake is capped at 5% or a maximum of 3 big blinds per hand, even if the pot is massive.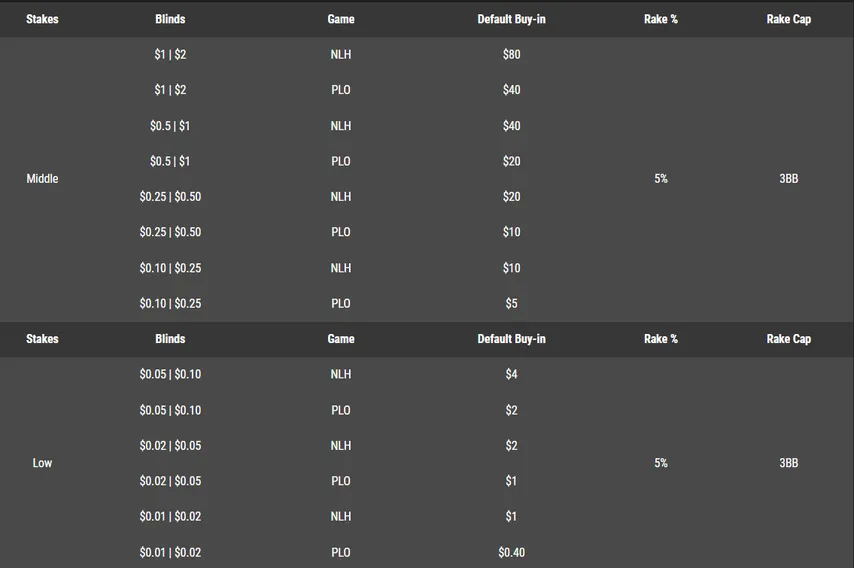 Crash Course on Rush and Crash Strategy
Fast-fold poker doesn't play exactly the same as a normal cash game. Instead of being around the same players for a long time, you'll be seeing fresh opponents at each table. So, does your strategy change if your opponents change every hand?
It does! In fast-folding games, you won't be finding as many exploits about your opponents. Sure, you can use GGPoker's heads-up display to get some information about your opponents, but you won't be as familiar with them as you would at a normal cash game.
That means that you should be playing a more consistent strategy and focus less on tweaking your game for individual players. Be aware that your opponents will also be using more general strategies and won't be remembering your table image and tendencies (unless they are watching their HUD closely).