To win at poker, you've got to understand the hierarchy of poker hands. Knowing how likely hands combinations are can help too. Knowing the probability of hand combinations will help you become a stronger poker player.
Hierarchy applies to lots of things like cars, housing, and food, but what is the hierarchy in poker? There are lots of hand combinations, but some are much stronger (and rarer) than others. We've ranked hands from weakest to strongest, so you can refer back to this guide anytime you're unsure.
You can practice and get familiar with hand combinations by playing poker for free. The best way to do it is to register in freerolls, special tournaments without buy-ins. 


Long-running room with lively cash games and eight-figure MTTs
GT Bonuses


Bitcoin and US-friendly room that allows HUDs
GT Bonuses


Global crypto-only room with bad beat jackpots and weekly leaderboards
GT Bonuses
Poker Hand Hierarchy From Weakest To Strongest
The first three community cards are called the "flop". We're going to explain each hand combination and show the odds of making it on the flop.
High Card With No Pair – Having a high card is the weakest poker hand combination you can make. The best high card is an ace, then king, queen, and so on. You'll often hear poker players saying "ace-high" and that their best combination is an unpaired ace.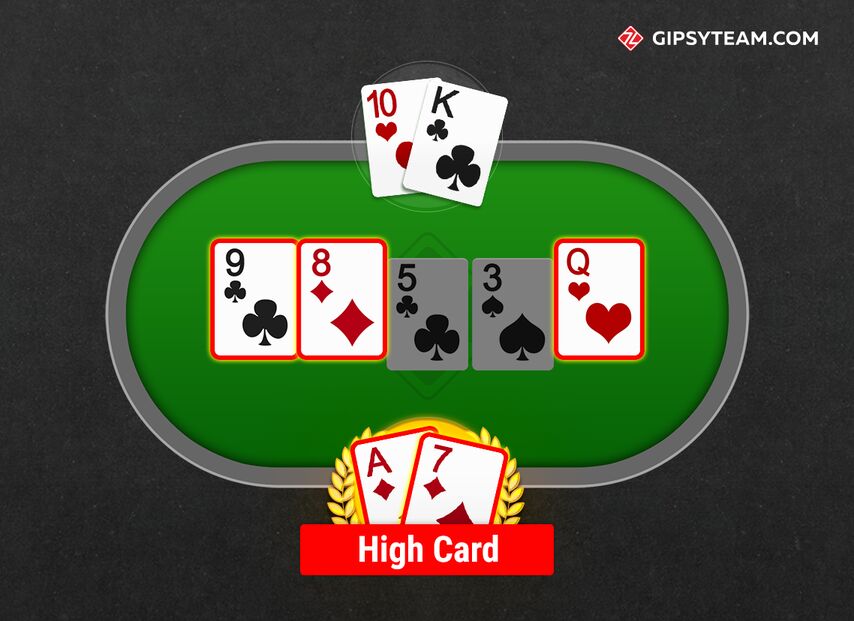 When other players can't make a hand combination, the ace-high is the strongest hand. Winning at a showdown with king-high and lower gets more outlandish the lower the high card is. Check out this controversial live poker hand where a player wins with jack-high.
The odds of your hole cards missing the flop completely are around 71%.
One Pair – One pair happens when two cards match. You can hold one pair in your hand, known as a "pocket pair," or see a pair among the community cards.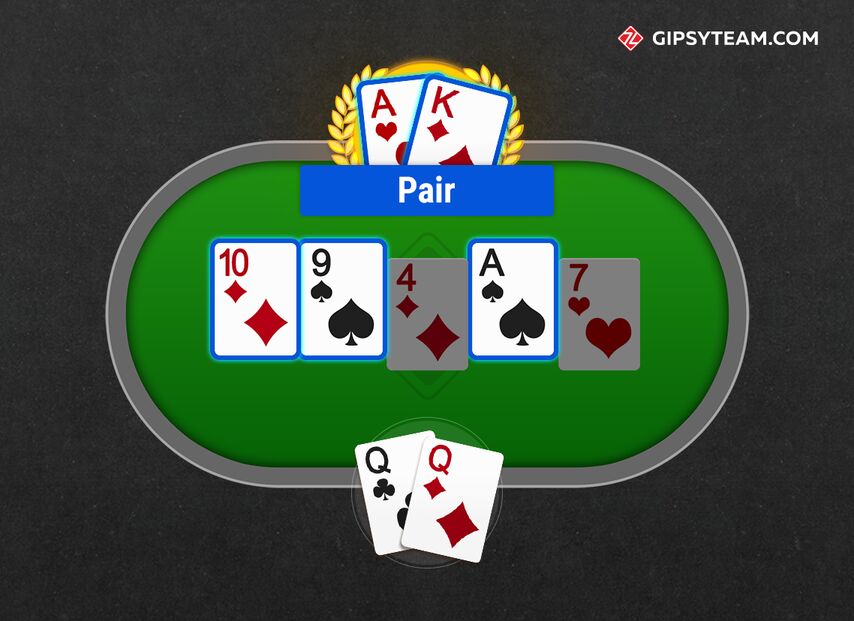 Odds of flopping a pair: 29%
Two Pair – As you can guess, two-pair means that you have two pairs. You can make them in a few different ways:
Your hole cards are a pair and there is a pair among the community cards.
One of your hole cards pairs with a community card and there is another pair on the table.
Your hole cards do not match, but they both pair with separate community cards.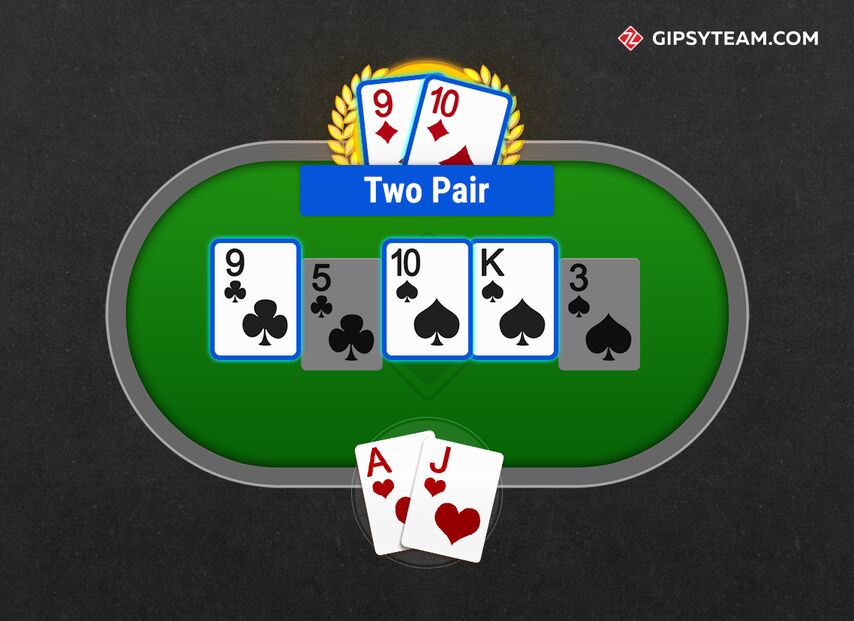 When two players both hold two pairs, the player with the highest pair is the winner.
Odds of flopping two-pair with two non-matching cards: 2%
Three-of-a-Kind (Set) – If you can use your hole cards and community cards to make three matching cards, you've got three-of-a-kind.
You can make three-of-a-kind (trips) in two different ways:
If one of your hole cards matches two cards on the flop, you have three-of-a-kind, also known as trips.
If your hole cards are paired and they match a third community card, you have a set.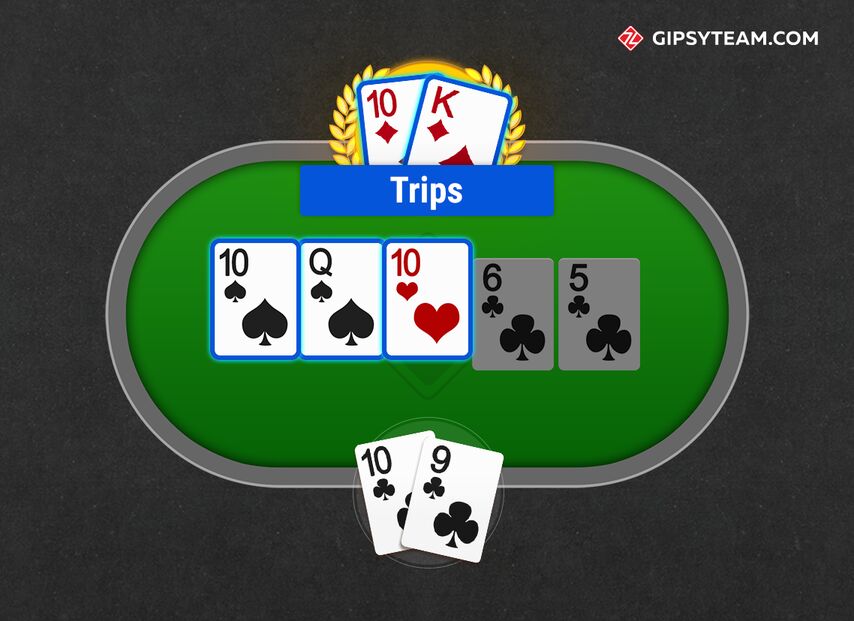 Odds of flopping three-of-a-kind:1.35%
Odds of flopping a set: 11.8%
Straight – Five consecutive cards make a straight. The ace can act as a 1 in the low straight (A-2-3-4-5), but also follow the king in a high straight (10-J-Q-K-A).
A straight from 10 to ace is the best possible straight (the nut straight).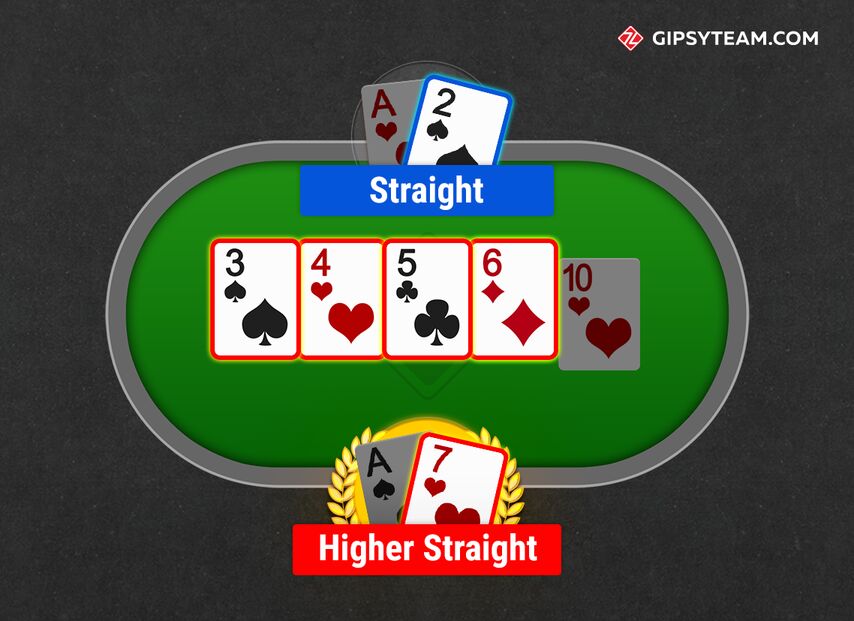 Odds of flopping a straight: 1.3%
Flush – Five cards of the same suit make a flush. It's a very strong hand in poker, but there is a hierarchy among flushes.
If two players have flushes, the player who has the highest cards of the flush's suit wins. Aces are the strongest cards to have in a flush. If you have made a flush holding the ace of that suit, that's the "nut" flush.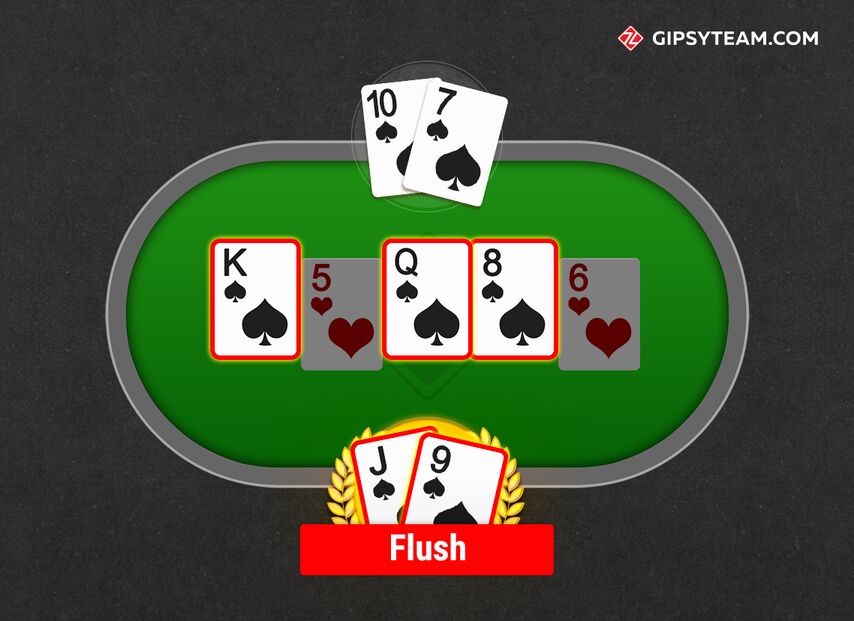 Odds of flopping a flush: 0.8%
Full House – This is a very strong poker hand that you can make in a few ways. A full house is a five-card combination of three-of-a-kind and one pair (J-J-J-K-K).
Full houses can only happen on a paired board. That means ‌community cards must contain a minimum of two matching cards.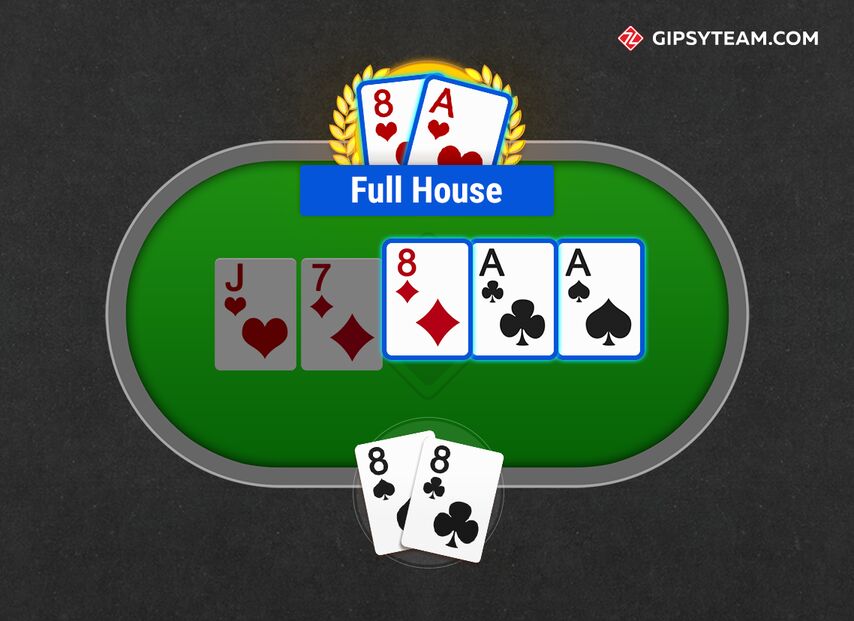 Odds of flopping a full house (not holding a pair): 0.09%
Odds of flopping a full house (with paired hole cards): 0.98%
Four of a Kind – Also known as "quads," this means four matching cards. It's an uncommon hand combination to see because the probability is very slim. You can expect to flop four-of-a-kind once every 3,333 flops you see.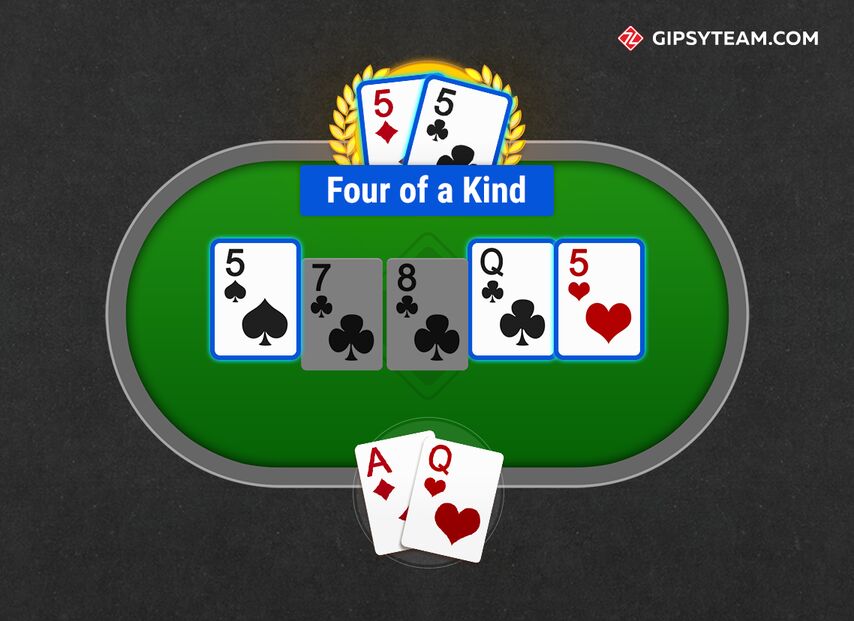 Odds of flopping four-of-a-kind with any two cars: 0.03%
Odds of flopping four-of-a-kind with a pocket pair: 0.24%
Straight Flush – You'll probably see a straight flush as often as you do in movies as on the poker tables; it's quite a rare hand. Daniel Craig makes a very memorable straight flush in Casino Royale,
You need to make a straight (5 consecutive cards) with cards of a matching suit. For example, ace to five of diamonds is a straight flush.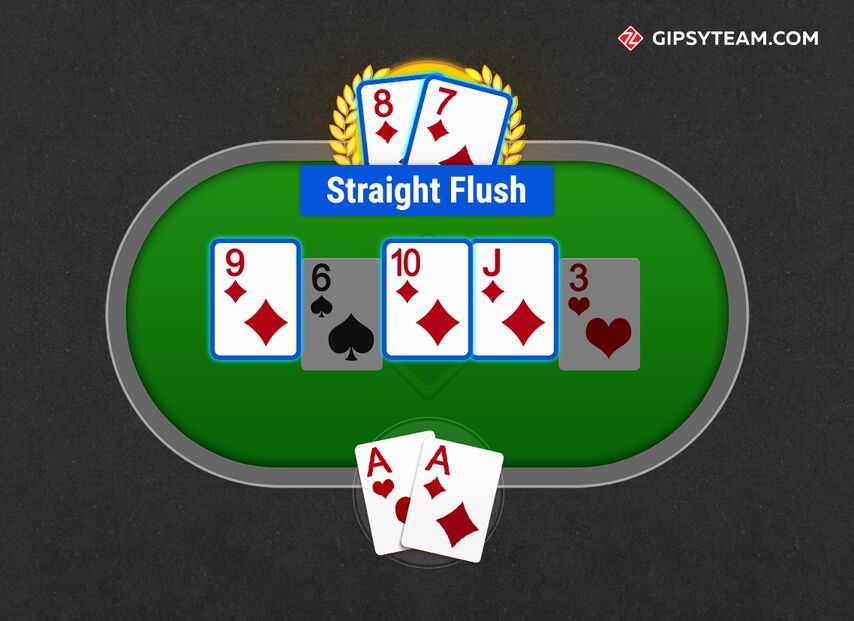 Odds of flopping a straight flush with suited cards: 0.02%
The Strongest Hand in Poker: Royal Flush – It's extremely hard to make a royal flush on any betting round. A royal flush is a straight from ten to ace, with cards of the same suit.
You need to have suited broadway cards to make a straight flush on the flop, such as king-queen, ace-ten, or other combinations of broadway cards. You're dealt suited broadway cards roughly one time out of every 32 hands.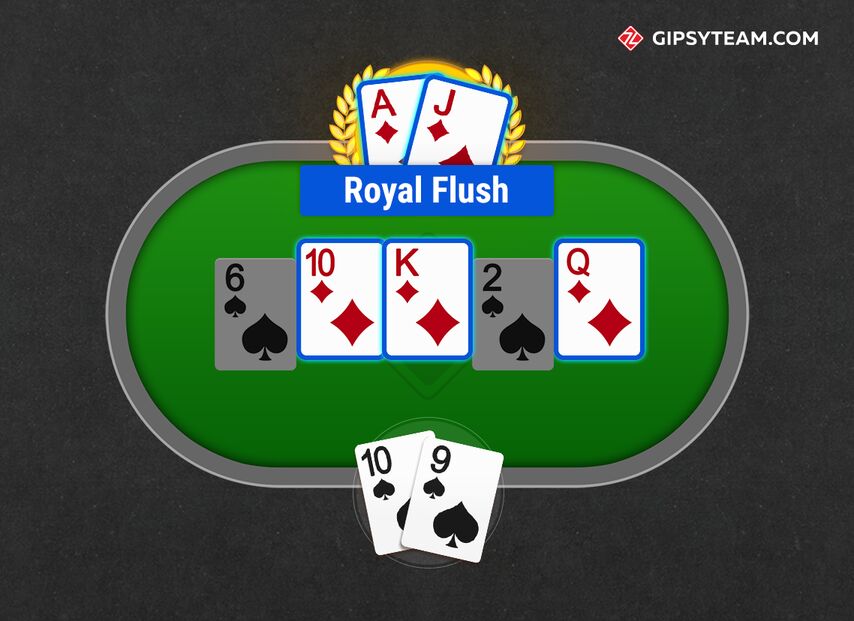 Odds of flopping a straight flush with suited broadway cards: 0.005%
Here some poker rooms where you could test your new knowledge: 
Get Comfortable With Hand Hierarchy Playing Free Poker
If you don't feel comfortable leaping into real-money poker, try out sites that offer both options; free-play and real-money.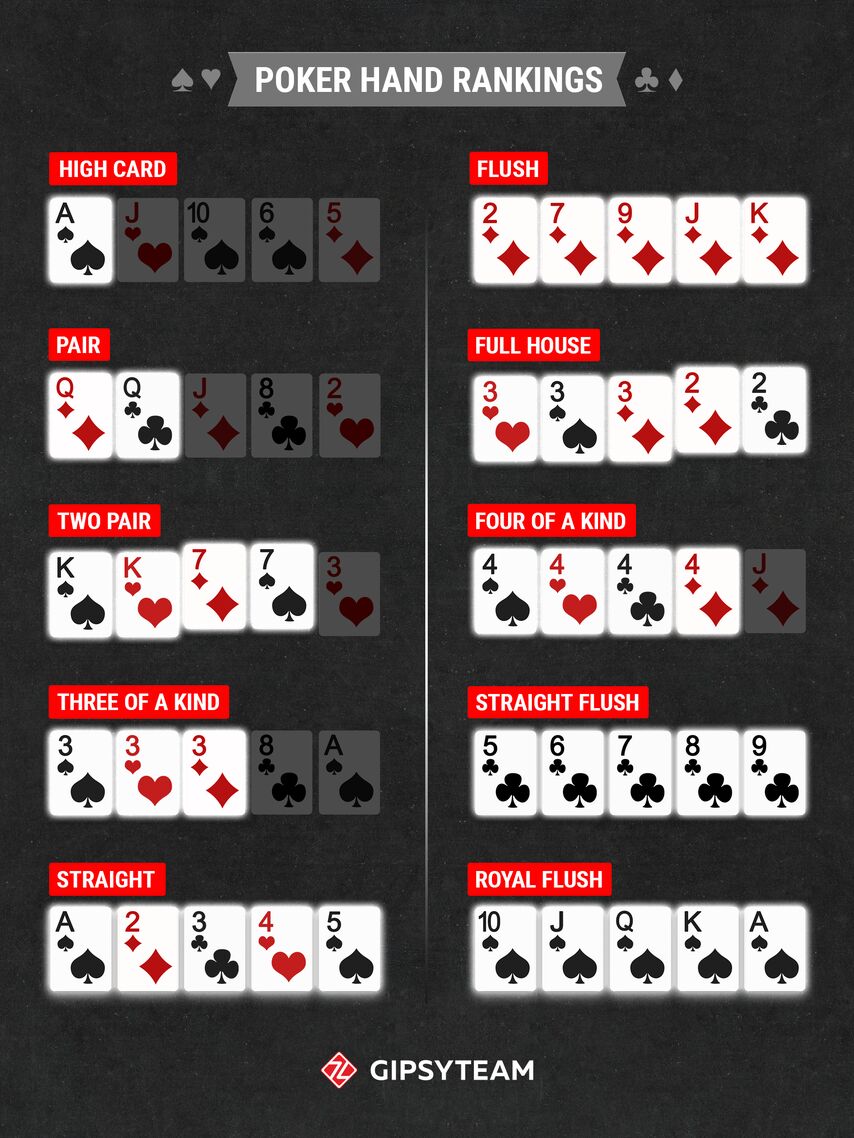 PokerStars and 888poker both have top-of-the-line software and many types of poker. Texas hold 'em is the most popular, but both sites have Omaha poker and many other formats. Choose your stakes; from free play to micro and high-stakes. You can even invite friends to your own private poker games for friendly cash games or tournaments.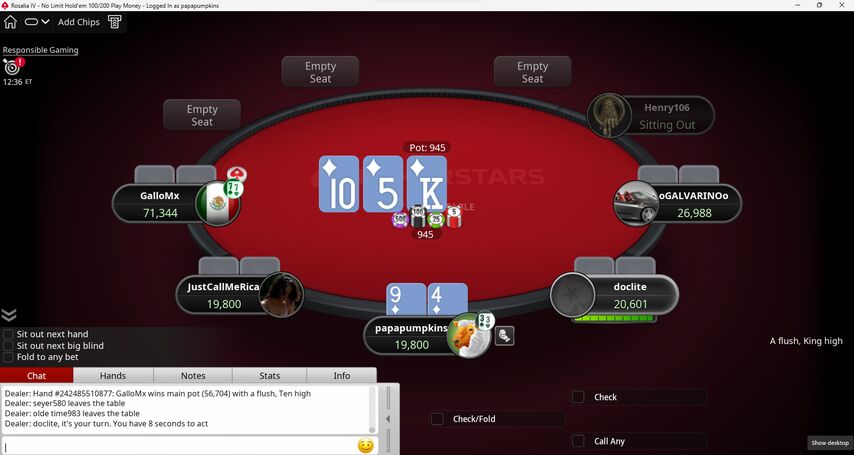 Instead of playing against the entire world online, poker clubs let you control who you play against. Join existing clubs or start up your own poker organization and fill the tables with your friends. They don't have options for free-play, but you can start at very low stakes.
Have any questions? Ask our support team: 
GipsyTeam support
We will help you solve
any
poker question
We work
around the clock
without weekends and holidays
We respond within 10 minutes
Increased rakeback and personal bonuses
Help with deposits and cashouts
Access to mobile applications
Solving problems with accounts
Technical support
Questions about the site and forum