Poker doesn't always need real money to be fun. It's easy to play Texas hold 'em, Omaha, and other fun games, without investing anything. We'll talk about lots of places to play free online poker in this article. We'll let you know which are 100% free and which have optional micro-purchases.
It's not always possible to play with no registration, but some apps like Governor of Poker 3 let you play for free with a guest account. Other sites like PokerStars and partypoker offer play money options, but you'll need to sign up first. There are ways to build a bankroll without spending a cent. With freerolls on sites like 888poker, you only invest time. We'll let you know about the freeroll prizes and how often they run.
Ride Through The Wild West In Governor of Poker 3
If you've ever wanted to be a poker-playing cowboy, here's your chance. The Governor of Poker 3 takes players through a wild west story with cash games, sit & go's, and tournaments. The design and attention to detail of the app makes it a lot of fun to play. The aim of the game is to play your way through the world map to reach the largest events. You can play Governor of Poker 3 with an account or proceed with no registration using a guest account.
This free online poker game is for fun, but there are optional purchases. Unless you want to load your account with extra chips or buy custom hats, you won't need to use any real money.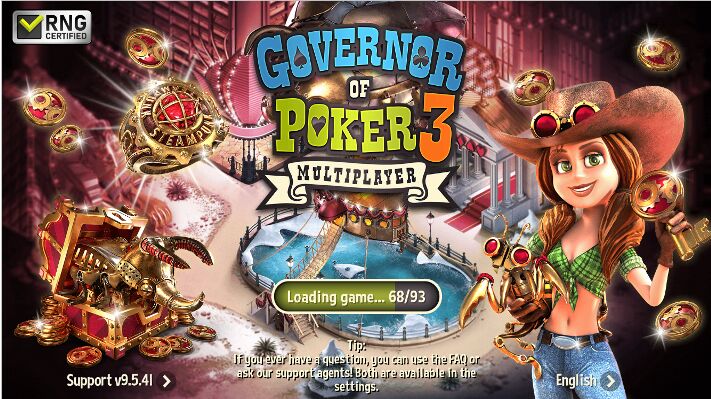 The best part is Governor of Poker 3 is player versus player, not player versus computer. There are lots of ways to interact with your opponents too. Chat directly, display your emotion with animations, or send items to other players (like sunglasses, roses, and more).
As you visit more tables and collect more chips, you'll unlock new regions of the map. The first section is classic, but the next region is a steampunk area. You'll see game information and stakes displayed on top of each location. When you sign up with the app, you'll start with plenty of chips to begin your journey through the wild West. The starting amount is more than enough for fun at the tables.
Let's look at some of the different games at Governor of Poker 3. 
Cash Games
Cash games have 8 players and a range of different buy-ins. At the start of your journey, you'll only play with small amounts of chips. As you win more, you'll unlock new cash game tables in different map regions.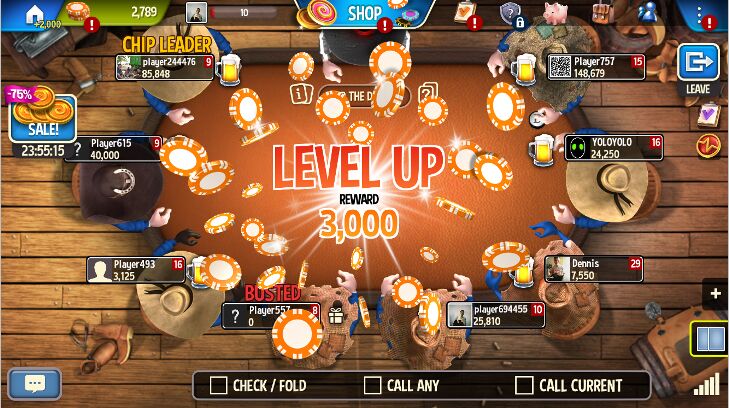 Sit & Go Tournaments
Just like the cash games, ‌sit & go tournaments have progressively higher stakes. The SNGs are always five-handed, but the Jackpot Spins are three-hand. These turbo SNGs will randomly multiply your buy-in and give you something to duel over.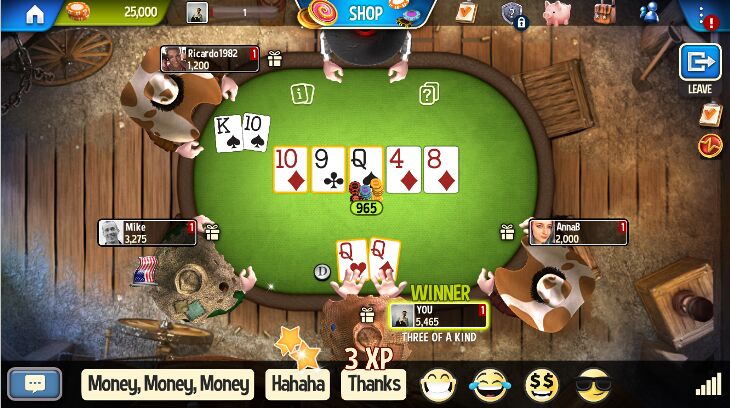 As you can imagine, playing free poker is different from real–money poker. Enjoy the game, socialize, and climb the ranks. You'll experience some wild and unpredictable players in free poker games, but the cash game tables seem to be the most similar to real-money poker. As you can see from the screenshot below, players will sometimes go all-in with very weak hands.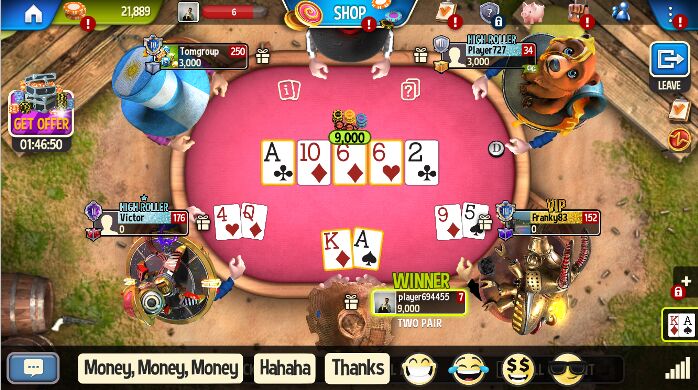 Enter Freerolls At Real Money Sites and Play Without Paying 
It's not a typo. You can start playing free online poker without depositing, but only on a few sites. The entry for freerolls is usually limited to a few thousand players.
Out of all online poker sites, 888poker has one of the best freeroll schedules. The $200 Daily Freeroll is a completely free Texas hold 'em event with no entry requirements, other than being registered. It's held almost hourly, so that means you have dozens of changes to win real money. 888poker is also one of the only sites with a No-Deposit Bonus. Take a look at the full instructions for sign-up in the 888poker GipsyTeam review.
Black Chip Poker has freerolls 8 times each day or every 3 hours. There's some variety with the games too. The $50 GTD Freeroll comes in Texas hold 'em, PLO, and PLO8. There are only 2000 entries allowed for each tournament, so make sure you register your entry early. If you want to know more about Black Chip Poker, take a quick look at our full review.
These Sites Let You Use Play-Money At The Poker Tables
It's great to use play money on real-money sites. Play money is fake money without value. You get to use top-of-the-line software, free of charge. It also gives you a way to test-drive different sites before depositing. Most sites refill your play money bankroll every day or so.
PokerStars is first on the list. By toggling the Play Money option, you can try out all of their free online poker games without any investment. The interface will look the same, but there's no real money at play. You can still play Texas hold 'em, Omaha, and even short deck at the tables. All you need to do is sign up and launch the PokerStars software to get started.
partypoker is another option for free play poker in the US and Canada. They are better known for real-money poker, but you can switch to fake money by selecting it from the app's homepage. If you lose everything, don't fret. You can refill your play money chips every 5 minutes. There are hold 'em, Omaha variants, and more. Download the software and start playing free poker.
Apps That Focus On Improving Poker Skills
Everyone learns differently, some prefer coaching and others like to self-study. It's impossible to say which method of learning is best, but they are guaranteed to help. Sometimes the cost of poker coaches can be too expensive. In this case, training apps are the solution.
Thanks to the modern age, you can train and learn wherever you are.
Advanced Poker Training is professionally made software to improve different aspects of your game. You can train for cash games and tournaments and compare your strategies to how the pros play. There's also a large video archive to guide you through all the different aspects of poker.

If you've got questions, Advanced Poker Training will answer them. The Brain Button is a cool feature to see a pro's thought process for a given scenario. You can challenge the AI poker players on the app in fake money cash games and review them afterward. It's a great way to highlight your weak areas and fix mistakes. Monthly memberships start at $40, but Advanced Poker Training guarantees a refund if you don't see the value of their software.
LearnWPT is another comprehensive poker training and studying app from the hosts of the World Poker Tour. Could you ask for a more reliable source of information?
Play hands against training bots and get live feedback on the mistakes you're making. The software keeps track of the EV (expected value) of each decision you make. They've also got a vault full of educational videos for every imaginable poker query.
The first thirty days of LearnWPT coaching is only $5, which rises to $29 after the first month.
Real-Money Poker Apps Suitable For Beginners
We mentioned 888poker earlier in the freeroll section, but we've got to talk about them again. For new players in the US and Canada, 888poker is one of the best places to start playing real-money poker.
With so many players at the tables, there's action in every direction.
Blast is a 3-way turbo sit & go with a multiplied prize
Snap is a fast-folding poker game that takes you to a new table after you fold.

Here's Why 888poker Is Perfect For Beginners: 
Great Bonuses + No-Deposit Bonus
The No-Deposit Bonus stands out, but 888poker also matches deposits up to $1000 for first depositors. Bonus money gets released as you play on real money tables, but it's a great way to maximize your first deposit.
Soft Competition
888poker is well known for having a large player pool, which usually indicates a lot of recreational players. This is possibly caused by their attractive bonuses, which offer new players more rewards than ‌at most other sites.
Huge Selection Of Freerolls
While other sites have reduced the number of freerolls, 888poker has remained consistent. Even without playing a single hand prior, it's possible to sign up and enter freerolls. The $200 Daily Freeroll runs almost hourly, plus there are $500 First Depositor freerolls.
It's easy to sign up, but you should read our full 888poker review first. We've outlined bonuses, game types, and app compatibility.
GGpoker is another site we recommend for new players. They're even larger than 888poker and have unique games, plus a well-built application. There are tons of games to play here that aren't offered anywhere else, like All-In Or Fold, Spin & Gold, plus Rush & Cash. Bigger poker sites can afford to host bigger tournaments for smaller buy-ins, and GGPoker is no different.
The ELO Spin & Gold is a new way for GGPoker to make games even fairer. Just like in chess, players get ranked by their win/loss rate. Your opponent's ELO will display beside their name, and you'll get an idea of who's sitting across from you.
GGPoker will match your first deposit 100% up to $600, but there's also a Honeymoon (not in the Bahamas unfortunately). For the first 30 days at GGPoker, you'll have a chance to grab rewards just for playing. Each day, there's a new mission to complete. Finishing these missions will unlock rewards and cash prizes.
Signing up with GGPoker is easy, but there's one thing to remember. You've got to enter the code "vipintern" when you register your account to take full advantage of future promotions.
Here's what to do:
Visit the GGPoker sign-up page.
In the Promo Code box, enter "vipintern"
That's it! You're eligible for the Honeymoon Promotion and matched deposit as long as it's your first time registering with GGPoker. Enjoy the tables!