David Sklansky is a respected figure in the gambling sphere. His literary contributions extend to fourteen books, covering topics ranging from poker and blackjack to the broader gambling spectrum. David Sklansky's influence on the poker world is immense, and he is one of the pioneers in introducing groundbreaking strategies for poker players. In this article, we shall explore the life and career of David Sklansky, his net worth, his poker journey, and much more.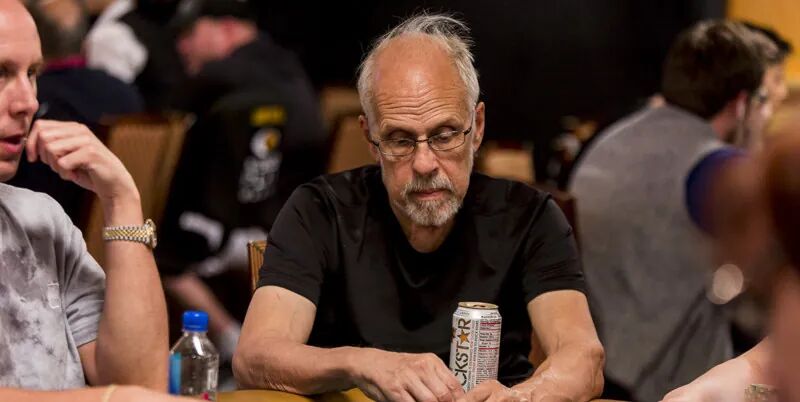 Early Life and Poker Career
David Sklansky, born in Teaneck, New Jersey, on December 22, 1947, began his poker journey with a childhood fascination with numbers and strategy. This devotion led him to pursue economics at the University of Pennsylvania, where he further refined his mathematical abilities that would later become his trademark in poker.
Sklansky decided to pursue poker as a career in the early 1970s. Given the uncertainty and potential risks inherent in professional gambling, it was a daring move. Sklansky, nevertheless, had an advantage because of his self-assurance and comprehensive understanding of the game. His early years as a professional poker player weren't without obstacles. Sklansky had his fair share of losses since the world of professional poker can be harsh. He persisted, nevertheless, honing his abilities and tactics over time. He started formulating the ideas and theories that would eventually serve as the foundation for his poker books during this period.


Long-running room with lively cash games and eight-figure MTTs
GT Bonuses


Bitcoin and US-friendly room that allows HUDs
GT Bonuses


Global crypto-only room with bad beat jackpots and weekly leaderboards
GT Bonuses
Although Sklansky's tournament wins may not have been as high as some of the current poker stars, he wasn't a slouch at the poker table either. David Sklansky boasts an impressive poker resume with three World Series Poker bracelets. 1982, he claimed two of them, triumphing in the $800 Mixed Doubles and the $1,000 Draw Hi events. in 1983, he added another bracelet to his collection by winning the $1,000 Limit Omaha Hi tournament.
| Year | Event | Winnings |
| --- | --- | --- |
| 1982 | $1,000 Draw High | $15,500 |
| 1982 | $800 Mixed Doubles | $8,800 |
| 1983 | 1,00- Limit Omaha | $25,500 |
David Sklansky's WSOP Bracelets
The Theory of Poker
The pioneering book "The Theory of Poker," initially published in 1987, is one of David Sklansky's most significant contributions to poker and one of the top most-sold poker books. This book transformed how players viewed the game by offering a comprehensive framework for comprehending poker strategy. "The Theory of Poker" looks into several facets of poker, including hand selection and bluffing, game theory, and psychological concerns. Sklansky's book quickly became a classic, providing vital information to beginner and veteran players. His systematic approach to poker strategy gave players a road map to the game in depth.
The Fundamental Theorem of Poker emphasizes that altering your approach to a hand from what you'd do if you knew your opponents' cards benefits them while maintaining your strategy as if you had perfect information causes them to lose. This principle underscores the significance of decision-making based on expected value over results.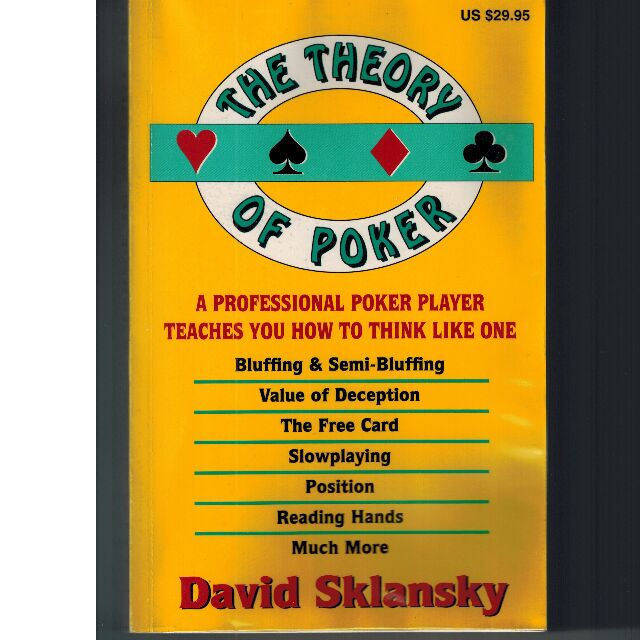 You can practice some of these techniques at your local casino, or on online platforms like GG Poker, AmericasCardroom, and 888 Poker
Tournament Poker for Advanced Players
David Sklansky's "Tournament Poker for Advanced Players" enjoys a well-deserved reputation as one of his most celebrated publications. This book was published in 2002 and is a comprehensive guide for excelling in tournament poker, posing challenges and opportunities distinct from those in cash games.
Learning the dynamics of tournament play is one of the most significant points to be taken away from Sklansky's book. In contrast to cash games, where you can always purchase additional chips, tournaments involve increasing antes and blinds that exert pressure on your chip stack. Sklansky emphasizes the significance of modifying your approach as the tournament progresses, especially as you get closer to the bubble and the final table. These tips could be useful the next time you make a final table run on PokerStars.
The Independent Chip Model (ICM) is one of Sklansky's book's most noteworthy concepts. When faced with tough tournament decisions, like going all-in, this approach aids players in making better choices. Knowing ICM might be the difference between making the right decision and an early tournament elimination. This book provides in-depth tournament poker strategies that can be applied in no-limit hold 'em for tournament settings.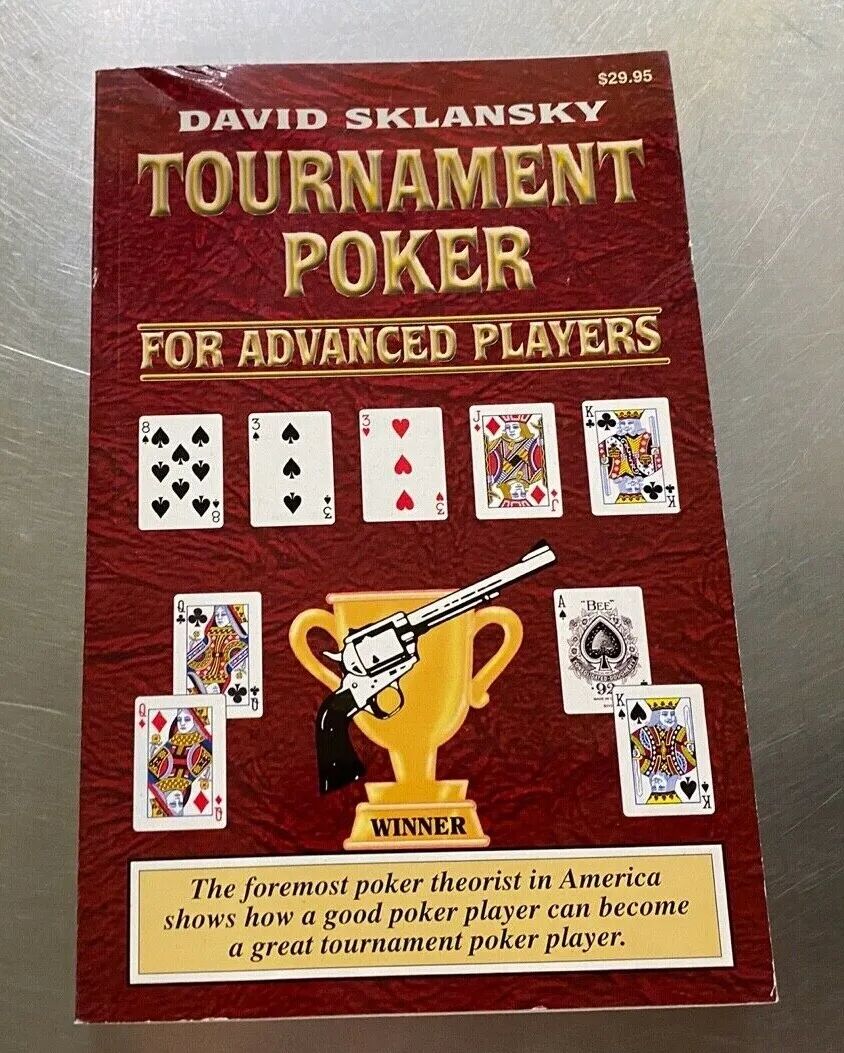 Net Worth
Sklansky has amassed a considerable net worth thanks to his years of strategic expertise and perceptive writings, which have helped him win big at the poker table. As of 2015, he had accumulated over $1,350,000 in live tournament winnings. David Sklansky's net worth is estimated at one to five million dollars. While the exact amount may vary, it is hard to estimate the correct figure since he has yet to make this information public.
| Title | Year |
| --- | --- |
| The Theory of Poker | 1987 |
| Hold'em Poker for Advanced Players | 1988 |
| Getting the Best of It | 1989 |
| Sklansky on Poker | 1989 |
| Tournament for Advanced Poker Players | 2002 |
Some of the Poker books authored by Sklansky
Critiques and Controversies
Despite being widely respected in the poker community, David Sklansky has faced criticism and controversy. According to some critics, his style of playing poker might be extremely cautious, which can result in missed opportunities in certain situations. Furthermore, some players are skeptical about the applicability of Sklansky's earlier theories in the context of contemporary, aggressive poker techniques as the poker game has evolved.
It's essential to note that poker is a constantly changing game with several practical approaches, and what might work for one player may not be suitable for another. Sklansky's emphasis on playing conservatively and relying on mathematical principles may not resonate with all players.
If you are looking for modern approach to poker education, our online shop with poker software could help you.
Legacy and Influence
David Sklansky has had an enormous impact on the world of poker, particularly in the format of No-Limit Hold 'em. Several of today's top poker players have cited Sklansky's books as having an immense impact on their journeys to becoming successful. A new generation of poker players has been inspired by his analytical approach to the game to think through their decisions carefully and constantly evolve their tactics.
Where is David Sklansky Now?
While David Sklansky continues engaging with the poker community through his writings and occasionally plays on Twitch, he has largely retired from the high-stakes world of professional poker. He has transitioned into a quieter phase of life, concentrating on his family and pursuing interests beyond poker. This transition mirrors the experiences of many veteran poker players who find the demands of professional play and frequent travel draining over time.