Zachary Elwood is a familiar name to most in the poker industry. Elwood's path has been one of poker expertise, from humble beginnings to a prodigy as a writer, poker player, and blogger. We explore the life and work of Zachary Elwood, his journey from a poker player to a renowned author, and his book's impact on the poker arena.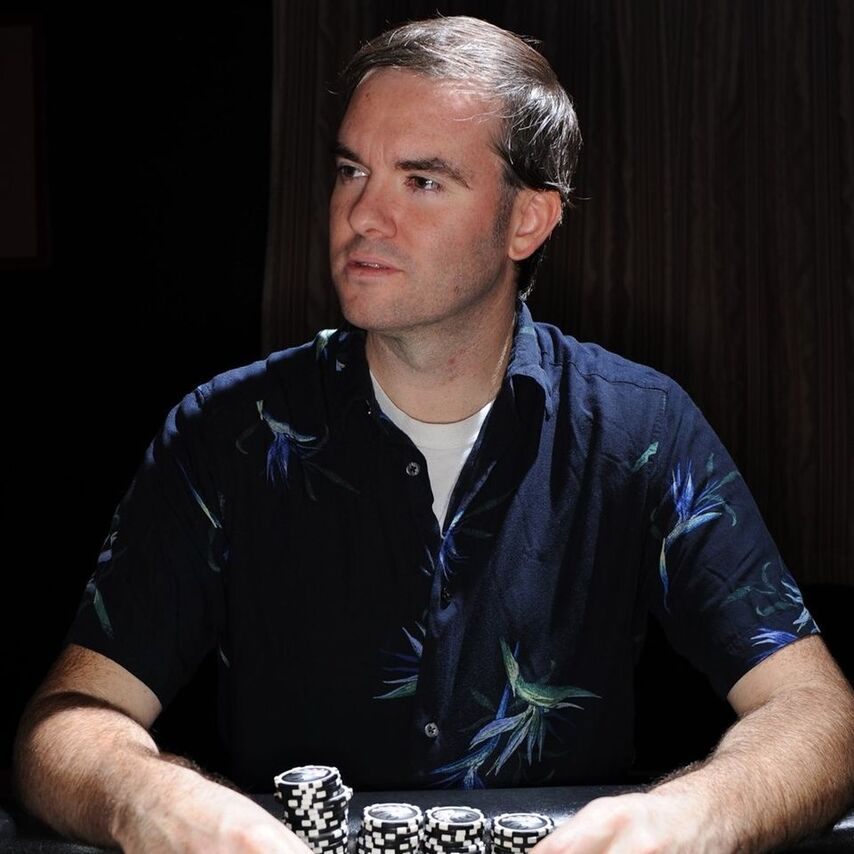 Early Life and Poker Career
Every story has to start from somewhere, and Zachary Elwood's poker journey was no different. Elwood was born in Eugene, Oregon, in 1981 and grew up passionate about games and puzzles. The mental challenges they offered captivated him, and those puzzles would later prove to be a significant advantage in his poker career.
The unconventional nature of Zachary Elwood's poker career is a testament to his commitment and love for the game. Unlike most professional poker players who make their livelihood solely at the tables, Elwood discovered his niche as a poker coach and author. He began playing poker actively in 2000 and professionally from 2003 to 2006. While he may not have won millions of dollars in tournaments as other pros, he was a great poker player, who likely also played on online sites like PokerStars.


Bitcoin and US-friendly room that allows HUDs
GT Bonuses


Long-running room with lively cash games and eight-figure MTTs
GT Bonuses


Daily cash races, MTTs and Spins with big prizes
GT Bonuses
Reading Poker Tells
In 2012, Zachary Elwood unveiled his inaugural book, Reading Poker Tells, shortly after launching his blog. This comprehensive book enlightens readers about decoding and interpreting behavioral cues that surface at poker tables. Drawing upon Elwood's substantial experience and extensive research, it furnishes readers with a valuable arsenal of practical advice on spotting and capitalizing poker tells.
Elwood's talent for analyzing the subtleties of human behavior at the poker table is genuinely remarkable. He explores the psychology behind players' actions and advises readers on recognizing subtle signals that reveal an opponent's hand strength. Elwood provides valuable insights into the art of reading opponents, whether nervous twitch, discreet eye contact, or a confident posture.
Reading Poker Tells is generally recognized as one of the definitive works on the topic. It gives vital insights into the psychology of poker and provides players with the tools they need to gain an advantage in live games. Unfortunately, these physical tells won't do you much good if playing on 888Poker, GGPoker, and Americas Cardroom.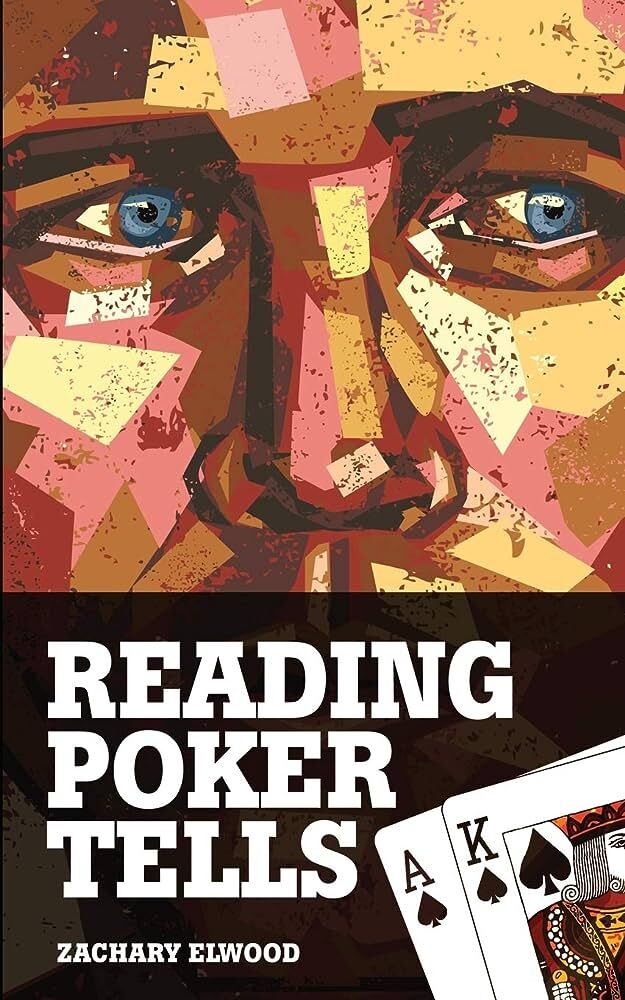 Verbal Poker Tells
2014 saw Elwood's release of Verbal Poker Tells, building on the success of his debut book. This book delves deep into the verbal cues used in poker, unraveling the unintentional verbal signals that players give away during a game.
By carefully examining numerous poker hands, Elwood illustrates the verbal clues that often divulge a player's card strategy during tournaments. These instances are drawn from the author's extensive observations of thousands of live and recorded poker hands. They are integrated into a broader exploration of the reasons behind players' spoken actions at the table.
Verbal Poker Tells is a groundbreaking work that sheds light on the often-overlooked aspect of poker verbal cues. It gives readers an in-depth understanding of how words, tone, and timing can be used to gain valuable information about an opponent's hand. Just like its predecessor, this book was well-received by the poker community.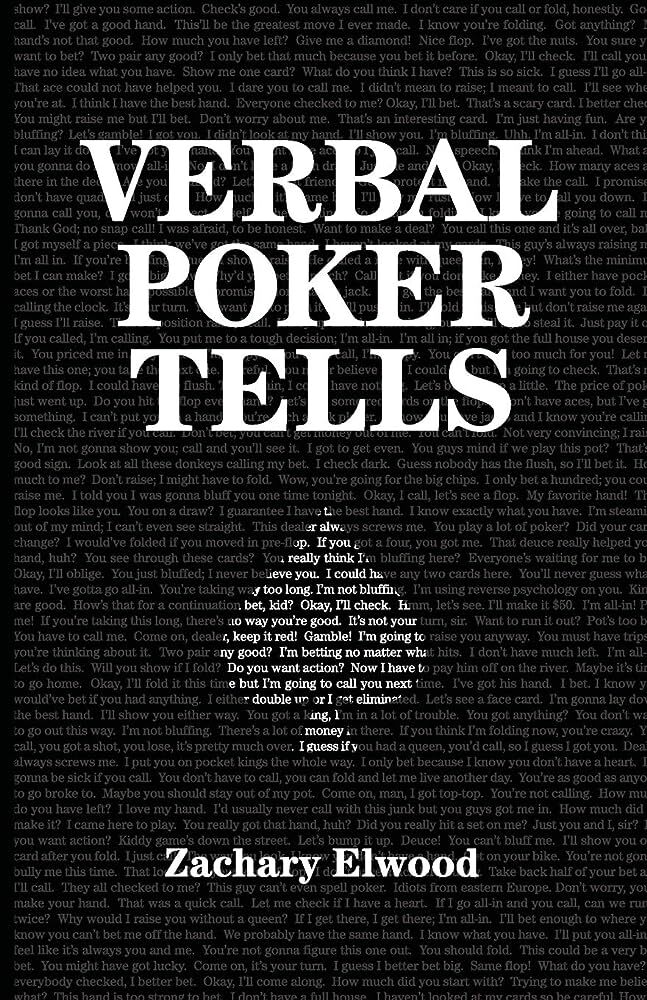 Reading Poker Tells Blog
Zachary Elwood launched the Reading Poker Tells blog in 2012. This blog swiftly gathered a dedicated following thanks to its perceptive analysis of poker behavior and body language. Elwood's knack for unraveling subtle hints and gestures at the poker table intrigued readers and empowered them to enhance their poker strategies.
One of the standout features of the blog was its use of real-life examples from televised poker events. Elwood would break down certain hands and scenarios, providing readers with a glimpse into the minds of professional players. This practical approach simplified the complex concept of poker psychology to be understandable by amateur players.
Reading Poker Tells gained popularity; it became a go-to resource for players looking to improve their knowledge of poker tells. Furthermore, the blog served as a platform for Elwood to share excerpts from his books to elucidate more concepts and for interested players to purchase his books.
| Book Title | Publication Year | Description |
| --- | --- | --- |
| Reading Poker Tells | 2012 | A Comprehensive Guide on Decoding Poker Behaviors |
| Verbal Poker Tells | 2014 | An Extensive Exploration of Verbal cues in Poker |
| Exploiting Poker Tells | 2017 | Advanced Techniques for Capitalizing on Opponent Tells |
| A Killer Poker Mind | 2019 | Mental Game Strategies for Poker players |
Elwood's Published Books
Critiques and Controversies
Like any other notable figure in the poker industry, Zachary Elwood has faced criticism and controversy. Some critics claim that, although his work on poker tells is undoubtedly significant, it has been extensively covered, possibly reducing its efficacy as opponents become more conscious of their cues.
Furthermore, there has been debate concerning the constraints of relying too much on behavioral cues in an age where many players know the significance of concealing tells. Others argue although Elwood's strategy is effective against certain opponents, it may not always be helpful in high-stakes games where experienced players have learned the art of deception. Success in modern day online poker is usually connected with solver studying and hands analysis.
Contributions to the Poker World
Besides his books and coaching, Zachary Elwood has made significant contributions to the poker world. He has been a regular guest on poker podcasts and has appeared in televised poker tournaments to share his expertise on player behavior. Elwood's willingness to share his knowledge has shed some light on poker psychology, making it comprehensible to players of all skill levels.
Elwood has contributed to poker forums and discussion groups, interacting with players seeking advice and answers to poker-related concerns. His accessibility, as well as his devotion to assisting others in improving their poker skills, has endeared him to the community. Zachary Elwood has left an indelible mark on the poker world.