After a thrilling and profitable poker session, the next step is to withdraw your hard-earned cash. This in-depth article will walk you through everything you need to know about PokerStars withdrawals, including the process of withdrawing funds, the minimum to withdraw amount, and the various options available to make your cash-out process smooth and hassle-free.
How to withdraw money from PokerStars
Withdrawing funds on PokerStars is easy and relatively straightforward. Follow these steps to cash out your earnings:
Login: Start by logging in to your PokerStars account. Your username and password will be needed for this.


Bitcoin and US-friendly room that allows HUDs
GT Bonuses


Long-running room with lively cash games and eight-figure MTTs
GT Bonuses


Daily cash races, MTTs and Spins with big prizes
GT Bonuses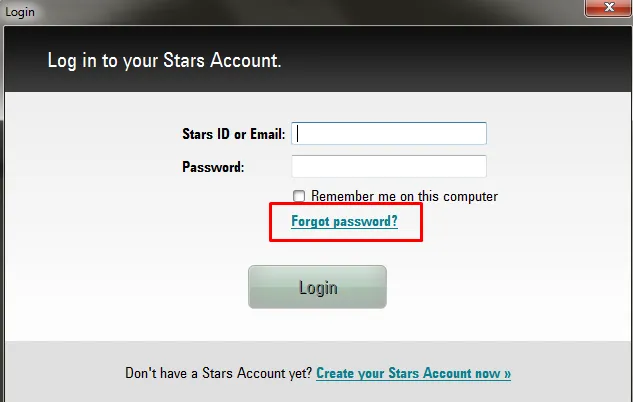 You need to fill in your details when logging in
Cashier: Once logged in, head to the "Cashier" section. You can find this in the main menu or the top navigation bar.
Select Withdraw: In the cashier section, look for the "Withdraw" option and click on it.
Select Your Withdrawal Method: PokerStars offers withdrawal options, and you can choose the one that suits you best. We'll delve into these options in more detail later in this article.
Enter Withdrawal Amount: Indicate the amount you wish to withdraw. Be mindful of the minimum withdrawal limit, which we'll discuss shortly.
Verify Your Identity: To ensure security and prevent fraud, PokerStars may require you to verify your identity before processing your withdrawal. It usually involves submitting the requested identification documents.
Confirm Withdrawal: After selecting your withdrawal method, entering the amount, and completing any necessary verification steps, confirm your withdrawal request.
Wait for Processing: The withdrawal processing time may vary depending on the chosen method. Some methods are faster than others, so patience is essential.
You have the option to cancel a cashout before it's completed. Go to the "Cashier" section, click on "More," and select "Unprocessed Withdrawals." Then, confirm the cancellation of the transaction.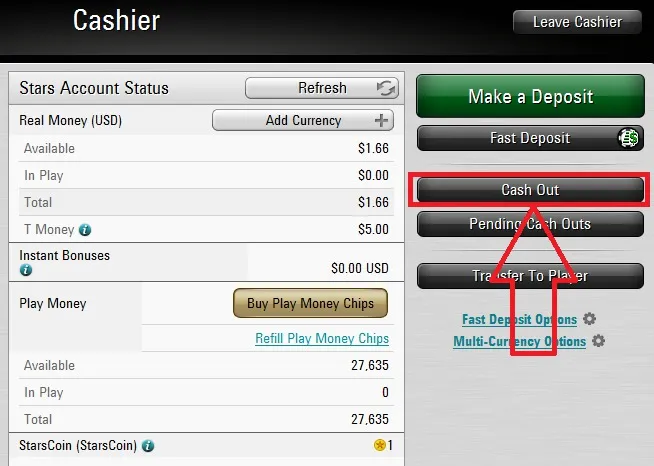 PokerStars withdrawal methods
PokerStars provides multiple withdrawal options to cater to the diverse needs of different players. Let's take a closer look at some of these options to get your real money winnings:
Direct bank transfer
Players can withdraw their real money winnings directly to their bank account. This method is secure and reliable, but the funds may take a few business days to reflect in their accounts. Remember, only withdrawals are available on direct bank transfers.
PayPal
Only countries with a regulated poker market, like the UK, are eligible for PayPal withdrawals. The procedure for withdrawing funds closely resembles that of other electronic payment systems. You can locate the present withdrawal limits within the PokerStars Cashier.
Electronic wallets
PokerStars enables popular eWallets withdrawals like PayPal, Skrill, and Neteller. These eWallets provide a fast and convenient way to withdraw your winnings, with processing times typically ranging from minutes to a few hours.
| Mode of Payment | Withdrawal Limit |
| --- | --- |
| Webmoney | $10-$1,000 |
| MuchBetter | $10-$10,000 |
| ecoPayz | $10-$10,000 |
| Skrill | $10-$10,000 |
| Neteller | $10-$10,000 |
| Visa | $100-$5,000 |
Various withdrawal options on PokerStars
Many of these methods can also be used on other online poker sites like 888Poker, AmericasCardroom, and GGPoker.
Processing time and withdrawal limits
Different services come with specific withdrawal limits, minimum and maximum. The lowest withdrawal amount usually starts at $10, but if you're using a Visa card, it goes up to $100. It's important to note that the payment processing center determines these minimum and maximum amounts, not the poker operator. You can find the current limits in the Cashier section after selecting your preferred method for the financial transaction.
Electronic wallet withdrawals may take up to 72 hours for processing, though they can be processed quicker. Transferring funds to Visa or bank accounts typically spans 3 to 10 business days, excluding weekends.
UK users should be aware that Paysafecard, Neosurf, Trustly, and Maestro Card cannot be used for withdrawals. Furthermore, please note that PokerStars' money transfer system serves the purpose of topping up other players' accounts, enabling them to continue playing poker in the room.
| Mode of Payment | Processing Time |
| --- | --- |
| Skrill and Neteller | Ranges from a few minutes to three days |
| Webmoney and Apple Pay | Up to three days |
| Visa cards (including CFT-eligible ones) | Up to 72 hours+3 to 10 business days to receive your funds |
| Direct Bank Transfer and Wire Transfer | Up to 72 hours+3 to 5 business days to receive your funds |
Processing time for different payment methods
PokerStars withdrawal rules
PokerStars' withdrawal policy is designed with player convenience in mind.
Players must withdraw funds using the method they used for their initial deposit. In cases where multiple funding methods were employed, withdrawals will be processed proportionally among those methods.
You must generate a rake amounting to at least 15% of the money transferred by another player before you can withdraw.
You must wait 48 hours after your most recent deposit before requesting a withdrawal.
Cash withdrawals to MasterCard cards are not available at the moment.
Possible causes for declined withdrawals
On occasion, PokerStars may decline players' cashout requests. PokerStars could reject your withdrawal due to several reasons:
Wrong payment details: Please review the payment details you provided to ensure their accuracy before attempting to withdraw.
Expired bank card: Kindly initiate a fresh payment request with a different option.
In case your selected payment method is blocked, please ensure the current status of your electronic wallet or card. You can reactivate it by making a minimum deposit if it hasn't been utilized.
Verification of your account is mandatory to request a withdrawal, and you have to submit the necessary documents for this process.
PokerStars can be processing your previous transaction, so please wait for it to be successfully processed.
There's been a server error, so kindly be patient and retry your request later.
If you are experiencing no issues but face challenges in withdrawing your funds, we recommend contacting our dedicated support team. You can contact them by crafting a detailed email and sending it to support@pokerstarscom, including screenshots to resolve the issue.