Many poker players were introduced to the game by relatives or friends. When home games finish, some beginners don't know where to keep playing. There are many options, but each carries pros and cons. You can drive to a casino, but that isn't always convenient. Then there's the overwhelming selection of online poker sites and mobile applications.
There are a few clever ways to play poker without spending any money. If you're ready to play for real money, choose the poker site carefully. You want to maximize your investment and play against the right level of opponents. Keep reading to learn about free-play poker and real money sites for beginners.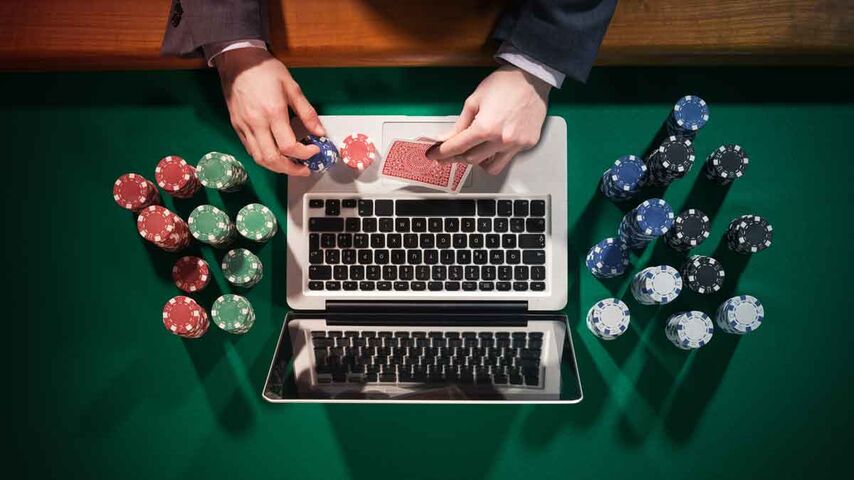 How To Play Real Money Poker Without Using Any Money
When first learning the game of poker, you shouldn't immediately invest money. You want to get familiar with the game's speed, the various actions, and the positions.
Enter Freeroll Tournaments. Poker sites host free tournaments, usually called "freerolls" Signing up with sites like 888poker means you can enter hourly freeroll tournaments. At many sites, playing real-money poker gives you access to more lucrative free tournaments. If you lose all of your chips, sometimes you can rebuy for a low fee.
You won't be the only player trying to get a piece of the free prize pool. Freerolls usually have more registered entrants than tournaments with real-money fees.
No-Deposit Bonuses. Where to play poker without deposits? Getting real cash isn't easy, but it's possible. Most poker sites offer bonuses after a minimum deposit, but some have rewards just for signing up. This is because most players will use their free cash quickly and eventually deposit more. Bonuses always come with requirements, and you'll usually have to play to unlock the total value. Smaller poker sites usually don't offer these kinds of bonuses.
888poker has been offering their No Deposit Bonus for a long time. It's not the only thing that makes this a good starting point for beginners. The competition is very soft at the low stakes, the perfect place to use your free cash. We'll be talking more about 888poker again, further down the page.
Beginners Can Play Poker For Free On These Sites
Before your first deposit to your chosen poker room, try play-money poker. You can trial the app's features and play different formats of poker like Texas hold 'em or Omaha.
Real-money poker is different than play-money poker. It might help you get familiar with basic rules, but your opponents won't help you improve much. With nothing of real value at stake, you won't see much strategy applied. Keep that in mind when you're moving from free-play to real-money tables.
PokerStars. You can play poker for free by downloading the PokerStars software and toggling the Play Money option. You'll see the same lobbies as you did before, but without real money on the tables. You still be able to play different formats like hold 'em, Omaha, and even short-deck poker. There are tournaments, sit & go's, cash games, spins, and more.
The Play Money section won't be as busy as the Real Money tables, but you'll find games to play. This is a great way to take a close look at the software and all of PokerStar's games. You can also read about them in our detailed site review. Once you lose your play-money chips, you'll need to reload or move on to partypoker's free tables.
Partypoker. Just like PokerStars, you can play without real money at partypoker. Select the Play Money tab and choose a game that you want to play. There are sit & go's, MTTs, and cash games. You can play Texas hold 'em, variations of Omaha poker, and more. You can reload more chips if you lose everything, as long as you wait more than 5 minutes between rebuys.
All you need to do is download the software, and open the Play Money section. If you want to learn more about partypoker, take a look at our full site review.
Soft Real Money Poker Sites For Beginners
When you've practiced enough, you'll want to move on to real-money poker. When there's real cash on the tables, you'll need to start applying strategy. Even at low stakes with one or two-dollar buy-ins, be thoughtful and aware. Most of your opponents at this level will not be professional or even skilled poker players, but that doesn't mean it will be easy. Use your time at low stakes as an inexpensive education in real-money poker.
Let's talk about the poker sites that are best for beginners and new players.
GGPoker: Great Poker Software And Traffic. There are some really fun kinds of poker on the GGPoker app. Their reliable software is creative and very interactive. They're the largest online poker room in the world and well-regarded. They don't allow any heads-up display software and that favors beginners. Everyone can use the same built-in tools, so there's no unfair advantage.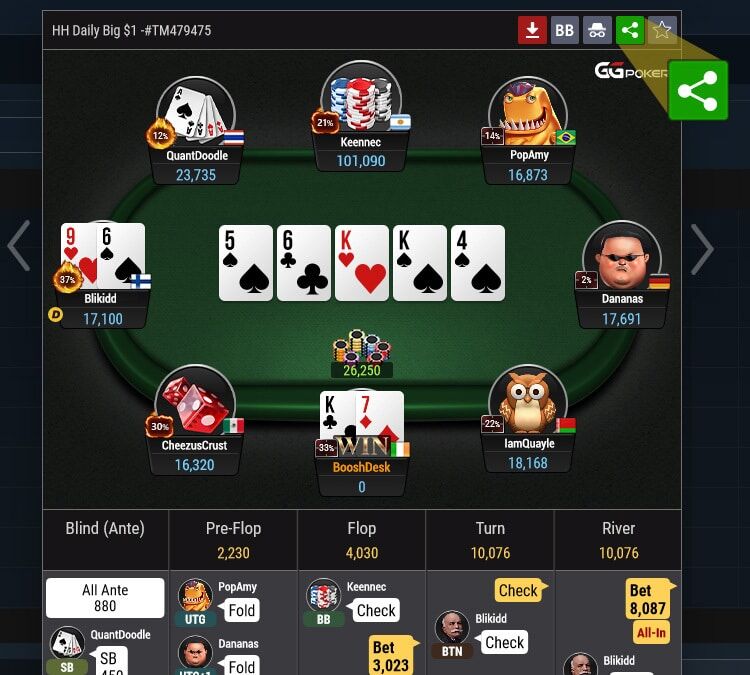 They have classic formats like Texas hold 'em and Omaha poker, and they've gotten creative with other types.
GGPoker's Cash Game And Tournament Formats:
Texas Hold 'Em (6 and 9-player tables)
Pot Limit Omaha
Omaha Hi-Lo
Short Deck
Some Popular Games At GGPoker:
All In Or Fold
Rush & Cash (fast-folding poker, get new cards after you fold)
Spin & Gold (a turbo sit & go with 3-players and a multiplied prize pool)
To browse their full list of games or yourself, you'll want to register. As you're filling out your details, look for the Promo Code box. Be sure to enter the code "vipintern", so we can set you up with future promotions and rewards. You can also check out our full GGPoker review. Deposit/Withdrawal Methods At GGPoker: Visa, Mastercard, Skrill, ecoPayz, Neteller, E-Wallet. 
888poker: Best New Player Bonus. Possibly because of their No-Deposit Bonus, 888poker has grown a large, soft player base. If you've played free poker and want to transition to real money, this is a suitable site. With easier competition and an attractive welcome package, it's one of the best places for beginners to play.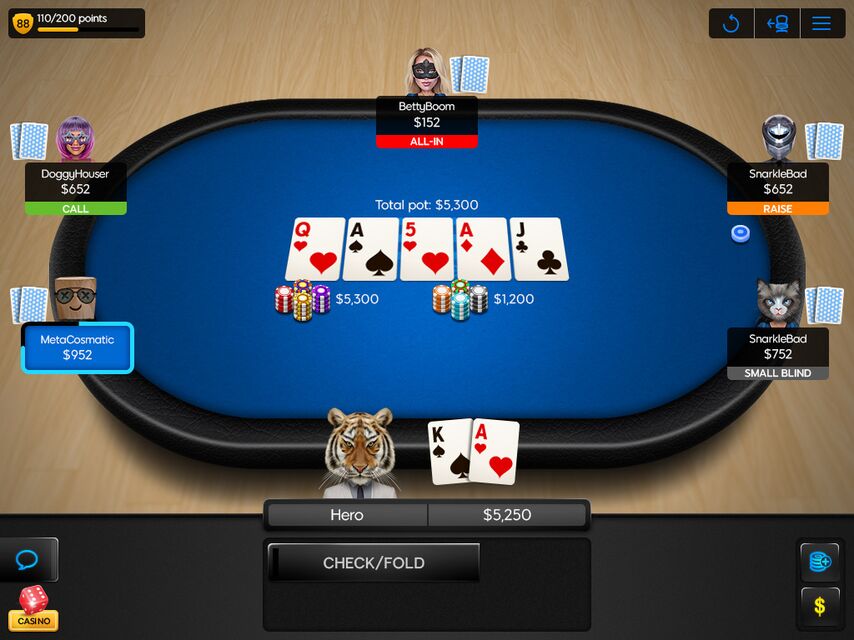 Cash Game And Tournament Formats At 888poker:
Texas Hold 'Em
Pot Limit Omaha
Omaha Hi-Lo
Some Games Offered At 888poker:
Snap Poker (get a new hand immediately after folding)
Blast (a 3-player turbo sit & go with a prize multiplier)
If you want to make the most of a small deposit, this is a great poker site for that. Their reward is a matched deposit bonus, 100% up to $1000. Just enter the code WELCOME100 with a deposit of more than $10. Deposit/Withdrawal Options At 888poker: Visa, Mastercard, Neteller, PayPal, Moneta, Bank Draft. 
Black Chip Poker: Bitcoin And Crypto Accepted. This online poker platform has great traffic, just like our other picks. They are part of the Winning Poker Network, so they share players with other sites. At the micro-to-low stakes, you'll be playing with recreational players and beginners. Their cash games and tournaments are very busy from the low to medium stakes.
You can play on Windows and Android, with iOS options coming soon.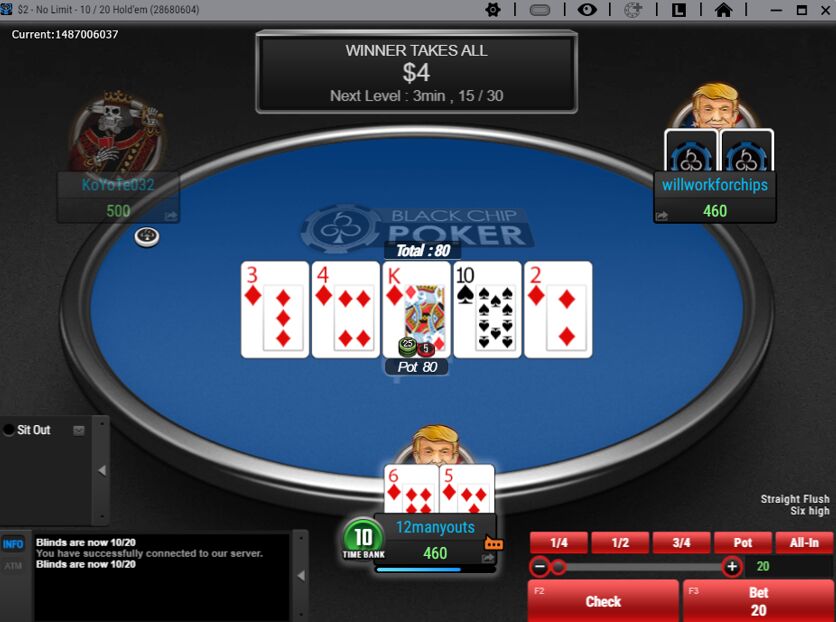 Formats At Black Chip Poker:
No Limit Texas Hold 'em
Pot Limit Omaha
Omaha Hi-Lo
Interesting Games At Black Chip Poker:
Blitz Poker (fast-fold format)
Jackpot Spins
Since they're part of a large company, they have excellent customer service and quick deposits. Black Chip Poker has a stellar reputation and they're also one of the few sites to welcome bitcoin and crypto users. They'll match your first deposit 100%, up to $2000. We reviewed Black Chip Poker's application and bonuses in another article.
Deposit/Withdrawal Options At Black Chip Poker: Credit Cards, Debit Cards, E-Wallet, Person-To-Person Transfers, Bitcoin, Multiple Cryptocurrencies
PokerBros: Popular Club Poker App. PokerBros is a poker club application. They operate differently from sites like PokerStars, 888poker, and GGPoker. Instead of the site holding player funds, club owners manage them and act as cashiers. Players exchange their money with these club owners to get their chips.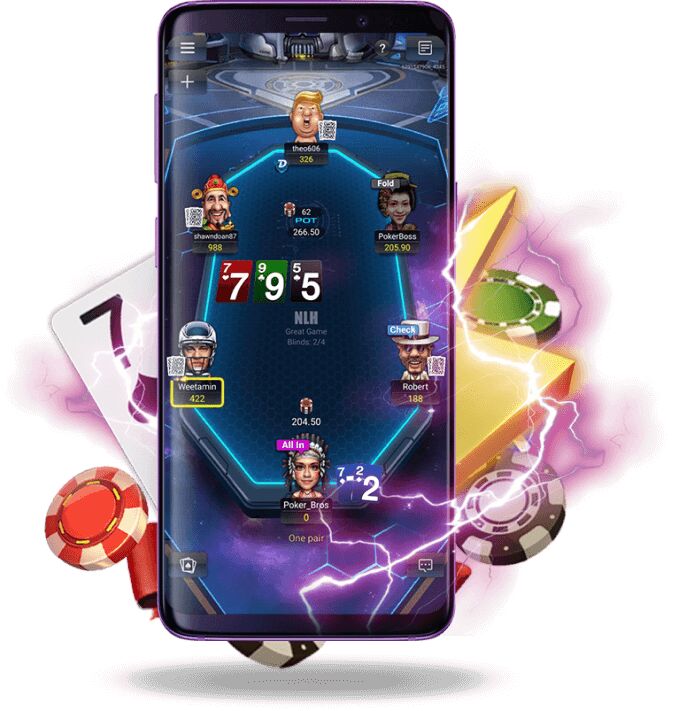 Formats At PokerBros:
No Limit Texas Hold 'Em
Fixed Limit Texas Hold 'Em
Pot Limit Omaha
Fixed Limit Omaha
Omaha Hi-Lo
Popular Club Poker Games At PokerBros:
Bomb Pot Poker (play starts at the flop, no preflop action)
All In Or Fold MTTs (multi-table tournaments)
Jackpot Spins
SNGs (sit & go's)
You won't be mixed in with the entire player base. A poker club aims to divide players into groups of their choice. It's up to them who they sit down with at the table. So if you want to organize a game with your officemates, you can do that. There's a lot to customize, and not only the interface. You can choose the table and cards, but you also control the game format. Things like the stakes and amount of players are up to you once you start a club. You can also combine several different games on one table in their Mixed Game format.
PokerBros has a great application, on the same level as other top poker sites. It runs smoothly on both iOS and Android. If you want to use a PC or Mac, you'll need to download the BlueStacks emulator. Deposit/Withdrawal Options At PokerBros: Neteller, Skrill, EcoPayz, Bitcoin, USDT
A Free Poker Application That Is Just For Fun

Governor Of Poker 3 sets you on a mission to become a poker legend in the wild West. You'll start with a decent bankroll and compete in cash games and tournaments to work your way up the ranks. The animations and mutterings from the other cowboys and cowgirls at the table are entertaining. The storyline takes you through many different cardrooms and saloons.
It's a great application to play a little risk-free poker, but not a training method. You can download ‌Governor of Poker 3 for Android and iOS, Steam, or play in your browser.
Frequently Asked Questions
How Old Do I Have To Be To Play Online Poker?
The minimum age for most poker sites is between 18 and 21 years of age. This is to abide by regulations in the US and other markets.
What's The Minimum Amount I Have To Deposit For Real Money Poker?
In most cases, $10 is the minimum deposit amount for online poker sites. Some platforms have slightly higher minimums like $15 or $20.
Do I Need A Heads-Up Display To Win More?
A HUD is a useful tool and an advantage. We can't remember as much information as a HUD can, and it can tell us a lot about our opponents. Almost all successful players use a HUD combined with other software.
When you first start learning poker, it's not necessary to have a heads-up display. It will complicate things, so it's better to use it once you're more familiar with poker. Not all sites allow heads-up displays or other software, so check our poker room reviews to make sure.