Many different formats of poker use the same betting round structure and positions. Getting familiar with betting is crucial to a poker player's development. There are four betting rounds during a full hand of poker. This GipsyTeam article explains and answers common questions about each betting round.
Betting rounds, sometimes known as betting "streets," give you chances to make bets. At four different stages, you'll have to make decisions. In this article, we'll avoid strategy and clearly explain how each round works. We'll include links to strategy guides, for those who want to dive a bit deeper.
Let's Review The Basic Poker Rules
Texas hold 'em and Omaha poker follow the same rules for the dealer button, big blind, and small blind. The two players to the immediate left of the dealer have to make mandatory bets. Before any cards can be dealt, these two players must put out the blinds.


Bitcoin and US-friendly room that allows HUDs
GT Bonuses


Long-running room with lively cash games and eight-figure MTTs
GT Bonuses


Daily cash races, MTTs and Spins with big prizes
GT Bonuses
The small blind sits beside the dealer on the left, with the big blind on their left. The dealer button, small blind, and big blind move one position clockwise after the hand finishes.
Example BB and SB structure:
| Stakes | Meaning |
| --- | --- |
| $1/$2 | The small blind pays $1 and the big blind pays $2 |
| $2/$5/$10 | The small blind pays $2, the big blind pays $5, the under the gun pays $10 |
When the blinds are on the table, cards are dealt clockwise one at a time. For Texas hold 'em, each player receives two cards face-down. In classic Omaha poker, players get four face-down cards.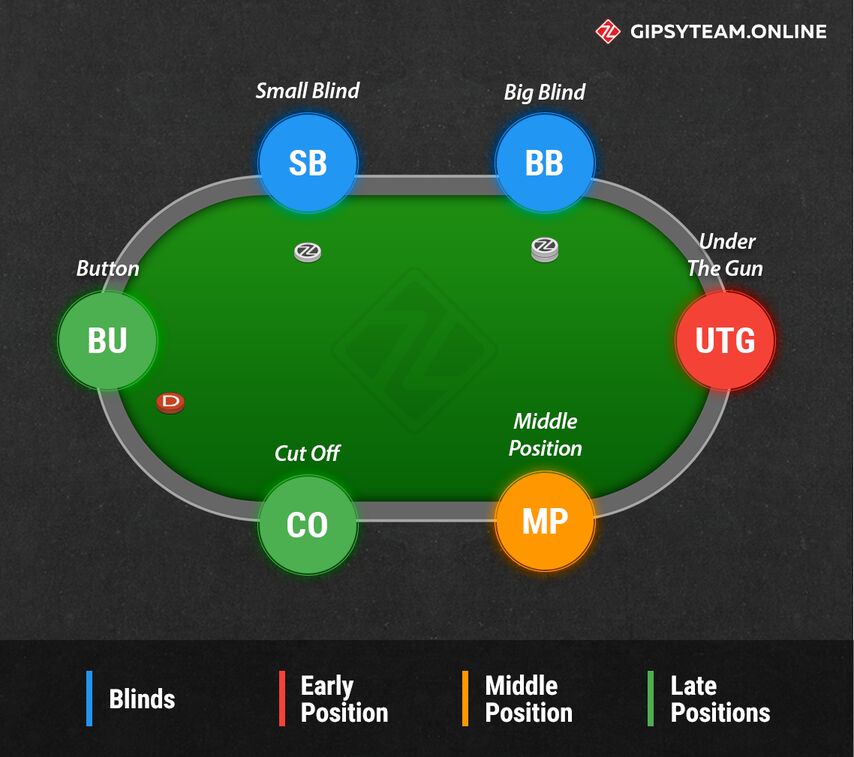 Pre-Flop: The First Betting Round 
Blinds are posted and the cards are dealt to players. When everyone has their cards, it's time for the player seated left of the big blind to act. Poker action always moves clockwise.
After you look at your cards, you have three options:
1. Fold. If you fold your hand, you don't put any chips into the pot. Your cards will go into the "muck", like any other folded cards. Folding is also known as mucking or laying down a hand.
2. Call. Calling means you match the current bet. That means one big blind during the pre-flop stage, as long as nobody increases the bet amount with a raise.
3. Raise. Raising increases the amount other players must match to continue playing. To raise, you'll have to put in an amount that is double the big blind size.
The round ends when everyone has had a chance to act, either by folding or matching the bet amount. It's common to see a player win the hand during the pre-flop stage. If nobody matches their raise, they can quickly win the hand.
Frequently Asked Pre-Flop Questions
– My Opponents Folded After I Bet. Do I Need To Show My Cards?
– If your bet causes everyone to fold, you don't need to show your cards to anyone. For online and offline live poker, showing your cards is optional when all of your opponents fold. Most players choose not to show, to keep other players guessing.
– How Often Should I Fold My Hand Pre-Flop?
– Many new poker players make the mistake of playing too many hands. It's easy to imagine that cards have the potential to win, even if they are weak. Many experienced players fold more than 70% of the hands they are dealt. As you play more, you'll learn which hands to play and which to throw into the muck.
– How Much Time Do I Have To Act Pre-Flop?
– For online poker, timers fold your hand after a certain amount of time. This can be anywhere from 20 seconds to 1 minute. The timer is the same for all betting rounds, including pre-flop. There's something called a Time Bank that gives players extra time for big decisions.
– At casinos, it's good poker etiquette to act without delay. Players can have more time for big decisions, but less for pre-flop decisions. Try to spend less than 15 seconds for pre-flop decisions, and more in later betting rounds.


BetOnline
Bitcoin and US-friendly room that allows HUDs




Partypoker
Daily cash races, MTTs and Spins with big prizes
Register using this link to get access to GipsyTeam bonuses:
Increased first deposit bonus
Increased rakeback and reloads
Help with deposits and cashouts
Access to closed freerolls
Round-the-clock support
The Flop: 3 Out Of 5 Community Cards
Now things get interesting. The top card from the dealer's deck is discarded, face-down. After removing this "burn card," three more cards are dealt face-up. This is the flop.
After everyone sees the flop, the action begins again. Play starts from the first player left of the dealer button. They're faced with two options; either checking or betting. There's no big blind to match, as there was during the pre-flop stage.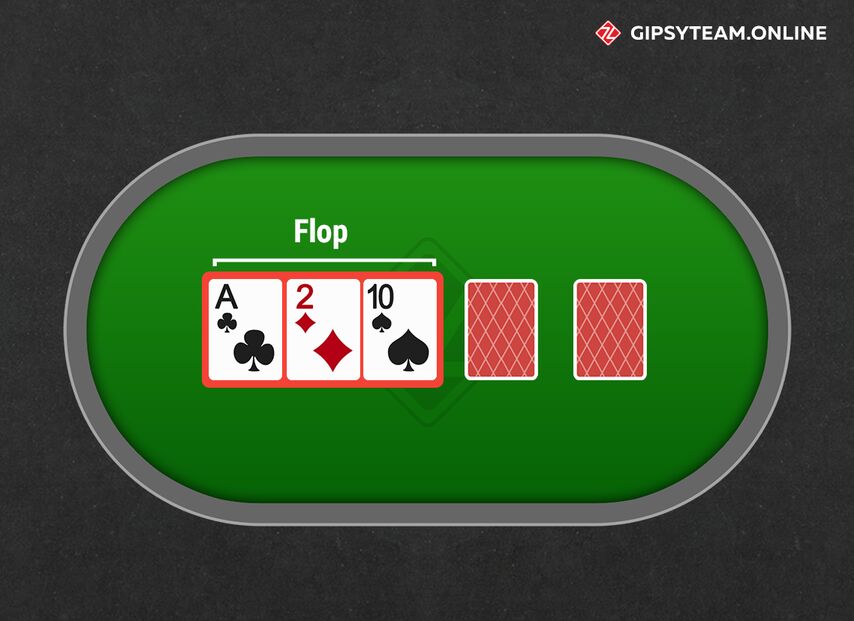 Checking. If you want to pass your turn without putting chips into the pot, you can check. The action will move to the next player to your left. You can only check if there hasn't been a bet. If all players decide to check, the betting round finishes. But if an opponent bets, other players need to match it or fold.
During the pre-flop stage, the only position that can check is the big blind. They've already matched the bet amount, unless there is a raise. When the action gets to them, they can decide to check or raise.
In offline poker, players usually tap the table with a hand to silently signal a check. You can also verbally announce a check. For online poker, it's just one click of a button.
What Is A Burn Card And What Is It For?
In total, there are three burned cards during a full hand of poker. There's a good reason for this rule. If someone marks the cards or memorizes their patterns, then they might know the top card. To prevent that, the top card is discarded for the flop, turn, and river.
The Turn: 4 Out Of 5 Community Cards
The dealer burns another card from the top of the deck. The next card is placed face-up beside the flop cards. The turn gives us a total of four shared cards on the table. When that card is revealed to everyone, the action starts again. Just like on the flop, we're going clockwise from the player who is left of the button.
When all players have either checked or matched any bets made, the betting round is complete. Keep your eyes on the table for the fifth and final card.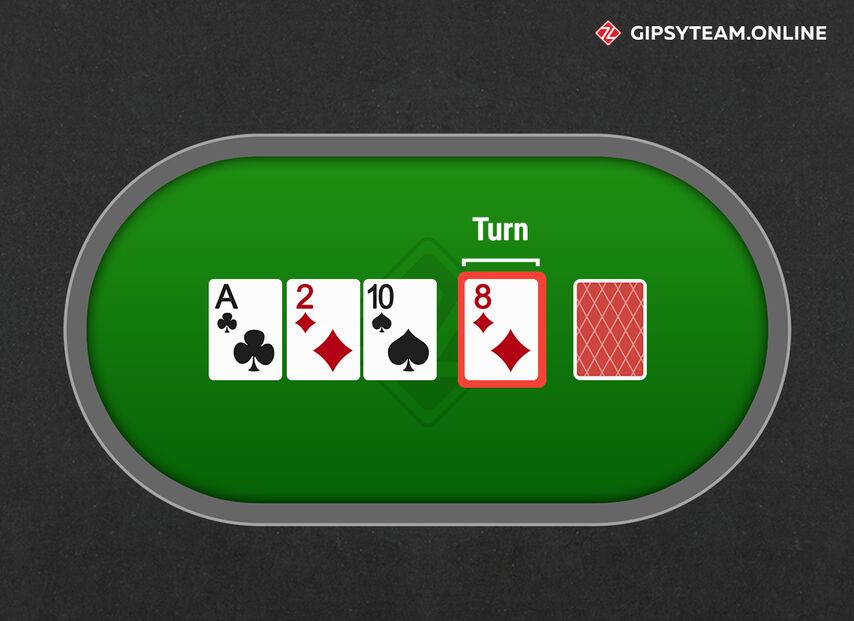 The River: 5 Out Of 5 Community Cards
Another card is burned, and then the last community card is revealed. No more shared cards are coming. This is the last opportunity to bet.
With the five community cards in front of you, you need to make your hand combination. If you need any help ranking your hands and judging their strength, check out our hand ranking guide.
If two or more players check or put the same amount of chips into the pot, we go to a showdown. If one player bets and the opponents fold, the round ends here.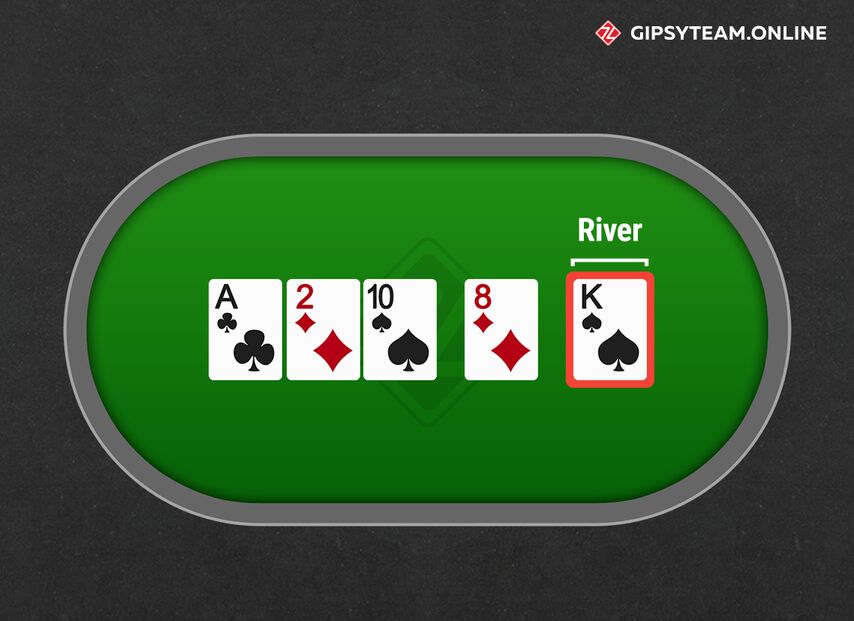 You might be noticing a trend. After the pre-flop stage, the betting options work the same way. Unless another player makes a bet, there's no mandatory bet to match. For example, let's imagine you are at a table. Everyone matches the big blind amount and the pre-flop round is complete. It's possible to finish all of the next betting rounds without more betting. This is sometimes called "checking through," when players check until the end of the hand.
Showdown: Cards Shown And Winners Decided
If two or more players finish the river, it's time to compare their hands. To win the pot, players need to show a better hand. Who shows their hand first?
If a player bets during the river and other players call, then the betting player shows first.
If everybody chose to check on the river, the player to the left of the dealer button shows first.
How To Decide The Winner At Showdown
If you're playing poker online, the winner is calculated for you. When the river is complete, the app will show you who won.
At casinos, professional dealers judge the winner and discard losing hands. At home games, you'll need to rank each player's hand for yourself. That might sound straightforward to some, but even casino dealers make mistakes after long shifts. It's important to get familiar with poker combinations. We've got a full guide on making combinations, plus their probabilities.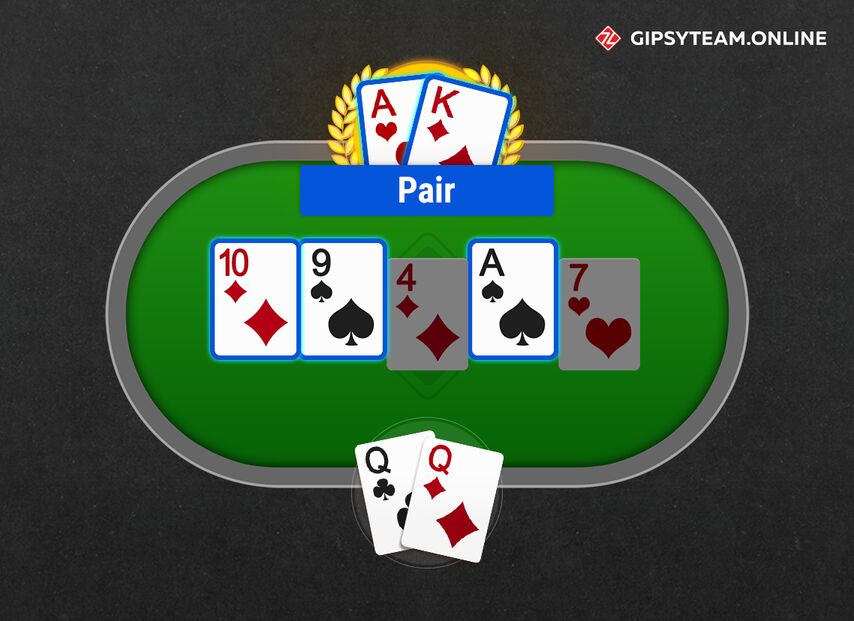 One Important Thing To Remember For Live Poker In Casinos
When you show your hand, be very careful. Only reveal your hand in turn during the showdown. In some casinos, revealing your hand early can disqualify you from the pot. When it's your turn to show your cards, place the hand on the table face-up in front of your chips.
Avoid throwing or flicking the cards. If they mingle with other cards, your hand might be disqualified.
Online Poker Rooms That Are Perfect For Beginners
When you're trying to build up some experience, you want to be in calmer waters. Avoid the sharks and try out these two online poker sites.
888poker has soft competition for new players. 888poker is great for beginners for a few reasons. This poker site has over 10 million players around the globe and is licensed in the EU.
Unique Games: Blast, SNAP, Hourly + Daily Freerolls, and more
Loose And Recreational Players At The Lower Stakes/Buy-Ins
Bonuses To Add A Little More To Your Bankroll
Real-money poker usually requires a small up-front investment, or does it? 888poker doesn't seem to think so. They have a No Deposit Bonus to help you get started. You don't have to make a deposit. After registration, just follow the steps that are emailed to you.
Solid Software And Reputation
As a top poker site, 888poker has an app to match. The game lobbies, account information, and promotions are all well-sized and easy to navigate. You can download their application on Windows, Android, Mac OS, and iOS. If you're on the go, they've got an option for browser play too. They've won the Socially Responsible Operator of the Year and EGR Best Poker Operator multiple times.
GGPoker easily has the highest player traffic among poker sites. They've got stars like Elky, Daniel Negreanu, and Fedor Holz on their team. We've picked them for a few reasons.
The Largest Poker Site With 24/7 Soft Traffic
There can be up to 10,000 real-money players online during peak hours. Because GGPoker has players in many time zones, you'll always find tables and tournaments to enter. Being such a large company, they've got a base of mostly recreational players.
Unique Games: All In Or Fold, Spin & Gold, Rush Cash, and more.
One Of The Best Poker Applications In The Industry
Their app is state-of-the-art and enhances the poker experience in some areas. Flipping over the last card is always a tense moment, and GGPoker brings that online with their slow-reveal function. There are a lot of ways to communicate with other players too, like animated emojis or the chatbox. Their software runs smoothly on Windows, Android, Mac OS, and iOS.
Big Bonuses From The Biggest Poker Site
Their bonuses are simple, but you've got a choice to make. When you deposit $20 or more, you can choose between a 100% matched bonus or $100 in rewards. If you choose the second option, you'll get $52.50 in free tickets. The remaining $47.50 unlocks after you complete the requirements, shown below.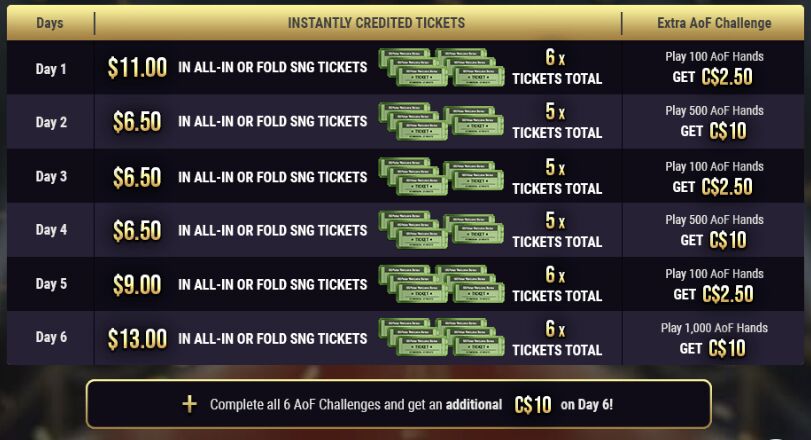 Get access to this GGPoker promotion and more by using vipintern when you register. You can follow this link to create your account, but be sure to enter vipintern in the promo code box.
LearnWPT Is A Digital Poker Coach For Each Betting Round
LearnWPT is a personalized education platform. You'll have a chance to improve the weaker aspects of your poker skill and learn functional strategies. They've got a massive 500+ video library with professional tournament and cash game tutorials. On top of that, they've got webinars, charts, forums, and their WPT GTO interactive training program. You'll even be able to submit videos to instructors for analysis.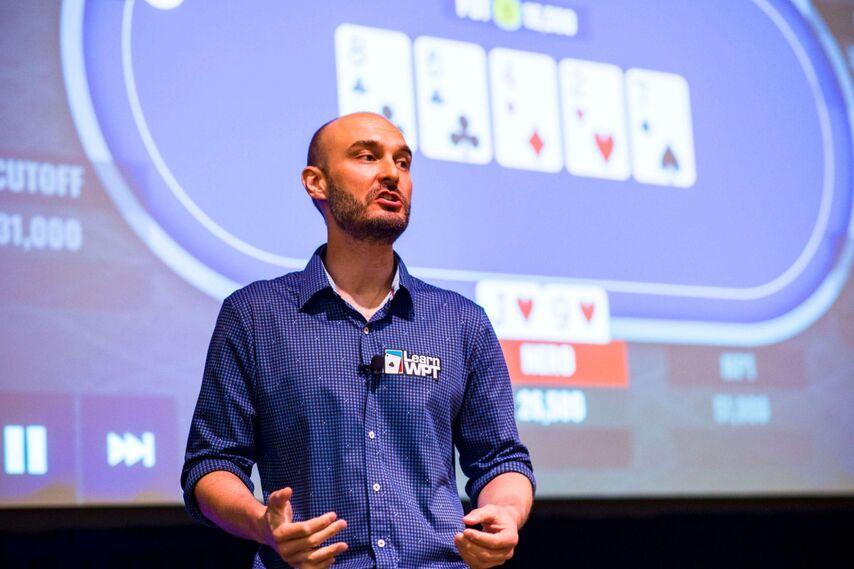 Their instructors include Tony Dunst, a two-time World Series of Poker bracelet winner with an outstanding tournament record. The combined winnings from their instructors total almost $40 million in live earnings, with more online.
You can trial LearnWPT's software for the first month for just $5.