A lot of poker players learn Omaha after Texas hold 'em. With four cards instead of two, this popular format can confuse beginners. Deciding which hands to play and which draws to chase takes some time. There's a misconception among some players; Omaha poker isn't just luck and gambling.
We'll get you up to speed. As we cover the rules, we'll highlight fundamental differences between Texas hold 'em and Omaha. If you're already playing poker, but new to Omaha, there are some adjustments to make. After we talk about rules and different formats, we'll tell you about three great sites for Omaha poker.
Without further ado, let's talk about how to play Omaha poker and where to play it. 


Long-running room with lively cash games and eight-figure MTTs
GT Bonuses


Bitcoin and US-friendly room that allows HUDs
GT Bonuses


Global crypto-only room with bad beat jackpots and weekly leaderboards
GT Bonuses




BetOnline
Bitcoin and US-friendly room that allows HUDs


CoinPoker
Global crypto-only room with bad beat jackpots and weekly leaderboards
Register using this link to get access to GipsyTeam bonuses:
Increased first deposit bonus
Increased rakeback and reloads
Help with deposits and cashouts
Access to closed freerolls
Round-the-clock support
Omaha Poker Rules And Hand Rankings
Omaha uses the same 52-card deck as Texas hold 'em. Having four cards instead of two is the most significant difference between the two games. There can be anywhere from two to ten players at one Omaha table.
Omaha poker has four betting rounds:
The player immediately to the left of the dealer must act first on the flop, turn, and river. During the pre-flop round, the player to the left of the big blind acts first. The action flows in a clockwise direction at all times.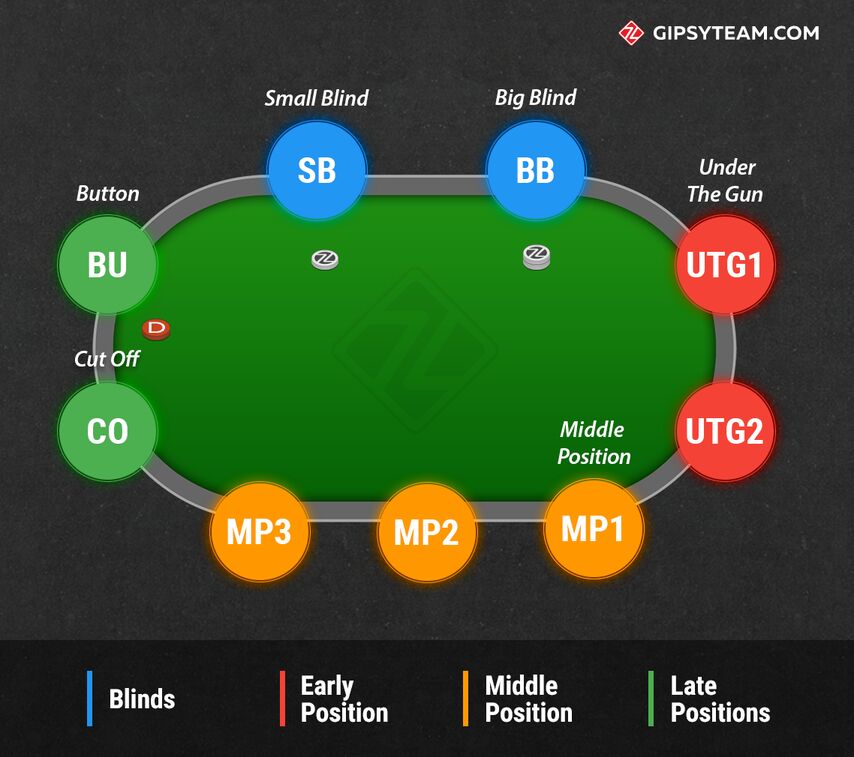 Pre-Flop. Each player receives four hole cards at the start of the pre-flop round. The action starts with the under-the-gun player, who is left of the big blind. Once they've acted, we continue in a clockwise direction.
Everyone at the table must either match the big blind amount or fold their hand. Once every player matches the big blind amount (or folds), the pre-flop round is finished. If a player makes a raise, everybody will have to match it to continue.
Flop. The top card of the deck is "burned," that's a poker term meaning "discarded". The burn card protects the deck from being examined by cheaters. In some situations, marked cards or distinctive patterns can give up information.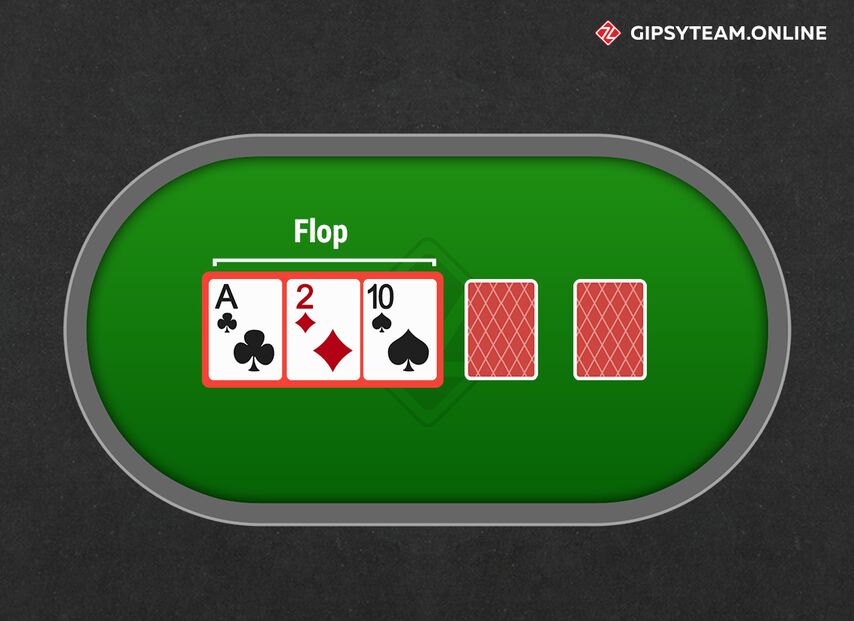 After the burn card, three cards will be dealt face-up for everyone to see. This is the flop. There's no mandatory bet or big blind to match. At this point, players can check, passing the action left.
Things can go two ways; either everybody decides to check, or one player makes a move and bets. If everyone checks, this is known as checking through. If there is a bet, players can either fold, match it, or raise the amount. Once everybody has put an equal amount in the pot, the flop round is complete.
Turn. After a second burn card, the dealer puts another card face-up on the table. This fourth card is the turn. The action goes exactly as it did on the flop, moving clockwise from the left of the dealer.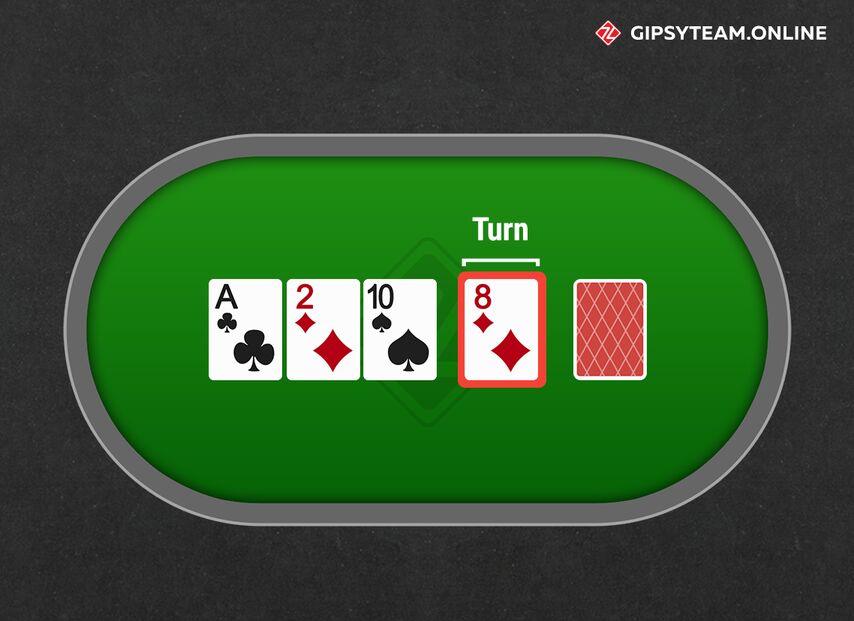 River. A third card is burned and the dealer shows us the fifth and final community card. This is the last card we see, but it's also the last opportunity to bet. When everyone checks or any bets are matched, it's time to decide the winner.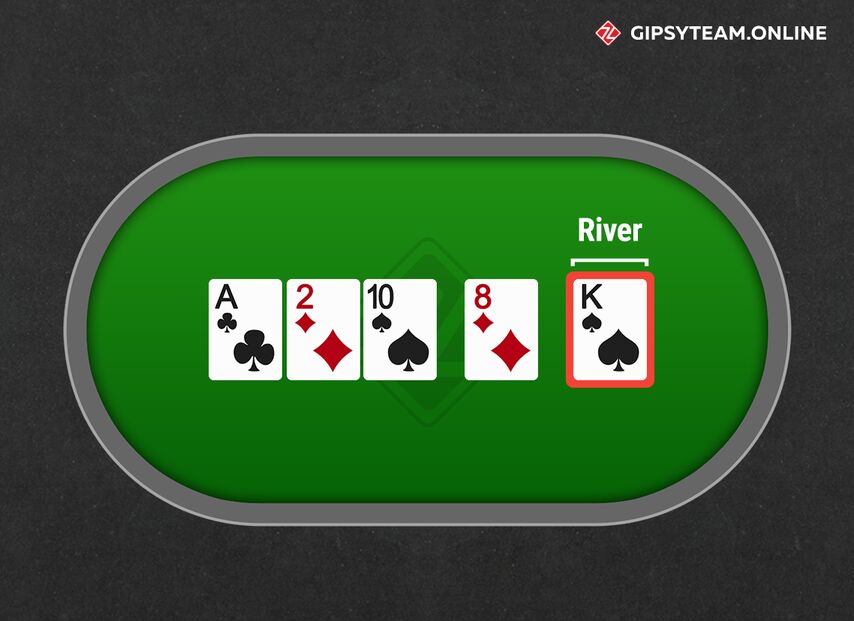 Showdown: Deciding The Winner
Any players that finish the river without folding make it to showdown. This is where the winner is crowned and the pot is awarded. If all players checked in the last betting round, the first player left of the dealer shows their cards. If someone makes a bet and it's matched, the person who bet must show their cards first.
We have a full guide to hand combinations right here. Refer to it anytime you are unsure.
How Omaha Poker Is Different From Texas Hold 'Em
The hand you present at showdown must use exactly two of your four cards. Not one card, not three cards; exactly two.
You can't "play the board." This happens in Texas hold 'em if your cards are very weak. Sometimes the players at showdown can't make a better combination than the 5 community cards. If that's the case, they won't have to use their hole cards.
Hands that are strong in Texas hold 'em are much weaker in Omaha. Being dealt two aces might look great, but you'll need something much stronger than one pair in Omaha. That's not to say it doesn't happen, but it's going to be less common.
Don't invest chips to pursue weak draws. Four cards mean that you can have several draws at once. This also means that your opponents have more chances to make strong hands. Always draw for the strongest possible hand combination.
Popular Variations Of Omaha Poker
Omaha debuted in Las Vegas casinos during the 80s, but it started elsewhere. It shares the name with Omaha, Nebraska, but it's not entirely clear what the connection is. Omaha refers to a family tree of different poker games. The most popular with pot-limit Omaha, without a doubt.
Pot-Limit Omaha. Pot-limit means that no bet can exceed the pot size. This style of poker is also known as PLO. This is the most popular form of Omaha poker, with full tables at many sites like 888poker and PokerStars.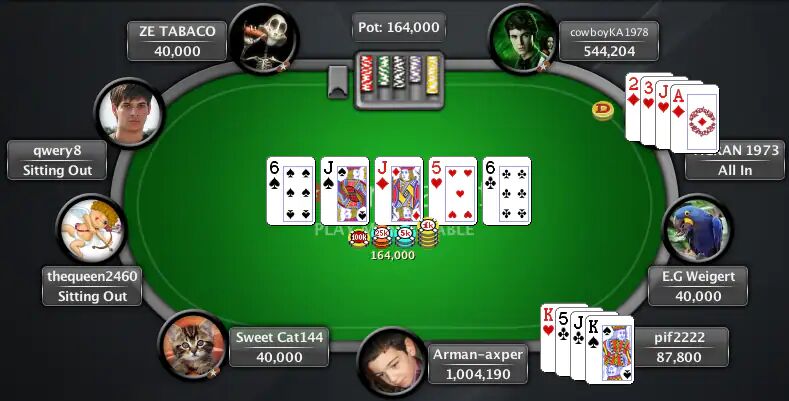 Omaha Hi/Lo. The second most popular form of Omaha poker is hi/lo. It's sometimes called Omaha 8-or-better, Omaha hi/lo, or PLO8. In a hi/lo format, the pot is split. Most recreational players are unfamiliar with Omaha hi/lo rules.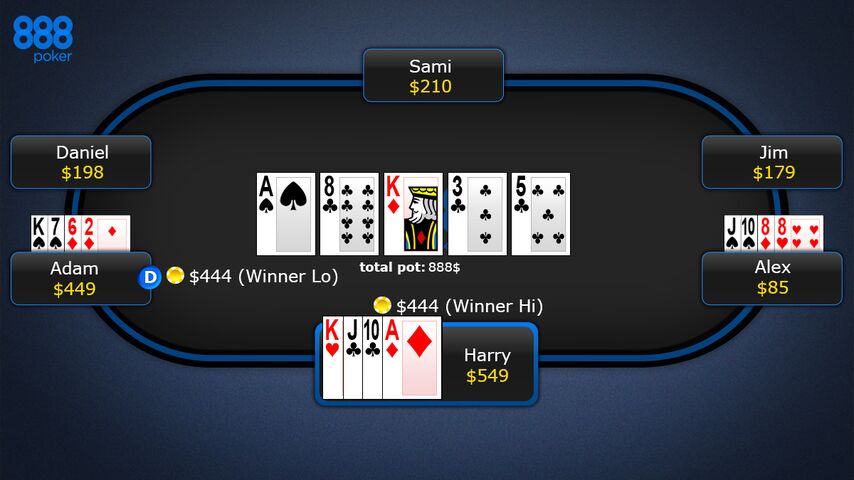 Instead of making a single hand combination, you'll need two. Each player shows a high hand and a low hand at showdown. To take the whole pot, you'll have to have the best high hand and best low hand. The pot splits when you and your opponent win the low or high hand, but not both.
What Is 5-Card Omaha?
5-Card Omaha is picking up steam. Sites with higher player traffic are the best place to play this format. As you might have guessed, instead of four cards, there are five. The rules are unchanged except for that, but it has a large effect on variance. With five hole cards, a lot can change with every new betting round.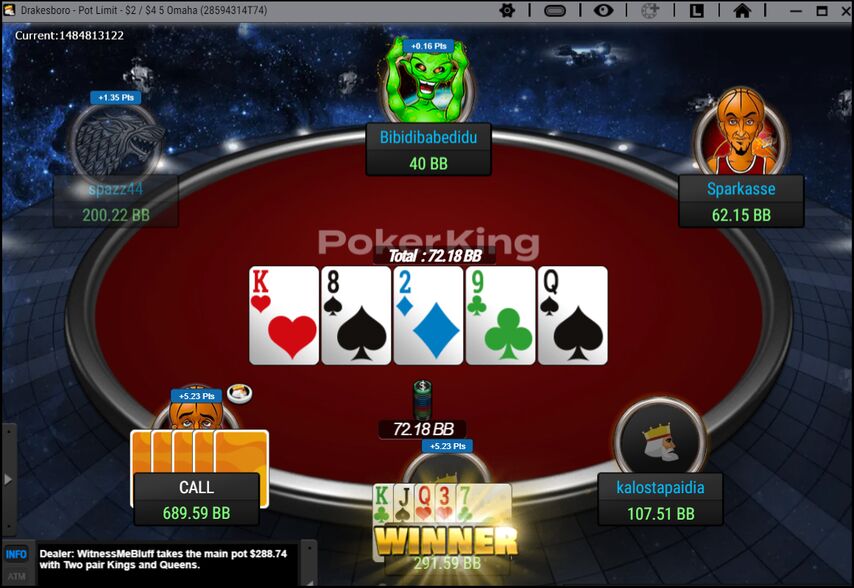 A Helpful Omaha Calculator To Answer Probability Questions
An Omaha calculator can help you self-study and reflect on the hands you've played. Just enter the cards you saw into the calculator and it will display win and loss percentages.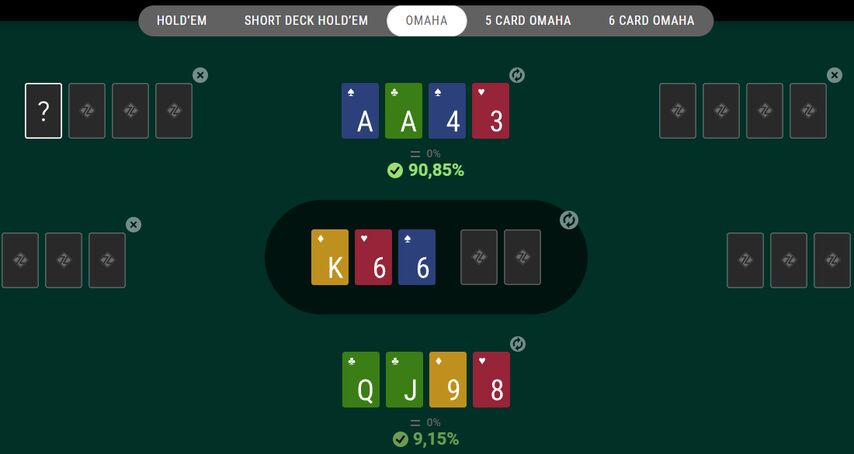 Whether you're just learning Omaha or looking to find holes in your play style, this calculator can help. It will even calculate odds in real-time and it's permitted by PokerStars. By seeing these percentages you'll have a bit more information behind your decisions. As you can see from the screenshot above, the program also functions as a HUD, tracking VPIP and other metrics.
Play Real-Money Omaha Poker Here
There's a lot of interest in Omaha card games, so you won't have trouble finding full tables. You'll find the most action and the loosest opponents at these poker sites. Enter Omaha cash games, MTTs, sit & go's, and more. There are so many poker sites to choose from, but we've already reviewed the main online rooms. Our guide makes it easy and saves you the hassle, check it out right here.
Being the biggest poker site in the world means busy Omaha tables. They have pot-limit Omaha and 5-card Omaha cash game tables, plus multi-table tournaments. Cash game stakes range from a lowly $0.01/$0.02 to $10/$20, but VIP Games can go up to $500/$1000. There are pot-limit Omaha tournaments, but have you heard of Omaholic? GGPoker invented this special tournament format for Omaha poker. Pre-flop, the betting is pot-limit. When the flop is dealt, the play switches to no-limit, allowing for bigger bets.
All-In Or Fold is a unique game offered by GGPoker. You can play it in Texas hold 'em and pot-limit Omaha formats. Basically, you have two options. Either commit to your hand and move all in, or live to fight another day and fold your cards. If you want to avoid waiting, play the Rush & Cash Omaha card game. As soon as you finish one hand, you'll be dealt fresh cards at a new table.
Get started on GGPoker and collect some great bonuses. If you want to read more about their application, rewards, and games, check out our GGPoker review.
888poker
You'll find pot-limit Omaha and Omaha hi/lo at 888poker. They have a large market share and a large player base. They are known for soft, recreational players and their No Deposit Bonus. They'll put money in your account, just for signing up and playing. Micro stakes start at $0.02/$0.04 and go up to $10/$20.
Snap is the quickest way to play Omaha at 888poker. Just like other fast-folding modes, there's no waiting between hands. You can also play Texas hold 'em Snap games.
Read through our application play test and bonus review here, or download the 888poker software via this link.
PokerStars
There's action at PokerStar's Omaha tables. This is another very large site, so the tables are busy. They're also able to offer more variety because of their size. Pot limit Omaha is the most popular, followed by Omaha hi/lo. That's the trend for most poker sites.
You'll see games like 5-card and 6-card Omaha too, though the tables aren't as busy for those formats. Stakes for Omaha poker run from $0.01/$0.02 to $200/400.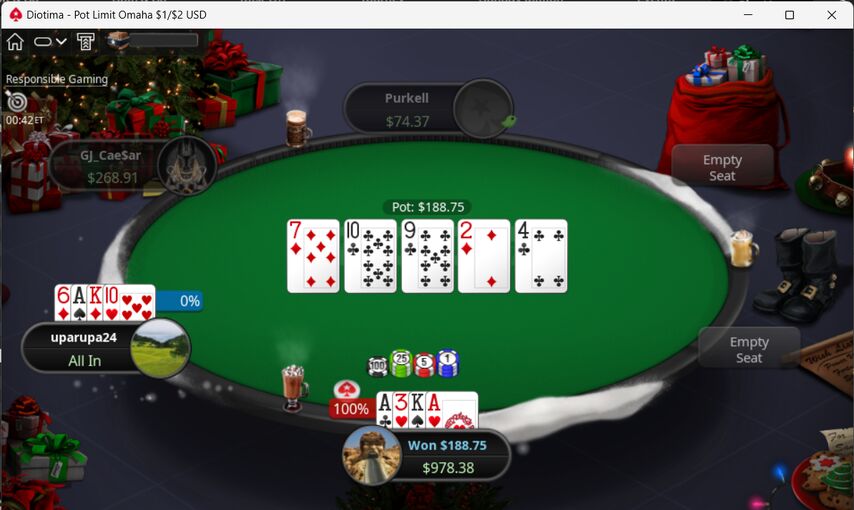 Zoom is the fast folding poker format at PokerStars. You'll get fresh cards and a new table every time you fold. You can play this quick game mode in Texas hold 'em, but also pot-limit Omaha.
Our full PokerStars review is right here, or you can go straight to the download by following this link.
Play Omaha Poker On These Mobile Club Apps
If you aren't aware of what a poker "club" app is, we'll explain. These clubs don't operate cashiers in the same way as sites like PokerStars. Instead of a single cashier for the entire site, club managers manage player funds. When you want to start playing, you'll convert real money into chips through these managers. You'll also need to find and join a club, which isn't instant. Some may require an invitation from the club owners or managers.
The advantage of these poker club apps is their soft player bases. Playing from smartphones and tablets limits the ability to use HUD software, which might turn experienced players away. Crypto is a popular deposit method since it's instant and easy to transfer between clubs and players.
The rakeback is also higher than some other major poker sites, usually between 30-40%. As always, GipsyTeam support is here to help. If you are curious about how poker clubs work, or if you have other questions, don't hesitate to get in touch with our staff.
PokerBros [Play 4 Tables At Once]
The PokerBros has over 500,000 downloads in the Google Play Store, plus great reviews from users. You can play with friends anywhere in the world, or join new clubs to meet new players. You'll find all of the classic poker games like hold 'em, plus PLO and PLO8. They're one of the few poker sites where you can play fixed-limit Omaha (FLO) and fixed-limit hi/lo (FLO8).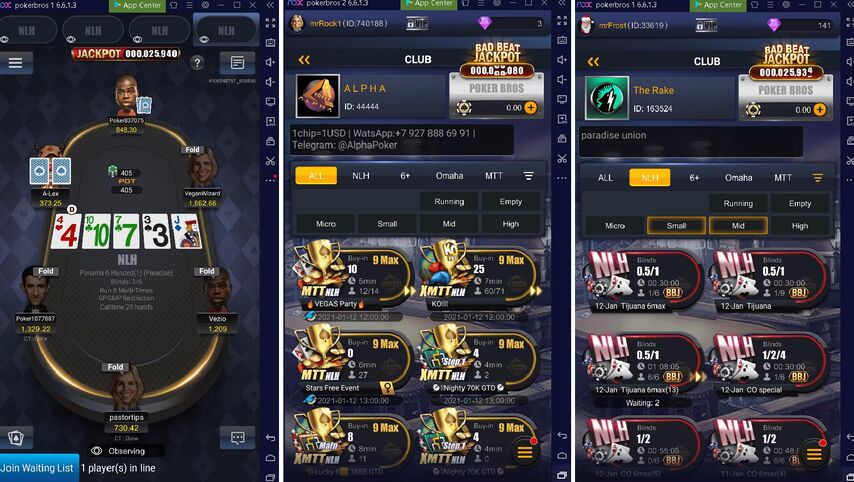 This app is a good choice for players living in Asia, but they attract players from around the world. The PPPoker mobile app has been downloaded over one million times on the Google Play Store. It's possible to play on a PC, but you'll need an emulator. Their software has network shielding to prevent players from losing connection.
PPPoker has classic formats like Texas hold 'em and PLO, but also short deck and OFC. You can compete within the clubs or join global tournaments.
Have any questions? Feel free to contact our professional and friendly support. 
GipsyTeam support
We will help you solve
any
poker question
We work
around the clock
without weekends and holidays
We respond within 10 minutes
Increased rakeback and personal bonuses
Help with deposits and cashouts
Access to mobile applications
Solving problems with accounts
Technical support
Questions about the site and forum